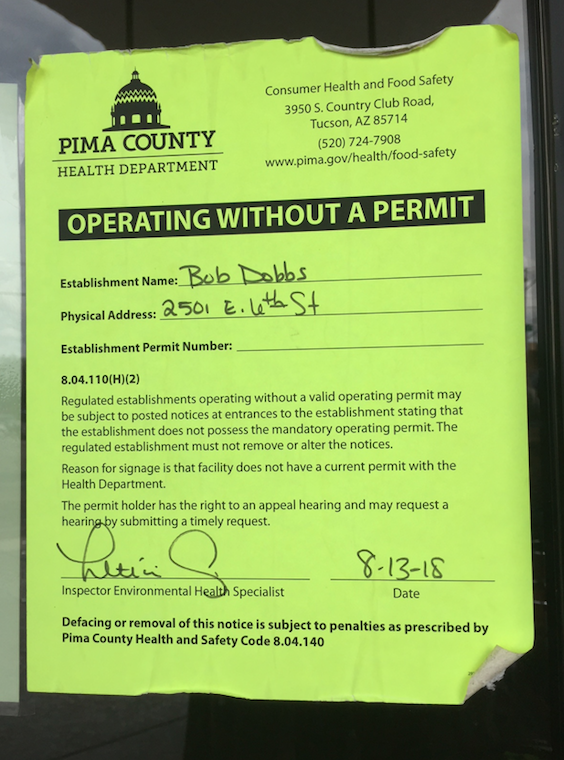 History: Mainly good and excellent ratings for several years, but the site has been operating without health department approval since June, when inspectors first posted signs on doors alerting the public the kitchen did not meet county health standards. Since then, the site has failed four follow-up inspections on July 11, Aug. 13 and Sept. 13 and 17.
What the inspector saw: More than two dozen health-code violations including multiple holes in walls and ceilings; refrigerator shelving "peeling and encrusted with food"; back door had no door sweep to keep bugs and rodents out; wooden countertop "encrusted with grease"; unapproved household freezers used for food storage instead of commercial units; not enough hand-washing sinks; site lacks required three-compartment sink for washing, rinsing and sanitizing dirty kitchen equipment. Health department had to repost consumer alert signs on doors in August after someone took down the original signs posted in June.
Follow-up: The restaurant has corrected all but one of its deficiencies, but still doesn't qualify for an operating permit until the remaining issue, the lack of a three-compartment sanitizing sink, is resolved, a health department official said.
Comments: Owner Scott Cummings said his operating license lapsed because the county failed to send him a renewal notice, something the county denies. He noted his restaurant's track record of mainly positive inspection results over the years and said the health department's current staff is being overly aggressive in policing his establishment.