Breakfast isn't really a takeout meal.
Just ask Luis Portillo, who runs the kitchen at the 67-year-old Ajo Cafe on Tucson's south side. Customers prefer settling into the well-worn booths and throwback-to-the-'60s counter and lingering over the house special pancakes that fill a dinner plate or the creamy and savory biscuits and gravy that will keep you full until supper.
But that all changed since the coronavirus pandemic largely altered the way restaurants do business.
The morning rush of office workers from the nearby county buildings vanished when Arizona Gov. Doug Ducey issued his statewide stay-at-home orders in March.
Shift workers from the neighboring manufacturing businesses still come in but with COVID-19 social distancing restrictions that caps capacity at half — for Ajo Cafe that means only 16 diners at a time — even dining in has become unreliable.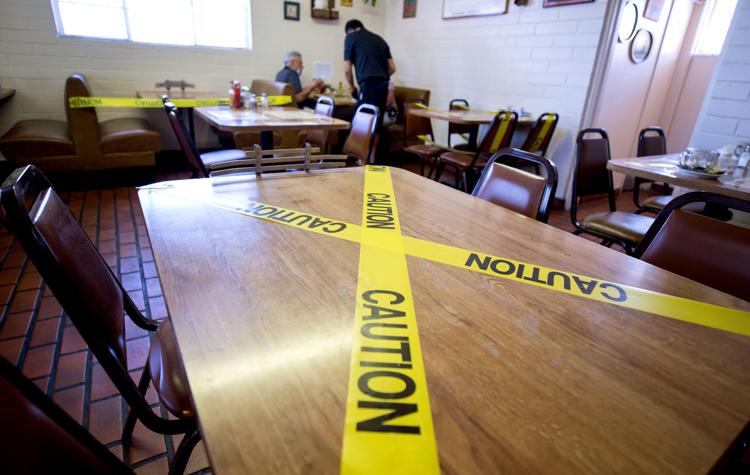 So Ajo has followed the lead of their fellow restaurants throughout Tucson and jumped on the takeout train.
"We have breakfast burritos and sandwiches and they are pretty popular" to go, Portillo said.
But folks are also asking for the biscuits and gravy, pancakes and meatloaf from the lunch menu.
Across town at Marana's Just Breakfast on Silverbell, manager Steve Dunn said that breakfast "isn't really a takeout kind of food."
But even after dine-in returned, Dunn noticed a reluctance by some of his regulars to dine in and an uptick in takeout orders for the house special breakfast burritos stuffed with eggs, potatoes and choice of meats: chorizo, bacon or sausage.
"We are doing more takeout now, especially on the weekend," he said.
Breakfast on the go in the coronavirus era is breathing much-needed life into some Tucson breakfast/lunch restaurants that have been struggling to make ends meet in the health crisis.
We went around to a few of our favorite restaurants to get an idea of what breakfast to-go looks like and found that pretty much anything on the menu is up for grabs — and go.
Ajo Cafe
3132 E. Ajo Way, 294-1100; online orders through grubhub.com. Hours: 6 a.m. to 2 p.m. Mondays through Fridays
The menu is classic diner, with eggs and bacon, omelettes and flapjacks. But it is their breakfast sandwiches and burritos that are a hit with the takeout crowd. They fill fresh tortillas from Tortilleria Doña Esperanza on North Fourth Avenue with fluffy scrambled eggs, crispy fried potatoes and spicy chorizo or your choice of meat in a breakfast burrito.
They also make breakfast sandwiches, but their house special pancakes, made from scratch not a box, are fast-becoming a go-to for to-go customers.
Some folks also order the house burgers for breakfast; a lot of their regulars work the night shift so breakfast comes at their lunch hour, chef Luis Portillo said. You also may want to grab a piece of Portillo's famous pie — he makes 60 varieties in all, putting out several different types of pies a day — to ward off that 3 o'clock tummy growl. Ajo Cafe has been serving breakfast and lunch since 1952.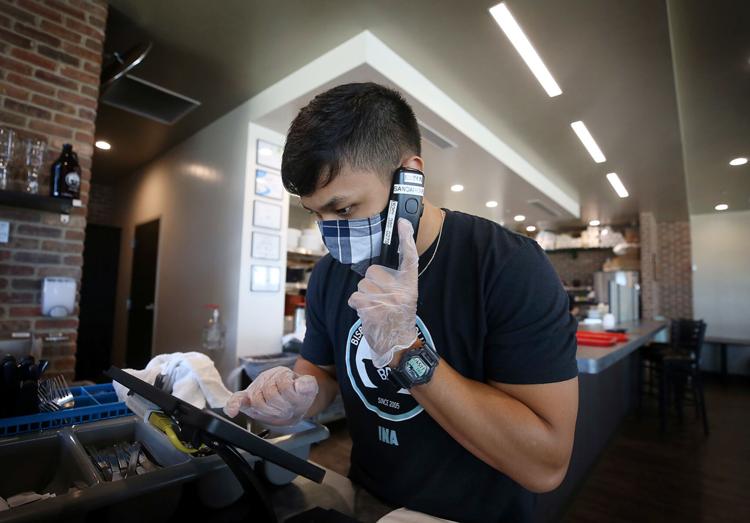 Bisbee Breakfast Club Marana
The newest Tucson area location of the Bisbee-born restaurant was supposed to open in March, but COVID-19 threw a wrench in those plans.
The restaurant — the second in Marana and the fifth in the Tucson area — finally opened for takeout only on May 16 and waited a couple weeks to open the dining room.
"We kind of had to scramble just to do it because (takeout) was never a big part of our business," owner Terry Kyte said. "As soon as this happened, we realized we had to sort of get with the times."
Bisbee, which also opened a restaurant in Chandler weeks after the Marana opening, created an online ordering dashboard that has helped drive their takeout business. The new Marana location does 30% to 40% of its business as takeout compared to 10% to 20% for the family-owned company's other locations, Kyte said.
Popular with the to-go diners: the breakfast burritos including mild green chile Durango burro.
Chicken fried steak and eggs, the filet and eggs and the BYO omelette also are popular, he said.
In 2011, Bisbee Breakfast Club opened its first restaurant outside of Bisbee at 4131 W. Ina Road. Since then, the 15-year-old chain opened locations at 2936 E. Broadway, 410 N. Wilmot Road and 4811 E. Sunrise Drive in the foothills, as well as two Phoenix area locations.
Cafe Passe
415 N. Fourth Ave., 624-4411; order online through chownow.com. Hours: 9 a.m. to 2 p.m. Wednesdays through Sundays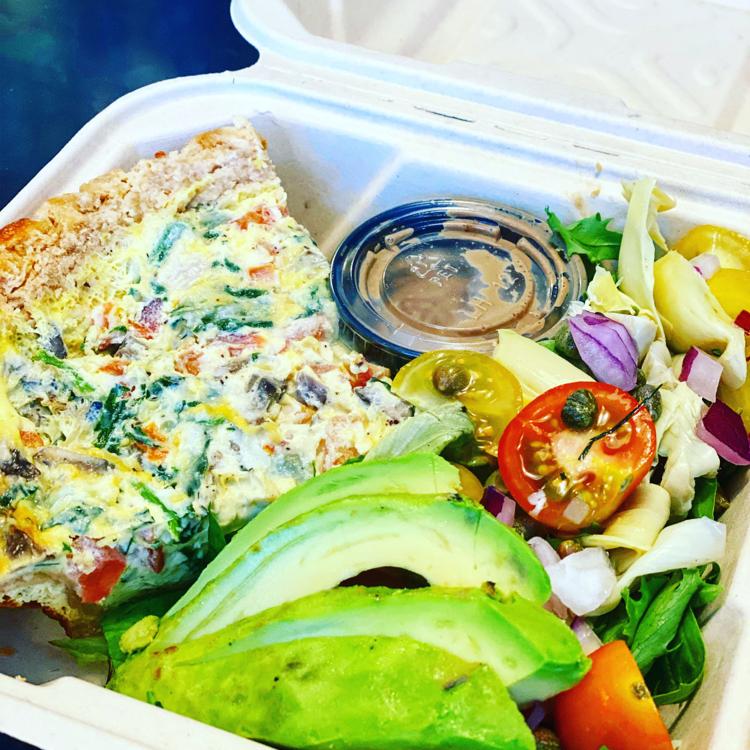 Long before the pandemic forced restaurants to remake themselves as takeout destinations, Chef Kade Mislinski was sending half of Cafe Passe's business on the road. Regulars would pop in and order their coffee and breakfast sandwiches to go, en route to downtown offices.
These days, everything is to go; Mislinski and Cafe Passe owner Jenny Rice have not reopened the dining room since Ducey gave restaurants the green light in May. Business is admittedly down; many of their downtown regulars are still working from home. But the downtime has given Mislinski, architect of Cafe Passe's menu, a chance to rethink a few things and make some menu tweaks in anticipation of the return of University of Arizona students in August.
Among the popular items now, though: The kicked-up breakfast sandwiches — the house special pairs eggs and bacon with avocado while another features a smear of basil pesto and a specialty omelette sandwiched on a baguette — travel well. So does the popular biscuits and gravy and quiche, all served in disposable microwaveable plastic containers.
And because they have been doing breakfast takeout for years, Cafe Passe is experienced in delivering food hot and fast.
Just Breakfast on Silverbell
8581 N. Silverbell Road, 389-8643. Hours: 6:30 a.m. to 12:30 p.m. daily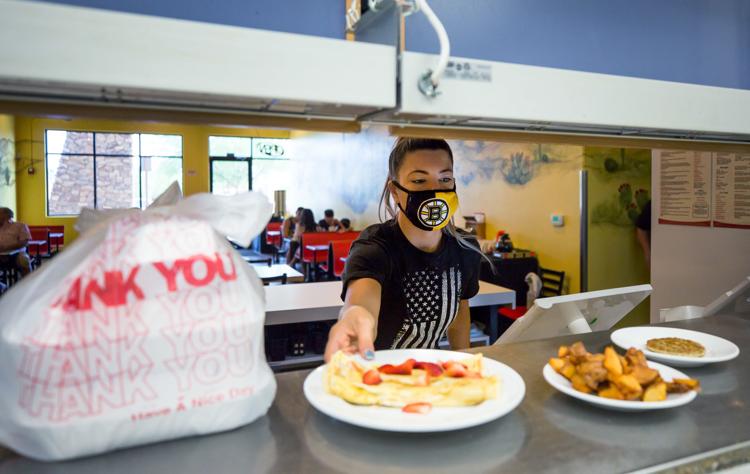 The diner, a side venture for the popular sports bar/restaurant Home Plate Marana, is finding its footing again after cutting back to four days a week during the height of the shutdown.
Manager Steve Dunn said business is still down; some of Just Breakfast's regulars are hesitant to dine in. "People still want to play it safe," he said, which is why the restaurant's takeout business is picking up, outpacing takeout sales from the time they were takeout only.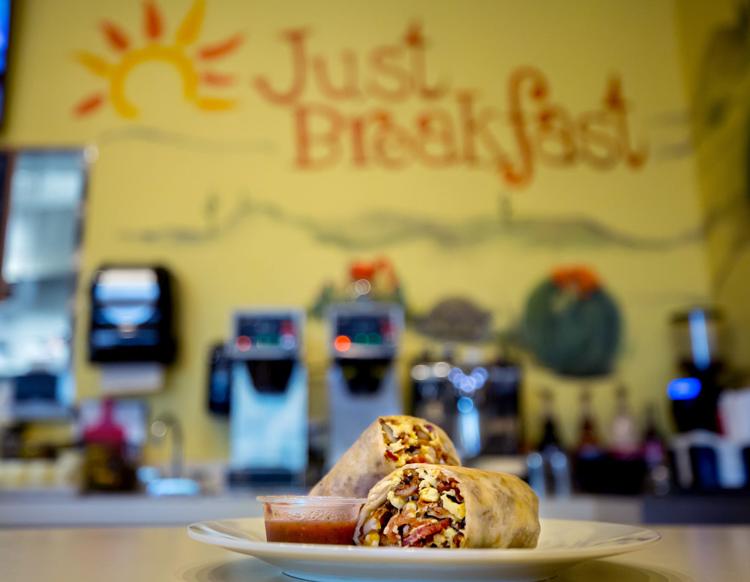 Breakfast burritos are filled with eggs, potatoes and your choice of chorizo, ham, bacon or sausage. Or you can skip the carbs and order it in a breakfast bowl.
The menu includes inventive takes on diner classics including a scratch-made cinnamon roll and avocado toast — mashed avocado on wheat toast served with egg — along with steal-cut oatmeal and sweet vanilla crepes.
Micha's Restaurant
2908 S. Fourth Ave., 623-5307. Hours: 6:30 a.m.-3 p.m. Mondays, 6:30 a.m.-8 p.m. Tuesdays-Thursdays, 6:30 a.m.-9 p.m. Fridays-Saturdays, 7 a.m.-8 p.m. Sundays
This South Tucson staple has seen a lot of ups and downs since it first opened in 1976, but nothing quite like this, manager Alex Franco said.
Franco said Micha's, which is open for breakfast, lunch and dinner service most days, didn't really do a lot of takeout before the pandemic started.
"People came in for the experience," he said. "They would sit and talk with friends and family. The whole takeout thing is way different."
While Micha's has reopened for dine-in service, Franco said the restaurant is only running at 30% capacity.
"We might have seven or eight tables open in a space that usually seats 150 people or more," he said.
But Franco said that Micha's has been lucky. Their dedicated customer base still order their favorites for takeout; hearty servings of chorizo and eggs, Micha's stuffed machaca and egg burros and menudo specials for those weekend hangovers, served in large and small containers with pan birote.
"It is a big adjustment," Franco said. "Less staff, but more that you have to spend on to-go boxes. We are doing our best to stay afloat."