As federal funding for transitional housing dries up and Tucson's downtown area becomes gentrified, a local organization is working with a new model of affordable housing in the city's core.
A former hotel, Catalina House, 115 S. Fourth Ave., now offers dorm-style living. The rooms feature a closet, sink, bed, desk, dresser, microwave and mini-fridge. All other amenities, such as laundry, kitchen and bathrooms, are shared.
"What we did is look at changing from transitional housing to the marginalized housing market," said Peggy Hutchison, CEO of Primavera Foundation, which is looking to add dorm-style living at other locations near downtown.
Primavera has two other dorm-style developments south of downtown, the Alamo Apartments and Five Points apartments that also have shared bathrooms and kitchens that serve as affordable housing for dishwashers, bus boys or maintenance workers in the downtown area.
Dorm-style living has already taken off in pricey downtown San Francisco.
"Shared bathrooms at the end of the hall and having no individual kitchen or living room is becoming less weird for some of the city's workers thanks to Starcity, a new development company that is expressly creating dorms for many of the nontech population," a recent story in The New York Times says. "Starcity has already opened three properties with 36 units. It has nine more in development and a wait list of 8,000 people."
The Times noted that the company is buying a dozen more buildings (including one-star hotels, parking garages, office buildings and old retail stores) and plans to have hundreds of units open around the San Francisco Bay Area this year, and thousands by 2019.
At Catalina House, tenants pay 30 percent of their incomes for a room and participate in the upkeep of the property.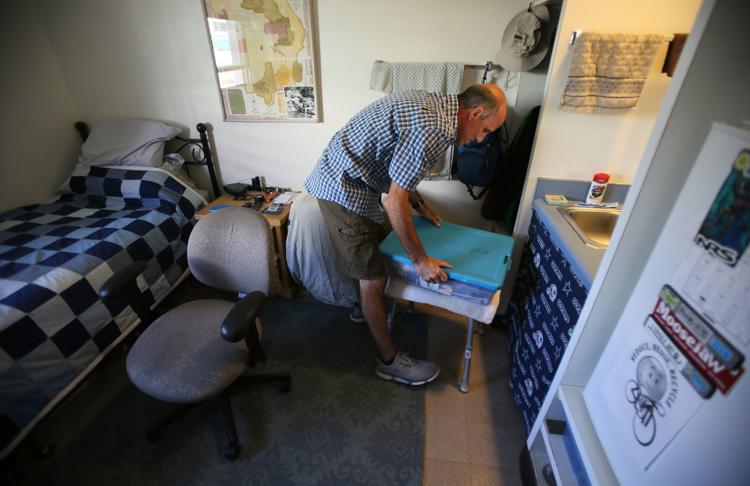 "We all try to pitch in," said Jeffery Barrett, 54, who rents one of the rooms.
Sharing bathrooms and common space is no bother to him and being downtown near the street car and bus line means he can manage without a car.
Barrett said there would be no way he could afford to live downtown otherwise.
As he leads a tour of the facility, he pointed out his favorite pots and pans and community garden.
"It just has such appeal," he said of the property.
Catalina House has 20 units — 15 of which are occupied — and six resident bathrooms. It also has one bathroom for staff and guests and a one-bedroom unit known as the Porter's Room for on-site staff.
An open area on the first floor of the house will be used as a community space for artists and writers or area events.
"Everything we do needs to add value to the neighborhood," Hutchison said.
Funding for long-term transitional housing is no longer a HUD priority. The federal agency is promoting a model called Housing First, which emphasizes getting a person or family out of a shelter and into an apartment as soon as possible, regardless of their willingness to get a permanent job, sober up or commit to a long-term plan. HUD has argued this is a more cost-effective approach.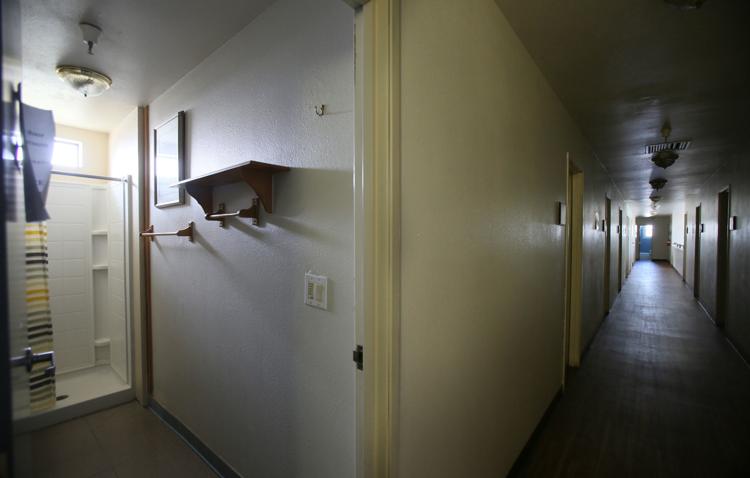 "A trend we're seeing is baby boomers who didn't plan for retirement because of the financial crisis or a medical crisis," Hutchinson said. "They're not making enough working, retired, on disability or Social Security. They can't afford to live."
The revitalization of downtown must include opportunities for working-class residents to also live there, she said.
A limited inventory of homes for sale in the 85701 ZIP code has pushed prices up over 20 percent from 2016. Rental rates in that ZIP code are the highest in the city and 13th highest in the state.
"We see the gentrification moving south," Hutchison said. "Affordability should not be an afterthought; it should be an integral part of the plan from the beginning."
She remembers visiting her grandmother who lived in a rooming house in Palo Alto, California, that had an outside bathroom and community kitchen.
"I don't think she thought of herself as being less-than," Hutchison said. "We're trying to expand out capacity to serve the community in a dignified way."
All rental properties have different qualifications and pricing structures.