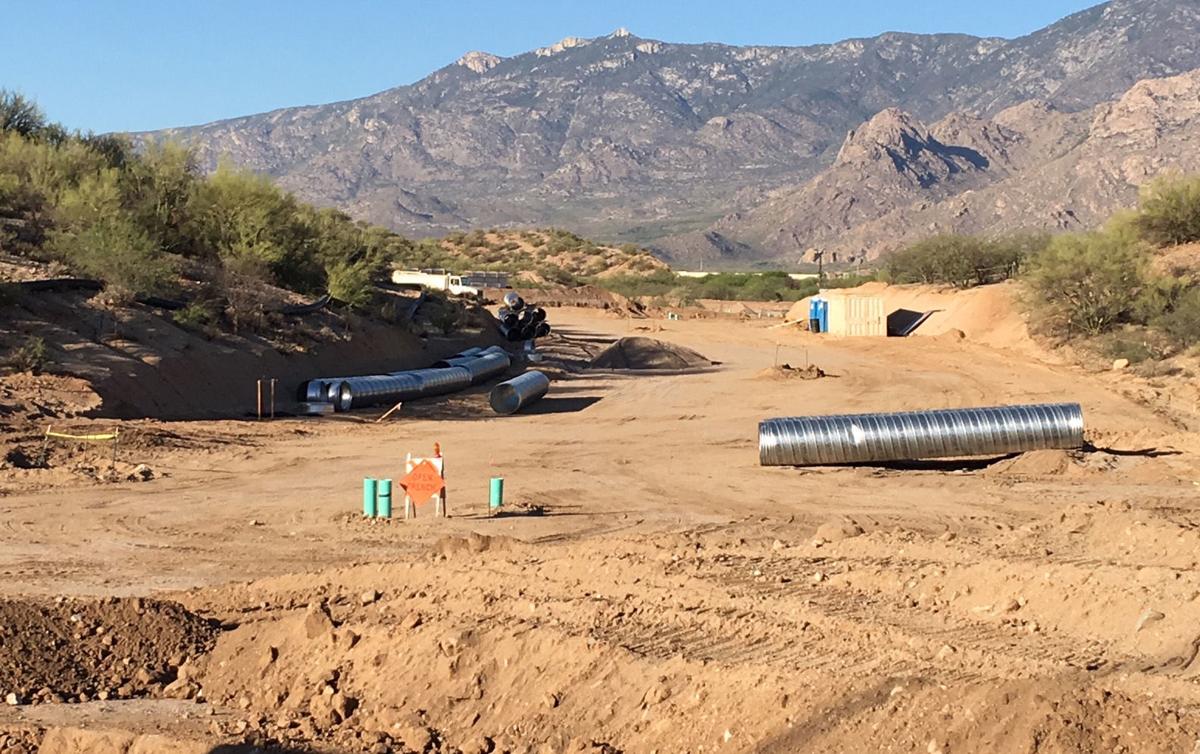 Development of a massive senior living community in Oro Valley has been abruptly canceled — despite being 95 percent preleased — because of labor shortages and the uncertainty of rising steel costs.
Nakoma Sky, a 77-acre continuing care retirement community, was planned with more than 200 independent and assisted-living units along First Avenue north of Oracle Road.
Land prepping began in August and then, on May 30, future residents got notice that the project was off.
"We were informed last week that our project is no longer feasible to construct under today's conditions," the letter reads. "These conditions include severe workforce shortages, rapidly increasing costs of construction materials and supply shortages."
The company said subcontractors were unable to guarantee maximum prices or completion schedules because of the uncertainty of having enough workers for the duration of the construction, which was expected to last at least two years.
Joni Condit, Nakoma Sky's senior vice president and chief operating officer, told the Star that financing was not possible without a guaranteed price.
The project budget was about $100 million.
"It was too much risk," Condit said. "We didn't want to get into a situation where we had to go back to our customers and ask them to pay a lot more. That's not the way we do business."
She said the company was shocked that subcontractors could not guarantee a price or timeline.
"There's not enough labor for them to cover the projects that are out there and the tariffs on steel are definitely a problem," Condit said. "We have contractors in Phoenix telling us the same thing. They're seeing delayed jobs because both factors are important if you're going to predict costs.
"It was a wonderful vision. We certainly didn't anticipate this."
For now, the company plans to hold on to the land and remediate some initial site work that was done.
Oro Valley Town Manager Mary Jacobs said the town is working closely with Nakoma Sky.
"While it's disappointing to hear that the project will be unable to make their business model work on that site, we are working with them at this point to make sure the property is stabilized," she said.
The zoning of that parcel was customized to the development, which included buildings of up to five stories in height.
"I think it's really worth saying that the local economy is strong and that's a good thing," Jacobs said. "While there may be a one-off project from time to time, that does not mean Oro Valley isn't open for business."
PLANNING FOR FUTURE
Saddlebrooke residents Ron and Elsa Peterson learned about the Nakoma Sky project two years ago and became interested.
"I decided it was for us," Ron said and paid a deposit of more than $50,000 for a unit. "Then all of a sudden, out of the blue, I get this email. Everyone was left in shock."
He said the continuum of care offered at Nakoma Sky appealed to him.
"If one spouse develops a problem, they can transition to memory care or assisted living and the other spouse could stay in the original unit," Peterson said. "I was thinking ahead to future needs we might have."
The sales office remains open and the company is facilitating refunds. Peterson said he got his refund Thursday.
"I'm very annoyed that this whole thing is ending," said Thea Chalow, who lives in Oro Valley. "It was a place I could imagine myself living in some day."
The blading of the land upset her.
"The idea that they cut up this beautiful piece of land and do nothing with it seems awful," said Chalow, who had not put down a deposit.
"Historically the Tucson market has relied on a lot of labor that was probably undocumented folks," Chalow said. "The fact that that has changed so much is crimping our style."
Paul and Barbara Walker, from SaddleBrooke, signed up for a unit at Nakoma Sky after informational meetings with sales people and architects.
"It was just wonderful," Barbara said. "It all seemed to be very well done."
But, as time went by and an opening date was pushed back, the couple decided to withdraw their deposit and seek other options for continued care.
"I think it's a big loss to the community," she said. "There was certainly great interest in it."
Demand for assisted living and continuing care is on the rise across the country and Tucson's weather and diverse amenities appeal to potential residents, industry experts say.
Occupancy rates for independent and assisted living in Tucson were 90.3 percent and 85.7 percent, respectively, in the first quarter of 2018, according to data from the National Investment Center for Seniors Housing & Care.
LACK OF SKILLED LABOR
The labor crunch in the construction industry has been a generation in the making.
"Students have been pushed to college only," said Tom Dunn, president of the Arizona Builders Alliance. "We've even discouraged them from getting into the trades by saying, 'You don't need those skills, you can hire someone to do that for you.'"
Many students don't realize they can earn as much as a college graduate with a career in construction without the debt, Dunn said.
"We're even trying to push construction careers through Xbox Live," he said. "Hey, instead of sitting there playing this game, you could be making $20 an hour."
The alliance works with schools and tries to get counselors to encourage construction careers, as well as college.
"I wouldn't call it a crisis yet," Dunn said, "but it's at the forefront of everybody's mind."
Each week, the leadership team of a local commercial and residential landscape construction company meets and asks managers about their biggest challenge.
"Every week they all say the same thing, the lack of skilled labor," said Richard Spross, principal of Santa Rita Landscaping.
Many skilled workers either left Tucson or left the trade during the recession, he said.
"They haven't come back," Spross said. "Couple that with the fact that schools stopped vocational programs and the younger workforce is not coming into the trade."
The company offers on-the-job training and rapid career advancement.
"One of the things that hit us real hard was the minimum-wage increase," Spross said. "Now young people are getting about the same amount as entry-level construction workers but get to work in a cool, indoor environment."
The cancellation of the Nakoma Sky project has been the buzz in the contractor circles.
"For a project of that size to fall, that is a hard one," Spross said, but added that he empathized with the subcontractors' hesitation to make guarantees.
"Many subcontractors are hesitant to bid knowing they can't perform and meet contractual obligations," he said. "We are now looking at the possibility of prioritizing our bids based on long-term relationships with our commercial clients."
POLITICAL FALLOUT
David Freshwater, chairman of Tucson-based Watermark Retirement Communities, empathized with Nakoma Sky developers.
Watermark has two locations in the Tucson market and two under construction, The Watermark at Continental Ranch, 8689 N. Silverbell Road, and The Hacienda at The Canyon, on Sabino Canyon and River roads.
"We went through exactly this when we were going out to bid for the Sabino Canyon site," Freshwater said. "We were very excited that we had a big project like Nakoma because $50 million to $60 million projects don't come along in Tucson very often."
He said in previous years the project would have generated extensive interest from Tucson and Phoenix contractors.
"But when we went out to bid, we get very little response ... a lot of subs didn't even respond," Freshwater said. "The excitement of being a big project was working against us because the University of Arizona had several big projects underway and the subs that could handle big jobs were tied up."
Smaller subcontractors who bid did not have experience with projects over $10 million, so Watermark turned to a Phoenix contractor who could split up contracts among smaller subs.
The labor shortage is a problem across the country, especially on the West Coast, and two of Watermark's senior communities are currently over budget.
Developments in Westwood and Napa, Calif., are over budget by $6 million to $8 million, Freshwater said.
"It's not just the cost, but the time," he said. "What was typically a 14-month job is now being quoted at 22 months because of the shortage of workers."
The new Tucson-area developments are expected to open in 2019 and are already 75 percent pre-leased.
The struggles nonprofit La Posada subsidiary Nakoma was having made the increased prices worth it for Watermark, which is a for-profit company.
"When they're having those problems and we were already ahead of them with construction, you take the risk," Freshwater said. "I feel terrible for them because I know what they've been through."
He said the political shift the country is part of the problem.
"It's one of the fallouts of isolationism and nationalism," Freshwater said. "We need drywallers, we need roofers, we need electricians and a lot of those had traditionally been filled by immigrants.
"This is not a political perspective, but an economic perspective. We need that workforce to keep up with demand."