A funny thing happened to Bruno Girardi on his way to retirement.
The longtime Washington state restaurateur drove through Tucson, fell in love with the Old Pueblo and ditched his plans to spend his twilight years on a boat in the Virgin Islands.
Instead, he's bringing his nearly three decades of restaurant experience to Congress Street where he will open a little Italian bistro in the heart of downtown.
If all goes as planned with the permits, Girardi will open Perché No in the former Caffé Milano spot at 46 W. Congress St. by early September.
"I have a burst of youth coming to me so I need to do this," said the 56-year-old father of three, including a 14-year-old who will be starting high school in Tucson in the coming weeks.
Perché No is Italian for "why not?" which pretty much sums up Girardi's philosophy with this second chapter of his restaurant life.
Back in 2019, Girardi sold his Italian restaurant Giradi's Osteria in Edmonds, Washington, and set out to retire on a boat in St. Thomas in the U.S. Virgin Islands.
And then the pandemic hit and St. Thomas, like the rest of the world, went on lockdown.
Not much you can do in the pristine tropics when everything is closed.
"It was boring. Living on a boat for eight months, that will do it to you," Girardi said, his Italian accent still thick after decades of living in the United States.
Girardi and his wife, Kristine, docked in Florida and decided to head back to Edmonds to catch up with their two older daughters who attend college in Washington. It was on that drive home, through the South and down into Texas and New Mexico and into Southern Arizona, that they passed through Tucson.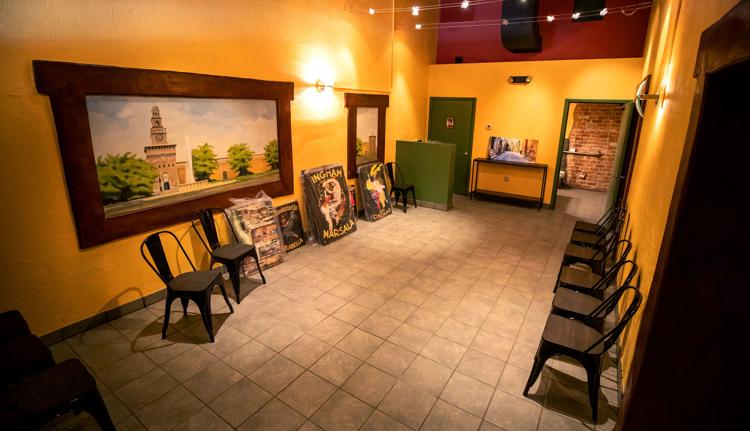 "We kind of fell in love with the city," said Girardi, who was originally from France, the son of an Italian father and French mother. "We drove by Tucson and we liked it."
Back in Washington, they did some research and discovered that Tucson was a foodies paradise. They also learned that aside from our monsoons in the summertime, Tucson doesn't get natural disasters.
That was it; they were sold.
In January, they came back, bought a house and started looking for restaurant locations.
In June, they learned that the 1,500-square-foot space near the Fox Tucson Theatre was available. It already had Italian in its bones; for 22 years, it was home to the Italian restaurant Caffé Milano — rechristened La Fufi Caffé Milano by its most recent owners — which was done in by the pandemic and closed last December.
Six weeks ago, Girardi inked a lease and set about sprucing up the space including work on the flooring and adding stainless steel to the countertops to give it a rustic modern look. He also had to get all new kitchen equipment.
The dining room is divided into two rooms and will have a total of 14 mahogany tables with cushioned wooden chairs to encourage diners to stick around during the daily happy hours. On the sidewalk patio, Girardi will have another four tables to accommodate a dozen diners.
Perché No's menu will draw from Girardi's northern Italian roots as well as his mother's French influence. That means more cream-based sauces than red sauce on his mix of pasta and meat and seafood dishes. And while he plans to serve flatbreads on the happy hour menu, pizza is not in the plans.
Perché No will initially focus on its daily lunch and happy hours, offering dinner service only Thursdays through Saturdays until they get the feel for the business flow. And while he plans to hire 10 mostly part-time employees, he will take the helm of the kitchen himself.
"I was ready for retirement, but retirement isn't for everybody, I guess," he said. "It's not for me. I missed the challenge. I missed the cooking."