A pair of Tucson developers is about to give Tucson's City of Gastronomy an actual address.
And they are doing it in seven historic bungalows that narrowly missed the wrecking ball in a stretch of the city's core that many had long ago written off as desolate and neglected.
Developers Randi Dorman (whose projects include the Ice House Lofts and The Trinity apartments, office and retail space) and Moniqua Lane (who owns the Downtown Clifton and Citizen Hotel) are creating a foodie hub in seven bungalows on the so-called Sunshine Mile. The 2-mile stretch of East Broadway, from Country Club to Euclid, lies in the path of the city's controversial Broadway road-widening project that leveled hundreds of buildings, some of them historic.
Rio Nuevo Chairman Fletcher McCusker said they saved the bungalows, which date back 100 years, when they moved them 75 feet from the roadway in 2019. The historic houses are now the Bungalow Block, sitting on the north side of Broadway, from Cherry to Warren avenues.
Two months ago, Rio Nuevo put out requests for developers to submit financial commitments to redevelop the bungalows in a way that would preserve their history.
"We had several proposals. The one that was head and shoulders above anyone else was Randi and Moniqua's idea to create a City of Gastronomy block," McCusker said. "We think it's brilliant. It is really the kind of thing we have been looking for on Broadway."
Dorman, who has been developing residential and mixed use projects in Tucson with her husband/partner Rob Paulus for 20 years, said the idea is to shine a spotlight on Tucson's City of Gastronomy designation. Plans include creating a cooking school that would feature local chefs teaching about heritage ingredients and traditional cooking techniques, and a restaurant called Residency that would feature a rotating head chef every six to 12 weeks to showcase the different regional cuisines that landed Tucson UNESCO's first American City of Gastronomy designation in 2015.
"I thought we have this designation, we have to amplify it," Dorman said. "Let people from Tucson experience it .. but also have it as a beacon for people to come from all over."
The development, which Dorman and Lane are tentatively calling the Tucson Gastronomy Collective, also will include restaurants and a boutique that will sell local and heritage foods.
"To a certain extent, our goal is to have the city of Tucson recognized as a culinary destination," said Lane, who will open her wine-centric downtown boutique Citizen Hotel this summer. Willcox winery Sand-Reckoner Vineyards is moving its wine barreling and cellaring operations and a tasting room to the hotel's basement.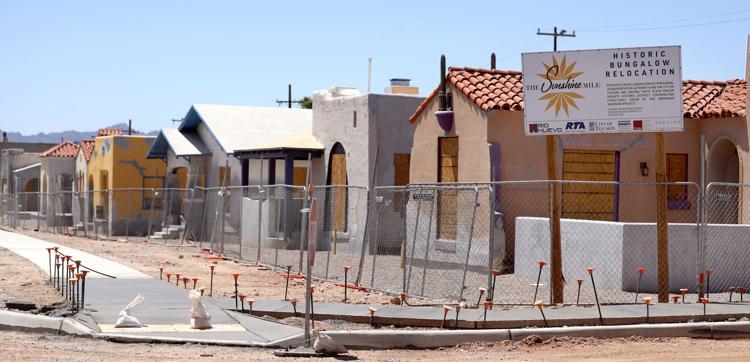 Lane said part of the Bungalow Block mission will be realized through the teaching kitchen, which also will involve students from the University of Arizona's College of Social and Behavioral Sciences Food Studies program.
"We want to have a teaching kitchen … that would actually bring people into our culinary heritage," said the Tucson native, who practiced law before buying and renovating the Downtown Clifton hotel in 2012. "The City of Gastronomy designation can be somewhat opaque to people. They come here and they say, 'Well, I just want to taste all the food.' And they eat all our wonderful food like our Sonoran hot dogs and our tortillas and our Mexican cultural foods. But it's not just that. We want to give a platform for all of that and the chefs that are working with all those ingredients."
The Bungalow Block is one of three Rio Nuevo redevelopment projects along the Sunshine Mile. Rio Nuevo also plans to redevelop the historic Solot Plaza, where Rocco's Little Chicago Pizza will move, and the Friedman Block, which will be home to Lerua's Fine Mexican Food, which was forced out of its home of nearly 80 years at 2005 E. Broadway in early 2019.
Dorman and Lane said it could be a year or more before the Broadway bungalows project is completed.
"It's really exciting to bring a spotlight to everything that made us a City of Gastronomy and also to save these historic homes," Dorman said. "It's a win, win, win."
"I love this place. We love its history. We love the city," added Lane. "We love its culinary heritage, and to be able to spotlight that as well, not just these bungalows but Tucson as a place that is interesting and delectable and worth being a place to visit and a place to live and work and play, is an honor. It is a true honor that we were selected to give that prominence to this place."
---