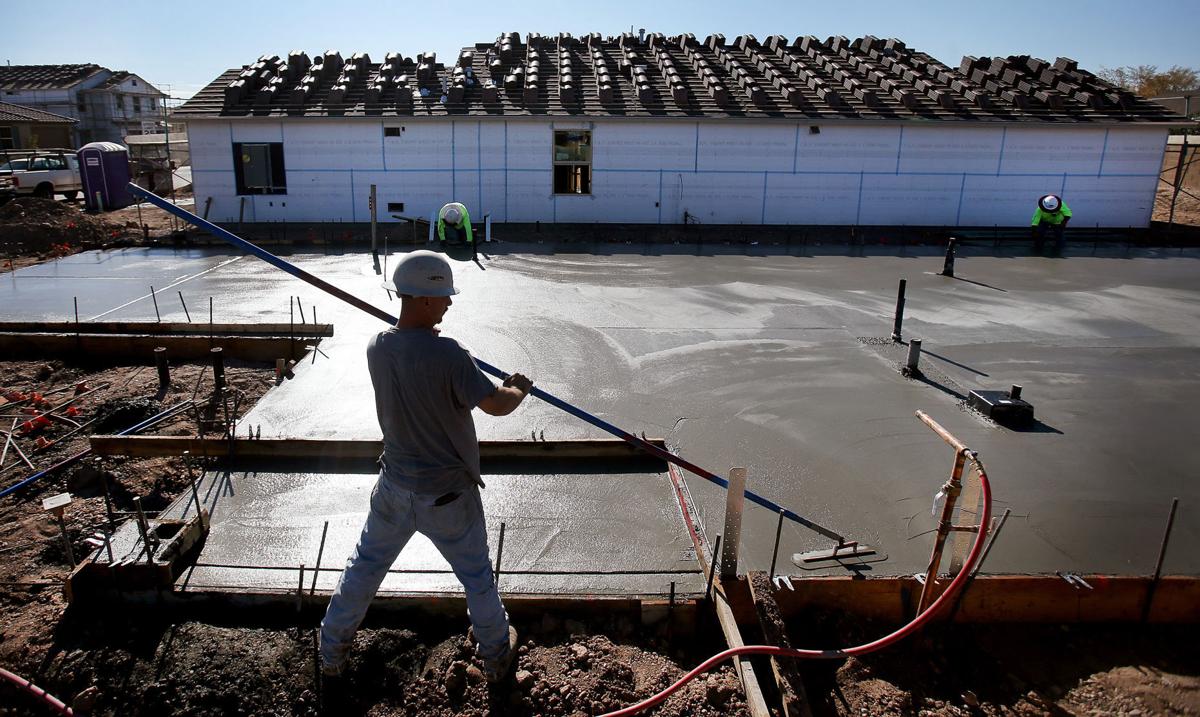 New-home prices reached record levels in 2017, fueling homebuilder confidence to open several new communities next year.
At the market's peak in 2006, the median new-home price was $267,725. This year it is $298,779, a figure that would have made industry experts cringe a few years ago, but the supply is moving.
KB Home has 11 new communities in the local market with plans to open two more in 2018. KB had 100 more closings in 2017 versus 2016 — a 73 percent increase, said Amy McReynolds, president of KB Home Tucson division.
"We continue to believe that Tucson's housing market will remain on a steady path this year and into the future," she said. "The overall economy appears to be gaining momentum with insufficient levels of inventory available to meet this growing demand."
Richmond American Homes is building a new community in Sahuarita and Lennar plans to have models ready to view early next year at its new site on Tucson's west side at Greasewood Road and Starr Pass Boulevard.
Mattamy Homes bought 173 acres of land near Houghton and Irvington roads for a new development, Saguaro Trails.
"We knew we wanted to be in the southeast and pursued opportunities in that unincorporated Vail area," said Josh Robinson, Mattamy's division president in Tucson.
He said the company currently has six sites in the Tucson area and plans to open five next year as demand remains strong.
"As much as we like to see prices increase, we want it to be healthy," Robinson said. "It's encouraging, yet we want it to be steady growth."
Along with new developments, dirt can also be seen moving at several unfinished communities within the city that were idle during the downturn, such as Pepper Viner's Silverbell Commons development on Silverbell Road, north of Grant Road.
"This year has brought back a consistency in demand that the new-home market was missing for many years," said housing analyst Ginger Kneup, owner of Bright Future Real Estate Research. "The tightening of the resale market has also supported increased demand for new homes."
She expects the upward pressure on new- and resale-home prices to continue next year. The median sales price for all homes this year is $189,900.
"The underlying reasons for both are fundamentally about supply and demand as the market is constantly seeking to find a balance," Kneup said. "What that means for the market is that sustained job growth is more important than ever to underpin demand and avert affordability issues in our community."
Nine years ago, "the new-home-permit train ran completely off the tracks," when average monthly permit volume dropped to 126 for the fourth quarter of 2008, she said in her housing market report.
The average monthly permit volume for 2017 is projected to be 264.
"The return of demand to the market means that homebuilders are incorporating new product innovations … meaning buyers will have more choices when deciding what and where to buy," Kneup said. "Remember that 50 percent of the new-homes sales are occurring below that median home price, in the high $200s, which translates to a lot of opportunities to build a new home at a price point that is still affordable relative to the existing home market."
The housing recovery presents a challenge for homebuilders that hesitated to invest in land for the past five years, said Will White, a land broker with Land Advisors Organization.
"Homebuilders have sold much more quickly through their existing communities and are now facing a difficult task on two fronts," he said. "One, having to buy land to resupply communities faster than anticipated and two, doing that in a market where shovel-ready land is extremely hard to locate."
Developers will need to spend and risk more to have enough land in the future.
"The builders are now facing the perfect storm they helped create," White said. "There is about a year's supply of shovel-ready lots that can be purchased and a two-year supply of lots that would take a lot of effort to prepare."
He said 80 percent of land for future building requires entitlements and significant infrastructure investment.
"The homebuilders are getting very active in terms of catching up," White said, "And collective sentiment is that there should be several good years ahead for the Tucson housing market."
The business news you need
With a weekly newsletter looking back at local history.