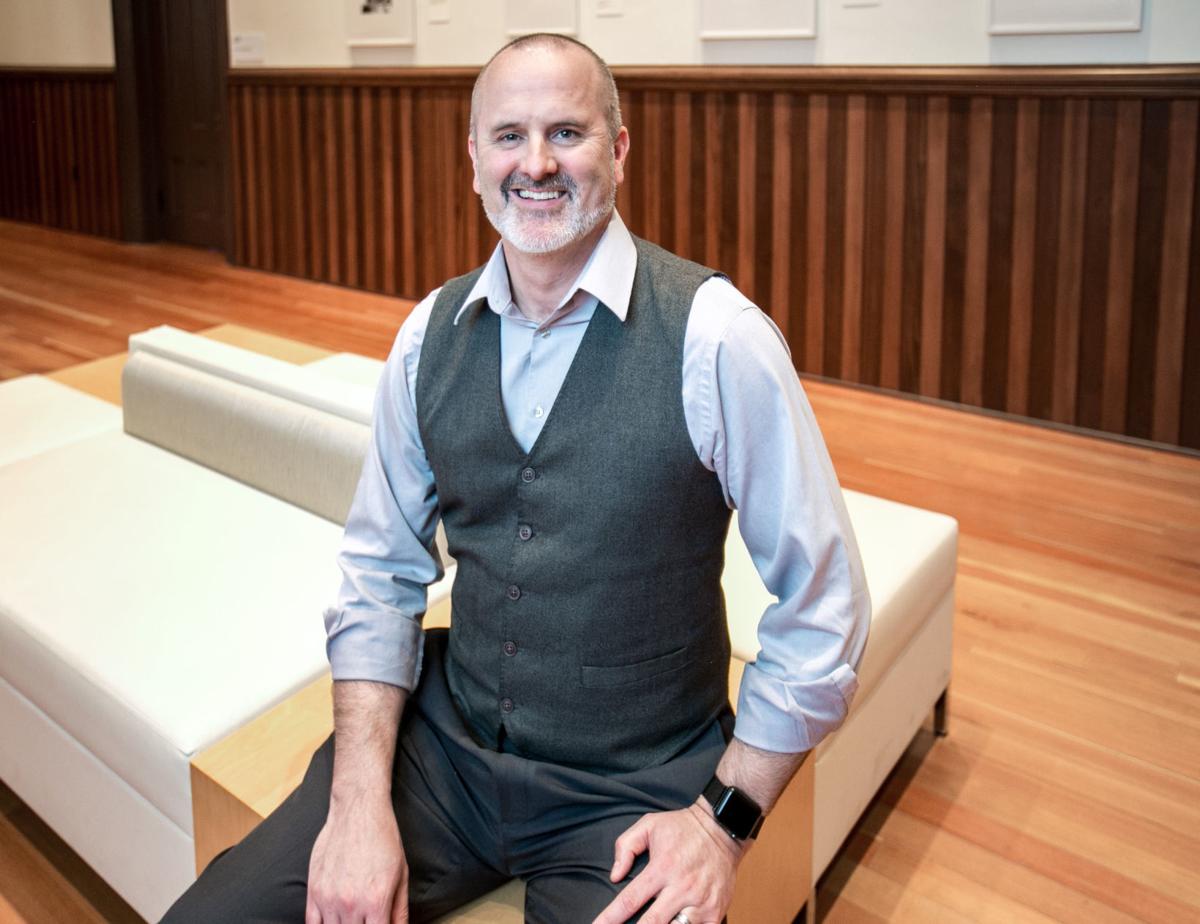 The first leader of Tech Launch Arizona arrived six years ago to drive the University of Arizona's technology commercialization effort to a new level.
TLA's new chief doesn't intend to reinvent that wheel — only make it spin faster and further.
After spearheading the launch of TLA in 2012 and turning it into an effective engine to drive UA faculty inventions into the marketplace, Vice President David Allen is retiring April 28.
He'll be replaced by Doug Hockstad, assistant vice president and head of TLA's technology transfer operation.
Allen, 66, said that after nearly 30 years in the tech-transfer game, it's time for him to spend some time with family and perhaps do something else.
But Allen say he couldn't leave TLA's helm in better hands than Hockstad, whom Allen hired in 2013.
"I have never had a better partner to work with in any capacity than Doug," said Allen, who came to the UA after successfully turning around the tech-transfer program at the University of Colorado.
"There hasn't been anything of substance that hasn't been discussed between us, and I think he has built an organization of licensing managers and other support staff over the last couple of years that is as good as we're going to get anywhere in the nation," Allen said.
For his part, Hockstad is focused on moving forward on a strategic path that has improved almost every key tech-transfer measure — including invention disclosures, patents, licensing and startup companies — every year since its inception.
Under Allen, TLA developed several new strategies to vet new faculty inventions and support their development into licensable intellectual property or spinoff companies.
The agency boosted its staff with licensing experts, developed a comprehensive outreach program to educate and encourage faculty, offered a proof-of concept program to provide small grants to faculty inventors, and set up a network of industry contacts and business mentors including far-flung UA alums and three "mentors-in-residence."
TLA has an annual budget of about $7.5 million, with funding from the UA, the state sales-tax supported Technology and Research Initiative Fund and licensing revenue that totaled about $2.7 million in fiscal 2017.
"There's nothing broken, so a lot of it is going to be taking what we have, and making sure we don't break it and making sure it will continue to grow," Hockstad said.
TIME FOR A CHANGE
Allen said the recent change in UA leadership with the hiring of Dr. Robert C. Robbins as UA president last year had nothing to do with his decision.
Robbins, a cardiac surgeon who headed the Texas Medical Center, is very familiar with technology transfer as the holder of several patents himself and has been supportive of TLA's efforts, both Allen and Hockstad said.
When Allen's departure was announced in March, Robbins said he was directly responsible for TLA's progressive growth, while Hockstad's contribution has been invaluable and he will provide continuity in his new role.
"We have outstanding potential here at the University of Arizona, and TLA is vital to unlocking it to create growing impact on our region and state," Robbins said.
Allen said he has no immediate plans after his retirement except for a planned four-month trip to Alaska with his son, who graduates from the UA's Eller College of Management in May.
"I've been doing this kind of work for almost 28 years, and as much as it's rewarding, I think it's time for me to do some other things," he said, adding that he plans to keep his Tucson home and visit cooler climes to escape Arizona's summer swelter.
Allen said he's proud of the turnaround in the UA's tech-transfer program — particularly the change in culture that has positioned TLA as a valuable resource for faculty entrepreneurs.
"Basically, within three or so years we created a turnaround, where people wanted to work with us," he said. "The first couple of years it was, 'give us a chance, see what it's like', and a couple years later, they came back, even if it didn't work out the first time."
TECH TRANSFER AND TENURE
Lynn Nadel, chairman of the UA's Faculty Senate and a Regents professor emeritus of psychology, said not every faculty member has the desire or opportunity to take an invention to market, but TLA provides invaluable support for those who do.
"It really has made a difference," said Nadel, who has not worked directly with TLA but has several colleagues who have. "If you are a faculty member and want to do something in that world, they provide a very good environment for that and a variety of resources that really help out."
Nadel said some faculty members — including himself — are still not completely comfortable with the idea of industry dictating academic research or guiding it toward a profit-making goal.
But he said tech-transfer opportunities are increasingly important to faculty, and the UA Faculty Senate signed off on a policy change in 2013 that added faculty tech-transfer activity to UA guidelines for promotions and tenure.
Nadel said that many, particularly younger, faculty members are specifically looking for tech-transfer opportunities, adding that in some departments it's essential.
"You can't hire young computer scientist at the university now unless they have the option to be connected to industry in some way, or otherwise they'll just go work for industry for four times the money," Nadel said.
Hockstad, a 51-year-old Michigan native who spent 11 years in the tech-transfer office of the University of Michigan before joining the UA, has seen the same dynamic.
"One of the things I noticed both at Michigan in the end and since I got here, faculty will often when they're being recruited say 'I want to meet the tech-transfer office,' " said Hockstad, a Michigan computer-science grad who worked as a software engineer and manager before joining the school's tech-transfer team to develop a software-licensing practice.
"They realize it's really important to their career, they realize what they're working on can have a societal impact."
MAKING AN IMPACT
While tech-transfer traditionally involves faculty in the hard sciences, such as engineering or microbiology, Hockstad said software licensing offers wide commercialization opportunities.
"Software and copyrighted stuff can permeate anywhere on campus," he said.
He cited SinfoníaRx, a medication-management company based on software developed at the UA College of Pharmacy that was acquired by a New Jersey company last year in a deal worth $35 million and up to $130 million based on future milestones.
Such startups can have a significant local economic impact.
According to an internal study issued in January, since TLA began operations, the agency has fostered 55 startup companies based on UA faculty technologies, and 53 of those were still in operation during the 2017 fiscal year.
The UA tech startups have created 780 jobs since the formation of TLA and generated $32 million in revenue in fiscal 2017, along with $18.9 million in private equity investment and $7.8 million in new grants.
"In the long run, what we want to see is startups that exist for a long time, three to five years, and startups that are employing people," Hockstad said.
Looking ahead, Hockstad said he's excited about new startups including Regulonix, a 2016 UA spinoff developing a new class of non-opioid painkillers.
"It's a hot space, it's a really interesting technology, and it could make just a huge impact on a lot of people," he said.
Hockstad said he also plans to push a tech-transfer initiative involving the University of Arizona College of Medicine–Phoenix, focusing on digital health-care technologies.
"Commercialization isn't the dirty word it used to be," Hockstad said. "The story you're telling is, this is not all about just making money — in fact, the university doesn't get most of the money — it's really about taking what you've done and getting it to more people, getting a bigger impact out of it."