Testing critical aircraft parts for dangerous flaws before they fail is the focus of new training Pima Community College plans to launch next year, thanks to a recent federal grant.
The $490,000 award from the Federal Aviation Administration's Aviation Workforce Development Grant program will allow Pima's Aviation Technology Program to offer training and initial certification in "nondestructive testing" of aircraft hardware for continued use, said Jason Bowersock, academic director for Pima's aviation program.
Pima will have plenty of room for the new program, as it expects to complete a major expansion of its Aviation Technology Center that will more than double its footprint at Tucson International Airport and student capacity when it opens this spring.
Pima's highly-regarded aviation technology program has long offered FAA-approved certificate programs in aviation airframe, powerplant and structural mechanics, as well as avionics.
The school — which routinely places nearly all of its graduates in jobs amid a global shortage of aircraft mechanics — also offers an associate degree in aviation technology.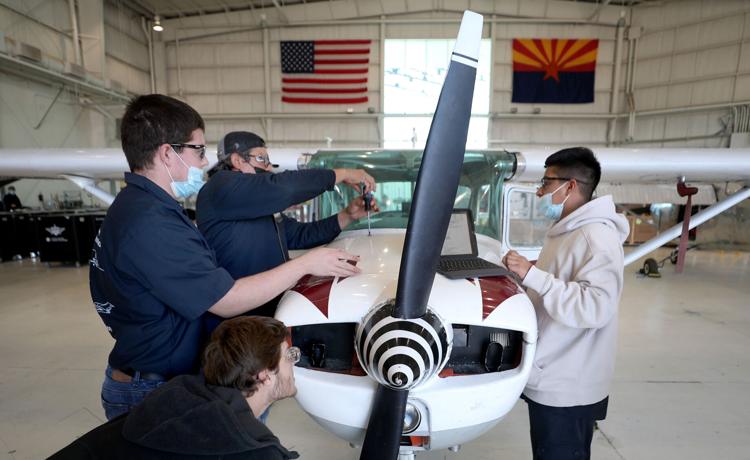 The nondestructive testing program will teach students how to inspect aircraft components for flaws and wear visually and using tools such as ultrasound, X-ray, special dyes and methods using electrical current and magnetic particles.
"Kind of a long shot"
Bowersock said he was mulling what new training the school could offer with the major aviation expansion on its way to completion, but he wasn't sure of Pima's chances when he applied for the FAA grant, part of an overall $5 million program approved by Congress in 2020.
"I actually thought it was kind of a long shot because, obviously, the focus of the FAA program is on aviation maintenance, and though nondestructive testing is widely used throughout the aviation and aerospace industries, it's not aviation-specific," said Bowersock. "It's not training new mechanics, and there's this huge shortage of mechanics worldwide."
But many critical components removed from aircraft during maintenance must be subjected to nondestructive testing before they can be put back into service, said Bowersock, a 20-year Air Force maintenance veteran who joined the Pima aviation program as an instructor in 2015 and was named director in 2016.
"Something as simple as a bolt that holds together a wheel — when that's broken down, all that hardware has to be put through nondestructive testing to make sure it still has the integrity it had when it was manufactured, and it's going to hold that wheel together and not cause a failure," he said.
Unfortunately, because Pima was unable to get its curriculum through the approval process for fall 2022, the new program won't be offered until the fall of 2023, Bowersock said.
While Pima currently prepares its aviation mechanics for FAA licensing exams, certifications in nondestructive testing are handled by the American Society for Nondestructive Testing, a nonprofit technical group based in Columbus, Ohio, Bowersock said.
Pima's program will prepare students for certification for nondestructive testing in aviation and earn initial Level I certification and enable existing aircraft mechanics to earn either Level I or Level II certifications from the ASNT, but Level II certification requires a minimum number of hours of on-the-job training, Bowersock said.
The grant money will be used to establish new curricula in aviation maintenance, including purchasing equipment, and support transition to careers in aviation maintenance through Pima's status as a Hispanic-serving institution, the school said in its proposal.
The grants, which are authorized through fiscal 2023 are competitive and can range from $25,000 up to $500,000 annually, according to the FAA.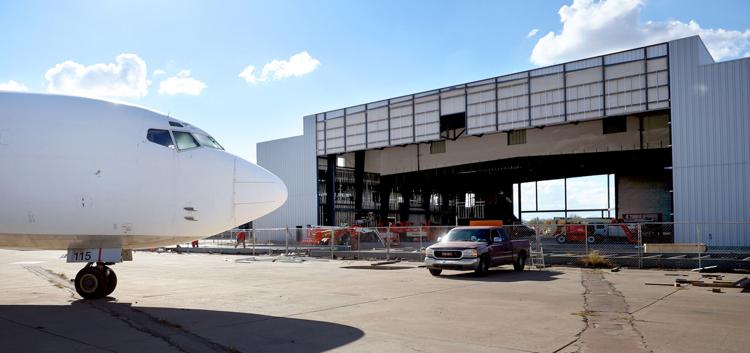 Companies welcome new program
Pima's new program will be a valuable new resource for local aircraft maintenance, repair and maintenance companies like Marana-based Ascent Aviation Services.
The fast-growing company employs about 500 workers who repair and overhaul airliners at maintenance centers at TIA and at Pinal Airpark in Marana, and plans to break ground soon on a new facility at the Roswell Air Center in Roswell, New Mexico, that is expected to employ about 350, Ascent President David Querio said.
"We employ internal NDT technicians, and we're always looking through our expansion to grow additional people," Querio said. "As Pima expands their capabilities with NDT, we'll be able to provide additional training for our existing workforce, as well as potentially hiring additional trained personnel from Pima."
Meanwhile, Bowersock and his colleagues and students at Pima are looking forward to the opening of its expanded center at TIA off South Park Avenue sometime in April.
Funded by a one-time state appropriation of $15 million in 2019, the expansion project includes a new aircraft hangar and five classrooms and offices, roughly doubling the program's footprint and allowing PCC to double its allowed enrollment to 250 and its graduation rate to 150 students each year.
The program will soon add its 10th faculty member, Bowersock said, and has already added a new cohort of students in anticipation of the new space.
Bowersock said the program was able to accommodate more students by using classroom space in hangar areas that were initially set up to keep students socially distanced as a COVID-19 safety measure.
"When we went away from the whole social-distancing protocol, the spaces remain, so we thought, let's take advantage of those spaces," he said. "We can use them as temporary classrooms to start to increase our enrollment now, in anticipation of the expansion opening up, so we can immediately start filling that space with new and existing students."
Querio, who sits on Pima's aviation-industry advisory board, said his company and the local aircraft-maintenance industry looks forward to having more grads available to hire.
"We try and hire as many Pima graduates as we can," he said. "Their school is pretty state-of-the-art and advanced, and we as industry try to work with them closely to assist in their in their plans for expansion, growth and new offerings that they can offer, as far as the industry's needs and how they can satisfy them."
For more information on Pima's Aviation Technology Program, go to tucne.ws/1jfy.