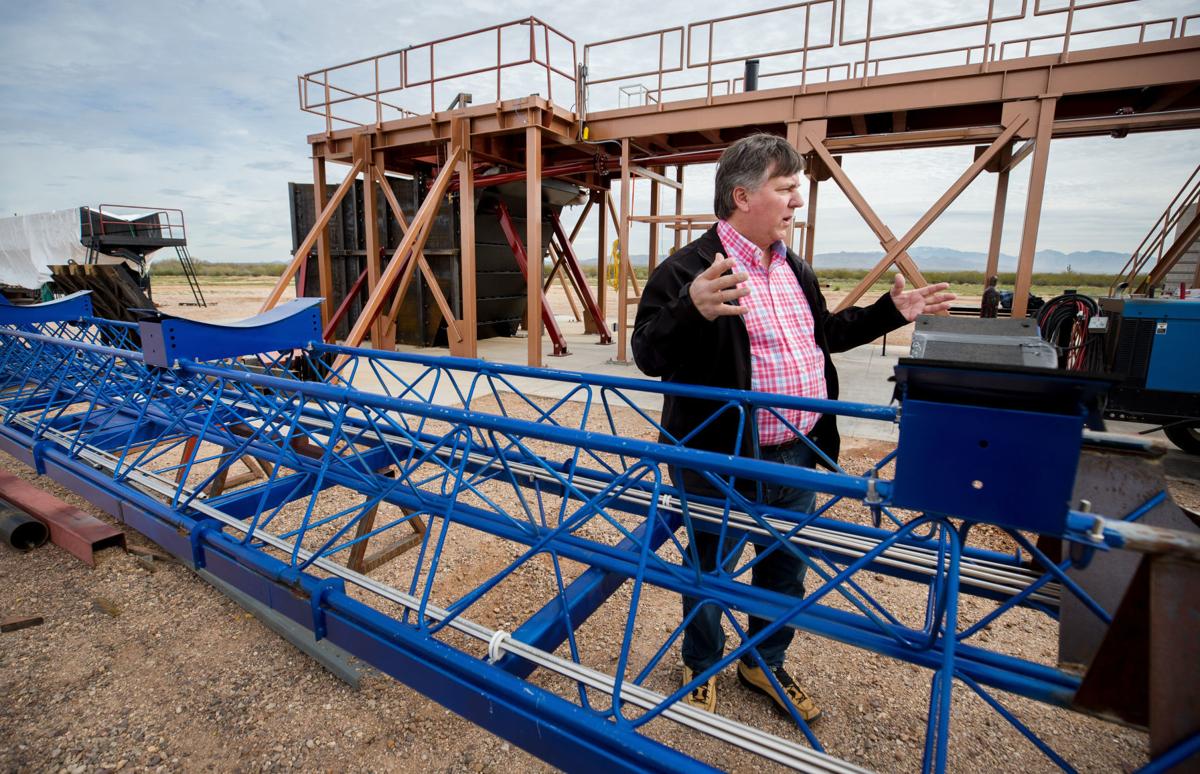 Tucson mini-satellite-launch startup Vector has yet to break ground on a planned factory on Tucson's south side where it plans to churn out hundreds of small rockets in the coming years.
But the company is quietly building a major rocket-engine test site in the creosote-scrub desert at Pinal Airpark after discovering the site by accident.
Vector CEO Jim Cantrell said he was having trouble finding a site to test the company's small rockets, which for now are being built at a site at an industrial park near downtown.
The explosion of a hydrogen-filled stratospheric balloon during testing by World View Enterprises at its headquarters on Tucson's south side in December 2017 didn't help, though the companies and technologies are completely unrelated.
"We couldn't find anybody after the World View explosion, they were all like, 'don't come near us,'" recalled Cantrell, a veteran of SpaceX who founded Vector with rocket engineer John Garvey and a group of commercial space veterans in 2016.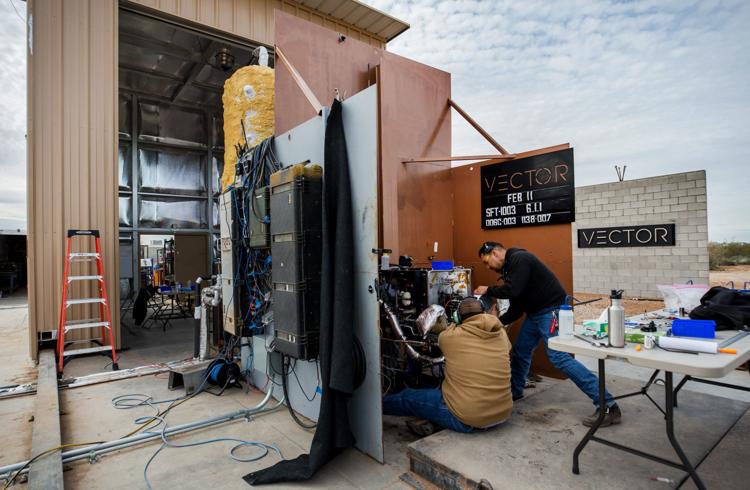 Cantrell, an avid amateur sports-car builder and racer who sits on the Arizona regional board of the Sports Car Club of America, went to Pinal Airpark with longtime racing teammate and Vector vice president of facilities Doug Nelson in April to look at a mostly dormant racetrack there as a possible racing venue.
While checking out the old track, airport director Jim Petty spotted the Vector-logo Cantrell and Nelson were wearing and asked about it.
They talked about the county's efforts to lease available space and Vector's need, and by the following week a lease was written up.
"Within a week we had a lease for this land — I mean, a week — in another week we had a conditional permit and within a month we did our first test out here," Cantrell said.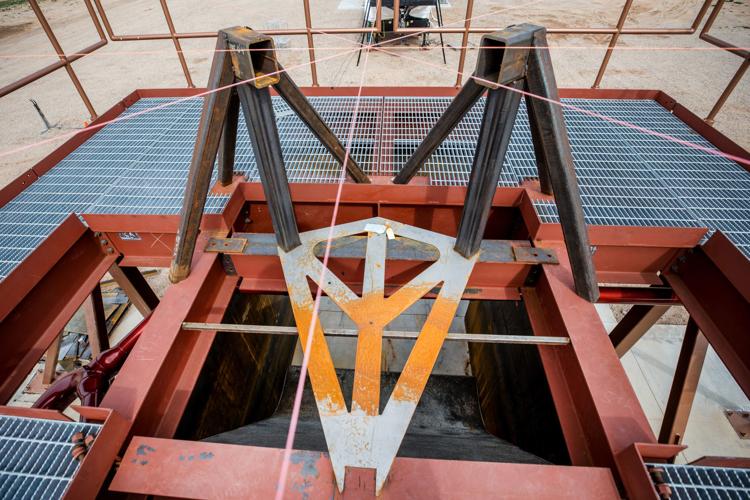 FIRING AWAY
The company, which has about 70 local employees and another 80 at sites Huntington Beach and San Jose, California, has been test-firing its proprietary rocket technology and building out the test site as it works towards its next suborbital flight in May and a planned first orbital flight in August.
During a tour last week, the test site was a beehive of activity with landscapers shaping and moving dirt, test technicians working on an engine on a massive test stand and another crew working on new test stands.
The company has performed numerous tests of its patented rocket engine, which uses special 3-D printed fuel injectors, on a horizontal test stand while it builds a larger, vertical stand on the site and lays plans for another.
Also on-site is one of two portable "transporter-erector-launchers" Vector has built to quickly set up and launch rockets.
Working at the horizontal test rig, Vector propulsion lead Michael Novratil has some news for Cantrell.
"Remember when we said we were going to try and break the engine? We broke the engine," said Novratil, a space-tech veteran who worked for SpaceX, Virgin Orbit after a long career with McDonnell-Douglas' Delta rocket program.
Later, he showed Cantrell an engine component that failed during the test, which was intended to force the failure to guide engineering improvements.
"If you're not blowing stuff up, you're not making progress," he said.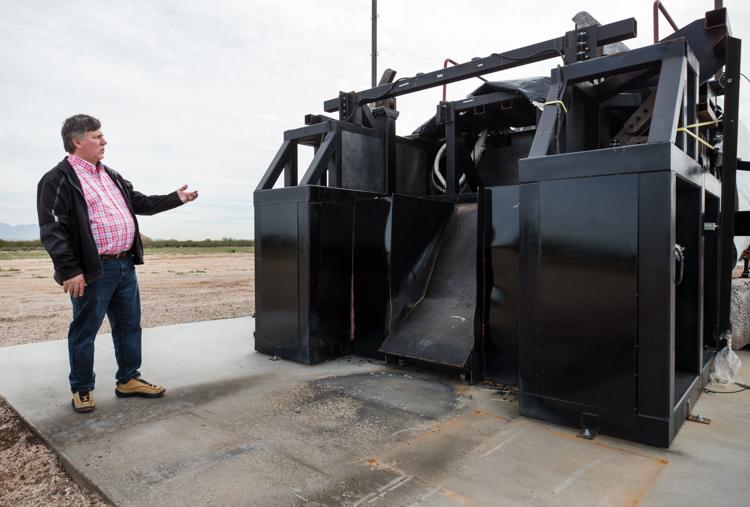 SAFETY MEASURES
Though the rocket business can be dangerous, the airpark is mostly surrounded by empty desert, with the nearest residential cluster more than two miles away in Red Rock.
Vector's activities pose no danger to the public, Cantrell said.
Tests are conducted on special heat-proof concrete pads, and water deluge systems are designed to cool the tremendous amount of heat put off by the rocket engines.
A crew is building a "catch fence" on the east side of the test area, at the request of Pinal County, to block the flash from test firings from Interstate 10 nearly three miles away.
Components like tanks containing propylene — a gas similar to propane — and liquid oxygen are protected by solid-concrete blast walls, but the fuels are relatively safe, Cantrell said.
"We have less fuel in these tanks than a gasoline tanker running down the highway," he said.
PINAL PARTNERSHIP
Cantrell said the site has proved ideal, citing the cooperation of Pinal County authorities.
"It's a good place to be, and Pinal County has been awesome to work with," he said.
Vector's arrival is also good news for Pinal County, which has been trying to boost economic development at the airport since opening it to the public in 2013.
The former World War II aviation training site had been dominated since the 1980s by Evergreen International Aviation, which worked to maintain and fly planes used by the CIA's covert Air America operation in Indochina from the 1950s to the mid-1970s.
Under an exclusive lease for nearly the entire airport property signed in 1982 and later extended to 2032, Evergreen's maintenance operation restricted access to the airpark.
In 2012, Marana Aerospace Solutions acquired the lease held by Evergreen, which filed for bankruptcy in 2013.
After a legal battle with the Pinal County, the successor company signed a new lease ending its exclusive hold on the airport. Marana Aerospace later merged with Ascent Aviation, which operates a maintenance center at Tucson International Airport as well as the Pinal Airpark operation.
Pinal County improved the runway and other facilities to meet Federal Aviation Administration standards for general-aviation airports, said Tim Kanavel, Pinal's economic-development manager.
"Now that we have full control of the airport, we're really going to ramp things up there, but it takes a lot of time and money, and a lot of planning," Kanavel said. "Our goal is to really generate a lot more business at the park — it is truly a diamond in the rough."
Vector's arrival will boost those efforts, he added.
"It keeps up with our aerospace and defense efforts, that's one of our target sectors that we're really working to expand," Kanavel said. "They're high-paying jobs, most of them and that's something we're trying to attract to the airport."
Meanwhile, Vector presses on with testing for its first orbital flight, originally scheduled for last year.
The company successfully launched two of its Vector-R prototypes in suborbital flights in 2017 but skipped a planned suborbital flight to preserve the rocket for ground testing, Cantrell said.
Vector also has pre-booked launches for at least two other customers, Seattle-based launch services provider Spaceflight Industries and Scotland-based Alba Orbital.
Cantrell blamed part of the delay in getting to orbit on the federal government shutdown, which hung up Vector's launch-license applications with the FAA and NASA.
Vector now plans a suborbital launch in May for a classified customer from an undisclosed U.S. test range, followed by the company's first orbital launch in August from the Pacific Spaceport Complex in Kodiak, Alaska.
"It could slip a couple months, but we're working hard to not let that happen," Cantrell said, adding that investors have remained supportive.
One of Vector's main competitors, Rocket Lab, launched its third orbital flight in December, but that doesn't bother Cantrell.
"It's all a process. This takes time, and this has taken us a little longer than we thought," he said. "I've always felt the need to move fast. When your foot's to the floor it doesn't change much."
The business news you need
With a weekly newsletter looking back at local history.