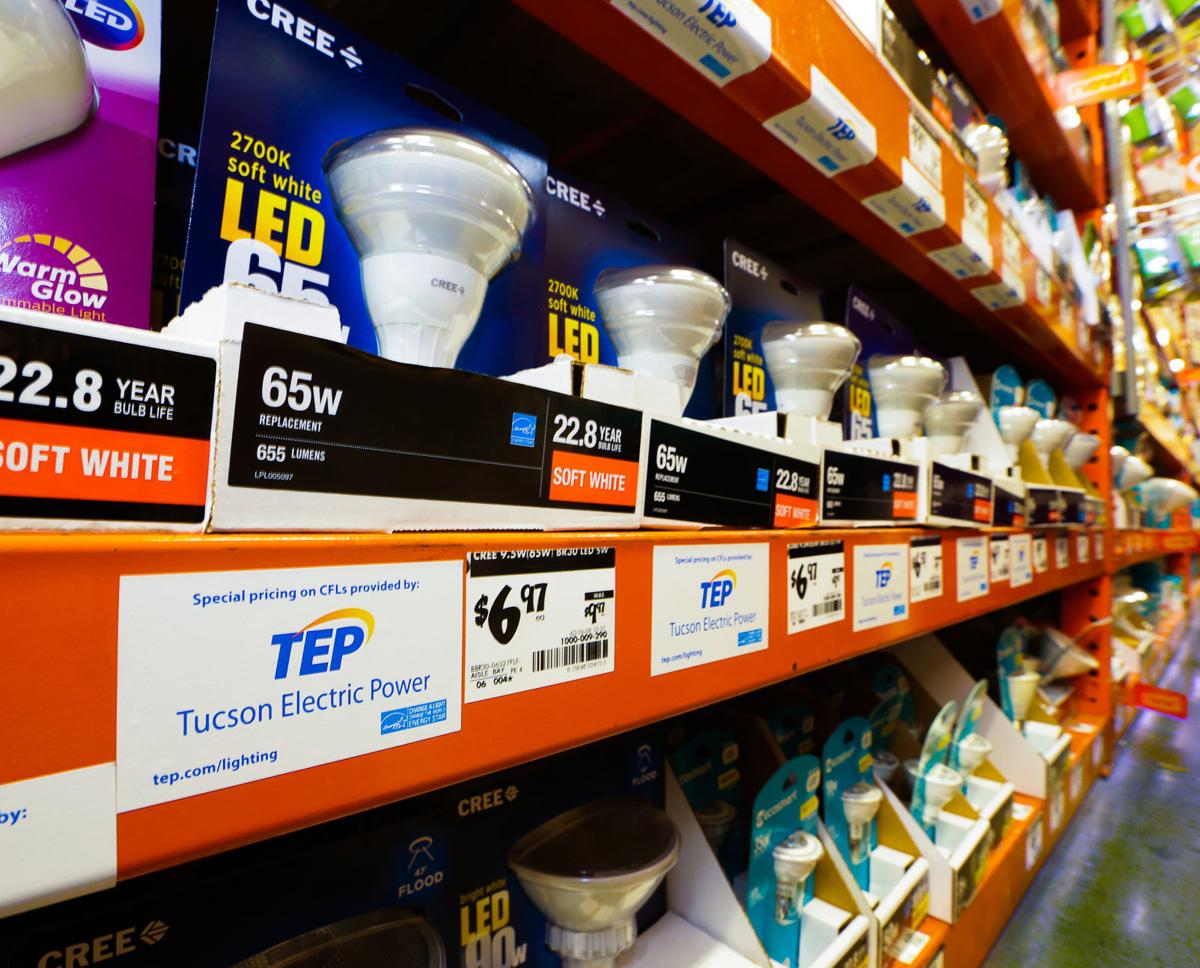 Tucson Electric Power Co. has filed a new energy-efficiency plan with state regulators that would keep funding for rebates for efficiency upgrades and related programs unchanged through 2020.
In a recent filing to the Arizona Corporation Commission, TEP says it wants to keep the energy-efficiency program budget at about $23 million as it rolls out some new programs — including some customer-based "load management" programs, and new incentives for electric-vehicle owners.
Those new plans were just approved in February as part of the utility's long-delayed 2018 plan to meet state energy-efficiency mandates.
TEP's planned load-management programs — which are aimed at helping the power company reduce peak-demand loads on its system — include a pilot "demand response" program to allow TEP to control participating customers' thermostats in exchange for a $40 annual incentive.
TEP estimates it will take three years to design and conduct the pilot load-management programs, which also include "thermal storage" — allowing the utility to pre-cool participating customers' homes or preheat their water when demand is low — and a neighborhood-level battery storage program.
"With some of the new programs that we proposed, we are looking at an extended period of time for implementation," TEP spokesman Joe Barrios said. "They're going to take time to find partners and set up the application process, simply making them available to customers."
TEP's 2018 energy efficiency kept funding at the 2017 level of $22.9 million. Incentives and other costs of the efficiency programs are funded through "demand side management" bill surcharges, which for TEP home customers now average about $3 a month.
But to pay for the new load-management and EV programs, the plan allowed TEP to shift more than $2 million mainly from efficiency incentives for existing and multi-family homes, drawing criticism from energy-efficiency advocates who said cost-effective programs shouldn't be cut to fund new measures.
The nonprofit Southwest Energy Efficiency Project (SWEEP), which has helped drive Arizona's efficiency efforts, supports the programs approved in February and the annual budget level of $23 million TEP has proposed through 2020, said Jeff Schlegel, the group's Arizona representative.
Schlegel noted that just having some funding continuity will help stabilize the efficiency programs offered by TEP, which has suspended some programs in past years due to long delays in gaining approvals for new annual programs and funding.
"We've seen some of the ups and downs of the programs and their availability, or lack of availability for customers, so we're strongly supportive of having some stability and some certainty there," Schlegel said.
But although SWEEP supported funding for the new incentive programs for electric vehicles in the 2018 plan, Schlegel said TEP and regulators should find a separate source of funding going forward for the planned annual EV program budget of about $2.2 million.
"We went along with that to jump-start these programs, but we don't think that's appropriate for a three-year period," he said.
Schlegel noted that the Corporation Commission in December adopted a general policy urging TEP and other state-regulated utilities to help build out the electric-vehicle charging infrastructure in their service areas and seek recovery of their capital costs through its overall rates.
TEP's 2018 energy-efficiency plan allocates $450,000 from demand-side management funding to administer the charging station buildout, but the utility also plans to invest up to $8 million on charging projects and recover those costs in future rates.
While details are still being worked out, TEP 's initial EV program would offer rebates of up to $500 to customers who install EV charging equipment in their homes and an incentive of $100 per home to homebuilders who install charger-ready wiring in new homes. TEP also plans to offer EV owners a special rate for off-peak charging.
In its latest filing, TEP also wants another waiver from meeting the state energy-efficiency standard, projecting it will fall slightly short of those goals during the proposed program period.
Under rules adopted by the ACC in 2010, state-regulated investor-owned electric utilities including TEP must achieve cumulative energy savings totaling 22 percent by 2020, meeting annual percentage milestones along the way. About half the states have similar standards, with the idea that every watt saved is one less watt a utility must generate or buy.
Schlegel said SWEEP is not opposed to granting TEP a waiver for the next year or so, but the group would still like to see it hit the 22 percent savings mandate by the end of 2020.
The Corporation Commission is considering expanding or modifying the state's energy-efficiency standard as part of a larger proceeding on a proposed state "energy modernization plan" that also includes possible changes to the state's renewable-energy standard and the treatment of new technologies like energy storage.