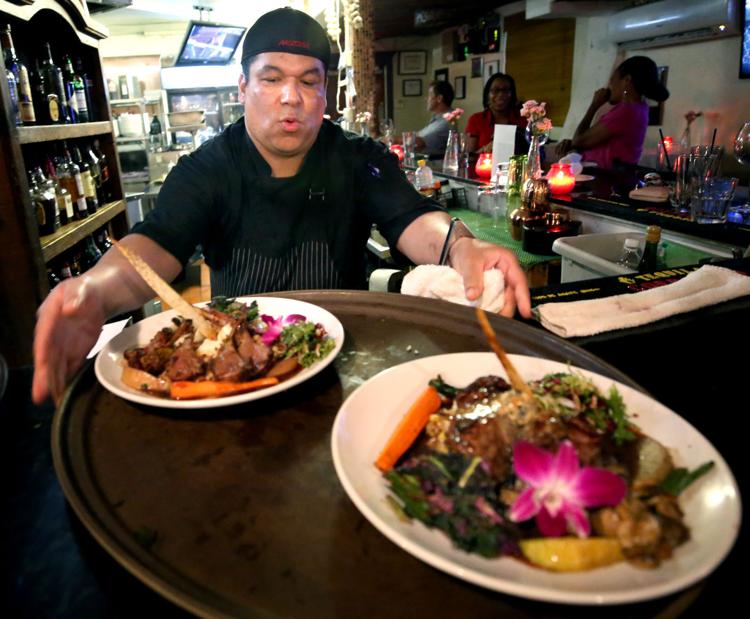 Here's something you don't hear often in Tucson, especially in the summer: A restaurant is moving because it's too busy for its current location.
That's what's happening with Wild Garlic Grill, the nearly 5-year-old, fine-casual restaurant that resurrected celebrated Tucson chef Steven Schultz's career.
"We sell out almost every single night and you have people waiting outside to be sat," said Schultz's wife and Wild Garlic Grill owner Maudi Gourdin-Schultz. "We're just too busy (for the space)."
On Thursday, Aug. 3, Gourdin-Schultz was expected to get the keys for the 3,700-square-foot space at 2870 E. Skyline Drive that was home to Shlomo & Vito's New York Delicatessen & Pizza Kitchen, which closed in February. Schultz said he hopes to be open in the new location by mid-October after some minor renovations.
"I'm super excited. That facility there is so nice," said Schultz, who owned the popular Red Sky Cafe at Plaza Palomino for 12 years before closing in spring 2012. "It's just perfect for our restaurant. It has an excellent kitchen and it's not too big."
Wild Garlic Grill will be open at 2530 N. First Ave. until mid-October, serving up Schultz's menu of French and California-inspired garlic-centric fare, from grilled meats to burgers, seafood and pasta. Gourdin-Schultz said the plan is to seamlessly transition to the new location; close one night in midtown and open the next in the foothills.
"Our goal is to keep everything the same, but it is going to let (Steven) have the ability to execute more specialty dishes," she said. "He's going to have the space to be more creative. What limits Steven right now is … space."
Gourdin-Schultz said she opened Wild Garlic Grill as a "project" to get Schultz back into the kitchen after he closed Red Sky in the aftermath of the tumultuous 2008 economic downturn. The building on North First Avenue, near East Grant Road, was a seemingly unlikely spot for Schultz's French-inspired, California-styled, fine-casual cuisine. The building was well-worn and had a reputation in the neighborhood for fast food; in the 1950s, it was home to a Frosty Top drive-through burger joint. In the '80s and early '90s, it housed Sanchez Burrito Company.
"When we opened, we did not know what to expect," Gourdin-Schultz said. "We opened it not knowing it would be a success, and people came and they were so supportive."
Buzz about Wild Garlic Grill quickly spread and within months of opening on Dec. 12, 2012, the restaurant was a hit. Diners commented on the quirky location and praised the food coming from the small kitchen. Some Red Sky fans rediscovering Schultz started emailing requests for the chef's old signature dishes. But his kitchen was more often than not too small to accommodate them, he said.
"As a chef you have to be on point every second. Sometimes I can only cook a certain amount of things a day" because of the size of the kitchen and the pace of business, Schultz said. "I had a lot of dishes that I just can't make because of the facility. … I've got a really large repertoire of dishes, but it just gets so busy that it's extremely difficult to execute, especially in the winter season."
Some of those dishes will make it back on the menu with the move, he said.
Gourdin-Schultz said moving from North First Avenue is bittersweet. In some ways, she said, she feels like they are abandoning the neighborhood, which some of their neighbors have told them they helped to revitalize.
"I feel like in a lot of ways we helped recharge that area," she said. But "the timing is right for Tucson. The economy is improving."