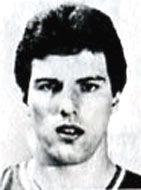 Next Sunday at the DoubleTree Hotel, former Santa Rita High School and five-year NBA center Dave Feitl will be inducted into the Pima County Sports Hall of Fame.
He'll be doing so as a representative of the UTEP Miners, not the Arizona Wildcats, and it didn't have to be that way.
After helping Santa Rita to the 1979 state championship game, and becoming the Arizona Player of the Year as a 1980 senior, Feitl enrolled at UTEP. He became the Miners' No. 2 career scorer, a two-time All-WAC player and a second-round NBA draft pick.
How in the world did Arizona, struggling under Fred Snowden as a new member of the Pac-10, let Feitl get out of town?
Feitl was offered a scholarship by Oregon State, which was then No. 1 in the NCAA and the Pac-10's ranking basketball power. He chose not to go become a Beaver, in part, because Feitl had lived in Butler, Pennsylvania, and didn't want to return to a rainy/cold climate. So he visited UTEP and San Diego State.
"The UA gave me an ultimatum: They told me to take an unofficial visit so it wouldn't count against the number of visits they could give other prospects," Feitl said. "It pretty much fell apart from there."
One coach in Tucson who properly evaluated the 6-11 Feitl was Pueblo coach Roland LaVetter, who had won back-to-back state championships in 1977 and 1978. After Feitl, a sophomore, played against Pueblo in 1978, LaVetter told the Star: He does some things well for a sophomore. He could develop into a great athlete. I'm very impressed."
For ticket information to the Pima County Sports Hall of Fame induction ceremony, which includes former Sabino High School and MLB All-Star shortstop J.J. Hardy and Arizona defensive coordinator Rich Ellerson, call 244-8907 or 906-2624.