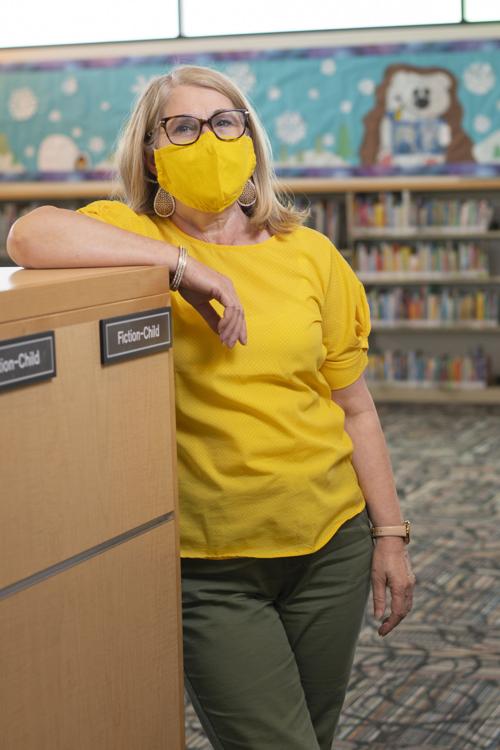 Working for the Pima County Public Library for the past 20 years has allowed me to fulfill my passion: working with children.
I work as a children's service library associate at the Eckstrom-Columbus Library. Prior to 2020, I was able to do weekly story time for the children that came to the library. I would prepare at home and create new ways to keep the children happy using props, stories, and various activities and crafts. Nothing made me happier than coming in to work and seeing the children waiting for me in the story time room, excited to begin.
Unfortunately, story time came to an end as the COVID-19 pandemic began. I spent the first few weeks of this pandemic missing my interaction with the kids. As a mother and a grandmother, I often thought of them as my own children and wanted to do everything in my power to help them in any way I could.
The library created the Grab-N-Go Food program last summer to provide snacks to children, often from lower-income families. Schools had closed, and many children lost access to free or reduced lunch as a result. As any mother will confirm, food is extremely important for any child. The ability to run, play, learn, grow and enjoy life is compromised when you are hungry.
I immediately knew the Grab-N-Go program was something I needed to be involved in and volunteered to spearhead the program at my library.
Through the program, parents can come to the library and pick up snacks for their children. I arranged with the food bank to deliver the snacks to the library, sorted them into individual boxes, and got them ready for parents to come in and collect.
I was eager to see any of my story time regulars, and finally after a couple of weeks I got a visit from one. He came to our table with his parents to take some snacks. Handing out snacks from a distance through our masks is not the same personal interaction that I missed from the pre-pandemic story times, but I was so relieved and happy to see one of my story time children healthy and doing well. He told me he missed playing with the other children at story time, and after I showed him I had snacks, he told me he would rate me a "200 out of 100."
Later, I began to see almost all of the regular attendees. One girl came in with her grandmother and said, "Look, Tima, I put on lipstick today!" She lowered her mask very briefly to show me her new makeup. I told her when the pandemic is over that she can do my makeup, and she laughed and began to eat her snacks.
The pandemic has forced all of us to change the way we live our lives. I have been fortunate enough to be provided a platform to help my community. I believe community begins with the youth. Children deserve all the love and care in the world. I play a small part in providing this through handing out snacks. You never know what a family is going through, especially during these times. If I can provide a five-minute break from hard times through providing a quick bite to eat and making children laugh, then I have accomplished both my personal goals and the goals of the Grab-N-Go program.
For a list of participating Grab-N-Go library branches, visit tucne.ws/grabngo.
Tima Farhat has worked for Pima County Public Library since 2004. In addition to running story times that kids love, she is known for her kindness and generosity. She also makes amazing flannel board creations and does wonders with bubble activities.