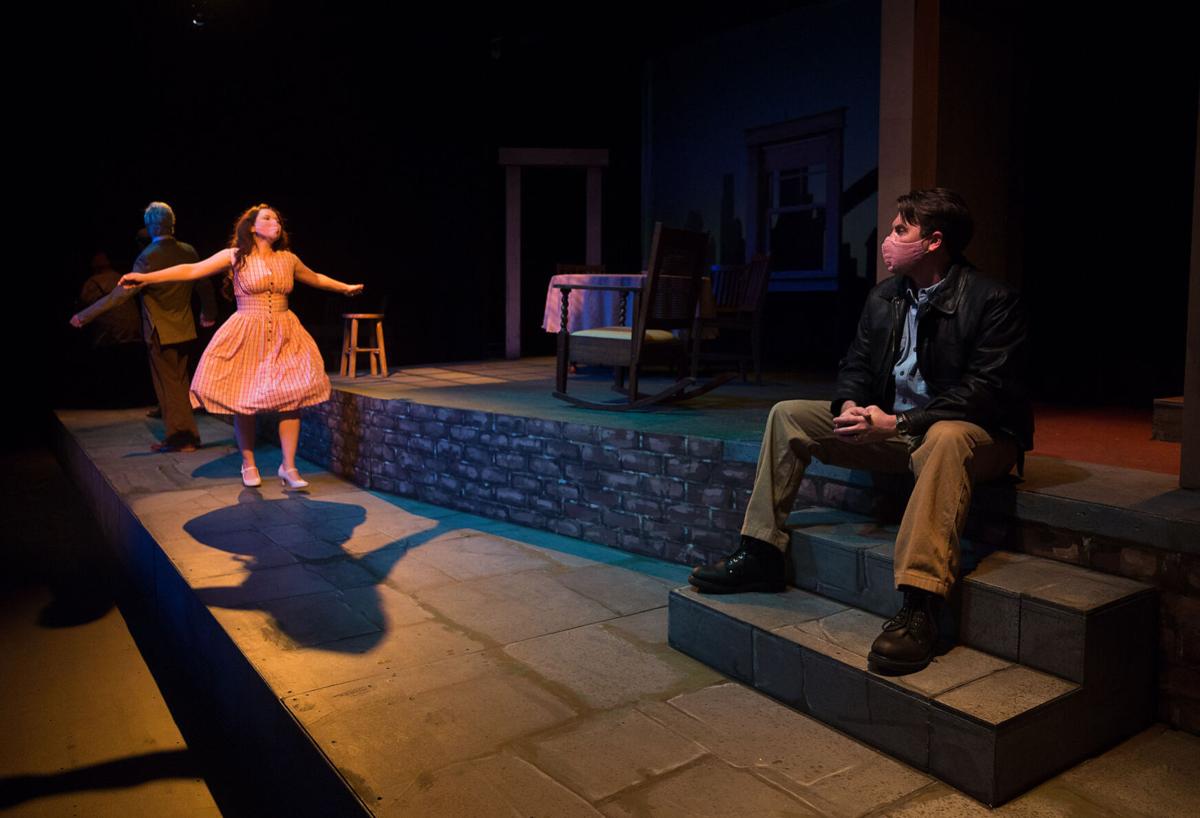 These are strange times, fraught with virus and viciousness.
But The Rogue Theatre has managed to make it a thrilling time, as well.
The company's season opener, Arthur Miller's "A View From the Bridge," is not your usual production, by any means.
It is sort of a hybrid between radio and theater — the actors are masked, never touch, and never say a word. Instead, the lines are pre-recorded.
Really, it can't take the place of live theater with actors actually speaking, but it is a sort of brilliant way to stage a play and still be safe.
It feels revolutionary and it works. The actors, all wearing flesh-colored linen face masks, mime the words. Eyebrows raise and furrow, we can see a faint outline of lips moving to the lines under the masks, and the actors throw their whole bodies into the performances. Sure, we lose something, but we gain so much more by seeing a live performance in such a unique way.
And by hearing Miller's words.
"A View From the Bridge" is an American tragedy. A silhouette of the Brooklyn Bridge looms over the working-class neighborhood where Eddie Carbone, his wife Beatrice and her 17-year-old niece Catherine live in a cramped apartment. The Carbones raised Catherine after her mother died, and Eddie has gone from a protector to a man struggling with his desire for the teen.
They are preparing to welcome Beatrice's cousins Marco and Rodolpho, who are coming to the U.S. illegally from Italy. Conflict erupts not long after they arrive. Catherine falls for Rodolpho, and he for her. The budding romance drives Eddie crazy. He is sure Rodolpho wants Catherine so he can become a citizen, and he thinks there's something not quite right about Rodolpho — he sings, he sews, he dances. And he has very blond hair. All evidence to Eddie that he is surely gay.
The tension in this play is high early on, and only gets higher. Eddie's pent-up rage and desire is explicit and powerful in Aaron Shand's hands. Carley Elizabeth Preston gives full life to his frustrated and outspoken wife Beatrice.
There's a brooding intensity to Jeffrey Baden's Marco and Hunter Hnat gives Rodolpho a passion and purpose. That's surprising because on the page, Rodolpho says little and reveals even less.
Catherine goes from a teen crazy about her stand-in father Eddie to a young woman suspect of Eddie's feelings and giddy with love for Rodolpho. Bryn Booth makes the character's struggles and conflicts palpable.
Miller inserted a sort of one-man Greek chorus, the character Alfieri. Joseph McGrath gave gravitas to the character, a lawyer who narrates and philosophizes.
Director Christopher Johnson saw that the tension stayed taut and that Miller's story was given full voice.
Look, this is not theater as we know it. But it is, nevertheless, an exciting night of what is a new form of theater for this time. And this production practically vibrates with intensity and necessity.
Kathleen Allen has written about the arts in Tucson for more than two decades.
Stay up-to-date on what's happening
Receive the latest in local entertainment news in your inbox weekly!