For Maribel Alvarez, program director for Tucson Meet Yourself, it is hard to imagine the consummate community event without a sea of people waiting in lines for food, crowding around stages and moving between classic cars, dance demonstrations and folk artist tables, downtown.
"Part of what makes it so distinct is the mixing of people," Alvarez said. "Bumping into strangers is the subtext of Tucson Meet Yourself."
Alas, bumping is off the table this year as organizers have had to scale back festivities in the wake of the COVID-19 pandemic.
Alvarez and her team have been working since mid-July to create a new Tucson Meet Yourself experience for Southern Arizonans unlike any other in its 47-year history: a hybrid event that will consist of a series of live and virtual activities taking place through the month of October.
Here are six ways to enjoy the newly reframed Tucson Meet Yourself in 2020: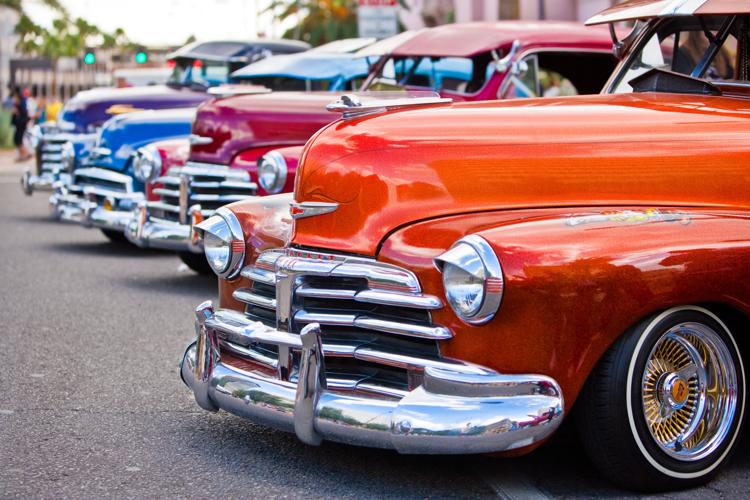 Observe or participate in a car cruise
One of the first big events kicking off Tucson Meet Yourself this month is a 19-mile car cruise this Saturday, Oct. 3, that will take drivers on a loop from Tucson's south side, up through midtown, west of Interstate 10 and back again.
Dubbed a "Cruise for Healing," the procession starts at 5 p.m. and will be led by the local chapter of Dukes Car Club, the country's oldest car club in continuous existence, according to the Tucson Meet Yourself website. Dukes is known to Meet Yourself regulars as the organizer of its annual car show.
"The Dukes have been our partners for over 30 years," Alvarez said.
Spectators are invited to set up along the route to watch the cruise (see map). Many of the cars will have signs declaring comforting messages, such as "we are going to get through this together," Alvarez said.
"People need that right now," she said. "There is a long tradition of lowrider cars and motorcycles forming parades for things like funerals, quinceañeras. This one is for the community."
The cruise is open to anyone who wants to participate. Dukes members will gather at 4 p.m. at the cruise's starting point, Rodeo Park, 5001 S. Nogales Highway.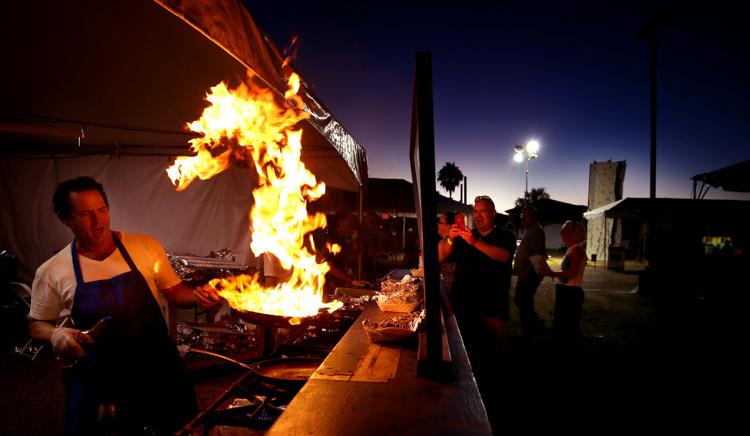 Chow down each weekend
Meet Yourself organizers would be remiss if they left food off the menu for 2020, even during a pandemic.
With more than 60 cultural groups and businesses serving everything from jerk chicken to pancit each festival, TMY is a must-attend favorite for foodie families looking to tease their taste buds with culinary treats from around the world.
Alvarez said about 20 food vendors will participate this year, spread across three weekends — Oct. 10-11, 17-18 and 24-25 — at three different spots around town; St. Demetrios Greek Orthodox Church on East Fort Lowell Road; Mercado San Agustín, downtown; and Café Santa Rosa on South Sixth Avenue.
Alvarez said Meet Yourself has ties to all three locations. Café Santa Rosa, for example, "started at Tucson Meet Yourself," she said.
"It was their first test to see if they could have a viable business," Alvarez said of the restaurant that specializes in Native American cuisine. "That happens a lot with Tucson Meet Yourself."
Food will be available for pick-up only from 11 a.m.-5 p.m. Prerecorded Tucson Meet Yourself performances from local dance groups and musicians will be shown on large LED screens while you wait for your order.
Food vendors participating this year include Eat Masri Egyptian, El Taco Rustico, Cocina Oaxaqueña, Lajkonik Polish Food, O'odham Ladies, Patricia's Cuban Kitchen and Takoyaki Balls.
Watch the walls
Walls around Tucson will come alive each Friday night in October.
Meet Yourself organizers will be projecting videos of traditional dancers and folk artists on different walls across the city every Friday from dusk (about 6 p.m.) to 10 p.m.
While there is no set schedule on who will perform when, participating groups include, Flamenco del Pueblo Viejo, Tucson Sino Taiji, origami artists Chieko "Chi" Nakano, and Pascua Yaqui paper flower maker Irene Sanchez.
The projections will begin this Friday, Oct. 2, on walls at Aloft Tucson University hotel, 1900 E. Speedway; Tucson City Court, 103 E. Alameda Street; and Winterhaven Square, 3118 E. Fort Lowell Road. Organizers will add more walls for future Fridays at tucsonmeetyourself.org
"We know it is a fleeting moment," Alvarez said. "People will drive by and ask, 'What is that?' It is our way of saturating the city with beauty."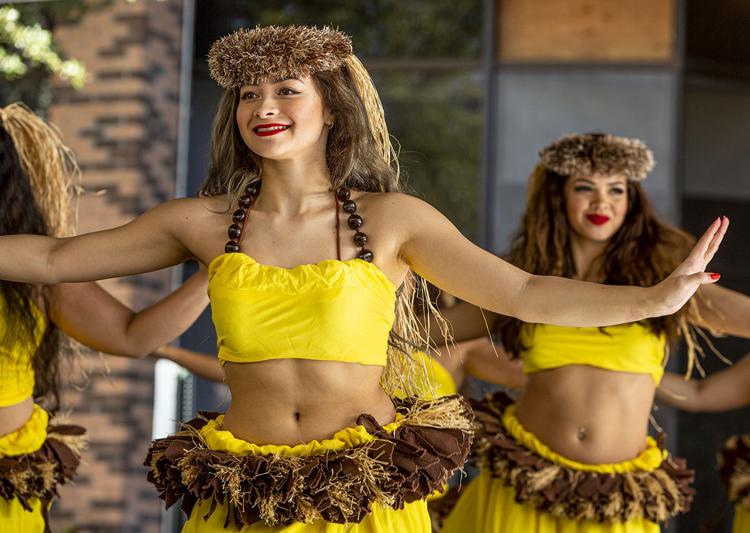 Go in-depth with online performances
It's a change that comes with added benefit, Alvarez said.
"It has allowed us to do something that we always wanted to do," she said. "Bring a little more texture and conversation to the performances.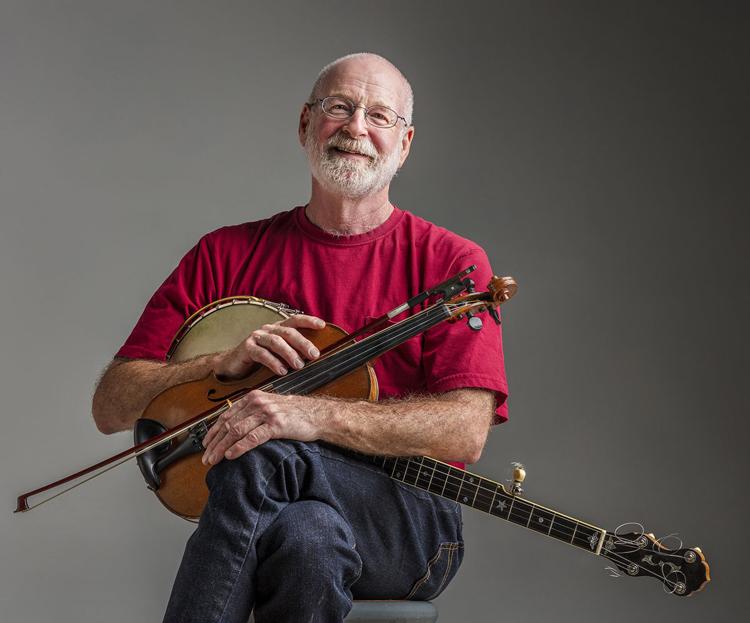 "Tucson Meet Yourself is so large and so fast-paced, you don't have a lot of time to learn about the things you are watching," she said. "Online, we'll be able to follow their performances with conversations about their traditions."
Videos will be posted on Tuesdays, Wednesdays and Thursdays starting Oct. 6. Tuesdays will be reserved for manual artists, Wednesdays will feature food and Thursdays will be for musicians and dancers.
"It is one of the silver linings of this awful pandemic," Alvarez said. "We are all home, watching in our pajamas. We have the chance to educate in a more in-depth way."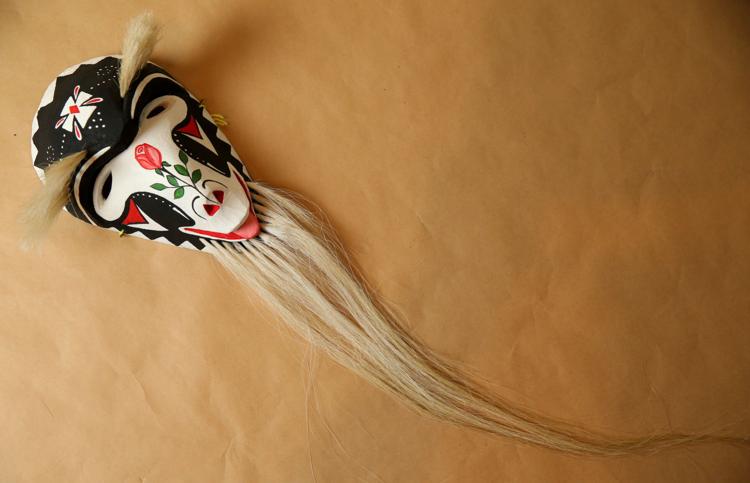 Buy some festival folk art
Something completely different that Tucson Meet Yourself is trying out this year is the addition of an online market, featuring pieces made by prominent local artists.
"The folk art section of the festival has always been more about demonstration than sales," Alvarez said. "We are not the Santa Fe market or the Heard Museum market. We hope people respond to it with generosity and love."
Festival organizers have tapped eight artists who are well-known in their respective mediums to participate.
The marketplace, which goes live on Thursday, Oct. 1, will include beadwork from Navajo artist Joanne Hunter, Turkish paper marbling pieces from Mine Calik and Yoeme masks from Louis David Valenzuela, one of the last traditional cottonwood mask makers in Southern Arizona, according to the Tucson Meet Yourself website.
"We wanted to treat the marketplace with the greatest level of dignity possible," Alvarez said. "A lot of these artists are learning with us. It ended up being an economic development and career development opportunity we decided to try."
The best part: 100% of sales will go directly back to the artists, Alvarez said. And if it works out, the marketplace might become a more permanent aspect of Tucson Meet Yourself.
"The artists are putting up high quality products in a limited amount so we can sell them all," she said. "From there, we'll see if there is enough interest for an ongoing market."
Attend a drive-in concert
Inspired by the drive-in concerts put on by mega-musicians such as Garth Brooks, Blake Shelton and Metallica over the summer, Tucson Meet Yourself is putting on a drive-in concert of its own to close out the festival on Oct. 30.
Gabriel Ayala, guitarist and member of the Pascua Yaqui tribe, will headline the event. His performance will be broadcast on a large LED screen, with the Yellow Bird Indian Dancers opening the show.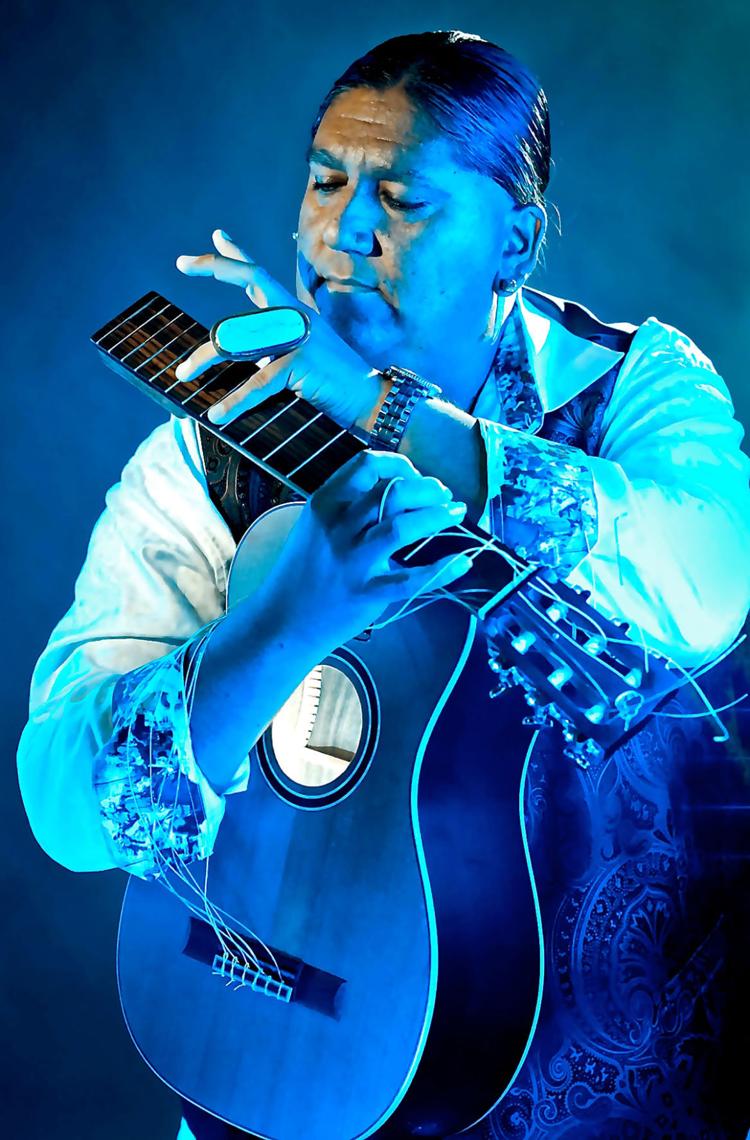 "Ayala is a Native American and classically trained guitarist," Alvarez said. "To us, that means that he lives in a world of tradition, but also in a world of contemporary music expression. He bridges the past and the present."
The concert will have two screenings, one at 6:30 p.m. and one at 8:30 p.m. at the lot at 1055 W. Grant Road. A suggested donation of $10 per car is requested but no one will be turned away for lack of funds, Alvarez said. Admission is first come, first served and there is a limit of 120 cars per concert.
Alvarez said these new ways of presenting Tucson Meet Yourself may last well beyond the pandemic.
"Everything is on the table now," she said. "If there is one message to take away from all of this it is that cultures adapt. They jump the hoops and come ahead. We are keeping our minds open through all of this."