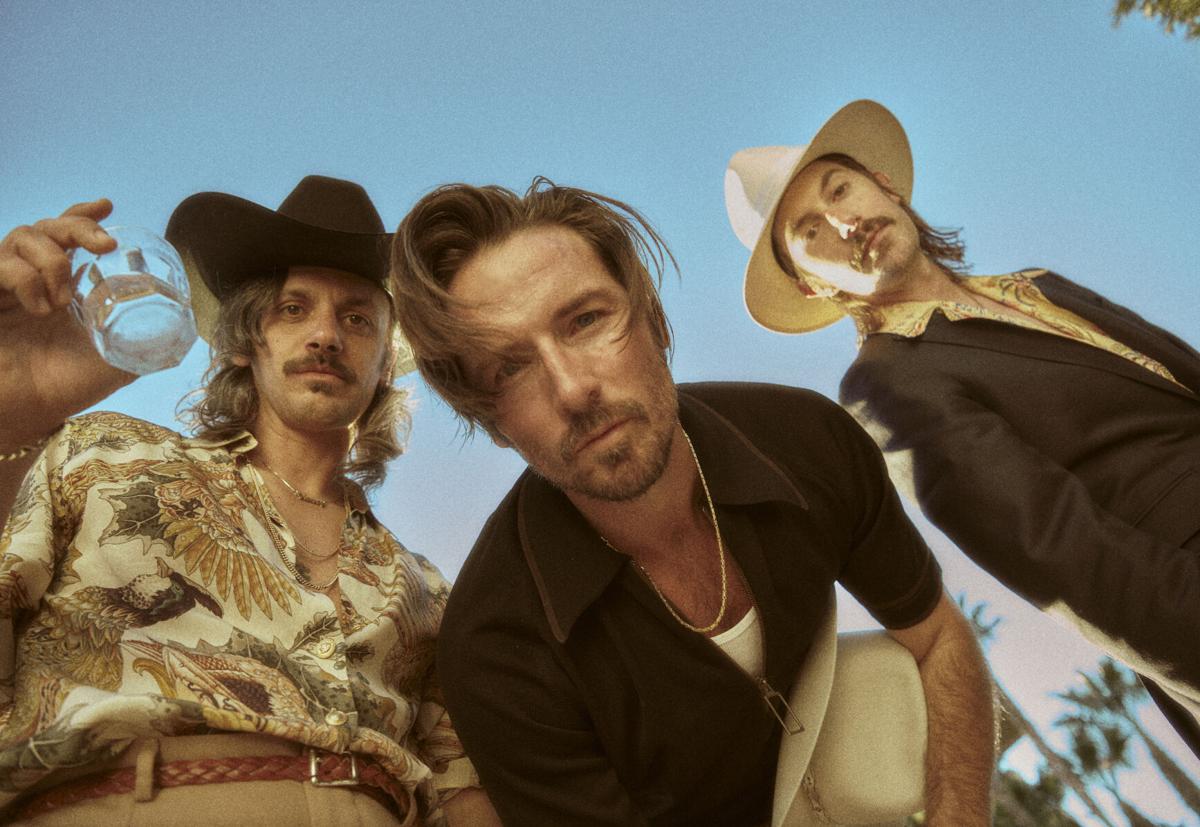 Midland frontman Mark Wystrach isn't going to lie; the thought that the pandemic could be the death knell for his 5-year-old band hit him a time or two early on.
"We didn't know what was going to happen," the Sonoita native said last week. "Who knew if anyone was going to give a (expletive) if Midland played another show. … Those thoughts are always in the back of your mind somewhere, and I don't care if you are Garth Brooks or Justin Bieber, you're going to have those thoughts come through your head."
But Wystrach and his bandmates Cameron Duddy and Jess Carson are not the kind of people to sit around contemplating the what-ifs and could've-beens when the world hands them lemons.
They were determined to make margaritas.
In the weeks and months after COVID-19 was declared a global pandemic and the world shut down, Wystrach and the band started writing songs for "The Last Resort," an album they plan to release early next year. In July, they released the first five songs as an EP, also named "The Last Resort."
In September 2020, they launched "Six Degrees Radio" on Apple Music and have done over 50 episodes to date. The show explores country music makers and influencers and the stories that link them.
They also signed on for a second season with their Amazon Music podcast "Set It Straight," in which legendary artists and country music characters set the record straight about some of the most interesting and sometimes outlandish stories of their past.
When restrictions around the country started easing last summer, the band went back to live performances. Wystrach estimates they have done just over 30 shows since March 2020.
This weekend, they will open their first full tour in almost two years in Wystrach's native Arizona.
"Arizona, from Day 1, even before we had the big success, we've had a huge fanbase, a huge amount of support, and I think that's because I have so many family and friends here in the great state of Arizona," said the 41-year-old Wystrach, who grew up in Sonoita where his parents own the popular The Steak Out Restaurant & Saloon.
"We hadn't played in Arizona for a while so it just seemed to be the perfect place to kick off our first major tour in almost two years," he added.
The Saturday show is sold out, and there are a few reserved seats left for the Friday concert, which has plenty of room left on the lawn.
Wystrach said that fans of the band who saw them at the AVA two years ago will see a "whole new look, a whole new feel and an amazing evolution from where we left off before the pandemic hit in 2020."
"The Last Resort" showcases more dynamic vocals and interesting arrangements that Wystrach said came from being isolated from one another and their fans.
"We wrote mostly in isolation, far away from our norm of being on the road and performing in front of our fans. We came out of warp speed. We came out of going a million miles an hour and traversing the globe. And all of a sudden it came to screeching halt," he recalled. "And we all kind of did it together, and it felt like we were arriving at this strange and desolate place. I got to admit, for me, it felt like it could quite possibly be the end of the line. But it also was beautiful, and it was kind of like strangely exotic. I think we all had arrived at this kind of really weird place, but for the first time everyone was able to slow down and kind of think about their lives."
"I think that really did color these five songs with a different (shade) of nostalgia," he added.
The goal of "The Last Resort" was to take listeners out of their doldrums of the never-ending negative headlines that have bombarded us over the last 18 months and deliver us to a "refuge for all souls, everybody, where all races, creeds, colors and religions are welcome," Wystrach said.
"It's a place where everybody can come in and leave their worries at the door and revel and get lost in this beautiful place together," he said. "It's an escape, and you are going to go on a journey with us."
Wystrach, who graduated from Salpointe Catholic High School, called the Tucson show a homecoming.
"I'm just so thrilled that it's turned out this way and to play in front of my hometown and community that I'm so proud of and so proud to be a part of, it's awesome," said the father of a nearly 2-year-old daughter. "These are just the kind of moments that you remember at the end of the line."