What does a journalist do when he is assigned to write about coffee in Tucson, but doesn't drink the stuff?
He consults those who do.
Thankfully for this reporter, the Old Pueblo has no shortage of coffee fans willing to share their favorite spots around town.
Here are a few recommendations:
Decibel Coffee Works
When Mike Olivares, founder of Tucson Comic-Con, needs a pick-me-up, he heads to Decibel Coffee Works at the MSA Annex, 267 S. Avenida del Convento, west of downtown.
As a manager at Zia Records on East Speedway and a self-proclaimed metalhead, Olivares said he was originally attracted to the roaster's name, "but their coffee definitely stands out over that."
Olivares said he was not a huge coffee drinker before Decibel, but now finds himself picking up at least two bags of beans a month for home consumption. His go-to is the Monolith, a Guatemala-Brazilian blend with cupping notes of molasses and spice, according to the Decibel website.
Decibel started as Hermosa Coffee Roasters but changed its name to Decibel several years ago after parting ways with some of its investors, says manager Elysia Hansel.
Pre-pandemic, Decibel was sending its coffee all over town, from Cup Café to churches and resorts in the area. Hansel said they held on to many of their accounts during the pandemic, with the understanding that a number of them "are just sometimes closed or at lower capacity."
Hansel said the secret to Decibel's success on the roasting end is that their selection is so varied.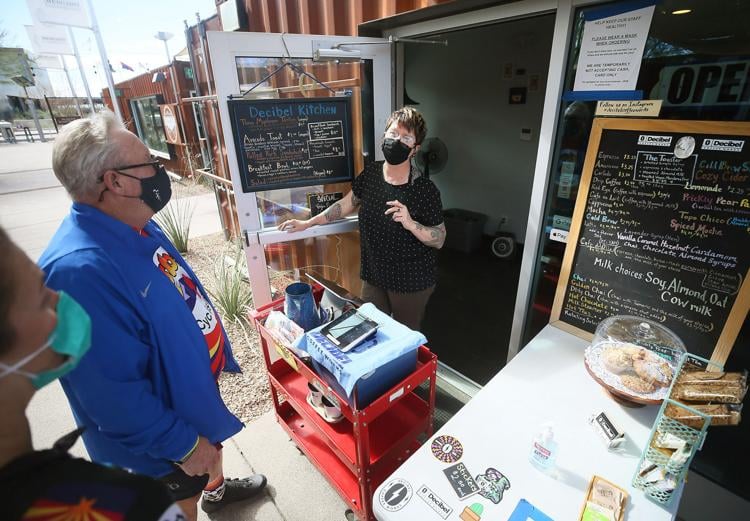 "We have two dark roasts and maybe three light roasts and a whole bunch in the middle range to introduce people to what coffee can be," she said. "It lets those new to specialty coffee really get into it. They can try things out."
Decibel recently added a kitchen that serves breakfast bowls, sandwiches, toast, yogurt and a pulled pork sandwich with barbecue sauce that is infused with espresso.
Decibel is open from 7 a.m. to 2 p.m. daily.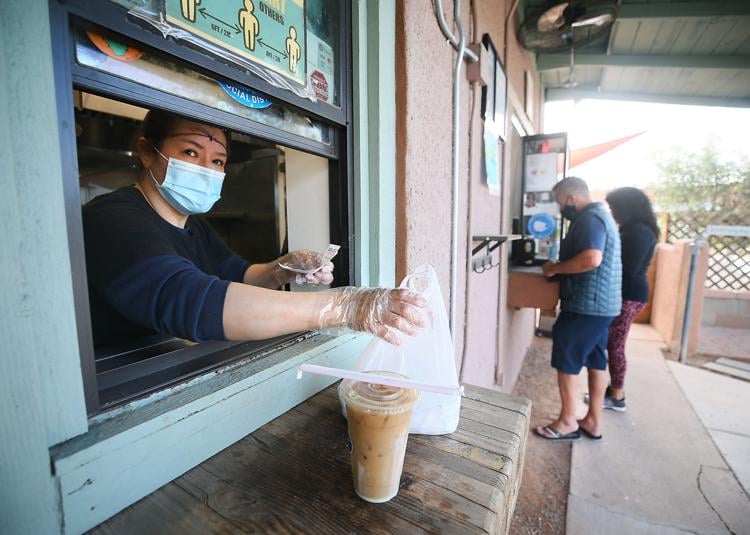 Barista del Barrio
Olivares also had high praise for Barista del Barrio, a bustling west-side coffee stop in a former residential property on North Grande Avenue.
It's not unusual to find a long line of customers on weekends at Barista, thanks in part to specialty drinks, such as its Barrio Hochesso, a sweet beverage that blends horchata and espresso, and its cold brew with half and half, and lechera.
When Flavia Briones started the business four years ago with her son Sergio Torres and daughter Ariana Torres, she was looking to offer two staples: coffee and burritos.
"I felt like this combination was missing," Briones said. "It is hard for me to find a breakfast burrito I like. I just wanted to serve them like I made them at home."
Raised on the west side, Briones and her family started the business selling from a cart in front of a rental home owned by her father.
Today, Barista del Barrio serves out of the home itself, with patio space for the throngs of fans who show up to try its food and drink.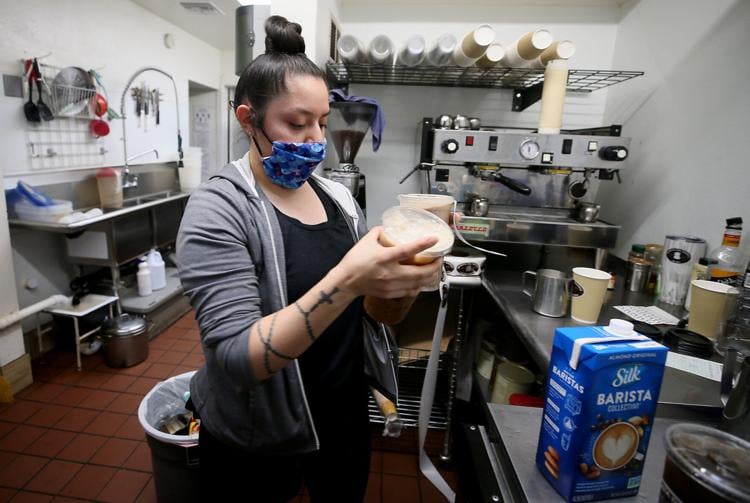 "We have people coming from the east side, the north side, Sahuarita," Briones said. "We have been blessed."
Barista del Barrio is open 7 a.m.-noon Wednesday-Friday and 8 a.m.-noon Saturday-Sunday.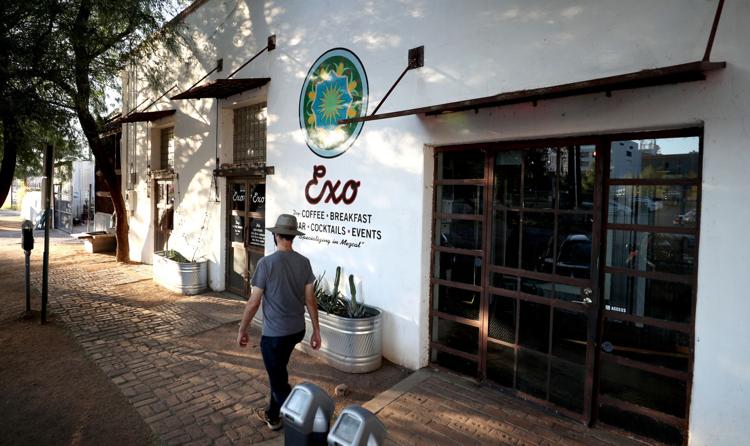 Tap & Bottle co-owner Rebecca Safford isn't just about craft beer. She also enjoys a good cup of coffee.
And when she gets that coffee craving at Tap's original downtown location, she heads next door to Exo Roast Co. to order, among other favorites, an iced chiltepin toddy.
Safford accuses Exo of turning her into "a complete coffee fanatic."
"They taught me how to do a pour-over coffee, and I am hooked," Safford said. "I have the whole setup at home and always pick up bags of beans from Exo."
A brick-and-mortar staple of the local coffee scene since 2012, and a wholesale roaster for several years before that, Exo has been a survivor, coming up against the pandemic and nearby road construction that has hampered traffic in recent months.
Pre-pandemic, Exo had long been a community hub. It had a music venue in the back and a bar that specialized in mezcal and agave spirits. Exo has adopted a grab-and-go window model since the pandemic started, said operator Amy Smith, whose husband Doug Smith co-founded the business.
"One of the struggles is that we are so community-focused," she said. "We held all kinds of events when we were open, conservation lectures, kid-friendly activities. To have to deliver that through a window has been the biggest challenge."
Its most popular sellers continue to be coffees sourced from different areas of Mexico, including the states of Oaxaca, Colima and Chiapas.
"People love Mexican coffee," Amy Smith said. "It's a really forgiving, medium-bodied kind of Earthy origin."
Exo is open 7 a.m.-4 p.m. daily.
Raging Sage Coffee Roasters
Jeff Yanc, program director for The Loft Cinema, heads up to East Grant Road and North Campbell Avenue, to Raging Sage Coffee Roasters, for his java fix.
Yanc considers himself more of a tea drinker, and loves the teas offered by Raging Sage but says its in-house coffee blends are always welcome after a long night of movie watching.
"If you are lucky enough to arrive in the morning when their scones are coming out of the oven, get one," Yanc said in an email. "The rest of your day will thank you for it."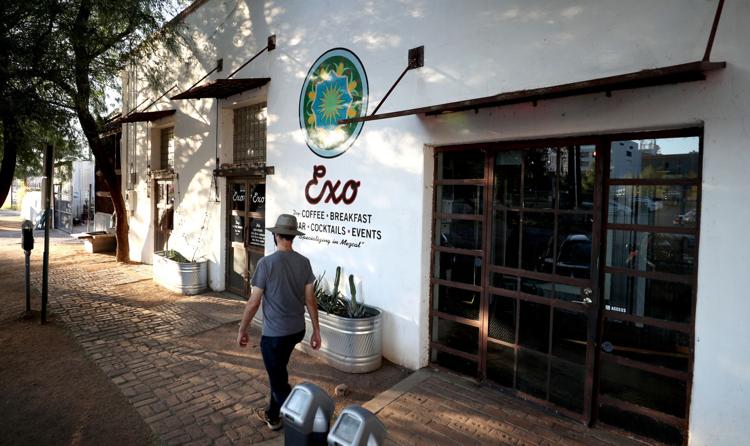 Opened by Roger and Julie Sliker in 1998, Raging Sage offers a wide range of coffees, grown in an environmentally responsible way, according to its website.
In addition to the food and drink, Yanc enjoys the ambience; Raging Sage's hardwood floors, adobe aesthetic, and "calm off Campbell Avenue" patio seating under orange trees.
Raging Sage is open from 6:30 a.m. to 6 p.m. daily.
Coffee Times Drive-Thru
Libby Tobey, manager at Pop Cycle on North Fourth Avenue, doesn't need to get out of her car to enjoy her favorite Tucson coffee spot, Coffee Times Drive-Thru on East Speedway.
The long-time local business provides Tobey with what she craves, namely quality coffees, including organic cold brews, caramel macchiatos and double espressos.
"The super friendly staff is always great," she said. "They follow really strict COVID safety protocols, which I appreciate."
It's the friendly staff that has kept customers coming back for 22 years, said Michael C. Cripps, who owns Coffee Times with his brother Jeremy Cripps and uncle, David Mannell.
Another one of Michael's uncles, Tom Mannell, opened Coffee Times in 1999 after running the downtown coffee shop Café Quebec for years.
Tom Mannell was looking for a new business model, Michael Cripps said.
"Having a sit-down cafe is great, a nice environment," Michael Cripps said. "But my uncle did his research, and being able to serve from car to car was more profitable."
The business has done well over the years. So well, that the family has made it a point to give back to the community.
Coffee Times has raised money for a range of organizations, including Ben's Bells, El Rio Community Health Center and Gospel Rescue Mission.
"Tucson has done really well for us," Michael Cripps said. "We want to do well for the city."
Coffee Times is open 6 a.m.-5 p.m. Monday-Saturday and 8 a.m.-1 p.m. Sunday.