What Robert Keith "Bob" De Armond couldn't do as a career, he's taken on as a hobby: Using his artist sensibilities to create a garden.
For some 10 years he's transformed the grassy, weedy backyard of his roommate's midtown Tucson home into a whimsical, rustic landscape of up-cycled discards, textural and colorful plants and personal ceramic work.
That last bit — ceramic work — is how De Armond made a living. He was the award-winning art director for HF Coors, the Tucson wholesale dishware manufacturer. He created designs for 45 years and estimates that he painted over a million pieces of dishware during his time there.
Some of his work, including a platter of butterflies and caged ceramic birds, came from HF Coors. "I took plates and stuff, ones that were cracked in firing," he says. He also brought home overages that would otherwise would have been destroyed.
Other tile pieces come from his volunteer work with Santa Theresa Tile Works. That's where he gets shards for mosaics and where he designs his tile-topped benches. Those seats depict koi, pollinators and chickens, which mimic the real hens that run around the yard.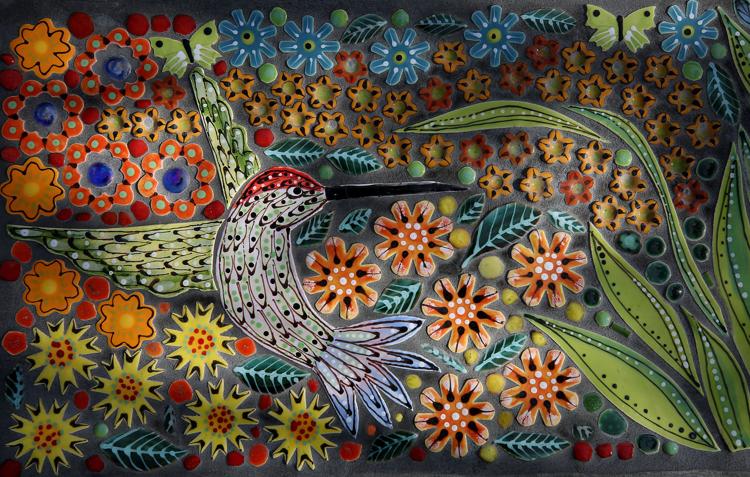 Roommate Randy Clarke, who has long worked for telephone companies, gives De Armond free rein on the yard as long as he plants things other than cacti and succulents. What's quickly noticeable are the rusty metal sculptures of animals, wooden bird houses, ceramic hearts and a calaca ("skeleton" in Spanish) and plant pots embellished with ceramic shards.
The artful elements hang from the eave of the patio overhang and mesquite trees grown from seeds collected at a park. They're anchored among prickly pear, Texas ranger and oleander. They share room with vinca and other flowering plants.
De Armond found other items discarded in nearby alleys. He saved a sculpture of a human figure, its arms stretching to the sky, from a nearby brew pub. Clay pipes are used as pots, while cinder blocks frame grassy plants. Cement that was broken up from the redesigned patio slab line plant beds and create walking paths.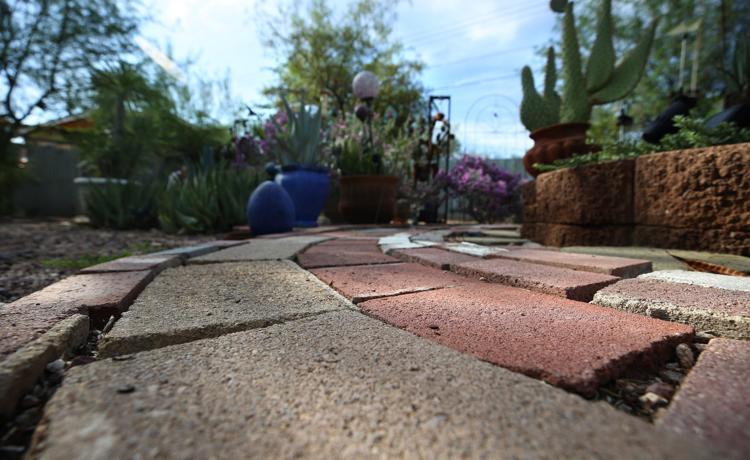 "I try not to throw anything away," he says.
His friends have gotten that message. "Before they throw anything out, they ask, 'Can you use any of this?'" he says.
De Armond puts his artistic sensibilities to good use. Recycled bricks neatly encircle trees and the circles have gotten larger over the years. He gets ribbed by Clarke that he is signaling people from another planet.
The rounded lines are mimicked by glass globes on sticks and the eight-sided fountain. The yard is divided into little vignettes that combine artwork with plants both in the ground and in containers.
"I guess it comes from my whole life being a designer and artist," De Armond says. "I'm looking at different kinds of balances."
De Armond isn't exaggerating about spending his whole life designing. As a child growing up in Oxnard, California, he loved to spend time in the yard.
"When I was a teenager, I used to relandscape my mom and dad's yard almost yearly," he recalls. "I really had aspirations of getting into landscape architecture.
"Then life happened and I ended up designing dinnerware. I had a really good career and won many tabletop awards. But that gardening passion never really leaves you."
His relationship with plants took an odd turn 45 years ago. He lived in Torrance, California, then. He wanted to make friends and overcome his shyness, so he volunteered to help put together the city's Rose Parade float.
The venerable Rose Parade that marches off most New Year's Days in Pasadena, California, features elaborate floats that are covered in vegetation. The plant material often mimics other surfaces like fur, skin, stone and steel.
The floats require armies of volunteers gluing small seeds and other material on frames just days before the event. That's what De Armond did that first year of volunteering.
He liked the experience so much, he eventually chaired the committee that handled the city's float. Eighteen years ago, Fiesta Parade Floats, which designs and assembles many entries, hired him.
He works the last week of the year for the company. He puts in about 96 hours over five days, figuring out what to use to decorate a float and coordinating as many as 200 volunteers. He supervised the entry from the city of Riverside, California, last year and had a hand in the Target Corp. float for several years.
"I am kind of known for the detail I bring, (especially) in creating animals out of different materials," he says.
One of those materials came straight from Tucson. One year, De Armond used the red and orange round seeds of Texas mountain laurels for the depiction of a Native American pot. He says the seeds have the look of wood.
For that project, he got permission to gather seeds from mountain laurels growing next to the Chick-fil-A at the El Con Center. This year, he's put out a call on Facebook to find more places to gather the pods for an idea he's not quite ready to disclose.
"I always look for something unusual to stick on the float," he says.
He's the same way about the garden. He calls it a work in progress and a project that allows him to use up his energy as "sort of that hyperactive old person" in recent retirement.
Clarke isn't much of a gardener, De Armond says. Before De Armond moved in, Clarke used discarded telephone poles from his job for seating and as posts for the patio overhang. Today, he leaves the garden to the whims of his roommate.
"He likes to get the hose and water," De Armond says.
"His backyard is an oasis to unwind."