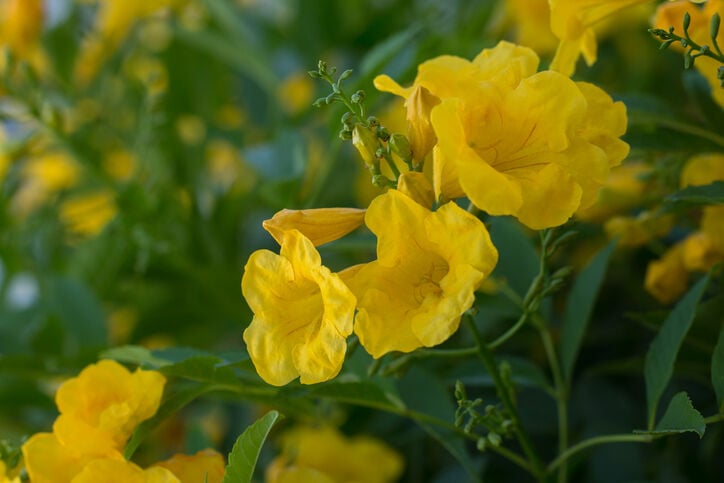 Arizona yellow bells, or Tecoma stans, is a Sonoran and Chihuahuan desert native and is one of the many varieties of Tecoma shrubs which grow from Arizona and New Mexico all the way down to Argentina. They are even found in Hawaii. Our Sonoran desert variety has fairly narrow, lush green leaves and beautiful bright yellow trumpet-shaped flowers. Other common names include yellow trumpet bush, esperanza, and yellow elder.
Because it tends to die back in winter, Tecoma stans does not usually get very large in the Sonoran desert climate, growing up to 6 feet wide and 6 feet high. It's hardy to about 25 F and will die back in winter if not protected but will regrow once the weather warms up.  It's a fast grower and is very drought tolerant. It likes our hot sun, and can even be planted in areas with reflected heat such as near driveways and walkways. It will also tolerate some shade, although I have found that mine tend to get a bit leggy if they don't get enough sun. It's a good pool-area plant, since it creates little litter and has no thorns.
Pollinators such as bees (including bumblebees, which are particularly endangered), butterflies, and hummingbirds love this plant. It can be grown in large containers if you want to be able to move it around and keep it out of the cold in winter. It flowers on new growth, so trim off the dead branches in late winter and you should be rewarded with lots of flowers. Seed pods are long and a bit scraggly, and are filled with seeds enclosed in a papery coat.
There are a number of horticultural varieties of Tecoma stans; the most commonly seen is 'Orange Bells', which is taller and flowers more profusely but is somewhat less cold tolerant, dying back below 28 F. Other varieties have flowers that range from bright yellow to apricot to deep orange. All varieties are thornless. The wider-leaved varieties will be less drought-tolerant as well and will need more watering to look their best and flower well.
The plant has some interesting ethnobotanical uses throughout its native range. In Mexico, the leaves are used to make a tea that is a folk remedy for diabetes. It also is thought to have diuretic and antibacterial properties. Its roots have been used in Mexico to make a type of beer.