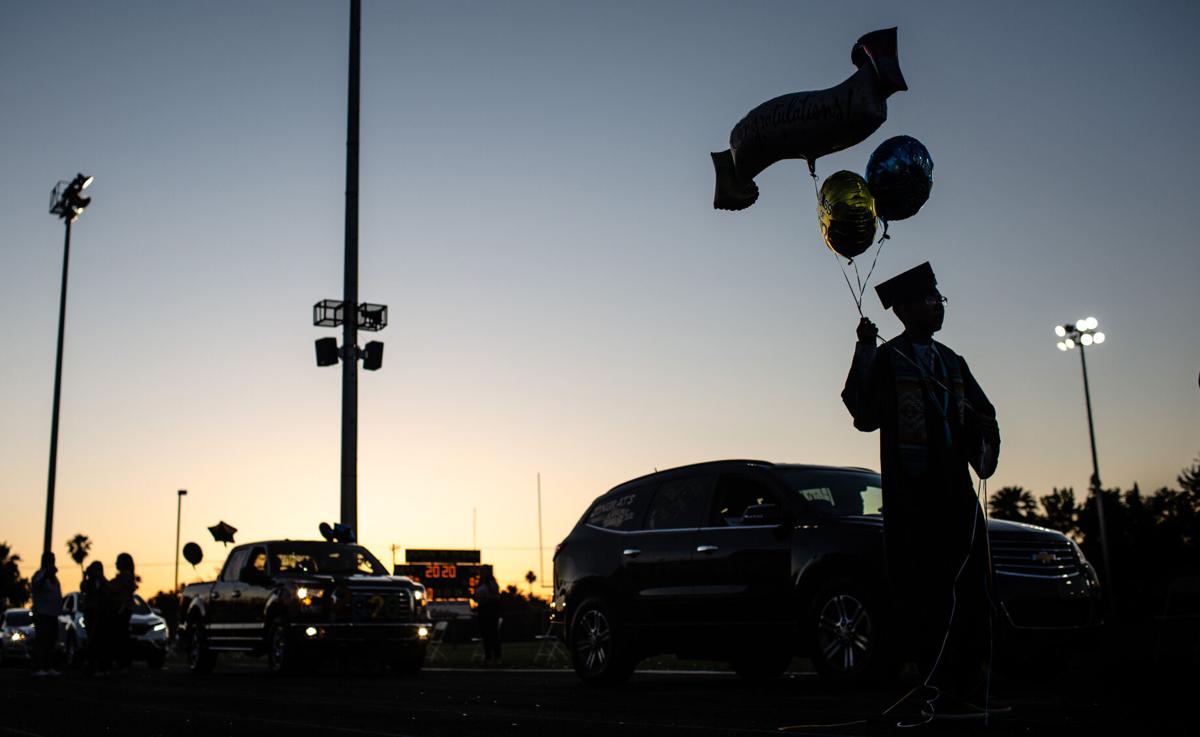 As high school senior Anthony Galvez saw more of his peers getting vaccinated, he began to have hope that the class of 2021 would get what their predecessors had not — prom and graduation.
"This year, obviously, was not the year that anyone expected, so it kind of makes up for the year we had, in a way, to have an in-person graduation and an in-person prom," says the Sunnyside High student.
Galvez, who's on the student council, spoke at a school board meeting in April about what having prom would mean to him and his peers.
Although the school has over 400 seniors, about 160 students attended prom on Saturday, May 8. Galvez expected many would stay home due to COVID. Of the high school's nearly 2,200 students, about 58% are still fully remote.
High school seniors spent most of the school year not knowing if they would be able to have these milestone experiences that the class of 2020 did not get.
And even though many of these kids know that missing out on a school dance doesn't compare to the strife that so many faced during this year of pandemic, these milestones are something many teens think about and anticipate to cap off more than a decade of education and growing up.
"To go through those four years and if you're going to be able to graduate, you definitely deserve a celebration," Galvez said. "That's what prom and graduation is for us. It's just a celebration for all of us hard-working seniors."
Some schools didn't hold traditional proms but had variations on senior end-of-year events. Amphitheater's Canyon Del Oro High had a senior "Oscar's Gala" in the school's grassy courtyard. They planned a red carpet, carefully chosen centerpieces, strings of lights and homemade 2021 light-up marquee numbers, a DJ, a senior slideshow, and even a sit-down dinner, catered by a local Italian restaurant.
"We can't have a dance like a traditional dance, but we wanted to make it fancy so that people could dress up for a prom and still get a nice event out of it," said Addison DaDeppo, student government treasurer.
DaDeppo has been waiting since she was a freshman for events like senior prom and graduation. She values tradition and struggled with losing all the momentous occasions the pandemic took from her and her peers — their last high school sporting events, dance recitals and senior nights.
"Now that things are able to happen, obviously with regulations to keep it safe, it just feels really, really great to get as close to the traditional way that we can and just to get events in general," she said.
Planning this event for the seniors has brought the community together, says student government president Hannah Haskins.
"Adults are helping. Businesses are helping. Everyone's kind of coming together to help us see some sort of 'normal' that we weren't necessarily getting before. So that's just really awesome," she said.
The school had its first assembly in a long time on Friday, April 30, to raise morale and for school spirit. The first large gathering in a year, followed closely by the senior gala and then graduation, is the last hurrah that the teens had been hoping and waiting for.
Not every district in Tucson is allowing seniors to hold prom or some version of it, but the ones that are have COVID-19 precautions in place, like holding events outside, requiring masks, no-contact dancing and limiting attendance to just seniors.
Both Haskins and DaDeppo are vaccinated and said many of their peers are either vaccinated or in the process of getting their two shots.
Sunnyside's Galvez is fully vaccinated and says a lot of his peers are on their way as well, having received at least one dose. He's encouraging them to get vaccinated before the prom and that they get a COVID test before and after to be safe.
Tucson Unified Superintendent Gabriel Trujillo has also been encouraging high school seniors to get vaccinated before attending end-of-year events. TUSD, with about 3,200 12th-graders, is holding both proms and graduations outdoors and with all the standard COVID precautions.
Graduations are being held in each high school's stadium, with a limit of four guests per graduate — a limit that most school districts are adhering to.
TUSD's graduation ceremonies will likely draw well over 1,000 people to high schools with large senior classes such as Pueblo, Sahuaro, Cholla and Tucson High.
Trujillo said canceling the 2020 graduation ceremonies still haunts him, especially when he runs into students who graduated last year, during the throws of the pandemic.
TUSD is looking into hosting a belated graduation ceremony for the class of 2020, but specific dates and locations are still being finalized.
"I didn't want to be in that same position with the class of 2021," Trujillo said in April. "I made a commitment fairly early on this year that if there was any possibility of facilitating a safe event that we would pursue it for these seniors."