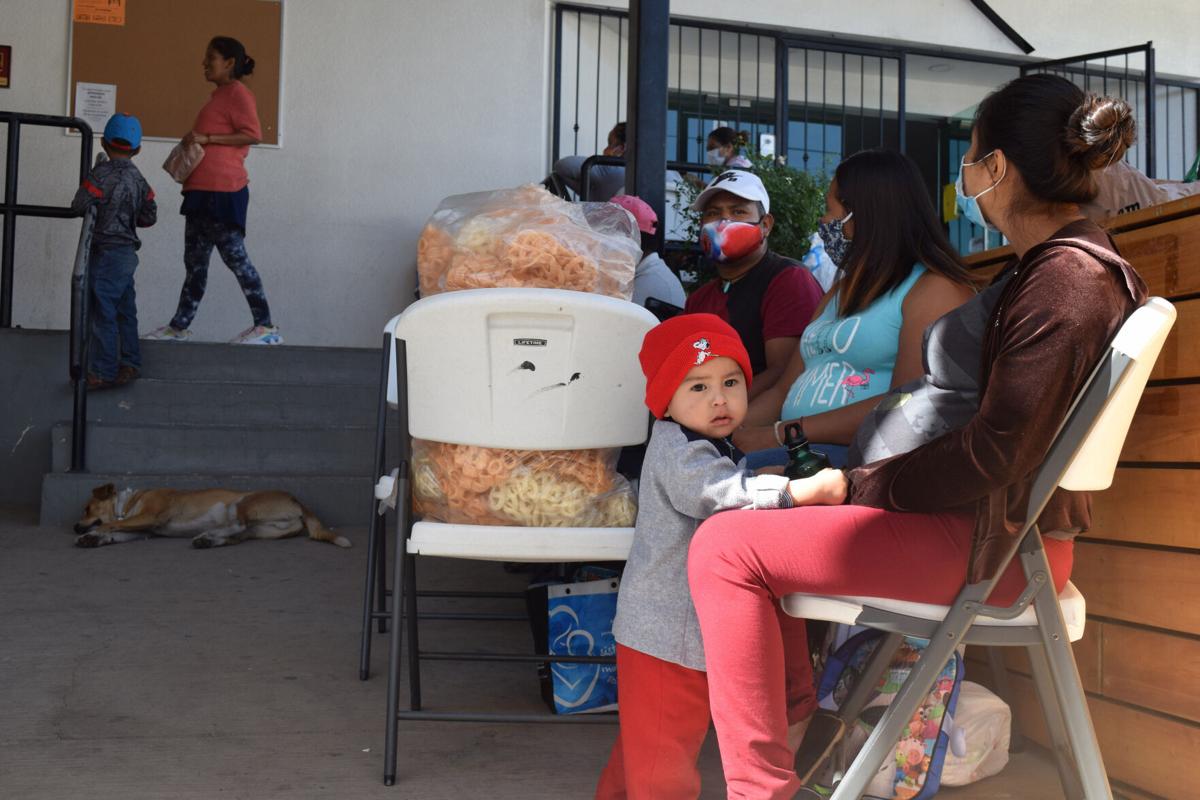 Leo, his wife and their two small children were among a group of migrants protesting in Nogales, Sonora, pleading for the United States to reopen the asylum process now that the border has reopened to vaccinated tourists.
While advocates filmed, they presented themselves at a port of entry to ask for asylum and were turned away. They tried showing their COVID-19 vaccination cards in the hopes that would help their case.
"They told me that they couldn't help me, that it was closed because of the pandemic," Leo said. "They have denied me what is my right."
The U.S. international borders reopened Nov. 8, the same day as the protest, to tourists fully vaccinated against COVID-19 after closing to most visitors in March 2020 because of the pandemic.
Although the right to seek asylum because of fear of persecution is protected under international law, that process remains largely closed since the U.S. government enacted Title 42 in response to the pandemic. That public health policy is used to immediately expel migrants who enter the country, regardless of whether they have a credible asylum claim.
It's leaving many families waiting in Mexican border towns with no home to return to, living in subpar conditions and threatened by cartels, after fleeing violence and political and economic upheaval in their home countries, they say.
Like Leo's family, Daniel and his wife and 10-year-old daughter are among nearly 1.4 million migrants who have been expelled under Title 42 since the pandemic began. More than 153,000 of those migrants were traveling in a family unit and nearly 16,000 were unaccompanied children, who for the most part stopped being expelled under Title 42 last December.
Daniel's story
Daniel says he was terrified to leave Honduras but fled with his wife and daughter because he saw no other choice. He asked that the Star use only his first name, as did Leo, because they say they've received threats of violence from cartels while waiting in Nogales.
Before Daniel and his family left Honduras, life had been pretty good. Daniel lived with threats from local crime organizations for a couple of years but endured it, he says.
Both he and his wife worked. Daniel was saving to start his own business. His daughter was happy at a private school. They had a nice home. His daughter had her own room, with air conditioning and a television. She wanted for nothing, he recalls.
But violent organized crime and economic hardship, exacerbated by the pandemic, are pushing many people to leave Honduras. The U.S. Border Patrol had more than 321,000 encounters with migrants from Honduras in fiscal year 2021, the second highest country of origin, after Mexico, for migrants agents encountered.
Every day, Daniel saw caravans of people fleeing the violence. And then, he was physically attacked, he says. The men who attacked him told him they knew where he and his family lived.
Daniel went to the authorities for help, and they advised him to leave Honduras and seek asylum in another country.
"If the authorities tell you to leave, it's because they can't control the criminal organization," he said. "This is what happens with corruption in Honduras and the lack of safety. And so I felt obligated to leave."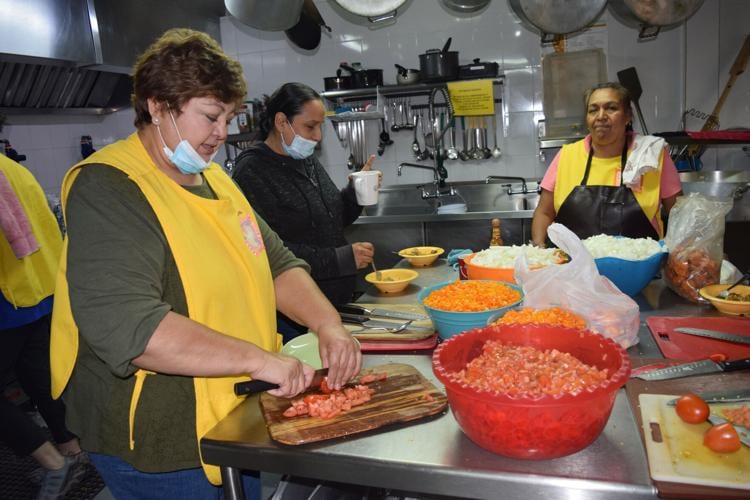 His family hid out at his mother's for three days before starting the journey to the U.S.-Mexico border. After they left, Daniel found out that on Sept. 22 his mother had been killed.
The family tried to cross into the U.S. at the Rio Grande, on the Mexico border with Texas, to ask for asylum.
Daniel paid a "coyote" to help his family cross the river, with the intention of turning themselves in to U.S. immigration authorities.
They were in a raft with other migrants they had never met when a helicopter flew overhead and the coyotes told them to jump from the raft. Daniel carried his trembling daughter to the other side of the river and followed the coyote's instructions on where to walk. Finally, they found immigration authorities and told them they needed asylum.
The authorities detained them and separated him from his family. He says they confiscated his shoelaces and his belt, and took his fingerprints and other biometrics.
"I thought they were going to give me asylum at that moment," he said.
But he and his family were sent back to Mexico, then made their way to Nogales, hoping to find another route to asylum.
With some money saved, they found a run-down place to rent in Nogales that was very expensive and all they could afford. There was no glass in the windows, no locks on the doors and no lightbulbs.
One day a neighbor came by and told Daniel he had to start paying money to the cartels or buy drugs from them. He told his family they had to leave that rental immediately.
Discrimination, organized crime
Migrants expelled back to Mexico are often the targets of organized crime, according to Human Rights First, a nonpartisan international human-rights organization.
The dangers migrants face at the northern Mexico border vary by region, but in Nogales, Sonora, the targeting of migrants by cartels is common, through threats, extortion, attempted kidnappings, successful kidnappings and torture, says Noah Schramm. He is with the Florence Immigrant and Refugee Rights Project, which provides free legal and social services to migrants and asylum seekers.
Migrants in Nogales also face discrimination, such as being charged two or three times the normal amount of rent, Schramm says. Single mothers and others in especially vulnerable demographics, such as LGBTQ migrants, are also targeted for discrimination.
Title 42 deprives people of any kind of legal process with respect to asylum, but the bigger point is that it is supposed to be about public health, not immigration control, Schramm says.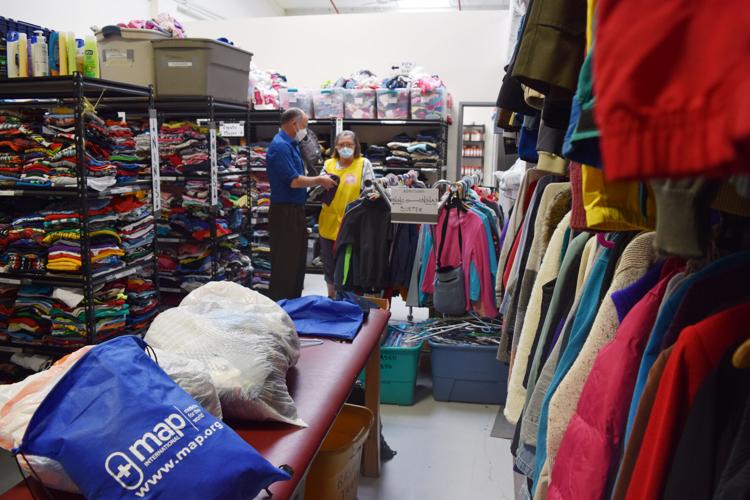 "The folks who approach a port of entry are simply turned away," he said. "They're not asked any questions with respect to fears they might have, either in their country or in Mexico. And so, Title 42 is pretty obviously, in our view, a violation of international law. And even U.S. domestic law is very clear on the fact that people have to be afforded an administrative process if they claim fear at the border or in between ports of entry as well."
There's plenty of debate about Title 42 as a public health measure, and human-rights groups have been challenging the policy in federal court.
Last year, the Trump administration overruled government scientists who said there was no evidence that expelling migrants under Title 42 would slow the coronavirus, according to The Associated Press. The Biden administration has continued to defend Title 42's use, saying it is necessary.
"We are in the midst of a pandemic and a critical migration challenge," said Secretary of Homeland Security Alejandro Mayorkas, in Del Rio, Texas, on Sept. 20. "We continue to exercise the Centers for Disease Control's Title 42 authority.
"Title 42 is not an immigration authority but a public health authority to protect the American public, to protect the communities along the border, and to protect the migrants themselves."
No other option
Like many of the migrants who receive services at the Kino Border Initiative, a binational organization that provides humanitarian aid to migrants in Nogales, Sonora, Leo and his family are from Guerrero, a southern Mexican state that is experiencing high levels of violence.
In Nogales, they are charged exorbitant rent and simultaneously paid low wages for any work they can find, Leo says. This is a common complaint of numerous migrants who wait in Sonora hoping to make an asylum claim.
"They know we're not from here, they discriminate against us because we're immigrants," Leo said.
His wife and children, who are 1 and 2 years old, mostly stay inside the room they're living in out of fear of the threats. It's one small room with a bathroom. They sleep on the floor, and there is no kitchen.
Their plan is to wait until the U.S. allows them to apply for asylum. There is no other plan, Leo says, no other option.
Enforcement is uneven
When Title 42 went into effect, the Mexican government agreed to accept most migrants from Guatemala, Honduras and El Salvador. This has led to migrants from more distant countries being let into the U.S. asylum process because it's harder logistically for the U.S. to expel them. But there is not a uniform reason for who is let in.
Both Leo and Daniel hear about families who are accepted into the asylum process and don't understand why they were turned away.
It's not clear to people how Title 42 is being used because it has not been clearly communicated by the Biden administration, says Jessica Bolter, associate policy analyst on U.S. immigration policy for the Migration Policy Institute, a nonpartisan think tank that analyzes immigration trends worldwide.
"It's a very uneven enforcement landscape, just not a lot of clarity about it in general," she said.
Title 42 expulsions can be carried out against any migrant family or single adult. The only group that is uniformly exempt is unaccompanied minors.
Single adult migrants from Mexico, Guatemala, Honduras and El Salvador are extremely likely to be expelled under Title 42.
In October, nearly 95% of Border Patrol encounters with that demographic on the southern U.S. border resulted in a Title 42 expulsion, while only 5% of encounters with single adults from other countries resulted in an expulsion.
The vast majority of Mexican families are expelled back to Mexico, and in October, more than 80% of Border Patrol encounters with Mexican families led to a Title 42 expulsion. So did about 60% of the encounters with families from Guatemala, Honduras and El Salvador.
The most common demographic of migrants currently coming to the humanitarian-aid nonprofit Casa Alitas shelter in Tucson are single men from South America, who entered the U.S. through the Border Patrol's Yuma Sector, where many more families and migrants from South America, Cuba and Haiti have crossed the border asking for asylum.
In the Yuma Sector, which covers 262 miles of border from the Yuma County line to the Arizona/New Mexico state line, fewer than 10% of migrant encounters led to a Title 42 expulsion in October.
Casa Alitas' director of operations, Teresa Cavendish, says the men arriving at the shelter may have been separated from their families when they entered the immigration process. There are no detention units for families, and immigration authorities don't reunify them. So family members may be sent to different shelters, which then work to reunify them, Cavendish says.
Not working as intended
Title 42 is not working as intended, says Bolter, with the Migration Policy Institute.
The policy has cut off access to protection for some who may merit that protection, and also hasn't functioned successfully as a deterrent policy, she says.
"A smart border policy that intends to increase both orderliness and fairness at the border would be one that allows asylum seekers to make their claims for asylum and to have those claims heard in a timely manner, to open the asylum system back up but also one that ensures that those who end up not having valid claims to asylum are removed in a timely manner," Bolter said.
"This would not only restore access to asylum, but it would also bolster the perception of control and fairness at the border, both for potential migrants and for the U.S. public," she said.
After Daniel and his family left the rental where they were threatened with extortion, they were able to find a pastor who gave them a space to live in exchange for work.
But Daniel still watches his back wherever he goes. He worries the most about his 10-year-old daughter.
Everything she was accustomed to is gone now. She doesn't have access to the simplest things, like watching cartoons, and she doesn't have access to important resources, like education and health care.
"Inside of me there is desperation, there's anguish," Daniel said. "I feel like I failed at something, but I have hope. I have hope, and I'm ready to do whatever is necessary to get asylum, to go wherever I need, however I need."