The price is always right at this Tucson store.
The idea for a store where everything is donated and everything is free started with a phone call from Tucson businessman Aaron Polley to his friend Deborah "Debbie" Mitchell.
Mitchell loved the idea from the beginning and signed on immediately.
She called Deron Beal, the brains behind Freecycle.org, a place where people can connect online to offer items they no longer want for free, thus keeping them out of landfills.
Two days later Beal, Polley, of the local electronics recycling company Suburban Miners, and Mitchell, a volunteer at several local organizations, met and the Free Store was born.
On May 1, a month after that first meeting, the store opened to customers.
The first big donation — a 24-foot truck full of items — came from a woman who does estate sales.
The merchandise didn't last long.
News of the store is spreading by word of mouth, through nonprofit organizations and churches.
The Free Store's policy is simple: If you need it or can do something with it that doesn't involve putting it in the trash, take it. No charge. If you have something you don't need but someone else might be able to use, leave it. Donating something is not required to take something.
There is a limit of five items per "shopper" so that everyone has an opportunity to benefit, but there are exceptions. Just ask.
The exceptions have included a refugee family and some veterans in transition who recently were able to make use of furniture that wouldn't even fit in the store's small space. Beds, sofas, end tables and entertainment units helped these people who were able to move into housing but had nothing in the way of furniture.
While Mitchell and Polley didn't want the store to grow too quickly because they weren't ready for a huge influx of merchandise, they are already looking for a larger space. The current space is on the grounds of Suburban Miners, north of East Glenn Street off North Alvernon Way.
Polley has long been looking to turn one man's trash to another's treasure. Years ago, he had a thrift store called Yes Thrift. It didn't work out, but now his goal is to have a full-scale thrift store where everything is free.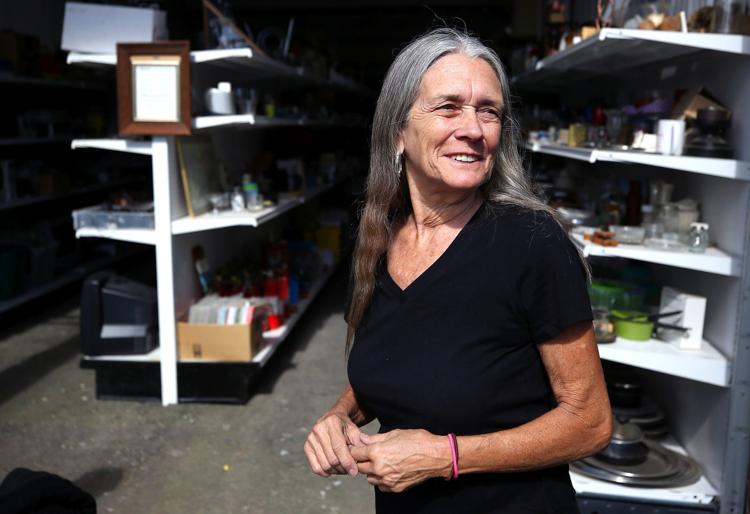 The friendly team of volunteers includes Polley, who Mitchell says is the brains behind the idea; Mitchell, who Polley says brings the magic that makes it work; Tim Backus, the muscle, without whom trucks of donations might never get unloaded; and Claudia, another regular volunteer. The entire operation is run by volunteers; no one makes money on this. Other volunteers offer their help from time to time.
Mitchell, who manages the store, says items have come in that she can't identify. She'll wonder if anyone will want them, but days later, someone will say, "I've been looking all over for one of these."
Some items found at the Free Store include: a Foreman grill, keyboards and computer mice, pots and pans, dishes, glassware, blankets, tablecloths, books, games, artwork and clothing. Polley says they test as many electric items as possible as they come in to make sure they work, but jokes they have a free return policy.
The store is open for shoppers Wednesday mornings and the first Saturday morning of each month. They'll accept donated items weekdays during business hours.
Mitchell says that since stuff keeps coming in, the store may have to add another Saturday each month to keep things moving.
"There's such an abundance of stuff, and there's people who can use it," As Mitchell says, "and we keep it out of the landfill."