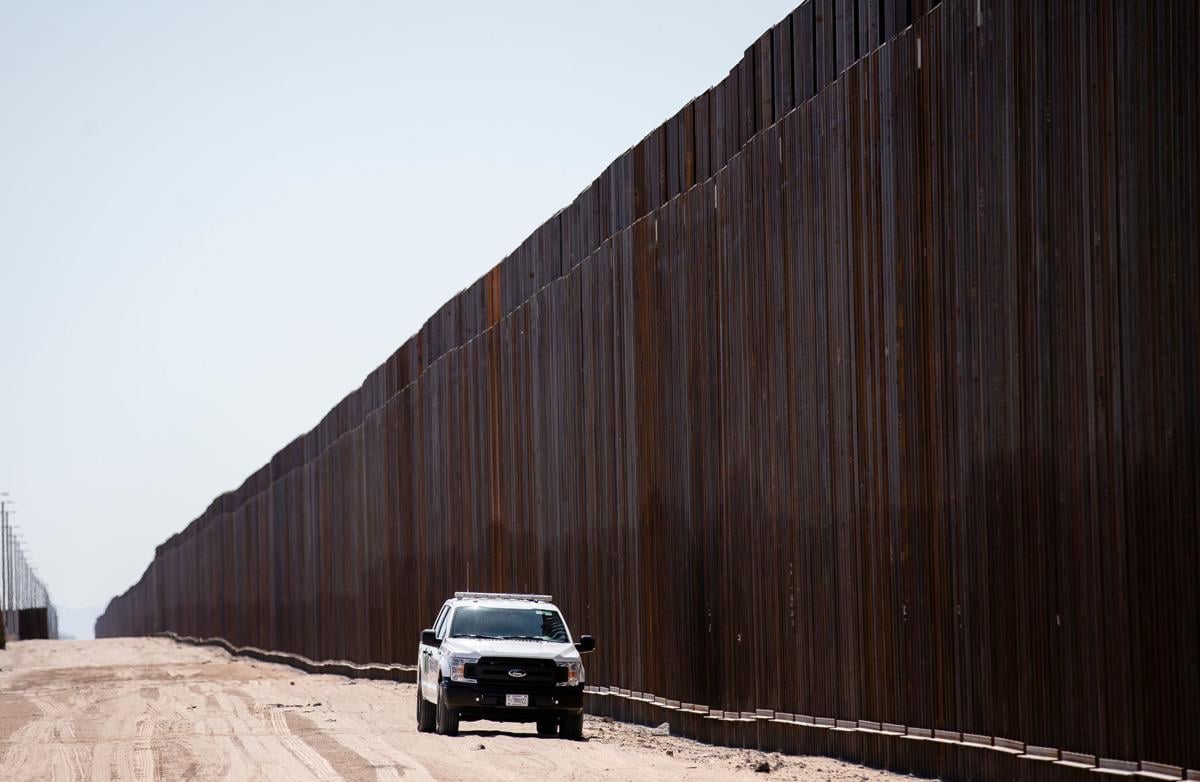 A $268 million border wall contract awarded last week was the latest in a series of big-dollar contracts in Arizona, but it was the first to raise suspicions of improper interference by President Trump.
Fisher Sand and Gravel of North Dakota was awarded a contract to build 31 miles of border wall on the Cabeza Prieta National Wildlife Refuge in the next year, according to a Dec. 2 news release from the Department of Defense, which is funding most of the border wall in Arizona. Another $132 million could be added to the contract if all options are exercised.
Two days after the contract was announced, Rep. Bennie G. Thompson, D-Miss., who serves as chair of the House Committee on Homeland Security, asked the inspector general of the defense department to review the award of the contract to ensure it followed federal procurement laws.
Thompson pointed to Washington Post stories in which administration officials said Trump "personally and repeatedly" urged the head of the Army Corps of Engineers to award a border wall contract to Fisher, even after Fisher's design was rejected by the corps.
"These actions raise concerns about the possibility of inappropriate influence on USACE's contracting decision," Thompson wrote in a letter to the inspector general.
Rep. Raúl M. Grijalva, whose district includes Cabeza Prieta, supports a review of the contract award.
"Every aspect of Trump's border wall is mired in controversy, and using Fox News to interview potential contractors and award them lucrative government contracts at the expense of taxpayer dollars is no different," Grijalva told the Arizona Daily Star.
"Regardless of the corrupt process to determine who builds it, Trump's wall will still be ineffective, expensive, and nothing more than a monument to his racist policies that negatively impacts border communities," Grijalva said.
Sen. Tom Udall, D-N.M., said on Twitter that "corruption is when the president steers a $400 million government contract to a major donor and far-right Fox News guest" to build the president's "pet border wall project."
"We need answers about how this contract was awarded," Udall said.
Fisher Sand and Gravel did not respond to inquiries from the Star, but Sen. Kevin Cramer, R-N.D., and an advocate for Fisher, said Fisher submitted "an acceptable design with the low bid," the Post reported.
Cramer said he was "glad to see more progress being made to secure the southern border, and I am grateful to see a good North Dakota company like Fisher Industries getting some of the work," according to a statement on his official website. "I know they will do very well, performing high quality work at a good bargain, all for the security of the people of the United States."
Sen. John Hoeven, R-N.D., said on his official website that "Fisher Industries has the right experience to build the wall on the southern border and we're pleased that the Army Corps of Engineers has selected them to design and build this portion along the southern border in Yuma, Arizona."
The Corps said in a statement to the Star that it follows federal regulations when it awards contracts.
"Companies are awarded contracts when they are determined to provide the best value to the government for the particular procurement action being undertaken," the Corps said. "It is not uncommon for companies that submit offers on government contracts over a period of time to provide both unsuccessful and successful offers."
Lobbying campaign
Fisher Sand and Gravel has been in business since the 1960s in North Dakota and has expanded to Arizona and other western states.
It also is the flashiest of the three construction firms building the border wall in Arizona, which so far totals nearly $2 billion in contracts.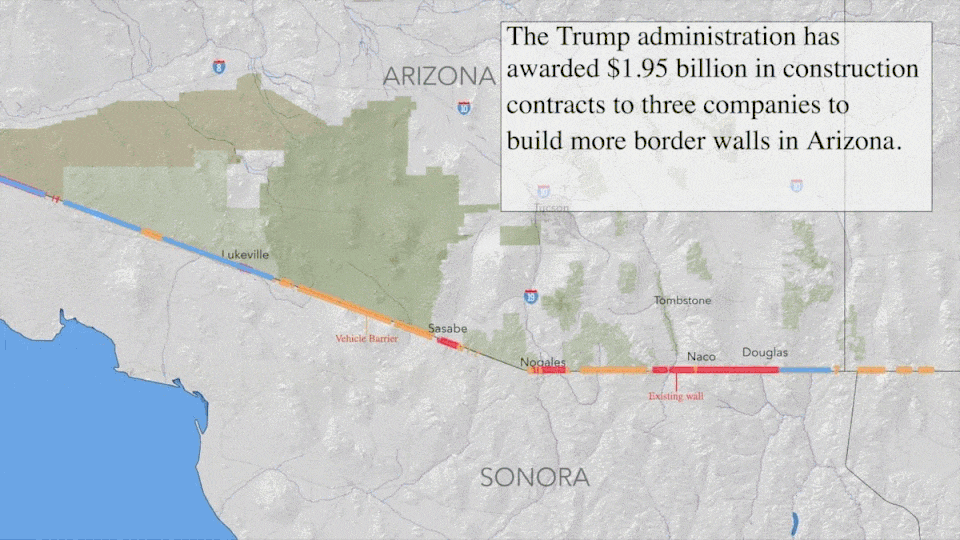 The award of the contract on Dec. 2 came after a long-running publicity campaign by Tommy Fisher, head of Fisher Sand and Gravel.
In February 2018, Fisher Industries published a special edition of its company newsletter to describe the "whirlwind media campaign" undertaken by the executives to promote their wall proposal.
The campaign included numerous appearances on conservative outlets such as Fox News, Breitbart News, the Daily Caller, the Washington Examiner and Newsmax.
The campaign continued long after the newsletter. Fisher continued to promote his wall design on news shows. His company paid lobbyists more than $100,000 to discuss the border wall with lawmakers since late 2017, according to congressional disclosure records.
Fisher hosted members of Congress for a wall demonstration in Coolidge earlier this year. He also hosted the acting secretary of the Department of Homeland Security in late November at a site in New Mexico where Fisher's company built a half-mile of wall on private land.
The construction in New Mexico was funded by the "We Build the Wall" group that raised more than $20 million online.
The group also held a rally in Sahuarita in February, headlined by former Trump adviser Steve Bannon.
Another company's low profile
In contrast with Fisher, the company that was awarded $1.3 billion to build other sections of the border wall in Arizona has shied from the limelight, even creating an affiliate in New Mexico with a different name.
The Corps awarded Southwest Valley Constructors a contract to build 63 miles of wall in Cochise County, Organ Pipe Cactus National Monument and part of Cabeza Prieta.
The company was formed in Delaware on March 21, 2017, according to New Mexico state records. The agents listed for the company are officers with Kiewit, an Omaha construction firm founded in the 1880s that had $9 billion in revenue in 2018, according to its website.
The website of Southwest Valley Constructors consists of a single page, without a phone number, that says: "Southwest Valley Constructors (SWVC) is based in Albuquerque, New Mexico, and specializes in large-scale construction for the federal government. Through its affiliation with Kiewit, the SWVC team has a proven history of working with the U.S. Army Corps of Engineers and U.S. Customs and Border Protection."
Kiewit did not respond to requests for comment.
Varying costs per mile
As more information emerges about the wall contracts, so do questions. One notable issue is the difference in costs among the contracts, according to information obtained by the Star from the Corps.
All three projects Southwest Valley Constructors is building have an average cost per mile of about $20 million:
$408 million for 20 miles of wall in Cochise County.
$102 million for 5 miles of wall near the Lukeville port of entry, about 150 miles southwest of Tucson.
$789 million for 38 miles of wall near Lukeville area on the Organ Pipe Cactus National Monument and Cabeza Prieta.
Fisher's project on Cabeza Prieta has an average cost of $8.6 million per mile, or about $13 million if all options in the contract are exercised.
Two of the three projects awarded to BFBC, an affiliate of Montana-based Barnard Construction that has been in business since 1979, average about $8 million per mile:
$245 million for 31 miles on Barry M. Goldwater Range, awarded to BFBC.
$15 million for 2 miles on the Goldwater Range, awarded to BFBC.
The third contract awarded to BFBC averaged $24 million per mile:
$121 million for 5 miles along the Colorado River near Yuma.
The Corps did not provide an explanation for why the average cost per mile of Southwest Valley Constructor's projects was more than twice the cost of most of the other projects.