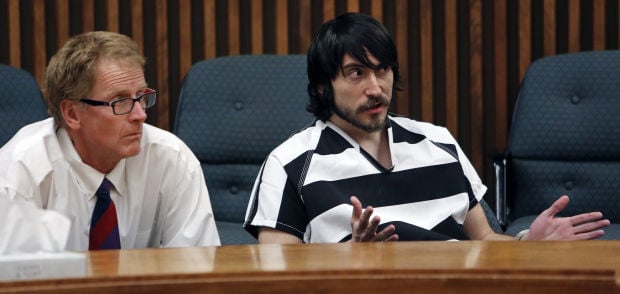 A former Tucson police officer caught with child pornography will spend the next decade in prison.
Pima County Superior Court Judge Jane Eikleberry sentenced Martin Louis Henry Ward on Monday to 10 years in prison for sexual exploitation of a minor followed by lifetime probation for a second count of sexual exploitation of minor.
U.S. marshals arrested Ward, 29, in Prescott in May in connection with a Tucson Police Department investigation into his participation on websites that allow users to share and download child pornography images and videos.
In a rapid stream-of- consciousness rant at Monday's sentencing hearing, Ward lashed out at the Tucson Police Department, local media and his attorney.
"To the Tucson Police Department: The next time you want to take a shot at me behind my back, aim at my head," Ward said.
In pseudo-prophetic tones, Ward suggested he would produce evidence of Tucson Police Department wrongdoing that would "eclipse" anything about his case.
Ward also attacked media coverage of his case and past legal troubles, saying it amounted to "collective group think" and "specious words."
"This cup of malevolence is overflowing, and I'm not going to drink from it," he said.
Deputy Pima County Attorney Frances Kreamer Hope said police found many more images and videos of child pornography on Ward's computer than were contained in the two counts to which he pleaded guilty.
Kreamer Hope said the National Center for Missing and Exploited Children had identified some of the children in the images on Ward's computer.
Ward began as a Tucson police officer in 2007 and resigned this year.
A TPD internal investigation into Ward from 2012 said he knowingly consumed prescription medication with alcohol, disobeyed direct orders, lied about a marriage and forged documents in order to receive Family and Medical Leave benefits. Also, Ward's former girlfriend had an order of protection against him because of threats he made against her.
In 2012, police arrested Ward for assault as well.
At Monday's sentencing, Ward neither apologized nor accepted responsibility for any wrongdoing.
Rather, he told the judge his five years with the Tucson Police Department should qualify as mitigation against the charges .
Be the first to know
Get local news delivered to your inbox!