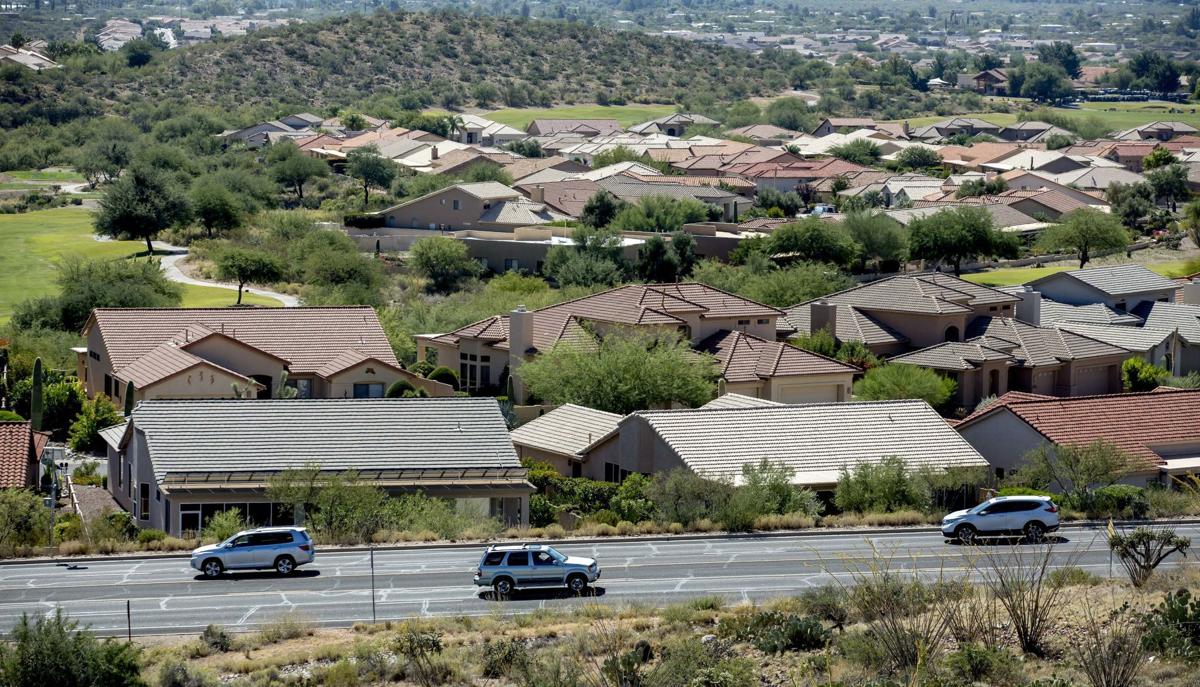 To authors of a new, highly critical study, Arizona's system of groundwater management encourages urban sprawl.
But to an official and lobbyist for a homebuilders group, the system encourages construction of affordable housing.
The affordability issue is a major reason that Spencer Kamps of the Home Builders Association of Central Arizona supports the state's groundwater management rules, which allow new suburban subdivisions to be served by pumped groundwater if they have no renewable water supplies from the Colorado River.
Kamps' comments focus on a new report from the Kyl Center for Water Policy at Arizona State University that hammered at the state-enabled spreading of new subdivisions across Pima, Maricopa and Pinal counties with no reliable water supply besides groundwater.
A water district serving those three urban counties recharges the renewable Central Arizona Project water from the Colorado River to compensate for the pumping. But that recharge by the Central Arizona Groundwater Replenishment District typically occurs far from where the pumping happens.
The report criticized a state law that in 1993 established the groundwater replenishment district, which is commonly called the GRD for short.
The district operates in state-run "Active Management Areas" in Pima, Maricopa and Pinal counties. The law designated these AMAs as areas where groundwater pumping is supposed to be limited or at least controlled to protect the underlying aquifers.
The Arizona Daily Star posed questions to Kamps about the issues raised in the Kyl Center report. Here is that Q&A:
Q. In 2017, your homebuilders group wrote its own report about the groundwater district. It said at least 350,000 homes have been built in suburban areas that wouldn't have been built without the state law allowing them to be served by groundwater with the district replenishing that water elsewhere.
It said that without the district, developers would face prohibitive costs to obtain their own renewable supplies, causing a halt to growth in many of the suburban areas now served by the district.
The Kyl Center report disputed your account, saying that development "would have taken place anyway, just at different locations."
Growth served by the replenishment district "is not the only way growth can happen," that report said. "It does allow growth where land is cheaper, instead of in areas where renewable water supplies and infrastructure are already in place."
A. I don't agree with that. Development may have happened in other places, but not the same type of development would have happened.
Specifically what I'm referencing is housing affordability. There's a multitude of studies that say the closer you are to the inner city, be it Tucson or Phoenix, housing prices go up. One thing the replenishment district brings is an opportunity for affordable housing. That's obviously a big part of the market, even more today than 10 years ago.
When the CAP water was allocated decades ago, there were a number of private utilities and cities that did not get a CAP supply allocated. The replenishment district was a vehicle to allow those individuals to get a benefit off the CAP system because they are all taxed for that system, like Buckeye, Oro Valley, Marana, Queen Creek, Surprise and Goodyear. It's a benefit to the system that allows people to develop those areas. If not, the development would go to the (inner) cities.
Q. The Kyl Center said your report failed to consider the environmental impacts of growth far from established metropolitan centers that the state law now allows — transportation costs, air quality effects, potential land subsidence from groundwater pumping and disruption of natural desert lands.
A. Neither did their report. Just for the record, ours was an economic study. It wasn't designed to go after these issues, as they relate to Arizona's growth. That's been an ongoing debate for the last 50 years in Arizona, and it will continue onward ... and it should.
Q. The Kyl Center is concerned that in the future, there may not be enough renewable supplies such as CAP to compensate for the pumping that's done in the suburban areas. The report particularly cites a concern about what happens if Colorado River flows continue to decline as they have so far this century due to climate change. The report also says that it will be tough to get water for new growth from farmers and others who live near the river in places like Mohave County and use river water.
A. Those issues have existed for some time. What was the solution that the GRD saw? They went to the Gila River Indian Community. They did a (water transfer) deal with them. You're saying that kind of water is not going to be available in the future? I would disagree with that.
The GRD has been working with Yuma for over a decade. The Mohave discussions are what, about three years old? This is not a new issue, but the Gila River Indian Community deal was pretty historic. (The Kyl report's) point saying that the GRD needs to continually procure water supplies? It's been doing that since the day it was created.
Q. Yes, but will that continue in the future?
Q. Is it appropriate for the replenishment district to keep signing up new homes and subdivisions when Arizona's long-term water picture is uncertain?
A. It's important to understand that prior to joining the GRD, we have to prove the physical availability of the water resources in the aquifer underlying a new subdivision. We must pass the physical availability test for 100 years. If we fail that test, we can't even join the GRD.
If you're a water provider, when you fail that physical availability test, the entire management area is shut down. (Development is frozen). For example, look at the Pinal County AMA, where the state has found that the aquifer contains about 8 million fewer acre feet of groundwater than what's needed to support all the new planned development there.
Q. I asked Kathy Ferris, a co-author of the Kyl Center report and a former Arizona Department of Water Resources director, about that comment. She noted that under today's assured supply rules, developers in Pima and Maricopa counties can drill down to 1,000 feet for water over 100 years. She added, "That practice of allowing development in one place and recharging elsewhere is just draining our aquifers. No one wants to face up to that."
A. It's what's allowed under the rules for state Active Management Areas for water in Pima, Pinal and Maricopa counties. It is what it is. If the Kyl Center wants to pursue a conversation with water stakeholders about changing that limit, it's up to them. I'll let my comment stand.
Q. The Kyl Center report made recommendations. One is that the replenishment district be required to recharge water in the same locations where groundwater is pumped, and to have recharge facilities in place before new members in these locations may enroll in the district and build homes or sell home lots.
Another is that the state reduce how deep groundwater can be pumped for new subdivisions seeking to prove they have an assured, 100-year supply. A third is that the groundwater replenishment district and the Arizona Department of Water Resources be required to conduct a more rigorous examination of how much renewable water is realistically available for replenishment to serve future growth.
Will the homebuilders support or oppose such measures at the Legislature?
A. It's way too early to speculate on that. I'm not going to stake out a position with the media. I will tell you this: It's always good to have a discussion about how we grow.