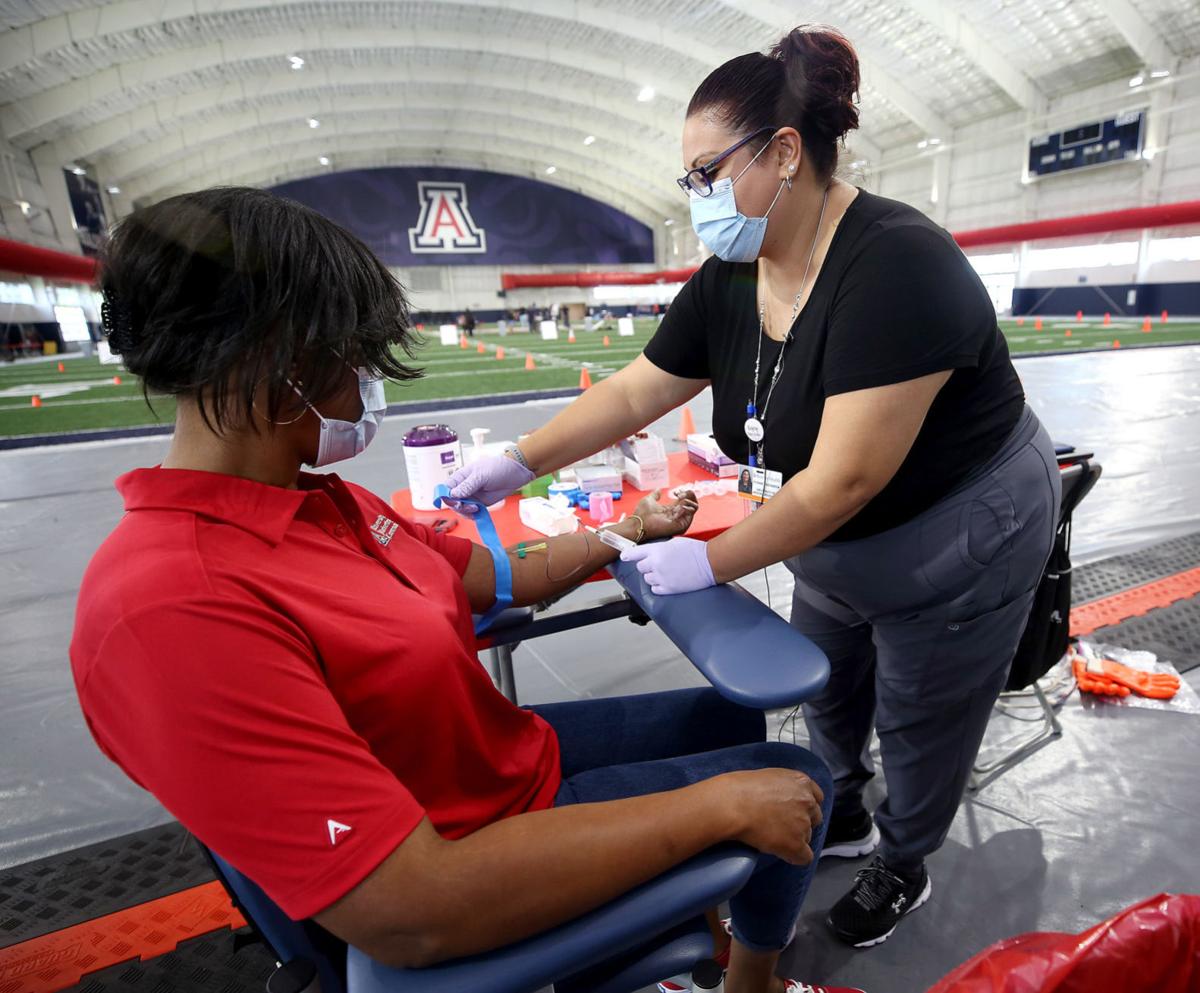 Calling it a "game changer," the University of Arizona took another step in its contact tracing effort to try to reduce the spread of the coronavirus, officials said Thursday.
The UA recently began testing the COVID Watch app, which uses low-energy Bluetooth technology on a device to provide timely contact tracing data. The app anonymously shares information through Bluetooth to identify other nearby devices, then allows an infected person to send an anonymous alert to other app users whom they may have exposed to the virus.
"The ability to scale up (tracing) this way through digital exposure notification is really going to help us," said Joyce Schroeder, head of the University of Arizona's Molecular and Cellular Biology Department.
"We need to test it to make sure it's doing what we expect it to do, but if it does we really hope it's going to be a game changer."
The app, combined with other tools such as telehealth, could be beneficial in rural Arizona, said Daniel Derksen, a public-health professor at the Mel and Enid Zuckerman College of Public Health.
"I think this tool along with others will really give us a much better tool than shutting everything down. We have to have more precise tools to do a better job." Dersken said.
Another tool is being developed to help those conducting manual contact tracing, which involves identifying an infected person's close contacts and alerting them of possible exposure.
The College of Public Health has partnered with the Maricopa County Public Health Department to build a curriculum to give contact tracers more guidelines.
"A lot of these modules are really interesting, and creating them specifically for Arizonans and their needs is touching on the political environment and economics behind it — things that will add to the weapons a contact tracer should have if they really want to do a good job," said Tanner Mihesuah, a graduate student within the Public Health Department.
He said this development could lead to the tool's use statewide.
DACA ruling
Many donors have answered the call to assist the UA community, especially the school's most marginalized populations, President Robert Robbins said during Thursday's news conference. More help, however, is needed, Robbins added.
"The Supreme Court came out with a DACA (Deferred Action for Childhood Arrivals) ruling and so we've got scholarships for DACA and undocumented students that we're constantly raising money for," Robbins said. "We need the help right now for scholarships for our students, for just basic needs for our students and support from some of these innovative approaches we're taking to testing, tracing and treating."
A U.S. Supreme Court ruling Thursday rejected an effort to end legal protections for 650,000 young immigrants in the U.S., The Associated Press reported.
"We are proud of our DACA students, who are an important part of the university community. The university is pleased the Supreme Court's decision will allow our DACA students to continue pursuing their academic goals with more predictability related to their status," Robbins said.
Babcock available as Quarantine dorm
Students returning to campus on Aug. 24 will find protocols in place to support them if they are exposed to the coronavirus.
The UA has a capacity, as of now, to house about 200 students in its Babcock dorm, minutes away from Banner-University Medical Center in case a student's condition worsens.
Students in quarantine will still be able to attend their classes online. Campus Health will make sure those students are eating and staying hydrated.
The UA's Facilities Management department is working to ensure students inside the dorms are safe, including adding filters to the HVAC systems for better air circulation and using ultraviolet light to kill the virus.
Alternative Furlough Plan
The alternative furlough plan put together by the Coalition for Academic Justice recently is being reviewed by the UA's financial sustainability taskforce, Robbins said. The task force is headed by Lisa Rulney, the UA's chief financial officer.
The coalition says its plan is more equitable and that it has employees making more than $200,000 "shouldering more of the economic burden." The plan also moves the salary floor from $44,500 to $70,000.
Contact Star reporter Shaq Davis at 573-4218 or sdavis@tucson.com
On Twitter: @ShaqDavis1
Concerned about COVID-19?
Sign up now to get the most recent coronavirus headlines and other important local and national news sent to your email inbox daily.