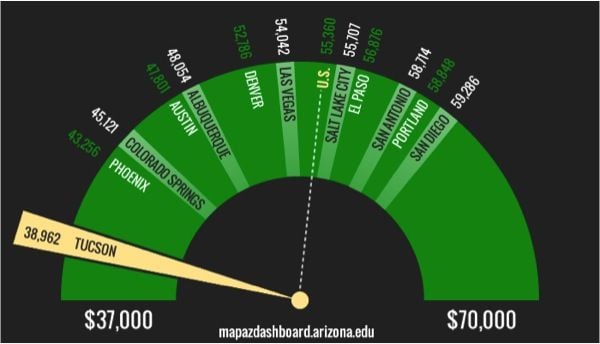 A study of teacher pay and job satisfaction has found that Tucson educators are getting the short end of the stick, even when considering the area's low cost of living.
The Tucson Values Teachers study, sponsored by the University of Arizona's College of Education and the Southern Arizona Leadership Council, revealed the median annual wage for secondary teachers in Tucson when cost of living is factored in is more than $16,000 below the national average for secondary teachers and the lowest in a comparison of nearly a dozen major western cities, including Phoenix.
Despite operating under the same funding formula as Tucson schools, Phoenix teachers fared better, coming in at about $12,000 below the national average when cost of living is taken into account.
Coming out on top? San Diego.
While it's easy to argue that San Diego residents are overpaid because of the cost of living in the coastal city, when the numbers are adjusted to factor that in, those teachers came out nearly $4,000 above the national median.
"Tucson teachers are punished even worse salary-wise than any other community," said Marian Salzman, executive chair of Tucson Values Teachers, an organization that works to foster and encourage the collaboration, optimism and support necessary to retain, recruit and reward K-12 teachers. "It's such a dramatic pattern of neglect in showing these people economic respect."
The severity of the issue became evident to Salzman over the summer when Tucson Values Teachers offered gift cards to teachers to buy supplies for their classrooms.
The cards, available on a first-come, first-served basis, were worth about $120 at Walgreens, which had a matching program in place.
"We had over 1,250 gift cards available," Salzman said. "We expected that we would probably end up with a couple left that we would bring to the schools and it was the exact opposite — over 3,600 people requested gift cards … We had all sorts of teachers writing us letters saying 'I really need this, can I get two?'
"We know teachers are spending much more than that in the classroom but one key finding was we never realized the degree of desperation."
Though many former teachers will cite pay as a driving force in their decision to leave the profession, the Tucson Values Teacher survey identified other problem areas.
Respect from the community was often cited as affecting teacher satisfaction, as was quality of school leadership and training and development.
While Tucson teachers are paid slightly better than the city's median wage, they are paid dramatically worse than others with four-year college degrees despite the fact that more than half have their master's degrees.
Knowing that the conversation about teacher pay is not new, Tucson Values Teachers has shared the study findings with the business community in hopes of increasing the visibility of the issue and to gain recognition of the fact that the workforce and the quality of schools are connected.
"At Raytheon there are over 400 professional jobs open right now which would equal $60 million into the local economy," Salzman said. "One of the top reasons they feel they can't fill those jobs is they have a difficult time recruiting people who are coming with families to come to this area because of the questions around the schools. That's an awful lot of income tax and property tax that isn't getting paid into the community."
Also planned is a K-12 education summit in January with national and regional speakers addressing the plight of teachers and sharing what other places are doing in response, aiding in the development of solutions locally.
For more data on teacher pay, go to the University of Arizona MAP dashboard of Southern Arizona.