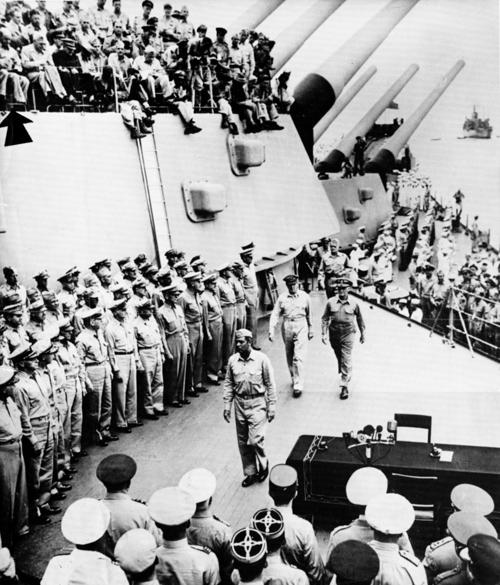 Editor's note: Star Editor William R. Mathews reported from the USS Missouri during the war in the Pacific in World War II. His reports were sent by airmail, so they were often delayed. He was a witness to the official surrender of the Japanese on Sept. 2, 1945, and sent this report:
ABOARD FLAGSHIP MISSOURI, TOKYO BAY, Sept. 2. — When the Japanese delegates came aboard the USS Missouri at 0855 this morning to sign the unconditional surrender of their government, and their emperor's authority, my thoughts went back to the 4th and 5th of July 1937 in Moscow. At a 4th of July party, given by Ambassador Davies at Spaso House, I met the Japanese ambassador. When he learned that I had come in from China and Japan via Siberia, he asked me in good Yankee English to call on him the next morning.
The next morning I went to see him. Several times when I arose to go he would ask me to be seated. During the 45-minutes' conversation I had a good opening to remark that if the policy — at that time — of Japanese secrecy over naval construction continued, it would probably generate enough distrust in America ultimately to foment hostilities.
Will Be Tragic
When I said that, this little man, who talked such good American English and walked with a stiff wooden leg, remarked with slowly measured words, "Oh, it will be a tragic day for Japan if she ever goes to war with the United States; you would be able to overwhelm us."
That same man was the leader of the Japanese delegation that came to sign the unconditional surrender. When Gen. Douglas MacArthur called upon the Japanese delegates to sign, this same little man, dressed in the old-style diplomatic frock coat and holding a silk hat, limped forward on his artificial leg to sign. He was the new Japanese foreign minister, M. Shigemitsu, former ambassador to Moscow and London. He was signing the surrender he forecast eight years ago. He was one of the few Japanese who could appreciate the latent industrial strength of the United States.
Right Kind Of Day
The weatherman staged just the right kind of a day for this historic occasion. The waters of the bay had subsided to the smoothness of a bathtub full of water. Clouds screened the sun but were high enough to leave good light and a good ceiling for our planes. The weather was pleasantly cool. All of us were able to wear our best starched khaki without having it ruined by rain or water from choppy seas in the bay.
From a front-row seat on top of gun turret No. 2, much of the bay could be seen, with giant battleships, cruisers, destroyers and transports riding at anchor and scores of small boats carrying ticket holders to the ceremony on the Missouri. Admirals' barges, with their white trimmings, came racing up to the Missouri while open landing boats came gliding up to discharge their cargoes of less notable personnel.
All Spaces Assigned
Every possible inch of space on the Missouri had been measured and assigned. From the quarter deck and platforms built over smaller gun mounts, up all topside decks and bridges to the radar screen on top of fighter control, white-uniformed sailors and khaki-clad officers and correspondents clung to their places to watch the show. By 0800 the spaces were nearly filled and then just to add a touch, a long line of transports, 12 of them, came steaming in through Uraga Straits to provide some of the men at the surrender the will required to enforce it.
As they steamed in, "colors" sounded. Men of all ranks stood at attention and faced aft. "The Star Spangled Banner" and "God Save the King" were played, because only Britain and ourselves had ships in the harbor.
Nimitz Arrives
A few minutes later Adm. Chester Nimitz arrived. As he came up on the gallery deck where officers of all ranks were gathering, he was respectfully saluted and cheerily greeted by his own admirals. British, French, Dutch and Chinese generals and admirals were now mingling with one another and checking on their official positions.
At 0845 Gen. MacArthur accompanied by a few of his staff came up and strode across the deck. The general went into Adm. William Halsey's cabin. At 0850 an admiral's barge pulled up with the Japanese delegates. Five minutes later they reached the official deck and silently took their places facing the table with its big leather-bound collection of official documents. It was my old acquaintance from Moscow, Shigemitsu, in his long black coat and wearing a silk hat, who was the first to take his position.
A conspicuous silence broken only by the click of movie cameras followed as everybody trained their eyes on this delegation from the nation they had been fighting so long. At last the signing of surrender had come.
MacArthur Speaks
A few seconds before 0900, MacArthur came out and took position before the radio mics which were standing before the official, green-covered table.
A few seconds after 0900, MacArthur started speaking. Dressed in plain, somewhat faded but newly starched khaki open at the collar and his faded old cap, he was impressive in his simple attire and his eloquent, few words. He spoke not more than three minutes and then called upon the Japanese delegates to sign. One of the Japanese delegates stepped forward with what appeared to be official documents recorded in Japanese. He arranged papers on the table. One minute later Shigemitsu limped forward, took his seat, and picked up a pen slowly as he looked at the document. As he finished signing one copy, his assistant laid out the duplicate. Shigemitsu arose and bent over to sign this second one. As he finished, the second Japanese delegate, Gen. Y. Umezo, stepped forward with a vigorous stride, took out his spectacles, and signed both copies standing up.
Called for Wainwright
At 0908 Gen. Richard K. Sutherland, MacArthur's chief of staff, came forward from a group of officers and turned the documents around. MacArthur called for Gen. Jonathan Wainwright and Gen. Arthur Percival to stand behind him. He signed once and gave the first pen to Wainwright, the second to Percival. He used several pens to add something to his signatures and then brusquely reached into his left shirt pocket and pulled out a red fountain pen of his own, took off its top and signed something more.
When MacArthur asked for the delegate representing the United States, Adm. Nimitz responded. He called to Adm. Halsey and Adm. Frederick Sherman, his chief of staff, to stand behind him. Nimitz used two pens. Wearing their tropical whites, the British followed and then in succession the other belligerents, each of them asking certain of their staffs to stand behind them.
The Canadian delegate, Col. L. Moore Cosgrave, asked MacArthur where he was to sign. The general leaned down and put his finger in what he thought was the place. The Canadian signed. Right there one of those accidents of history took place.
Signed Wrong Line
Instead of signing above the official printing set for the official position and name of his country, the Canadian had inadvertently been instructed by MacArthur himself to sign below the printing. Others followed suit, but the last delegate, the one from New Zealand had no official place to sign, but he signed anyway.
The Japanese saw the mistake and politely challenged the correctness of the signatures only after MacArthur had declared the proceedings closed. Confusion followed. Gen.Sutherland finally opened the books, crossed out what was wrongly placed and inked in the correctly described representation.
Darkened by Planes
As the press was told to go to their boats in order to move the news to meet early Sunday morning editions at home, the sky almost darkened with Navy planes in formation, and way above them formations of graceful B-29s. Their roar added an impressive demonstration to the role they had contributed in bringing about the surrender, which had just been officially completed.
V-J Day had come at last, and I was one of the seven lucky publishers who had a ringside seat at the ceremony in Tokyo Bay.
Readers share memories and stories of family members who served during World War II
Manuel Encinas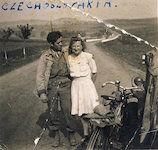 Manuel Encinas was born somewhere in Sonora, Mexico and immigrated to the U.S. before the Immigration Act of 1924 (Johnson–Reed Act).  His family simply walked across the unfenced international border and settled in and around Tubac and Arivaca, Arizona.  His father was a Mexican cowboy. When WWII broke out he enlisted, even though he was not born in America.  He told the Army at enlistment time he knew how to operate a bulldozer and was assigned to the Fourth Armored Division, Third Army under George Patton. He came across the English Channel after the first wave of troops and the beaches were secured. He was assigned to a scouting company in a half track ahead of Patton's tanks. Outside of Bastogne and before Patton's arrival there he was grazed in the head by a German sniper. He was sent to the rear for recovery.  He traveled to Paris after his recovery and partied there briefly before being sent back to the Third Army on the rest of the trek to Germany.  He planned on reenlisting after the war but was needed at home to help care for his parents.
Adolfo "Harpo" Celaya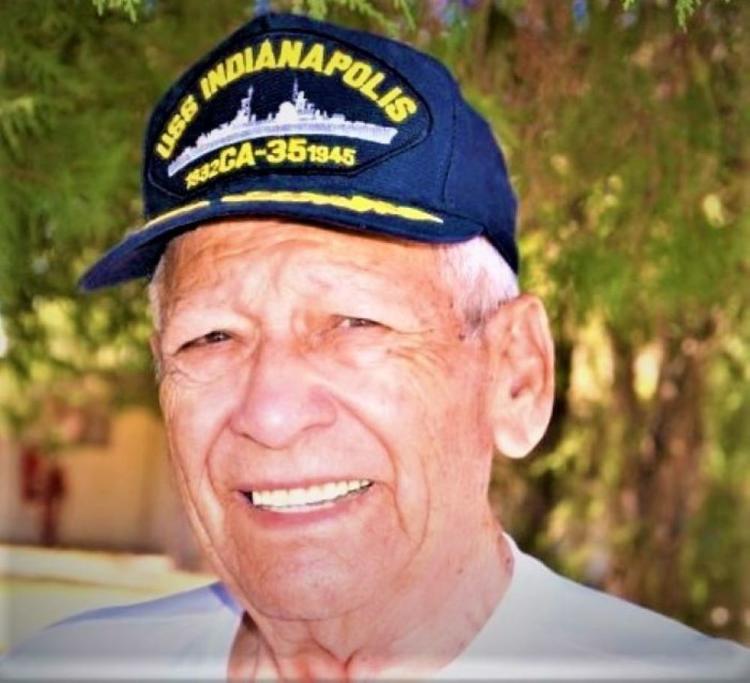 Aldofo "Harpo" Celaya, born in Florence, Arizona, entered the U.S. Navy in August 1944, completed basic training at San Diego NTC, and was assigned to the USS Indianapolis (CA-35). In February and March of 1945, the USS Indianapolis took part in the invasions of Iwo Jima and Okinawa. After receiving repairs at Mare Island NSY, she was loaded with the components of "Fat Boy," the atomic bomb destined for Hiroshima. These components were delivered to Tianan Island. On July 30, 1945, after delivery, the USS Indianapolis was torpedoed by the Japanese submarine I-58 and sunk within 12 minutes. Of the 1,196 aboard only 900 made it into the water. Harpo spent five days and nights in the water facing sharks dehydration, and saltwater poisoning. One of only 317 survivors, Harpo was witness to one of the worst naval disasters in U.S. history. Harpo today, a recipient of the Purple Heart, is one of eight surviving USS Indianapolis shipmen and most recently was awarded the Congressional Gold Medal. The U.S. Post Office in Florence, Arizona, was renamed in his honor in September 2017. Harpo now aged 93 lives in Florence and is in good health.
Walter Ram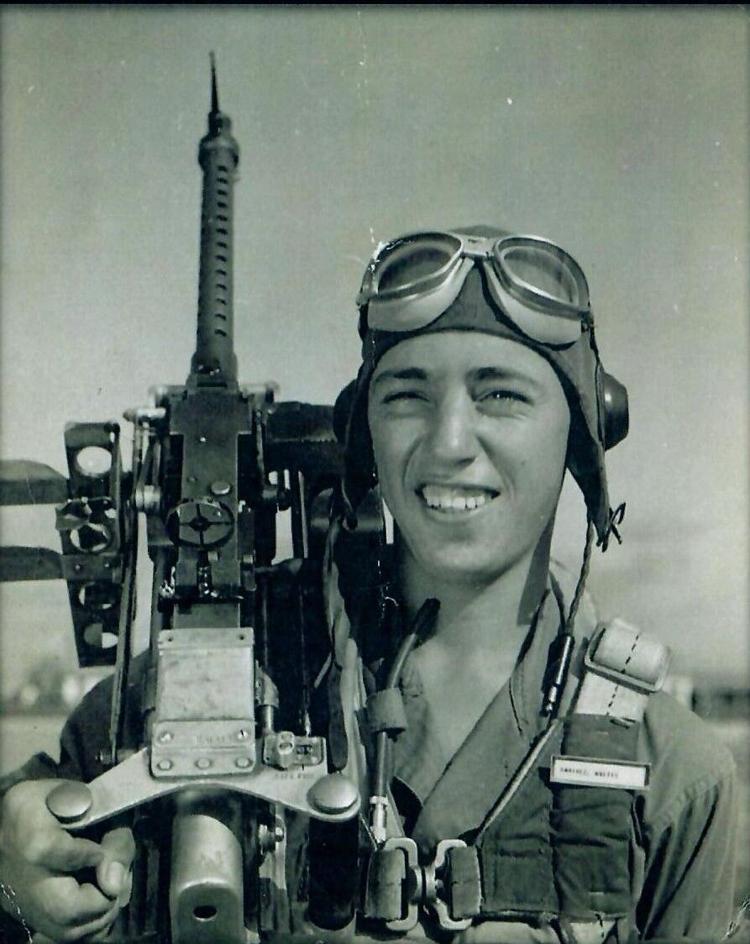 Ninety-six-year-old Walter Ram, born in Nogales, Arizona, in 1923, lied about his age (16 at the time) and joined the U.S. Army. After his one-year service with the 158th Infantry, he received an honorable discharge. With the bombing of Pearl Harbor on December 7, 1941, he reenlisted and was assigned to the 94th Bombardment Group, 331st Squadron of the 8th Air Force. In 1943 SSgt Ram was assigned to Bassingbourn, England, and was on the "Helno-Gal" B-17E, a four-engine bomber made for the U.S. Army Air Corps. On his sixth mission his bomber was shot down over Keil, Germany. His crew member, Chuck Lewis, threw a semi-conscious Walter out the bay door saving his life. Only four of Ram's 10 man crew survived the crash. Walter woke up as a POW in a German hospital and was sent to Stalag 7A for one month before being moved to the notorious Stalag 17B near Krems, Austria, where he was imprisoned for 19 months. As the war came to a close the entire prison camp was placed on a 300-mile forced march enduring starvation frozen terrain, and snow. In early May, 1945, Walter's group was liberated by Patton's 13th Armored Division. SSgt Ram was awarded his first Purple Heart as a POW, but had to wait 76 years for his second, which was awarded August 23, 2019, by Sen. Martha McSally in front of a packed auditorium at Davis-Monthan Air Force Base. Walter said at the ceremony, "Every time our commanders sent us on a mission, they knew we weren't coming back and we knew that, too. We just went ahead. Nobody was afraid. We just knew we had to destroy the target, whatever it took." Ninety-six-year-old Walter Ram lives in Tucson today, serves as a docent at the Pima Air and Space Museum, and is in good health.
James Franklin Dickinson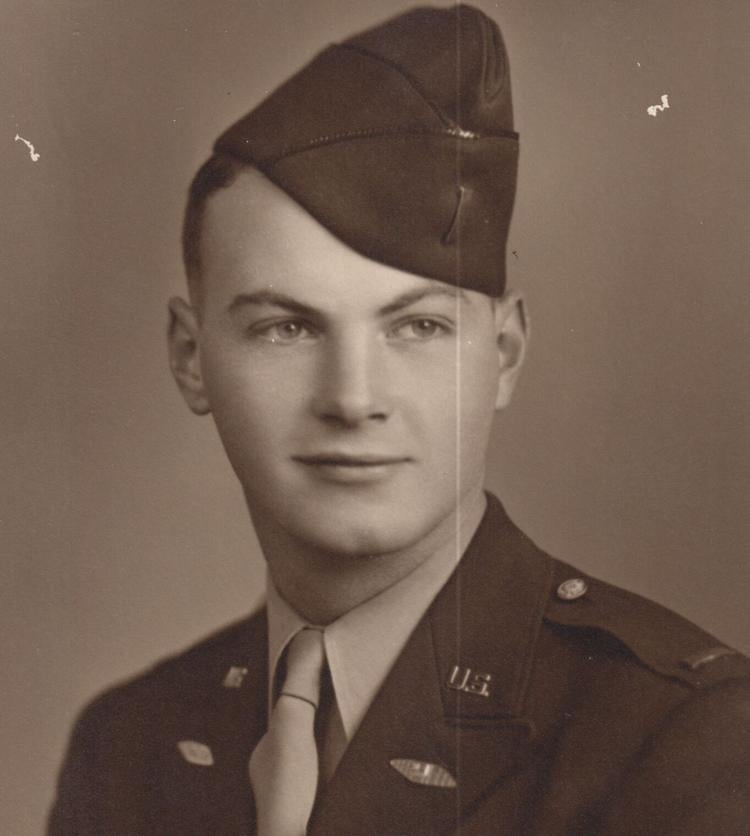 James Franklin Dickinson enlisted in the U.S. Army on Nov. 5, 1942, and completed his basic training at Fort Custer, Michigan. He was assigned to the 11th Armored Division at Camp Polk, Louisiana.  While at Camp Polk he applied and was accepted to Officers Candidate School at Fort Knox, Kentucky, home of the U.S. Army Armor Center and U.S. Armor School. He graduated as a second lieutenant on Nov. 6, 1943. By late March 1945, he landed in LeHarve, France, as part of the U.S. Army Reserve Units ready to fill needed positions to bring the war to a successful conclusion. On May 1, 1945, he was assigned to the 3rd Cavalry Reconnaissance Squadron (Mechanized) under the command of Gen. George Patton's 3rd Army. On May 4, 1945, his reconnaissance tank was hit by a German panzerfaust near Volabruck, Austria, killing him and his gunner and seriously wounding the driver and radio operator. His remains were sent to a U.S. Military Cemetery in Nurnberg, Germany, and were finally sent home in 1950 to Fennville, Michigan. Like more than 400,000 U.S. military personnel, James gave his life for his country. In a poem written by his mother at 3 a.m. one sleepless night she wrote: "I wondered when 'Goodbye' we said, If I was destined tears to shed, As many as the raindrops fell, When we said that last farewell."
William A. Evans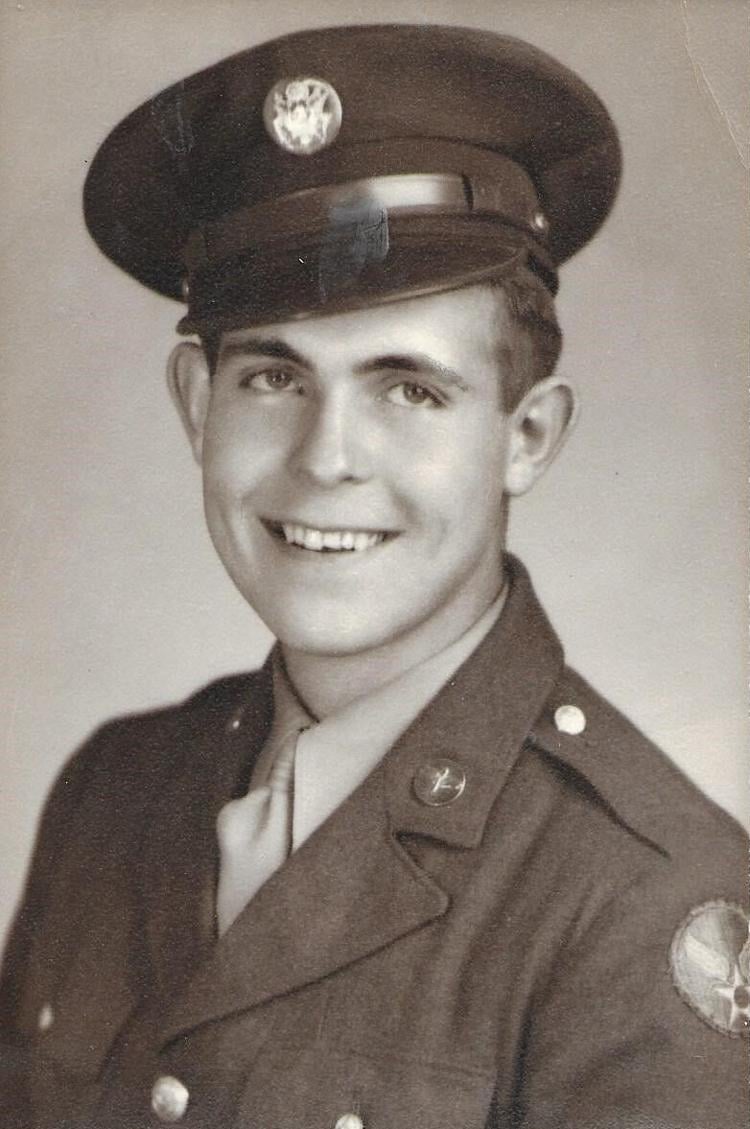 William A. Evans from Fairfax, Oklahoma, enlisted in the U.S. Army on June 16, 1943. He was assigned to the Army Air Corps and became an aerial gunner in the 360th Bombardment Squadron based in England. His squadron flew multiple bombing missions in the B-17 "flying fortress" destroying German targets in Cologne, Aachen, Essen, Bonn and Leipzig. Bill remained in England until March 1946, and earned his honorable discharge in April 1946. He was awarded the WWII Victory Ribbon and two Bronze Service Stars. Bill moved from Perkins, Oklahoma, in 1990 to Tucson, and passed away Nov. 9, 2012.
The Walterscheid siblings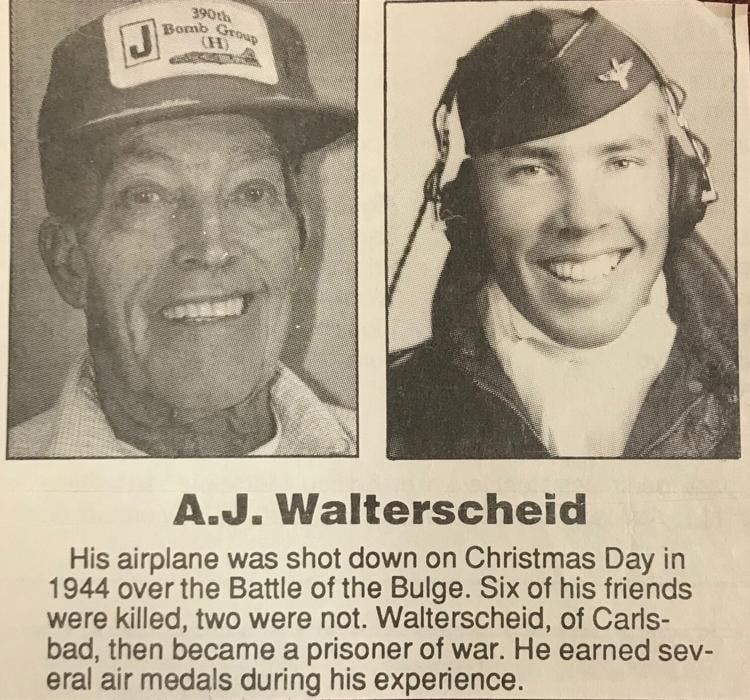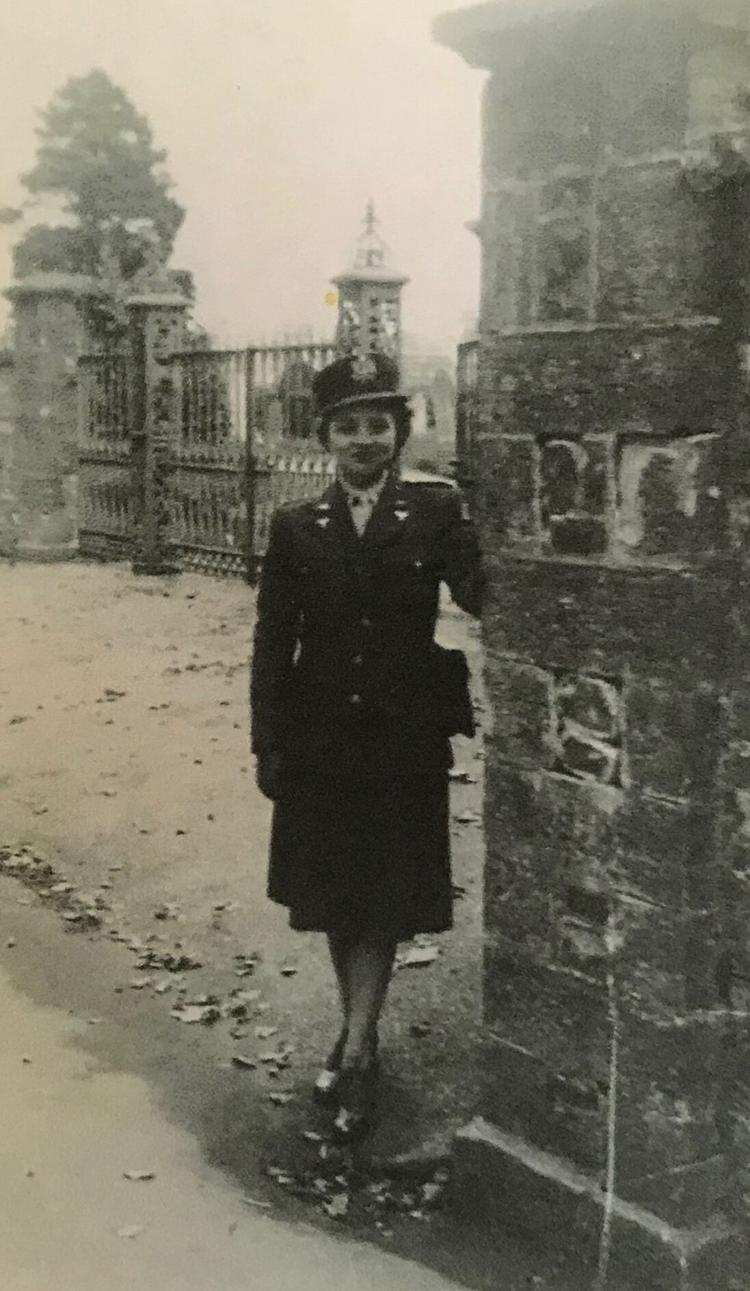 Four of my siblings served in World War II. All entered the service from Carlsbad, N.M. Alfred James Walterscheid (1919-1996) was a First Lieutenant in the Air Force. He was a co-pilot in a B-17 bomber over Europe. After completing 28 missions, his plane was hit by flak and he was able to parachute out. He was imprisoned in a German POW camp for six months. Joseph Edward Walterscheid (1921-2015) was a second Lieutenant in the Air Force. Arthur Simons (1916-1979) served in the Navy; Irene Douglass (1920-2015) was a nurse and First Lieutenant in the Army Corps. All returned home safely, raised families, and lived good upright lives.
Patricia (Walterscheid) Baker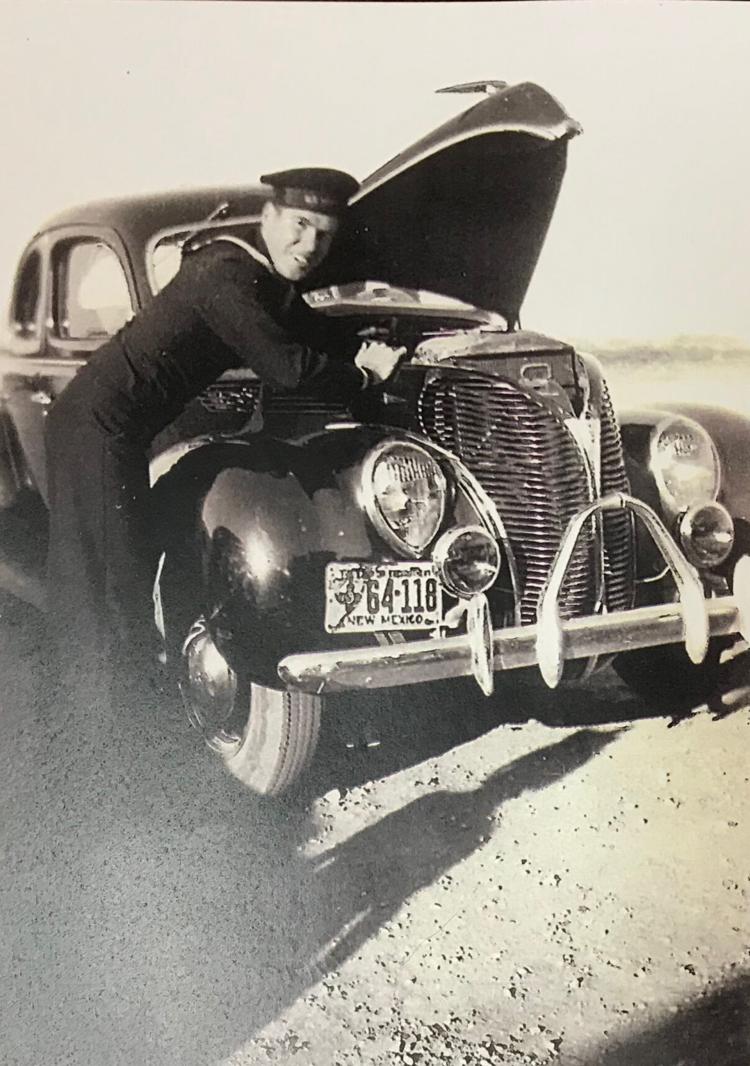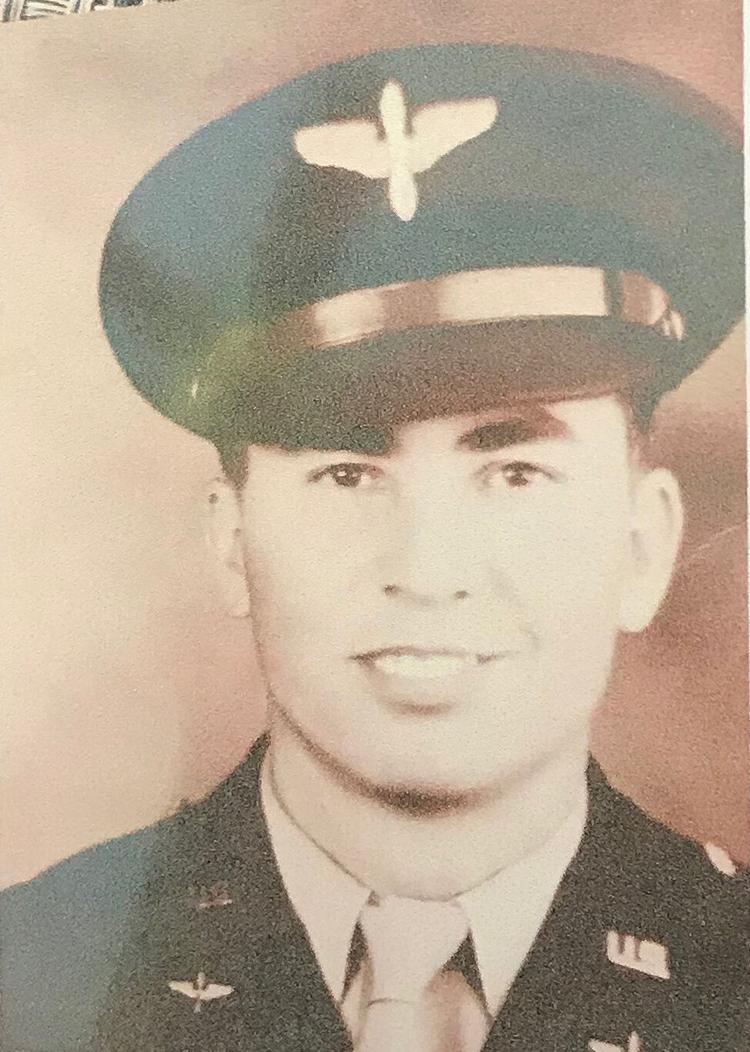 Richard A. House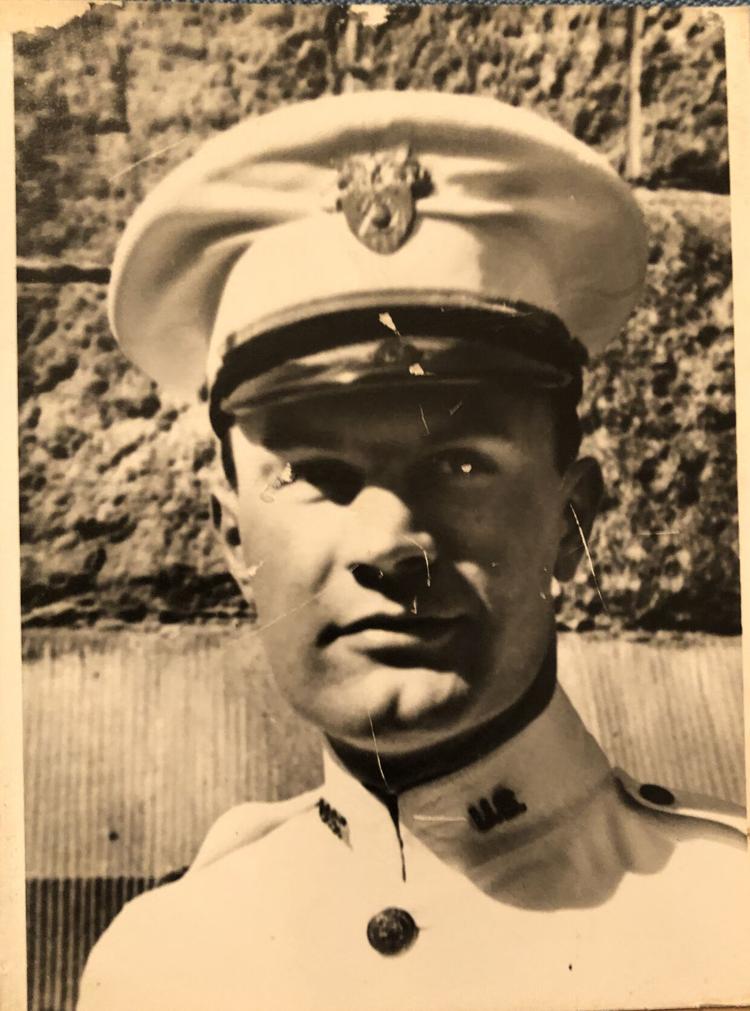 My grandfather, Richard A. House, was a member of the West Point Class of 1942. This would be West Point's first graduating class to enter WWII. On Dec. 8, 1941, he wrote a letter on West Point stationary to his family, that describes the state of the world and preparing to fight fascism. The original letter is at the West Point Special Collections Library. Gramps eventually flew a B-29 Aircraft from Guam during the war. He retired in 1972 as a full colonel after 30 years from the U.S. Air Force. We have his West Point uniform and diploma on display at our home. We also have one of his cadet handbooks.
Horacio Reyes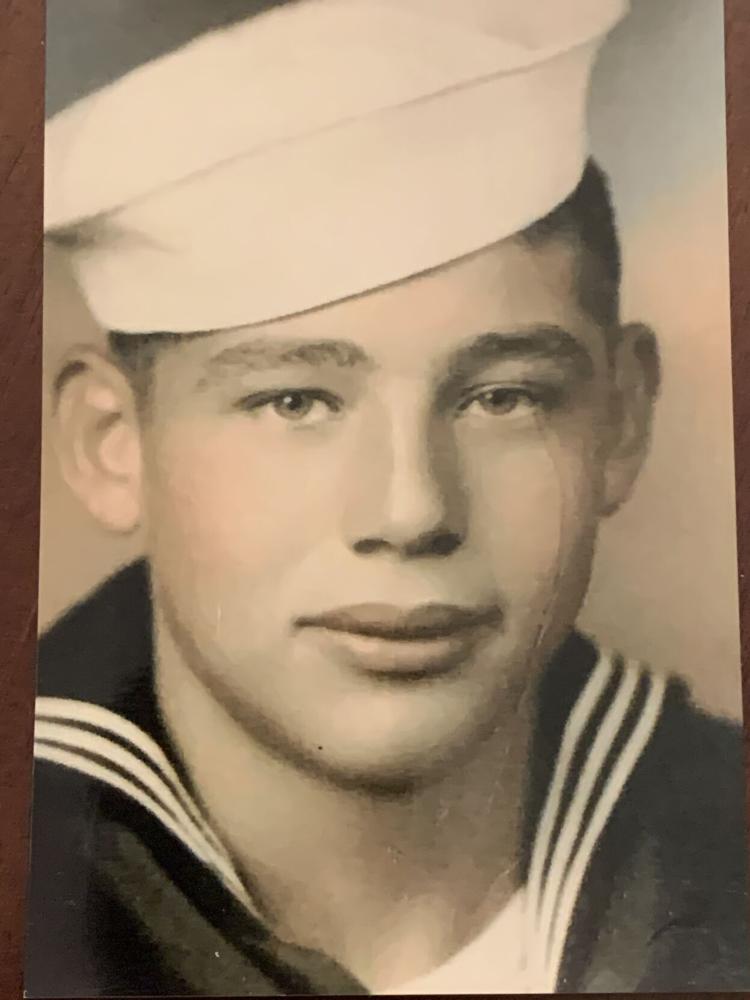 In August 1943, my great-uncle, Horacio Reyes, enlisted with parental consent at the age of 14 in the U.S. Navy. Uncle Horacio enlisted from his hometown of Douglas, Arizona. My uncle served in the Pacific Fleet during the war. He was assigned to the USS Butternut. The Navy became his career. Uncle Horacio served in many places including four U.S. carriers. He retired after 32 years of service. He was proud to have served in the U.S. Navy.
Bernice Fisher and Charles Olsen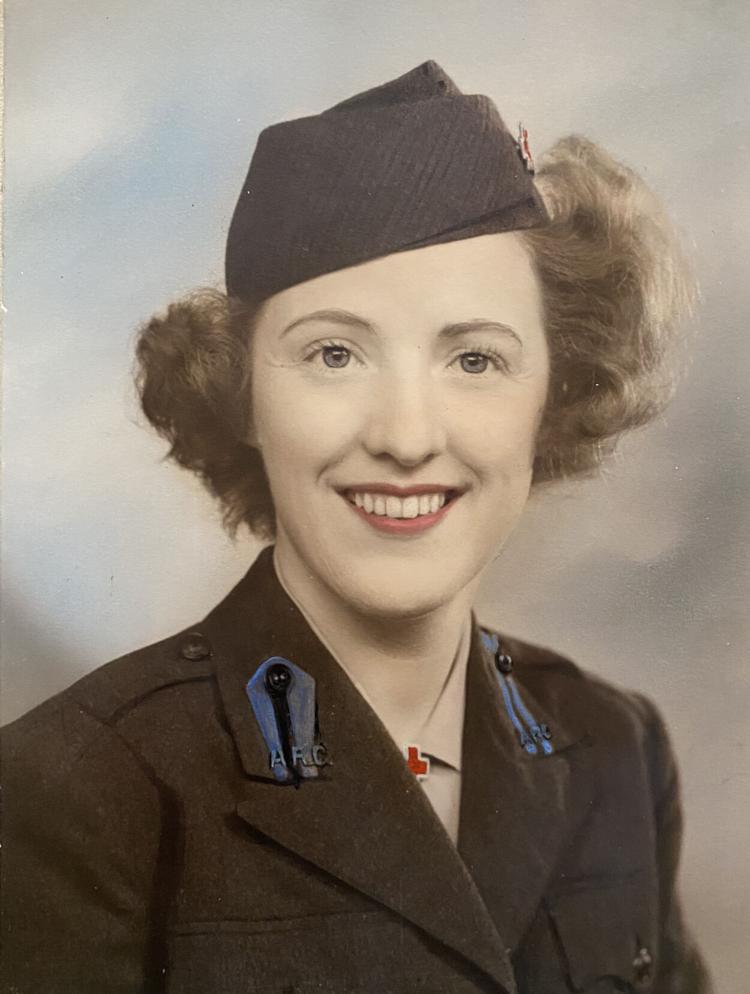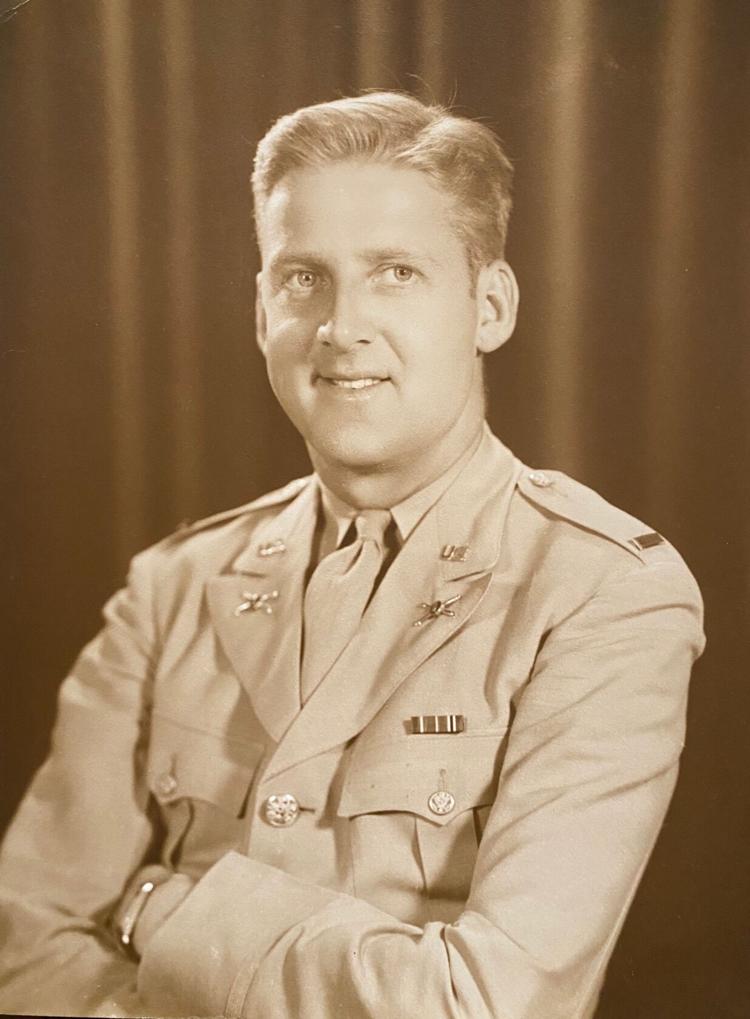 Both of my parents were stationed in England during World War II. Mom, Bernice Fisher, a spinster school teacher was a rehab social worker at a Bristol hospital with the American Red Cross. She met dad at Victoria Station, London, between VE and VJ Days and they were married exactly one year later.  Dad, Charles Olsen, drafted March 1941, ended the war as a U.S. Army Captain late 1945. At one point he was in the 18th Airborne as a paratrooper and recon expert. Near the end of the war while a 1st lieutenant in the 82nd Division, Headquarters, military intelligent attachment, he was part of the liberation of a small concentration camp near the Elbe River in Germany. Because my father preferred to put the war behind him, he rarely spoke about his experiences other than he had stumbled across a concentration camp while on another mission and he'd taken a few pictures and could smell the camp miles away.  I learned more about it at the end of his life when he was interviewed and an audio recording was made which is now in the U.S. Holocaust Memorial Museum in D.C. You can listen here: collections.ushmm.org/search/catalog/irn80914
Alma Irene Gillette Blackhurst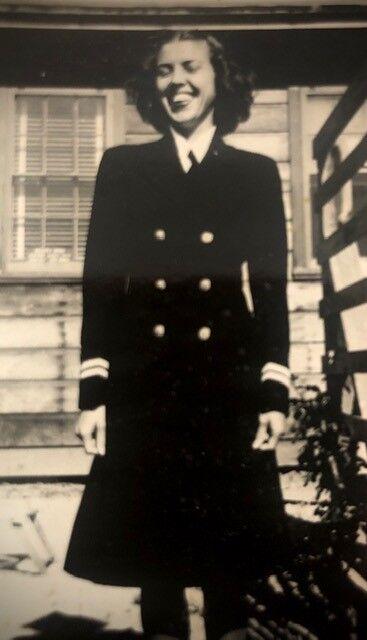 In early 1942, Alma Gillette RN reported for duty in a rainstorm at Camp Shoemaker, Calif., in the Bay area. She ahd joined the American Red Cross while a nursing student in St. Louis. The fine print read, "I agree to serve if called to United States military duty." So when the U.S. Navy sent their orders there was no choice.
As a Navy nurse she healed the injured from the Pearl Harbor attack as well as other areas of the war in the Pacific, serving in military hospitals along the west coast. Penicillin was new and extremely scarce, as was morphine. She recalled a special visit from Eleanor Roosevelt, who personally greeted each nurse in a receiving line. Alma said Eleanor's eyes were kind and blue as she gave a firm handshake and said, "Franklin and I so appreciate your service." She also said Jimmy Doolittle stopped by the Naval Air base.
Alma was one of eight siblings from a Missouri farm family. Six served in the war and the other two married military enlistees. There were many hardships and stories. She was forever proud of her service and always remembered her military service number.
Leonora Blackhurst Burkhart
Frank Lewis Culin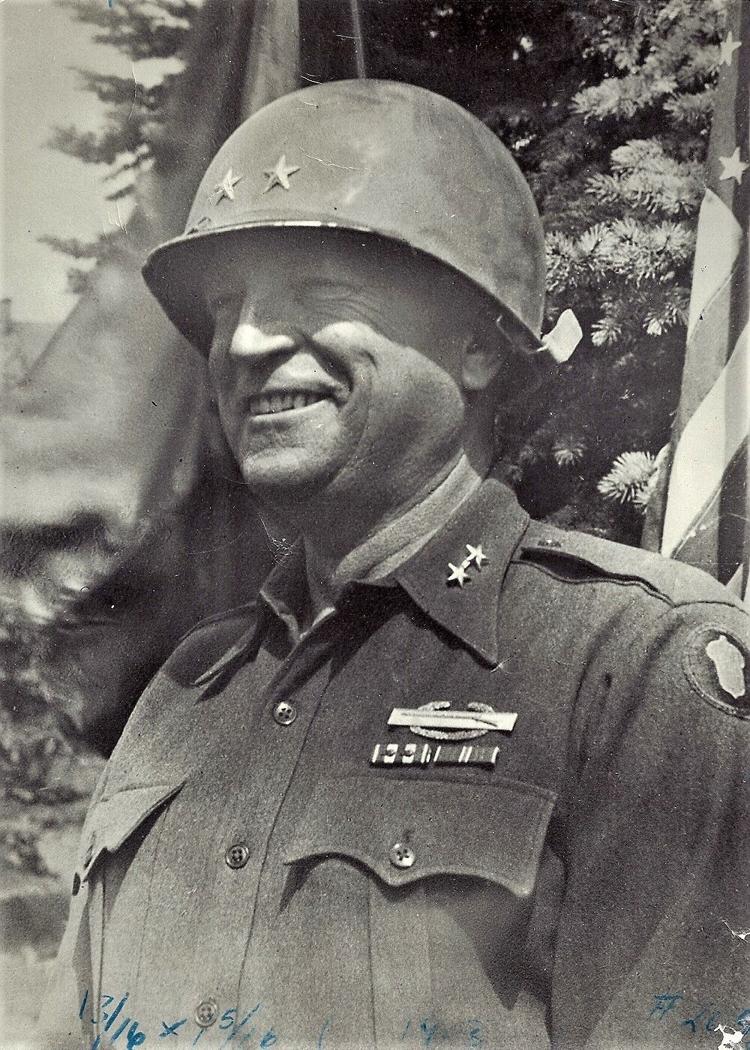 Maj. Gen. Frank Lewis Culin was born in Seattle, Washington, on March 31, 1892.  He arrived with his parents in Tucson, Arizona Territory, in 1903, where his father Frank L. Culin worked as an accountant for the Albert Steinfeld Mercantile Company.  He met his future wife, Ella Greene Sneed, while attending the University of Arizona. Although he majored in mining engineering, his true love was the military and while at the university he was a prominent member of the Army ROTC.  Upon graduation he was commissioned a first lieutenant and was called to active duty in the punitive expedition against Pancho Villa. In 1918 he served in France during WWI. Frank remained in the Army and during WWII served in both the Pacific and European theaters. In Europe he was promoted to major general and was the commander of the 87th infantry division, which preformed valiantly during the Battle of the Bulge and beyond.  During Frank's long military career he received numerous awards including the Silver Star, the Combat Infantryman Badge and the Oak Leaf Cluster to the Silver Medal.  After WWII Frank and Ella retired to Monterey, California.  Frank died in 1967 and Ella in 1980. They are buried near his parents, Frank and Elizabeth Culin, in Evergreen Cemetery in Tucson.  Frank and Ella had three children, all deceased:  Virginia Culin Roberts, Frank Lewis Culin IV, and John Edward Culin. His living descendants include his grandchildren: James Culin Scott, Carol Scott Russell, Marcia Scott Hayes, Barbara Culin Rench, Frank Lewis Culin V, Lewis Culin, John E. Culin and several great and great-great grandchildren.
J. Courtland Hall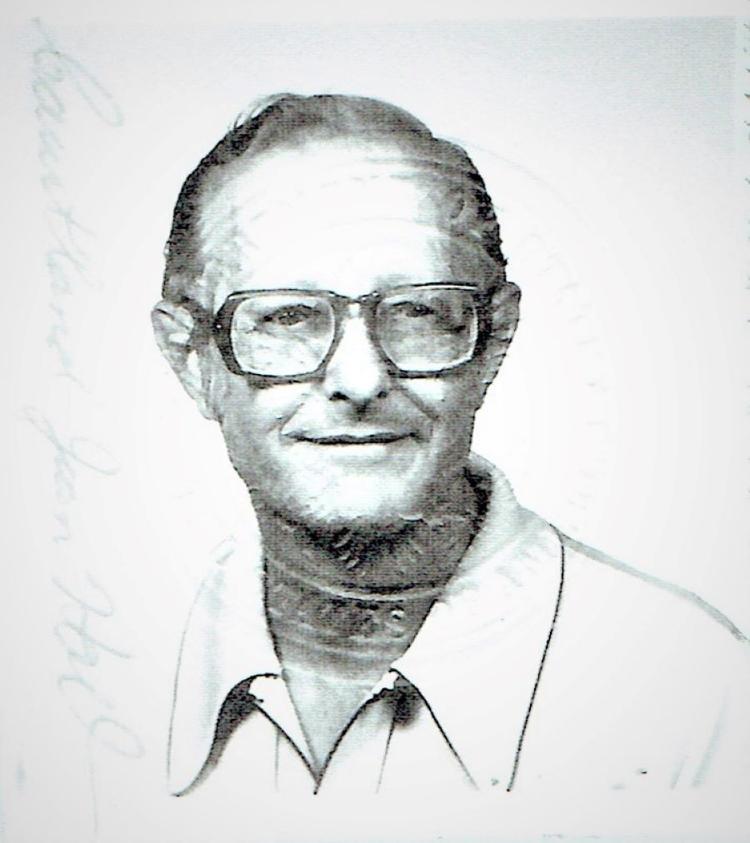 J. Courtland Hall was born in Los Angeles, California, on June 20, 1923, and enlisted in the U.S. Army on Sept. 25, 1942. He completed basic training at Fort MacArthur, California, and was assigned to the 648th Tank Destroyer BN, which was activated at Camp Bowie, Texas on March 6, 1943. They arrived in France on Dec. 19, 1944, and were immediately assigned to the 9th Army in support of General Patton's counter moves in the Battle of the Bulge. After the successful repelling of the Nazis' advancements, J. Courtland Hall served with the 135 Maintenance Battalion working to rescue and transport damaged tanks to Allied repair stations. He encountered infantry combat firefights and was an expert with the M1 Rifle. He earned his honorable discharge on Dec. 24, 1945. He received the American Campaign Medal, the European African Middle Eastern Campaign Medal, the Good Conduct Medal, and the World War II Victory Medal. His son Court Hall, a former US Army intelligence officer, lives in Tucson.
Richard M. Edwards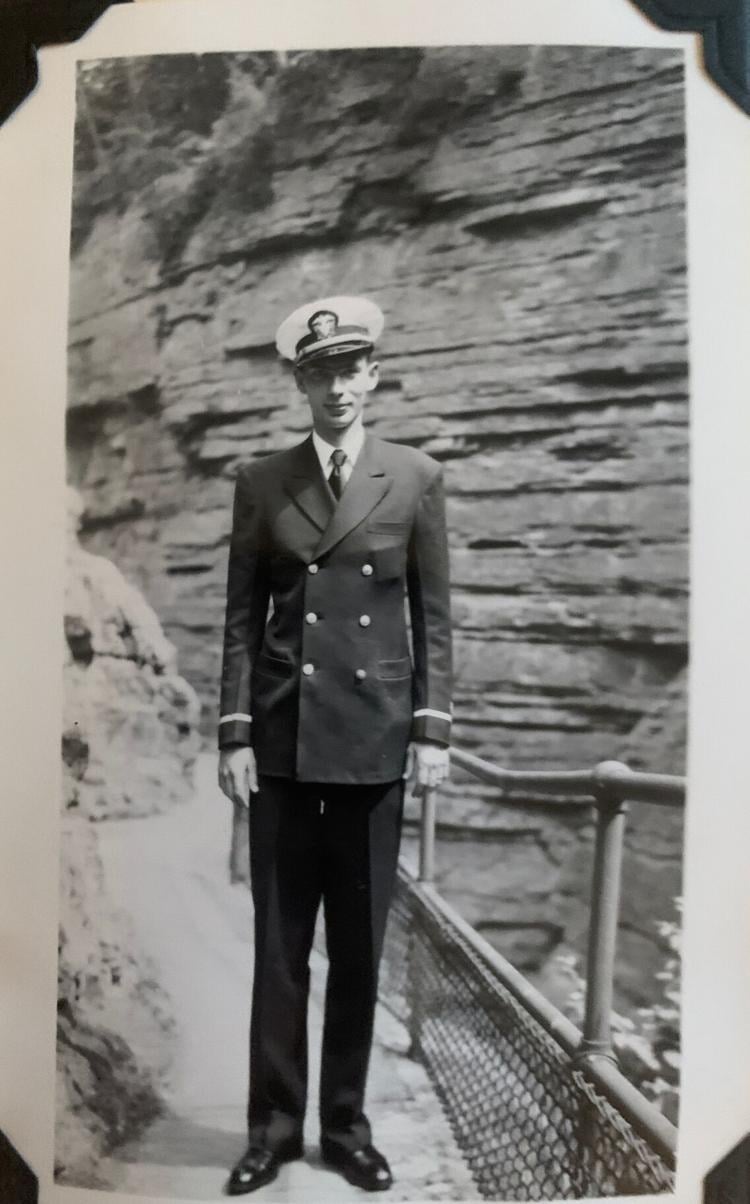 My father, Richard M. Edwards, was drafted into the Navy on May 22, 1944, in Camden, New Jersey. Most notably he was skipper of LCT 1154 during the invasion of Iwo Jima. He went in as an ensign and was promoted to lieutenant JG during the invasion. Following the end of hostilities, he was stationed at the Navy Yard in Chicago, assigned to the Naval Material Redistribution and Disposal Office (NMRDO). He was discharged on June 15, 1946. He will be 100 years old on Sept. 6, 2020.
James J. Britt III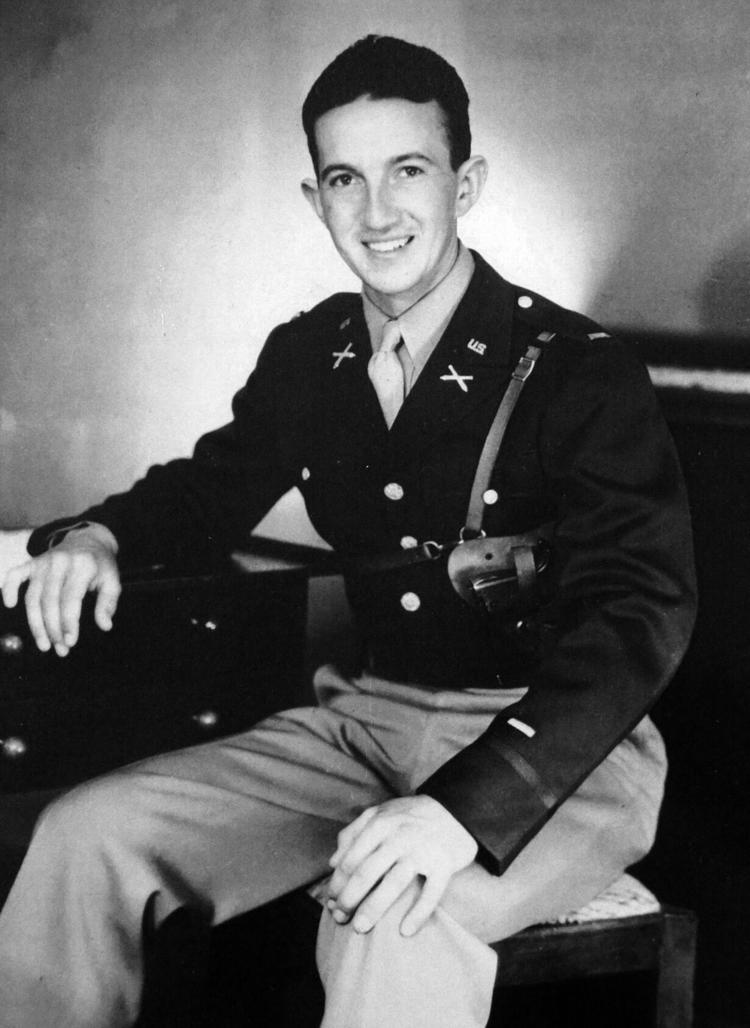 My father, retired Maj. James J. Britt III, went straight from the family farm to the Army at Fort Bragg. He was assigned to the pack artillery since he knew how to work with mules from his farm days. In 1942 he was sent to the New Hebrides (now called Vanuatu). He returned to Fort Sill and received training on the 240mm Howitzer and was sent to Europe. He was in a convoy crossing the North Atlantic and all the ships were zig zagging and operating without lights because of the danger from German U boats. His ship collided with a ship that had a deck full of fully fueled fighter planes. The collision caused a huge fuel spill and the captain of the ship came on the intercom and said, "the survival of everyone on both these ships depends on no one lighting a match on either ship." The ships were finally able to separate and the convoy continued to Europe. I think people have forgotten how close we came to losing the war. If not for people like my father and the brave men and women of the Allied forces, we might be speaking German or Japanese. Let us never forget the hundreds of thousands who gave their lives for our freedom.
Lloyd Wilkerson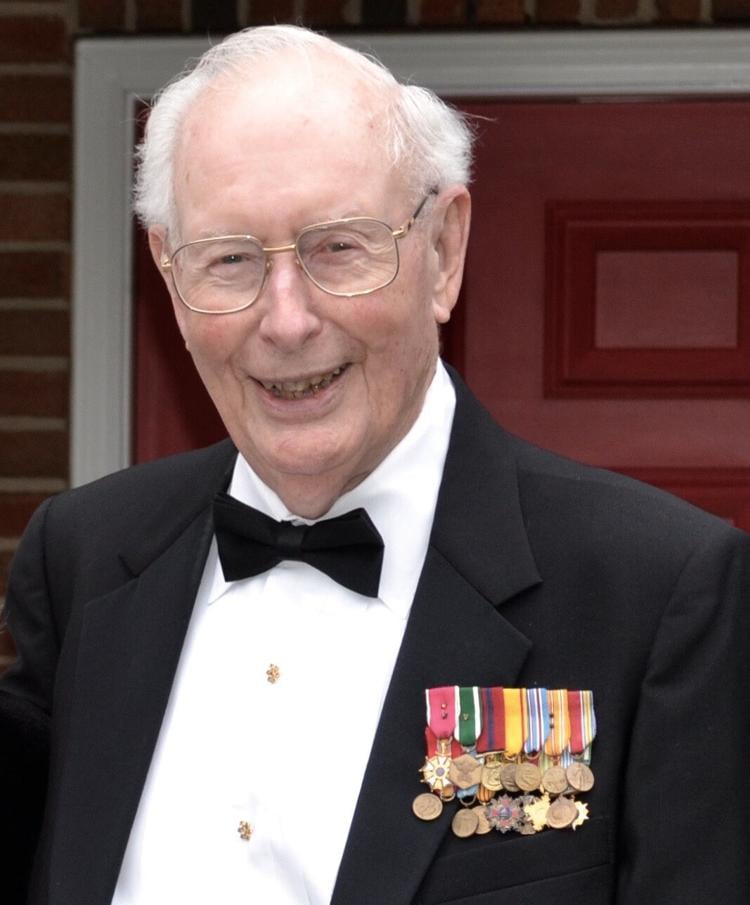 My cousin, Maj. Gen. Lloyd Wilkerson, USMC (Ret), 101, tells me that in mid-1945, he was en route to the western Pacific. According to General Wilkerson, "Army and Marine Divisions were planning amphibious landings on the Japanese home islands. Estimates of American casualties were 1,000,000 killed and wounded for the capture of Japan." On the day, the Japanese surrendered, Lt. Wilkerson was in Tsingtao, China, and witnessed the surrender of Japanese forces in North China. Meanwhile, on Sept. 2, 1945, at precisely 9 a.m., the 23-minute ceremony on the 58,000-ton warship Missouri deck was somber and solemn. Gen. Douglas MacArthur ordered that the day's uniform would be khakis, open shirts, no ties. Eleven Empire of Japan envoys quietly crossed the deck and stood. No Allied officers saluted the emissaries. The Allied documents were bound in leather on old parchment, the unconditional Japanese Instrument of Surrender in canvas. As the Japanese mutely left the ship, the sun burst through the clouds. 450 Navy carrier planes from the 3rd Fleet followed by waves of Army Air Force B-29 bombers flew low in formation over the bay ─ more U.S. aircraft than the entire Japanese planes that attacked Pearl Harbor four years and nine months earlier.
Jim Perry
I was 4 years old, and playing with my cousin Libby in a nearby yard in the small town of Princeton, Mass. Suddenly the bell in the only church in town started ringing. We were both preacher's kids, so we knew that bell was not supposed to ring on a weekday. We raced to find our parents, and learned that it was VJ Day, that the Japanese had surrendered, and that World War II was finally over. Later that day, we attended the church service that celebrated the end of the war. I was surprised to find that I was sitting next to someone who had attended the same service celebrating the end of the Civil War, 80 years earlier.
Dirk Den-Baars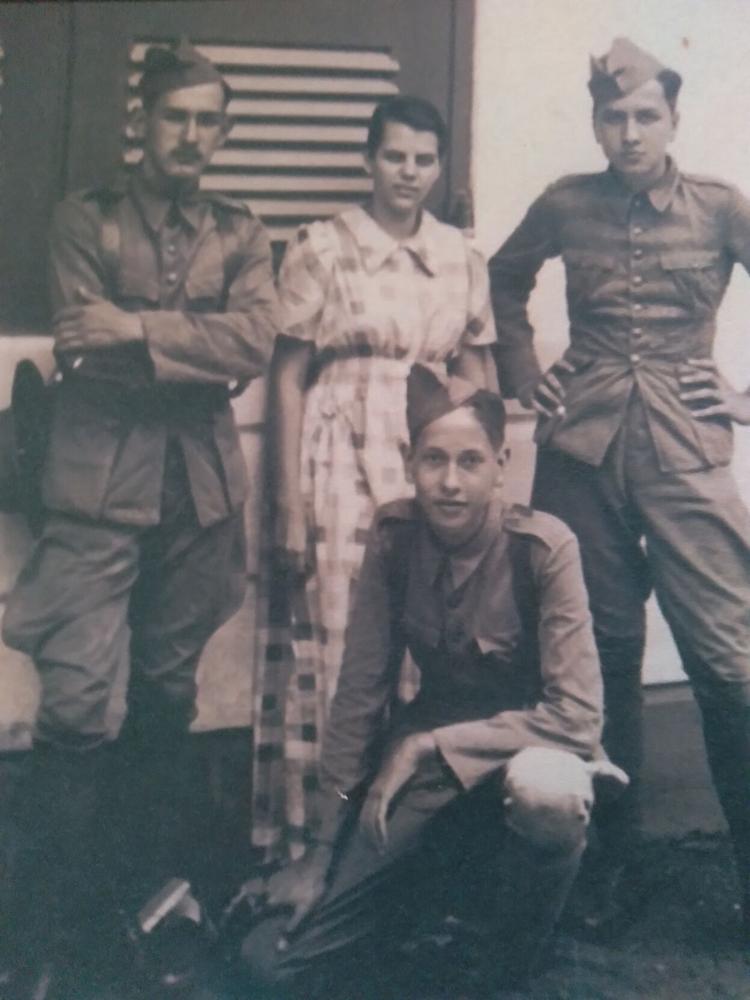 This is a short account of my step-father's experience in WWII.  My birth father died before I was born, my mother Beverly remarried when I was 11 months old.  She had two sons by each husband. I was 5 or 6 years old when I learned about my step-father and his time during WWII. My step-dad Dirk was born in 1924 in Sumatra, which was then the Dutch East Indies. His father was Dutch, and his mother was from central Java.  Dirk was in high school when the Japanese invaded in February 1942.  Schoolchildren were told school was on hold after Singapore fell on Christmas Day 1941. They lived in Jakarta (called Batavia then) which was close by. Dirk joined a civilian volunteer army and was sent to a Kalidjati to guard the military airfield. But their forces were greatly outnumbered, and the Dutch surrendered to the enemy on March 8. He then joined a guerrilla fighter unit after his parents and two sisters were taken to civilian camps when he was away from the family home. He hid in the jungles with others and committed acts of sabotage until he was finally captured by the Japanese who were notorious for their sadistic cruelty in June 1942. He was then forced to watch as scores of innocent prisoners were decapitated.  Anybody who refused to watch or tried to run away was killed also. He was then imprisoned in three different camps as a POW from June 1942 until September 1945. In March 1946, he fled to the Netherlands, his dad's former country, where he soon enrolled at the University of Leiden. He and his family with which he was reunited after the war (they had been told he died during the war) feared another war in Europe, and he greatly admired the Americans for our freedom and prosperity. So by early 1956 he had made the decision to immigrate and become an American citizen. Many years later, in 1984 Dirk was awarded the Royal Dutch Resistance cross Medal for his heroic actions and his terrible suffering for more than three years as a young POW. He worked as a geologist in Arizona, and passed away in November 2003.
Loyd and Earl W. Callaway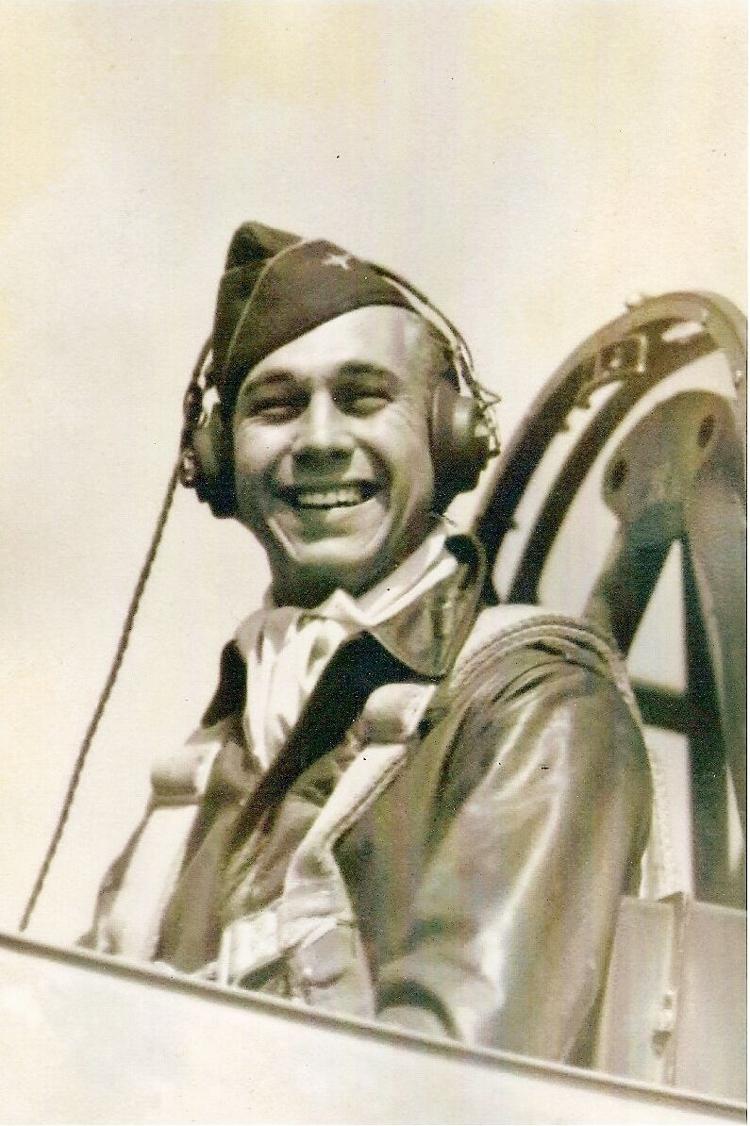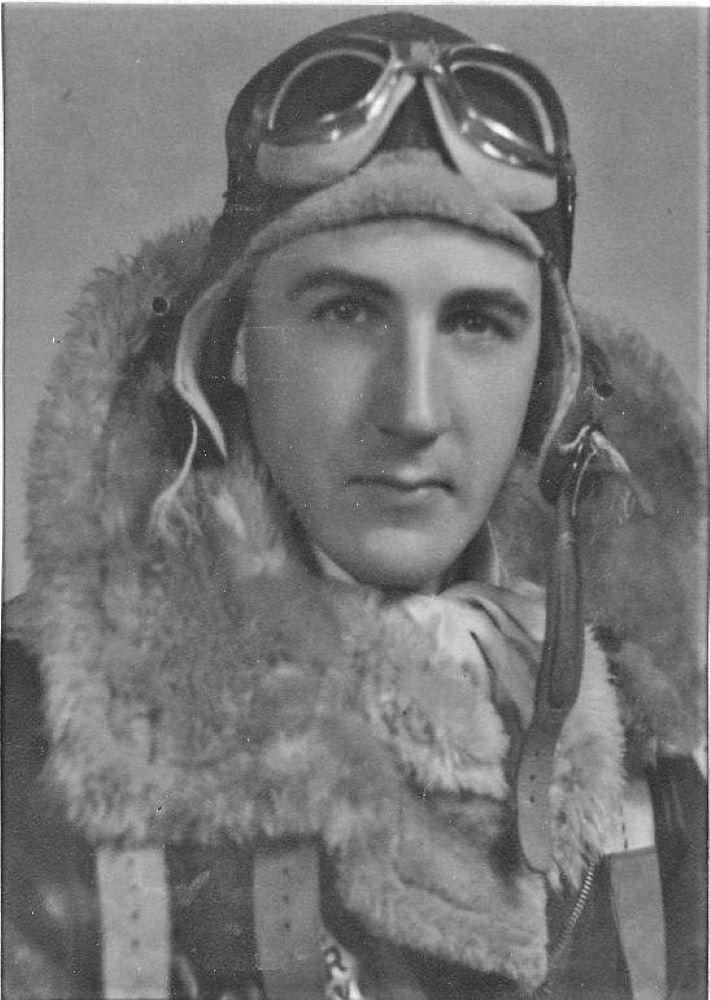 The Callaway brothers, Loyd and Earl, both graduated as bomber pilots from the Army Air Corps.  Both graduated at Moody Field, Georgia, and returned to Laredo Field where they were stationed. Both received the wings of a bomber pilot which was presented at their respective graduations. My Uncle Loyd was sent to the Pacific where he participated in bombing missions against the Japanese and was decorated with the Air Medal. My father, Earl W. Callaway, was assigned to Harlingen Army Air Field in Harlingen, Texas, where he trained bomber pilots. In 1945, Commander Kenney summed up their courage:  "Theirs is a very real and very tangible contribution to victory and to peace.  Young Americans with such courage and resourcefulness are fighting our country's battle as are the sons of other American mothers." My father, Earl Callaway, moved to Tucson with his wife and four children in 1960. My dad and uncle are both gone now, and to quote the poem "High Flight" they "have slipped the surly bonds of earth and dance the skies on laughter-silvered wings..."
Lawrence Gallagher and Honor Flight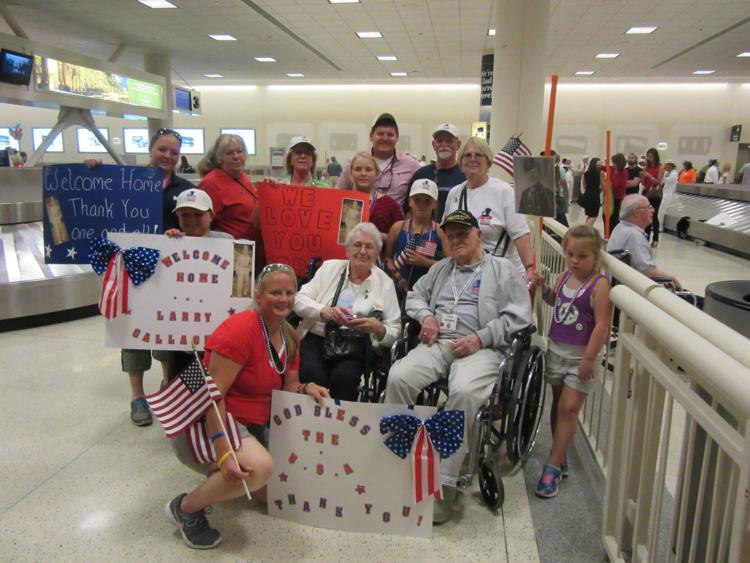 Attached photo is from Honor Flight Chicago, Sept. 2, 2015 ─ the 70th anniversary of the end of WWII when the Japanese surrendered.  There are 85 veterans pictured here, with an average age of 90.  Many, including my dad Lawrence Gallagher, are no longer alive. But he has many descendants who are proud of his service.  His son served in the Navy 20 years and his grandson also served in the Navy.  He has a son-in-law, step-grandsons and even another generation after that who proudly served in the Army.  We are all thankful for the defense of freedom they provided.
Daniel Clanton Olney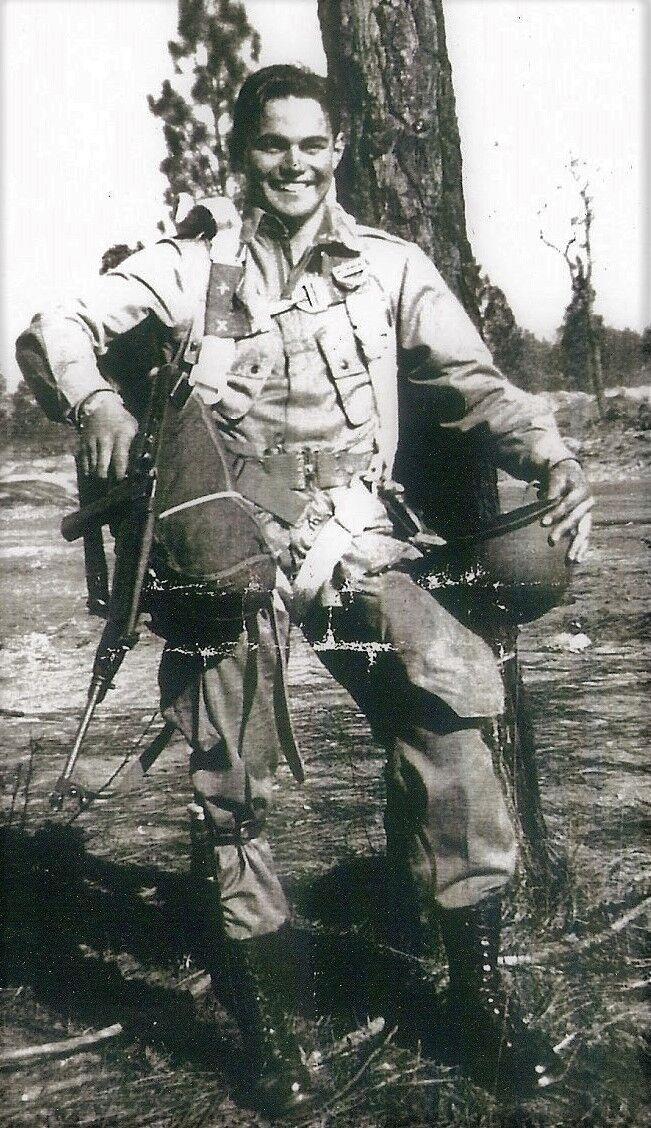 My uncle, Daniel Clanton Olney, was born at St. Mary's Hospital in 1924. He attended Tucson High School and, as a teenager, worked for the circulation department of the Arizona Daily Star.  At the age of 19 he joined the paratroopers and was assigned to Fort Benning, Georgia. Uncle Dan was awarded the Silver Star for gallantry during D-Day.  He also was awarded two Purple Hearts as the result of injuries sustained during combat. He held a Presidential Unit Citation and wore the Combat Infantryman's Badge. On Sept 2, 1945, Uncle Dan and company stormed the Eagles Nest Fortress looking for Hitler. Unbeknown to them, Hitler had fled to Berlin. After the war, he stayed in England for a while and attended Oxford University. He eventually settled in California, pursued and obtained his law degree from USC, married Norma Med Callaway, and raised his family of four children. He used to laugh when he told us why he decided, early on as a teenager, not to live in Tucson:  He claimed that once, as he was leaving Tucson High after school with his group of friends, a gust of hot dusty wind messed up his shock of thick hair!
James Boyce Scott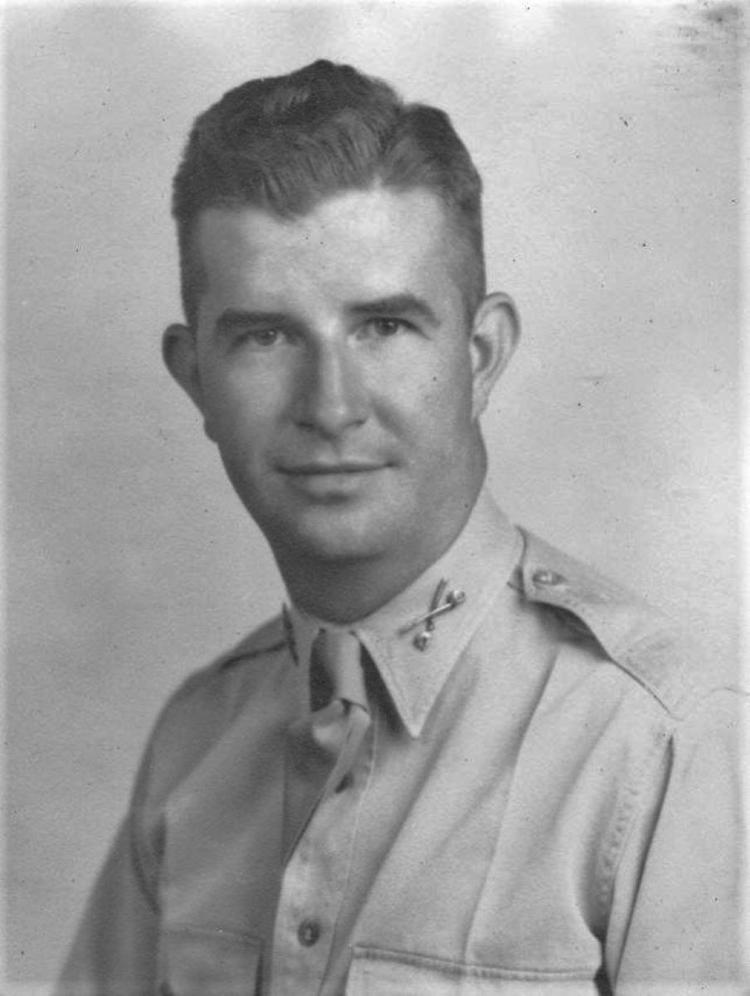 James Boyce Scott was born in Morenci, Arizona, in 1916.  He graduated from Clifton High School in 1934 and entered the University of Arizona later that year. While at the university, "Scotty" lettered in tennis for four years and was a member of the Delta Chi fraternity. In 1939 he was elected the student president of the Law College from which he graduated in 1940.  He was also active in the Army ROTC and received numerous awards and recognitions.  While at the UA he met Virginia Elizabeth Culin, the daughter of Frank L. Culin, Jr. and Ella Greene Sneed Culin.  James and Virginia were married in Tucson on Oct. 19, 1940. After the wedding Boyce and Virginia returned to Fort Bliss, Texas, where he was stationed. In 1941 his unit, the 2nd Calvary Division was sent to Australia and Scotty would serve for two years in the Pacific Theater. He was then transferred to the 87th Infantry Division and served in Europe under his father-in-law, Maj. Gen. Frank L. Culin, Jr., commander of the division.  After the war Scotty and Virginia returned to Arizona where Scotty started a law practice in Clifton. He also served as Superior Court judge and county attorney of Greenlee County. Scotty and Virginia had three children:  Carol Boyce Scott (Russell), James Culin Scott and Marcia Scott (Hayes). James Boyce Scott died in the Morenci hospital on Feb. 22, 1961.  He is buried in the Safford, Arizona Cemetery.  Grandchildren include: Aaron James Scott, Lindsay Callaway Scott, Lisa Williams Catlett and Chris Williams.
Fred Bjorling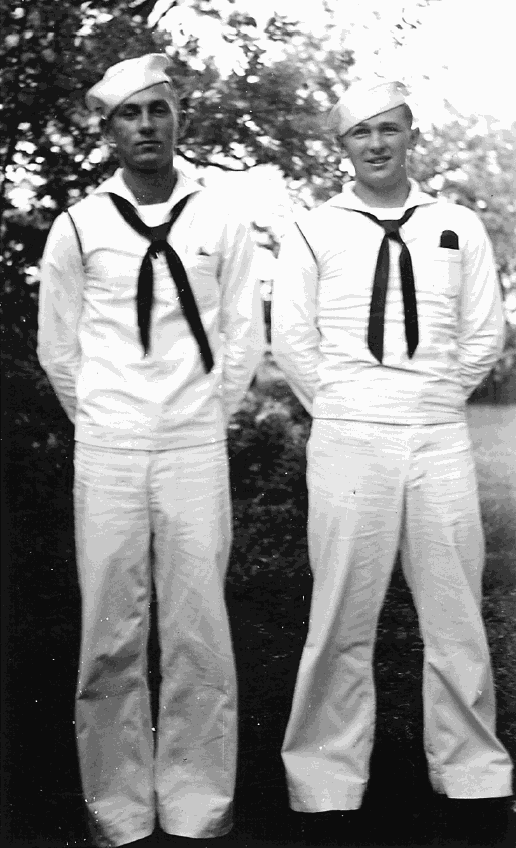 The Thanksgiving meal was great, but I was especially grateful when I saw the bulleting board: "Seaman 1st Class Bjorling will report to the flight deck crew aboard the USS Hancock, Essex class carrier, on Pier 4 at 1000 tomorrow morning."
At last I'll be back among military planes ─ not flying them ─ but helping operate them. Like most my age I feel competent in handling the danger I know lies ahead. As for planes, I know more technical stuff about them than do many pilots.
The next day with all my possessions ─ most of them books ─ crammed in my seabag, I dismount the bus at the head of Pier Four.
Wow! The Hancock looms a good half mile down that pier! The Marine guard inspecting me feels me over then has me stand lags astride while tapping my lower legs with his baton to make sure I have no booze bottles hanging down on strings into the bells of my trousers.
At the Hancock I stagger up the gangplank, (the flight deck is 62 feet above waterline), drop my seabag with a thump, salute the Officer of the Day and state: Bjorling reporting for duty."
Most of the planes aboard are in the hangar below deck, but I see a couple of F-6 fighters, a TBF torpedo plane and an SB2C dive-bomber tied down on the flight deck.
The OOD calls a sailor up from below to escort me down to the sleeping quarters. My guide's name is Wheeler, from Wisconsin, and we will become friends.
Tomorrow we'll head out into the wide Pacific and begin flight operations. Not all of us will return.
Fred Bjorling as submitted by Judy Bjorling
Franklin B. Zimmerman
My husband, Franklin B. Zimmerman, who is 97 and a Tucson native, served in the South Pacific during WWII. He was infantry in the Arizona Bushmasters and served in the New Guinea campaign.  One year of his service was in a village on the island of Kiriwina. He built observation towers there to watch for the Japanese. He learned the language and made many friends there. We visited there 15 years ago, and descendants of his friends knew of him through oral history. My husband always says it was lush foliage and lush life for an Arizona desert rat.
Gwen C. Niemi
I was in the Women's Army Air Corp, also known as the WAAC.  Upon my discharge I left with the rank of captain. I moved to Tucson, became a teacher, and taught for the University of Arizona Physical Education Department under the illustrious Ina Giddings. I took five years off to have my two children and returned to teaching where I taught physical education and English/Reading for Tucson School District No. 1, which is now TUSD.  I retired here in Tucson and just had my 100th birthday in February.
Conrad Walter May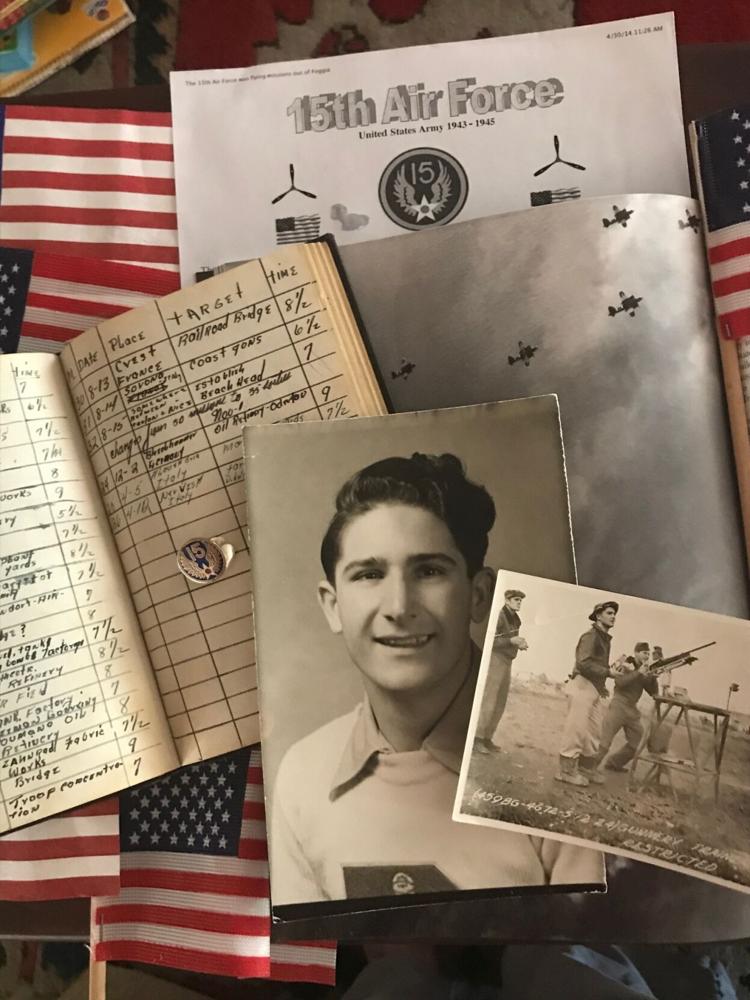 Sgt. Conrad Walter May, Sept. 23, 1924 - May 31, 1989, 15th Air Force, 415 Division, Squad, based in Foggia, Italy
4 Days in the Life of a Waist Gunner  - June 16, 1944 - June 26, 1944
Excerpts from Conrad's cherished diary:
6/16/1944. Went on my first mission, one of the roughest they say they have had in a long time. Bombed the oil refinery near Vienna. I think we demolished the place. Believe me, I was frightened. I knew it wasn't going to be a play, but little did I know what it was really like. It counted as 2 missions.
6/22/1944  Bombed the Fiat Motor Works in Northern Italy. We had engine trouble, lost the formation. I was more frightened this raid than my first. Honestly, I can't see any way out alive, but maybe the Lord is with us. The plane we flew in was a wreck, oil leaked from all engines, named "Lethal Louise."
6/25/1944  Another mission, bombed Avignon, France, another wreck of a plane. Had only 10 feet of runway left when we took off. No. 4 engine caught fire.  McGee just about got his today, a P-61 went whistling thru his tail turret and a 20 mm went straight through the waist turret. Caught a 61 in No.1 engine. Maloney's gun ran away, shot 5 holes in the vestibule stabilizer. If this keeps up we won't last 10 missions!
6/26/1944  Mission — oil refinery near Venice. Must have had 50-60 enemy on us. The escort we had today did a wonderful job, we would have really caught it. I saw a B24 blow up in midair. We all got worried when the tail turret went out.
8/3/1944  Mission — oil refinery near Ploesti was the roughest mission I've been on. I believe you actually could have walked on all the flak and smoke. The Lord was with us!
Maurice P. Withey
The Silver Star is the highest award for combat valor. My father, Maurice P. Withey, received the Silver Star from Gen. Omar Bradley for keeping a German troop at bay during WWII. He disarmed a high-ranking German officer and held him hostage, using his own gun under an army tank for many hours until they surrendered. Like so many, my father never mentioned it. We found out as kids when we discovered the Silver Star in a velvet box and the officer's Lugar (disarmed) in his top drawer.
Ed Scifres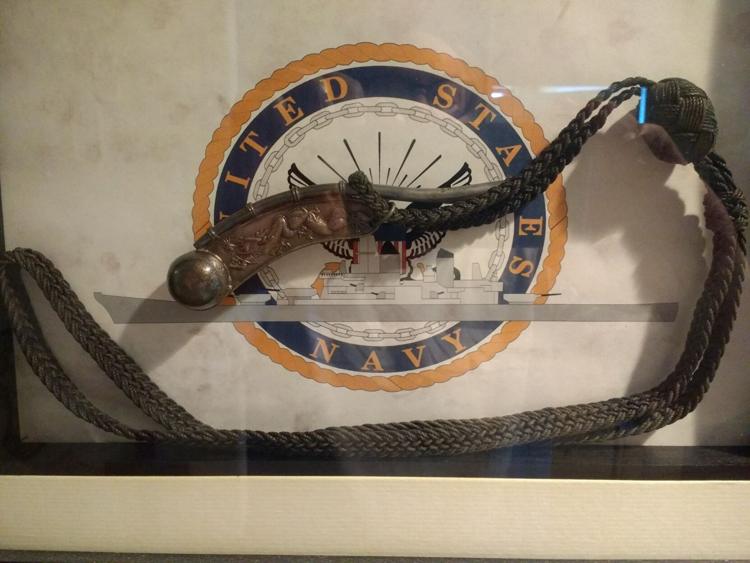 My dad, Ed Scifres, joined the Navy shortly after turning 17, graduated bootcamp and coxswain school and completed numerous practice runs piloting landing craft off the shores of Southern California To those shores he delivered young Marines, also training in preparation for the planned invasion of Japan. Rather than being ordered immediately to an amphibious assault ship, he was assigned to the Naval Station in Guam where he was put in charge of a four-man crew in a small landing craft (LCA). Their main duty was to ferry materials and personnel between Guam and the even smaller islands around there. He had just turned 18. When Japan's surrender was announced on the radio, my dad was standing an early morning security watch. After hearing the news, he awoke the officer-in-charge of their small squadron and, according to him, the young lieutenant junior grade laughed out loud and dug a bottle of liquor from his locker. It was the only time my dad admitted to drinking with an officer. The remainder of his time on Guam was spent ferrying exchanged prisoners from ship to shore. With one of those Japanese prisoners, he traded a carton of old cigarettes for this silver boatswain's pipe.
Frank LaBarbera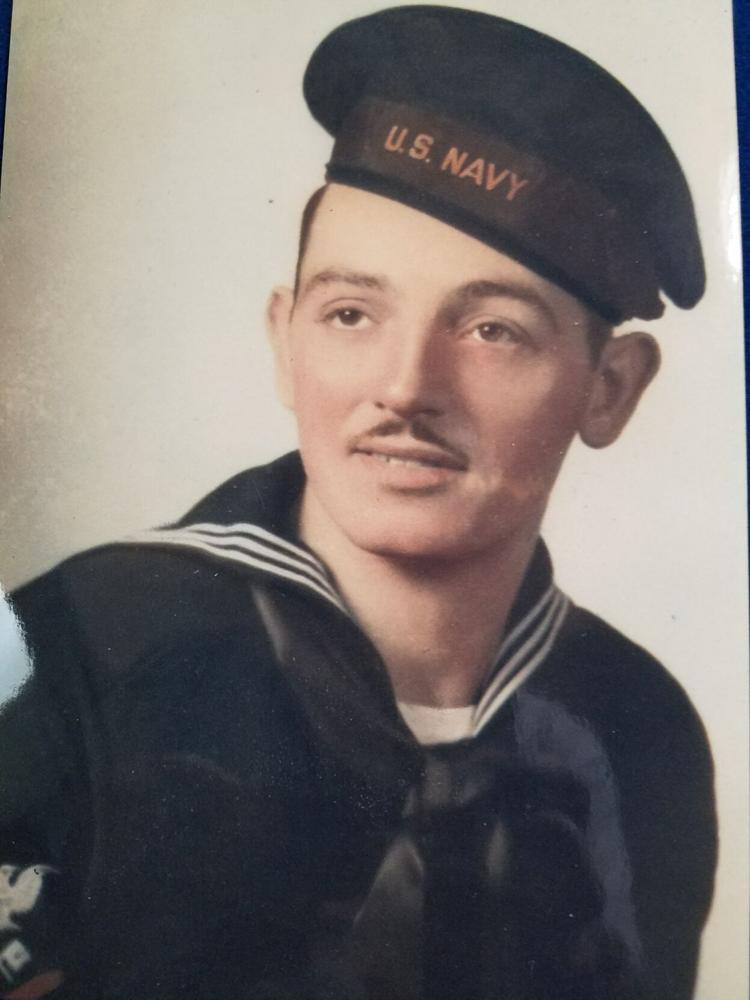 Frank LaBarbera was a Navy signalman graduating from the U.S. Navy Signal's & Radio School at the University of Chicago at the top of his class in April 1943.  He chose to serve as a signalman on Merchant ships by using flags and coded light signals to deliver and receive messages from Navy escort ships during radio silence.  As Merchant ships crossed the Atlantic Ocean, he was the only U.S. Navy sailor aboard civilian ships delivering supplies to Europe, eating and drinking at the captain's table for meals. 1,554 Merchant ships were sunk during WWII.  He was also aboard the USS Anacostia AO-94 replenishment oiler in the Pacific Ocean.  He proudly served from February 1943 to December 1945.
John B. Theiss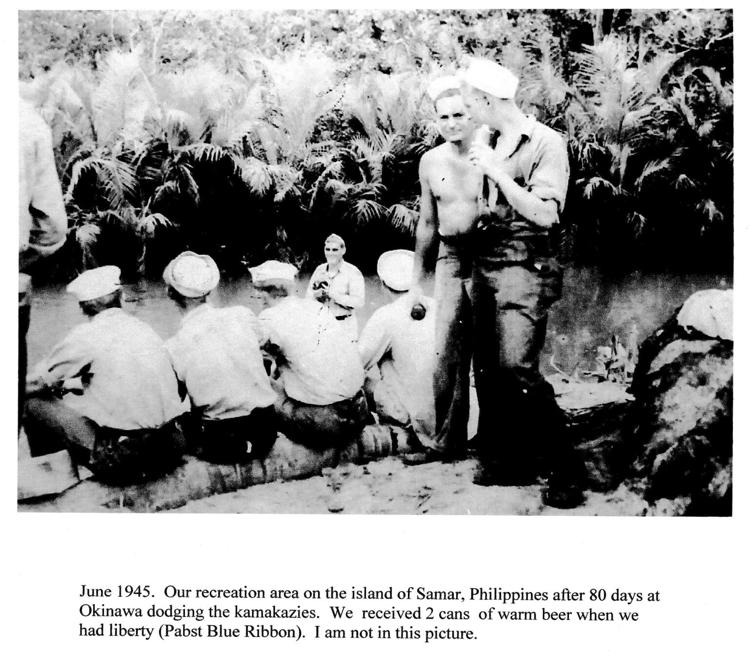 The following is from official records of the ship on which I served: I enlisted in the U.S. Navy during WWII and served 2½ years, mainly on a destroyer named John W. Weeks DD701.  We escorted the battleship Missouri from the Navy yard in Brooklyn, N.Y., to Pearl Harbor Nov. 10, 1944.  Subsequently, we participated in the invasion of the Philippines, the invasion of Iwo Jima, the invasion of Okinawa and the final raids against Japan. When Japan surrendered on Sept. 2, 1945, on the Missouri in Tokyo Bay, we remained outside the bay with the rest of our ships where they could maneuver in the open sea, to protect the Missouri against possible, sneak kamikaze attacks. We remained in Japan for the next 4½ months and to our surprise, the Japanese treated us as liberators, rather than invaders. While in Kagoshima, Japan, the U.S. Navy treated us to a Thanksgiving dinner of tomato soup, roast turkey and gravy, baked ham, mashed potatoes, peas, apple pie and ice cream.  On Christmas, while in Sasebo, Japan, we had almost the same menu.  We left Japan for the USA on my birthday; what a wonderful birthday present.
Frank Landon Jr.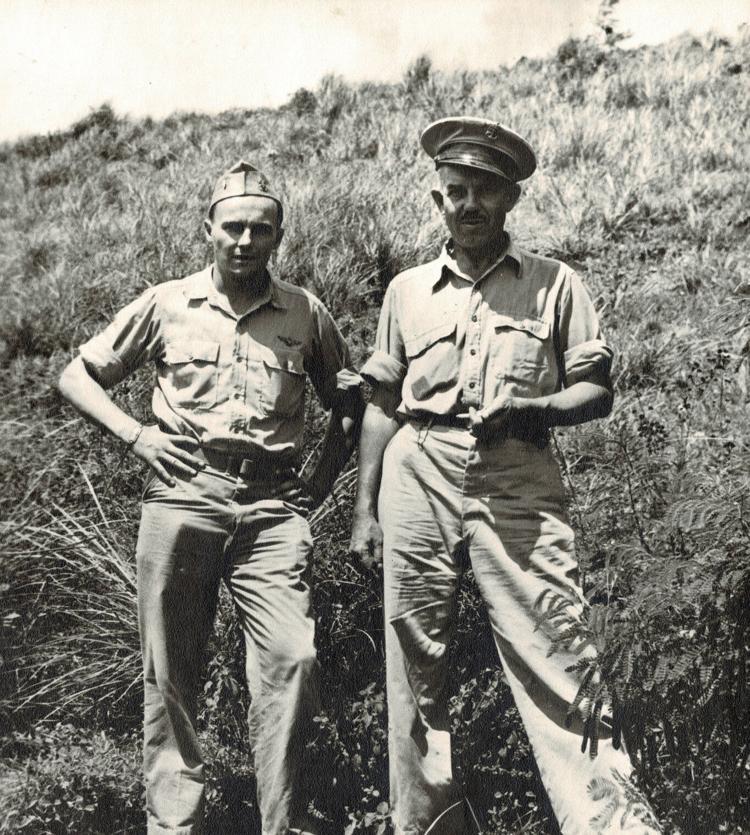 Our grandfather, Frank Landon Jr., already a veteran of WWI also volunteered for service in WWII.  His son, James D. Landon, served as a naval aviator and was in his early 20s when this picture was taken. The story that we were told is that Frank was stationed on Guam with Seabees. Jim was stationed on the USS Enterprise when he realized they would be close to Guam where his dad was stationed. He decided to surprise his Dad and got special permission to fly to Guam. He managed to get to Guam but did not know how to find his dad, so he got some help finding him. According to Grampa, a lower enlistee woke him up and said that there was someone to see. Grampa was "tickled pink" (his words) to see his son whom he'd not seen for more than two years. The original photo was taken by the Stars and Stripes and published there first. Some time later the Arizona Daily Star picked it up and printed the photo with a short article on Friday Aug. 17, 1945. Till the day they each died, this was a moment that they would share and they just beamed. My mother, Mary Louise, is mentioned in the article. She was about 9 years old at the time.
Philip McKinley Budinger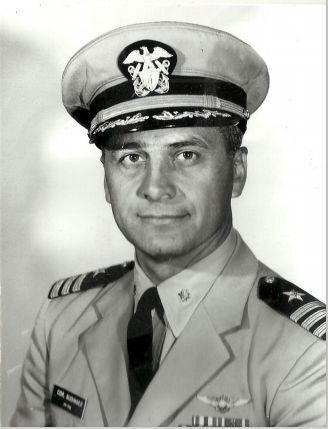 Philip McKinley Budinger was born in Snow Shoe, Penn., on Sept. 21, 1923. He briefly attended Penn State University in 1941. On Aug. 13, 1942, he enlisted in the Naval Aviation Program. He received his Navy Wings of Gold and his ensign's commission on Dec. 1,1943. Commander Budinger's military career spanned 26 years. He served in WWII, the Korean War and the Week-End Warriors Reserve. While in the Pacific Theater, in WWII, he flew many strikes off the aircraft carrier, USS Bennington, ultimately receiving the Silver Star Medal, against the Japanese forces in the Japanese Inland Sea on March 19, 1945. Additionally, he was awarded two Distinguished Flying, and four Air Medals, and many other lesser accolades. After the war, Philip returned to college, finishing his last two years at the University of Arizona. He was graduated in May, 1950, and is fond of saying, "Just in time for the Korean Conflict." Being in the Naval Reserve, he was recalled and served an additional three-plus years as an All-Weather pilot serving three deployments on the USS Midway. Philip's last three years in the Naval Reserve were spent as commanding officer of Patrol Squadron 773, flying out of Naval Air Station Los Alamitos, Calif. In civilian life, he had a very successful career as owner of a financial services business, operating out of his office building at 4874 E. Broadway.
Anthony Vincent "AV" Grossetta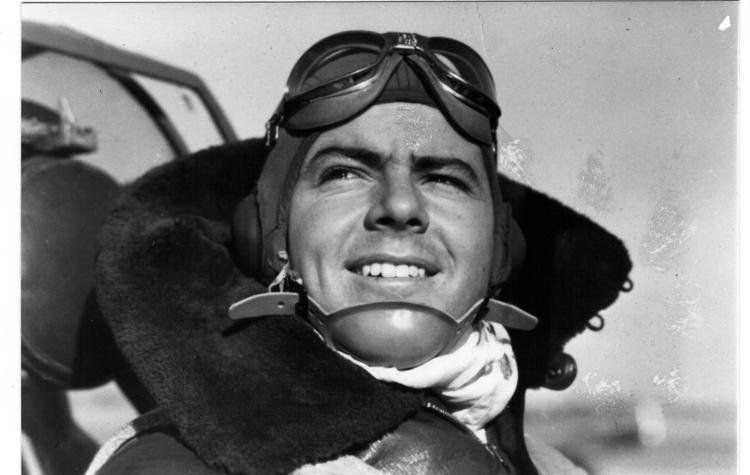 Anthony Vincent "AV" Grossetta, a native Tucsonan and graduate of Tucson High and UA, joined the Army Air Corps in 1938.  On the eve of D-Day he was stationed in the UK as commander of the 406th Fighter Group (containing four squadrons of P-47s).  Just prior to June 6 he was promoted to full colonel and Gen. George Patton pinned on his "eagles."  His group was overhead the invasion beaches flying cover early in the morning and flew four missions that day. Afterward his group supported Patton's 3rd Army on its march across Europe and supported the beleaguered troops at the Battle of the Bulge and stayed engaged in combat until the war's conclusion. AV later was a founder of Pima Air and Space Museum and was inducted into the Arizona Aviation Hall of Fame. His 406th Fighter Group sponsored a major exhibit that can be seen at the Pima Air and Space Museum.  As was typical of the Greatest Generation, AV didn't talk much about the war, but would if asked.  He left us in 2003 at the age of 89.
Harold "Wayne" Butler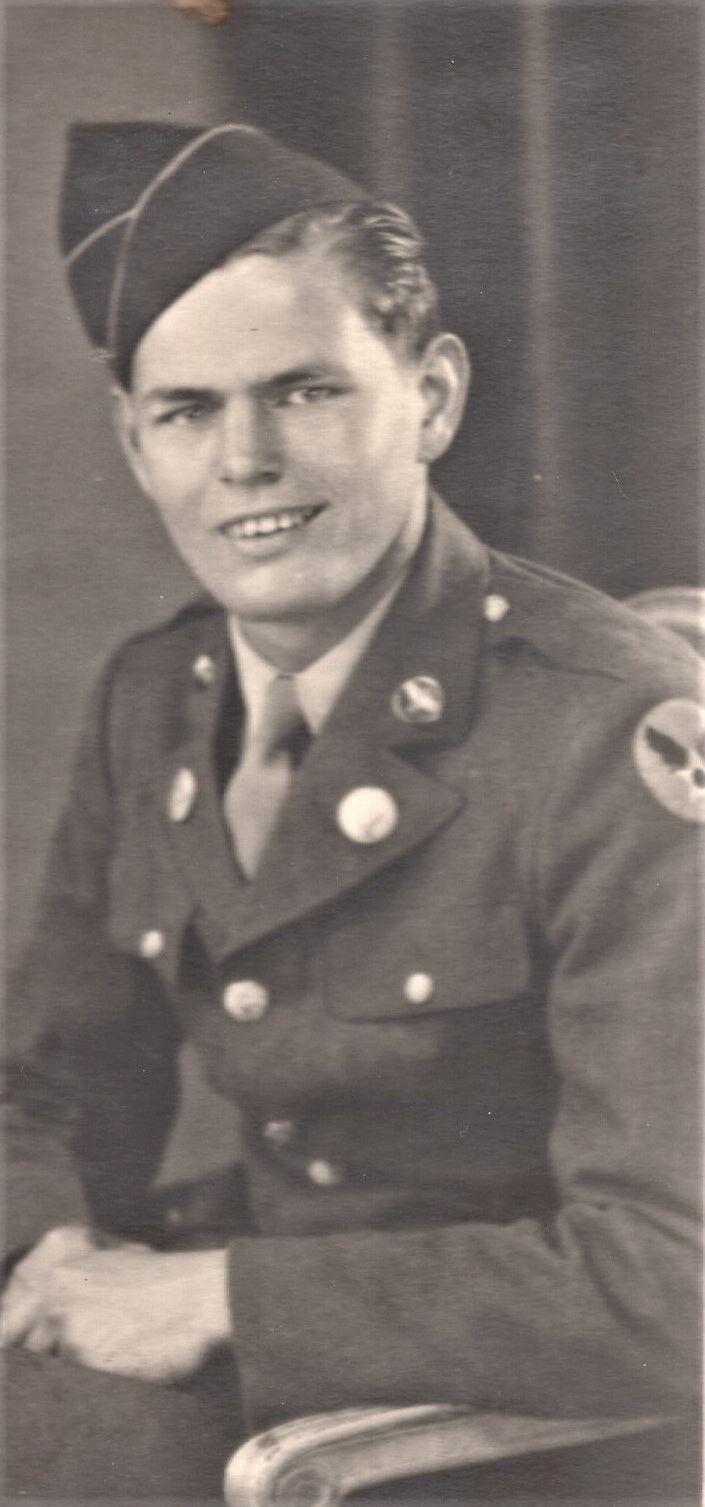 Harold "Wayne" Butler enlisted in the U.S. Army Air Corps December, 1943, and was sent to Miami Beach for basic training at the Army Air Forces Technical Training Command. From there he went to Aerial Gunnery School graduating as a top turret gunner on the B-24 Liberator. He was then offered a position with the fighter maintenance division and deployed overseas to the Air Transport Command, a  Royal Air Force station in Cornwall, England. Pvt. Butler became a flight engineer on the C-47 and then advanced to the C-54 Skymaster, which in addition to transporting cargo, was used for carrying presidents, prime ministers, and military staff. Pvt. Butler's most memorable transport assignment was to the Potsdam Conference Aug. 2, 1945, where he snapped a photo of President Truman's plane on the tarmac. The "Big Three," Roosevelt, Churchill, and Stalin were all there. Pvt. Butler returned to the United States in 1945 and reenlisted in the Army Air Corps where he served until 1947. For his service in the Army Air Corps, PVT Butler received the Army Good Conduct Medal, the American Campaign Medal, the European/Africa/Middle East Campaign Medal, the WWII Victory Medal, and the Army and Air Force WWII Occupation Medal. In 1949, Butler joined the Air National Guard and in 1956 transferred to the newly formed 152nd Fighter Interceptor Squadron In Tucson, where CMSgt Butler was one of seven founding members and the first chief of the 162nd Wing. CMSgt Butler served in the Air National Guard for 34 years. Today at 97 years-old CMSgt Butler lives in Oro Valley with his supportive wife, Mary Ann.
Gus Lazary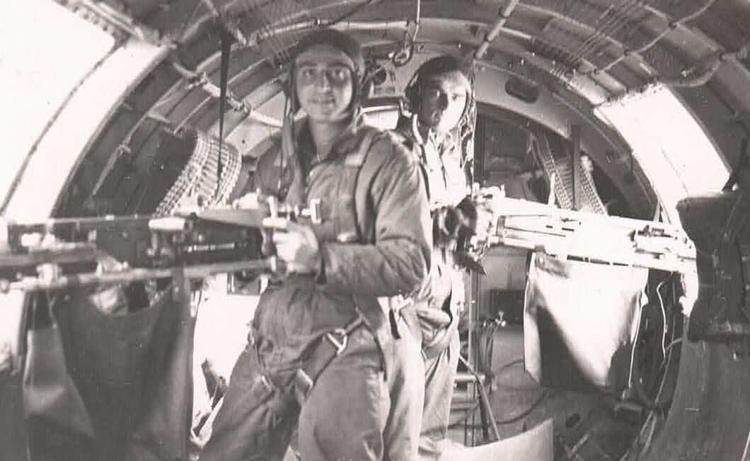 In 1943, Gus Lazary skipped his senior year of high school and joined the U.S. Army Air Corps. At 17 years of age, he served as a waist gunner on a B-17 bomber stationed in England flying bombing missions over Germany. Gus once told us that "Watching German Messerschmitts screaming toward me, firing 50-caliber machine guns was unimaginable fear. But watching a buddy's plane go down was pure hell. We sometimes lost half our planes on a bombing raid." One of his worst nightmares was the time his plane was returning from a mission and was running out of fuel. The English coastline was barely visible so the captain radioed to prepare for a "splashdown." "Miraculously, a tail wind popped up and we made a rough landing at a small airfield just inside the coast." However, what Gus remembered most was flying mercy food missions over France after the war and seeing the rooftops painted with the words, "THANK YOU YANKS." Gus received several commendations and died Nov. 30, 2019, at the age of 93. He is survived by his wife of 70 years and his three children.
Charles E. Alder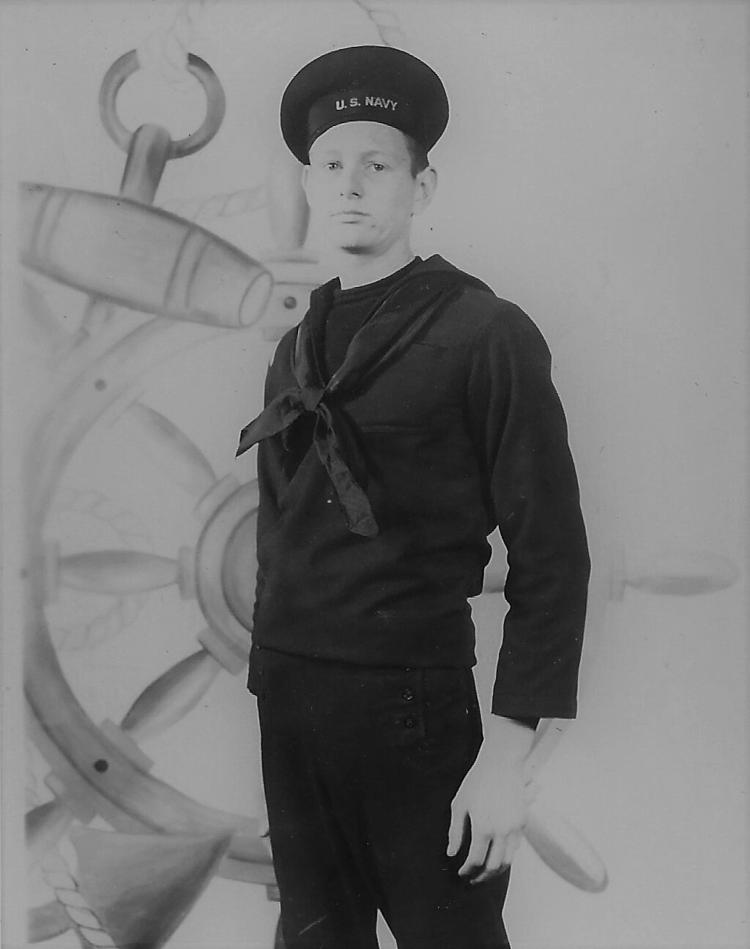 Charles E. Alder was aboard the LST 597 in Tokyo Bay when the Japanese officially surrendered to the Allies on the USS Missouri. He faithfully served in the campaigns of Iwo Jima, Philippines, Okinawa, New Guinea and Aoshima. This was the same Charles E. Alder who joined with his buddies at age 17 after they each signed the others' parental permission slip. At age 94, he is a very active and proud resident of Tucson.
Harvey Cross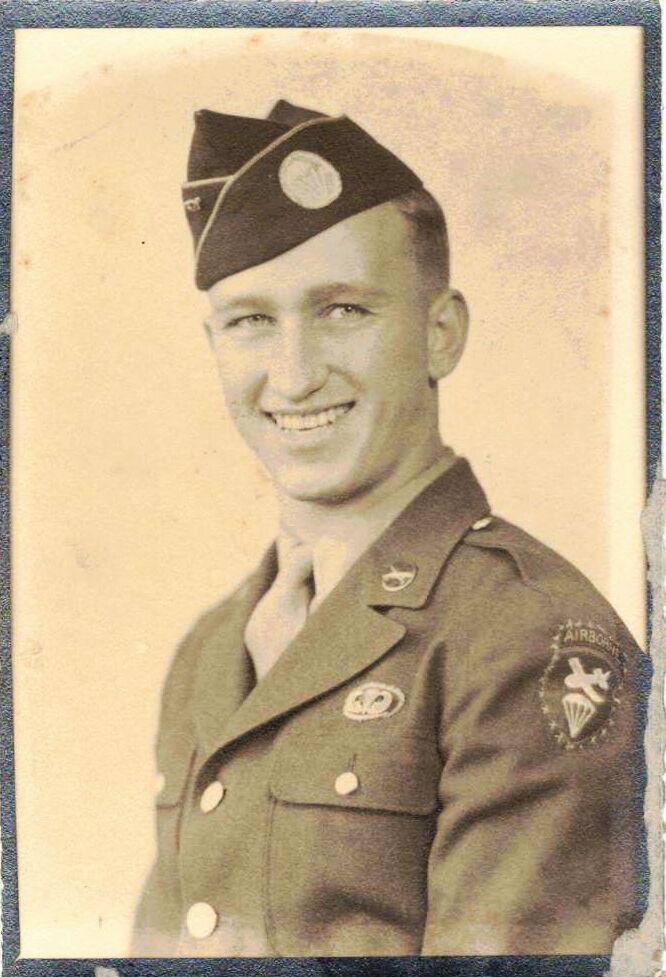 Harvey Cross and his twin sister Emma were born Christmas Day, 1923, in Charles City, Iowa, to Charles and Ruth Cross, arriving on their parents' 16th wedding anniversary. Harvey enlisted in the Army in June 1943, and completed basic training at Camp Roberts, Calif., In March 1944, he was sent to England and served in the Third Battalion 506 Parachute Infantry Regiment, 101st Airborne Division. He became a bazooka operator due to his height (6 ft. 2 in). He saw combat in Holland, Belgium and Germany. On Dec. 20, 1944, he was wounded in the Battle of the Bulge near Bastogne, Belgium. His family was notified by telegram in late January 1945, that he had been wounded in action. Several weeks later they learned he had succumbed to his wounds that same day, five days before his 21st birthday. His remains were returned to his hometown for reburial in 1949. His only living sibling, Elaine Cross, 91, lives in Rio Rico. As a child, she followed Harvey everywhere and still keeps his picture on her bedside table. She vividly remembers the day the telegram arrived ─ one with a black border ─ when she was 15 and getting ready for school. She misses him to this day.
Gin S. "Tom" Gee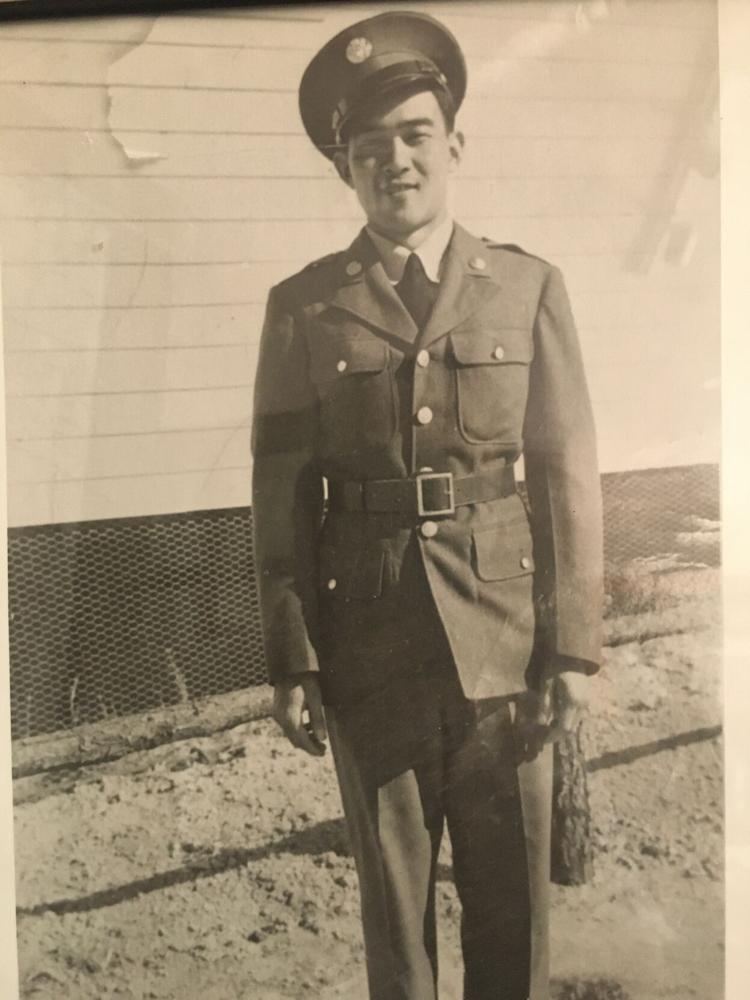 Our father Gin S. (Tom) Gee (aka You T. Wong at the time he served) served in WWII with the U.S. 14th Army Air Force in the China-Burma-India Theater, serving as a radar technician in the 1157th Signal Service Command. He attained the rank of technician sergeant and was honorably discharged Jan. 2, 1946, at Camp Shelby, Miss. We are most grateful for all he did for country and family.
Joseph Sanes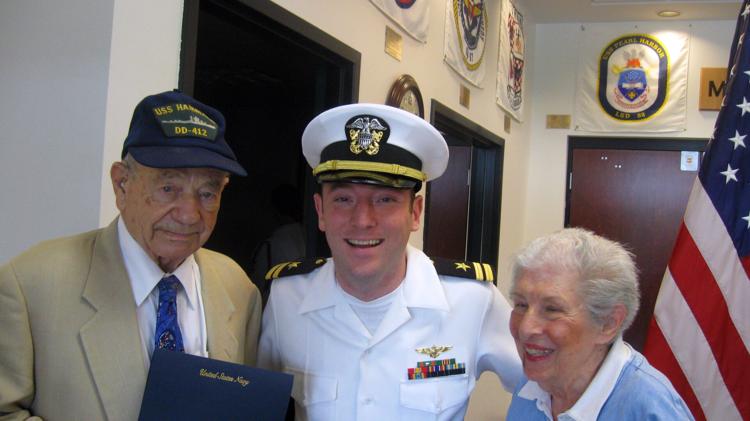 My father, Joseph Sanes, enlisted in the Navy in November 1941, at the age of 19.  The war broke out three weeks later and his boot camp training was terminated and he was assigned to the USS Hammann DD412 and was sent to Hawaii. He arrived at Pearl Harbor mid-January and witnessed all the destruction.
Within his first six months he was in two major battles: Coral Sea and Midway. During Midway, his ship was assisting the USS Yorktown and both ships were sunk by torpedoes from a Japanese submarine with a heavy loss of life. This battle which was an American victory, changed the course of the war in the Pacific.  At the end of his enlistment, amongst numerous medals, he received the Pacific Theater with five battle stars. He lived to the age of 93 with a very full life. We celebrate yearly by invitation from the U.S. Navy, on the USS Midway in San Diego, to commemorate the Battle of Midway and to honor his memory.
Paul Ekengren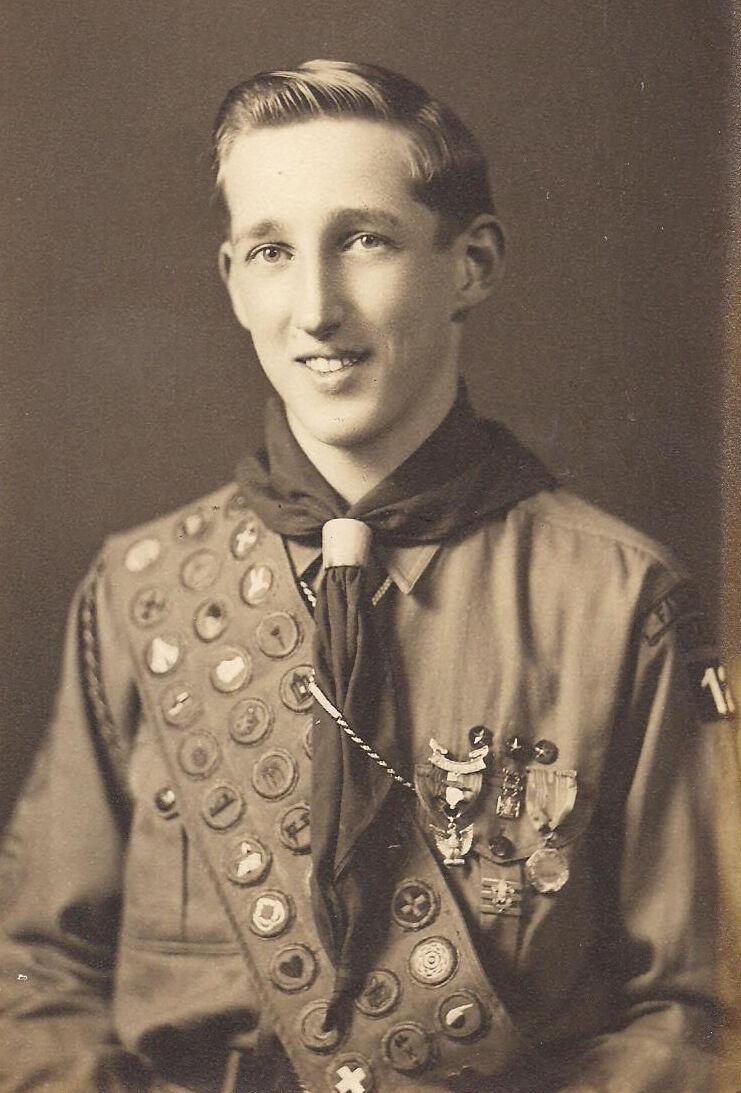 This Eagle Scout picture of Paul was taken two years before his death at the Battle of the Bulge near Bastogne, Belgium, on Dec. 26, 1944, for which he received the Bronze Star for bravery. He was a student at Northeastern University when he was drafted toward the end of the war. Ironically, he was shipped to England as an engineer, a relatively safe assignment at the time, but when the Germans pushed through Belgium that winter his troopship was diverted to northern France and there he died. His parents and his sister were devastated as he was their only son and brother. Christmas was never the same and none of them saw the world the same after that horrible moment in December 1944. Rest in Peace, soldier, son, brother.
J. Kevin McElhinny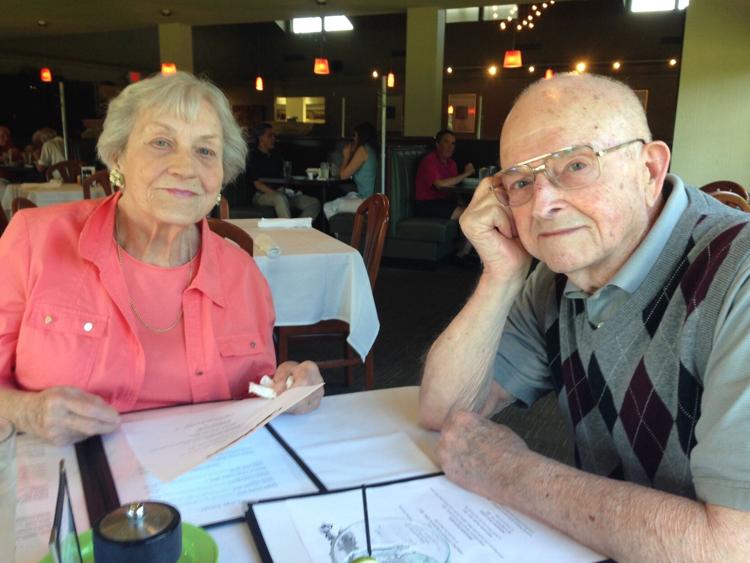 The USS Goodhue APA 107 was an attack transport loaded with elements: soldiers and equipment, of the 77th infantry division.  She was present at the invasion of Okinawa, Easter Sunday, the first of April, 1945.  The army troops were part of the Floating Reserve after the initial landings had gone off with relative ease on D-Day. The ship was sailing in a convoy of destroyers and other transports when she was attacked and hit by a Kamikaze plane carrying two 500-pound bombs on the evening of April 2. The explosion caused the death of over 30 seamen and soldiers and the wounding of many more. I was a hospital corpsman aboard the Goodhue and thus a witness to the destruction. I had enlisted in the Navy just after my 18th birthday, and had been trained in Hospital Corps School after Boot Camp.  Life as a medic aboard the Goodhue was my first sea duty. Subsequently I served on two other ships: the USS Preble and the USS Midway.  My naval experience lasted about 26 months and provided me with memories, good and bad, but I have never regretted serving. Construction work became my livelihood after the war, and my wife, Letha, and I raised five children.  We recently celebrated our 70th wedding anniversary.
Sandra Mason
I was 7 years old when WWII ended. Having just finished second grade, the war meant:
1.  Paying to go to the movies with tin cans.
2.  Winning the school paper drive two times in a row with my grandfather's heavy medical texts.
3.  Watching black and white "Time Marches On" newsreels of soldiers.
The war also meant learning to obey air raid drills, quickly crawling under our desks when we heard the siren and having blackout nights at home while listening to President Roosevelt's radio Fireside Chats.
After the news of the atom bomb being dropped came my constant questions: Were the children there hurt? (Yes) Who decided to drop it? (Men in the War Room) WHY? WHY? WHY?
To this day I'm not convinced of the excuses they made. My hope is that a more intelligent empathetic war room full of people remember!
John Henry Sidell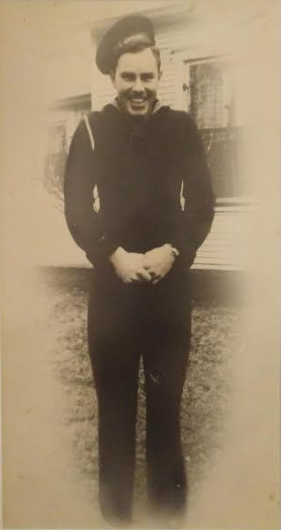 John Henry Sidell was lost on the USS Arizona at Pearl Harbor. He was born Aug. 23, 1918 in Genoa, Lincoln, Colorado. His family includes his father, Arthur Sidell; his mother, Pearl Effie Templeton, sister, Alice Laura Sidell Warfel, (My wife's mother); and brothers Douglas Arthur Sidell, Robert "Bobby" Melvin Sidell, Jesse Eugene "Gene" Sidell and Carelton Lee "Bud" Sidell; niece Ruth Ellen Bartels.
Philip "Phil" Richardson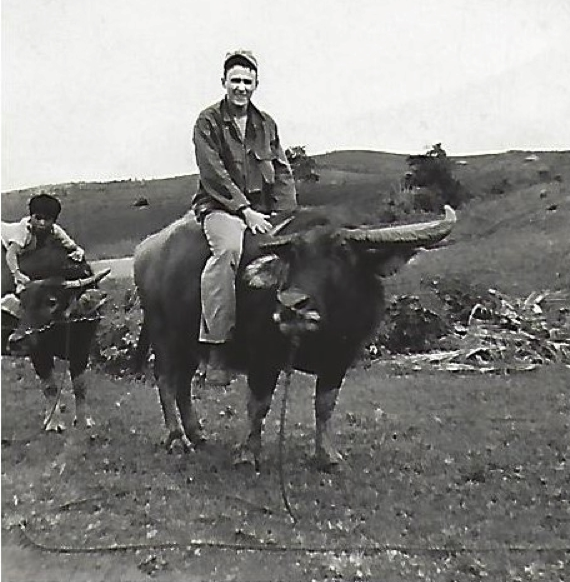 Pvt. Philip "Phil" Richardson, longtime Tucson radio broadcasting executive sitting on a rice farmer's docile buffalo while celebrating the surrender of Japan that day. "No 18-year old ever received a better birthday present, for after a nine month "bad camping trip" north of Manila, while with the 6th Army, I was slated to among those chosen to be in the invasion of the Japanese home islands.
Kenneth Eckle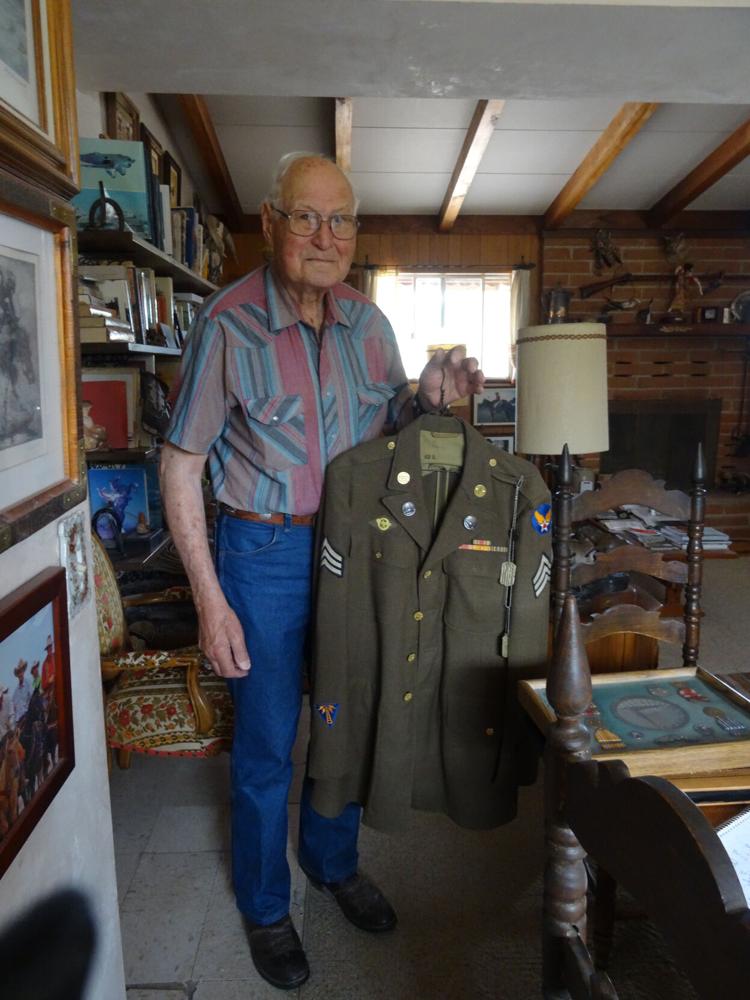 I was born April 11, 1923. I was in Guam when WWII ended. Here's a snippet from my early service days:
I had my physical Jan. 7, 1943. Jan. 13, we bussed from Buffalo to Fort Niagara. I was inducted into the Air Transport Command of the Army Air Force. After one month of basic training in Miami Beach, 10 of us went to Chanute Field, at Rantoul, Ill., for training as parachute riggers and emergency equipment technicians, packing items such as Mae West vests, life vests, life rafts, flares ─ all kinds of emergency equipment. After training, we were going to be sent to Presque Isle, Maine. We arrived and were issued helmets, rifles and everything else to go to Greenland and then Colonel Boyd, who was head of the air base there, decided these planes should be inspected before they left the U.S. and headed overseas. They formed a unit right there; we turned in all the equipment they had issued to us and were assigned two second lieutenants to head us up. This resulted in 10 guys and two second lieutenants who formed the new Emergency Equipment Division at Presque Isle!
Alison Hughes
World War II was raging when I was born in Glasgow, Scotland, to a Scottish-American mother and a Scottish father. I was too young to understand Scotland's "9/11" experience.  It was on March 14, 1941, when the "Gerries" blitzed the Clydebank shipyards and surrounding areas leaving over 35,000 people homeless. Fear and apprehension were acute 15 miles away in Motherwell where I lived. Motherwell was a steelwork town.  The steelworks became armament factories, which reduced iron into molten metal and reshaped it into war machines.   Anticipating the Germans would get wind of the Motherwell factories, the town officials went about painting the factory rooftops to match the colors of the surrounding fields.  Our houses were required to install blackout blinds. The skylight at the top of the stairs inside our house was painted black. I'll never forget the sound of  sirens warning of approaching German airplanes. If it was at night the town blackened. Our family moved into the grass-covered air raid shelter, a damp, dirt dugout in the garden which Grandma fitted with rag rugs she made by hand using odd bits of colorful woolen cloth woven into large patches of potato sacks with a wooden tool. Candles, matches, food cans and toys were stored inside.  By 1945, the war ended and Dad came home. Still wearing his Royal Air Force uniform, he sat me on his lap and held me tight. He was not one to say, "I love you."  You just felt the love.  After the celebrations and the calm, the endless food lines continued. People waited in long lines at butcher shops, bakeries, and general stores. Best of all was when the sweet shops re-opened. People lined up for hours to buy a few ounces of their favorite sweets. I'm 80 now. I cannot remember a time without war on this beautiful blue planet. COVID-19 pandemic teaches us how to  manage in a different kind of war. These days when I get up in the morning, I play my favorite music and dance. I'm grateful to be alive!
Bill Rountree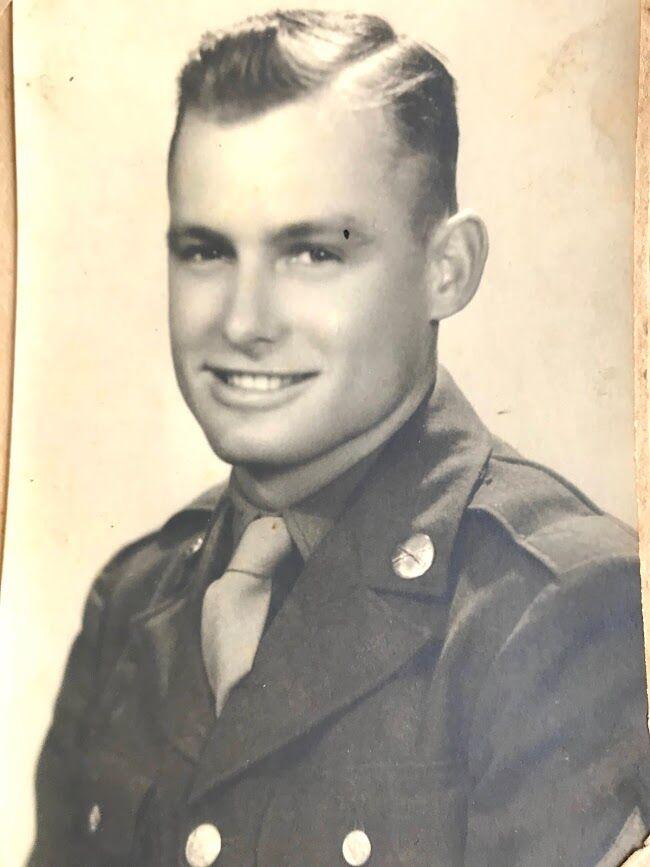 My father, Bill Rountree, a USDA agronomist, volunteered for the U.S. Army during WWII. His LCPV was among the second wave that landed on Omaha Beach on D-Day.  He faced unrelenting enemy fire, fought across torturous hedgerows, and eventually became part of Europe's liberating forces. His two brothers also served in the Army during the War. Four of my mother's brothers (the fifth being too young) served in the U.S. Navy following the attack on Pearl Harbor; her sister's husband was an Army soldier. One of her brothers, a chief pharmacist's mate, was among those killed by the Japanese after their submarine was destroyed. Of these eight, five were husbands and fathers. All, save one, came home to raise families and to be productive members of society - scientist, professor, artist, businessman, entrepreneur, oilman, attorney. None of these brave warriors talked much about his wartime experiences.  They considered military service to this country as their duty. They and their families — and all those who faced the fears of war, endured shortages of basics like food and fuel, accepted ration books and restrictions — were then and always will be our Greatest Generation.
Louis S. Means
My father, Louis S. Means, was a navigator in the U.S. Air Corps. Late May 1943 after taking off from England, his plane was shot down over the North Sea. He was able to activate a parachute, landing in the coastal city of Cuxhaven, Germany. Due to a significant amount of shrapnel in his legs, he was brought to a local hospital. Subsequently, gangrene set in and his badly infected right leg required amputation. Next he was moved to a prisoner of war hospital in Obermassfeld where he was fitted with an artificial leg and was told "for you the war is over." After five months Lucky Louie, his new nickname, was moved to a POW camp named Stalag Luft III. In February 1944 a "legal escape" otherwise called repatriation became a possibility. Along with 19 repatriates, he boarded a train headed for Lisbon, Portugal. The only news his family had received about him was that he was missing in action. Pictures taken at the Lisbon station appeared weeks later on the front page of the N.Y. Daily Mirror and the Los Angeles Times, with the headline "He can still smile - He's Coming Home;" and underneath, "Unidentified soldier, one leg missing, smiles happily as he disembarks from train in Lisbon, Portugal, for repatriation to the U.S. Via the Gripsholm, Swedish exchange liner."
Herbert A. Pratte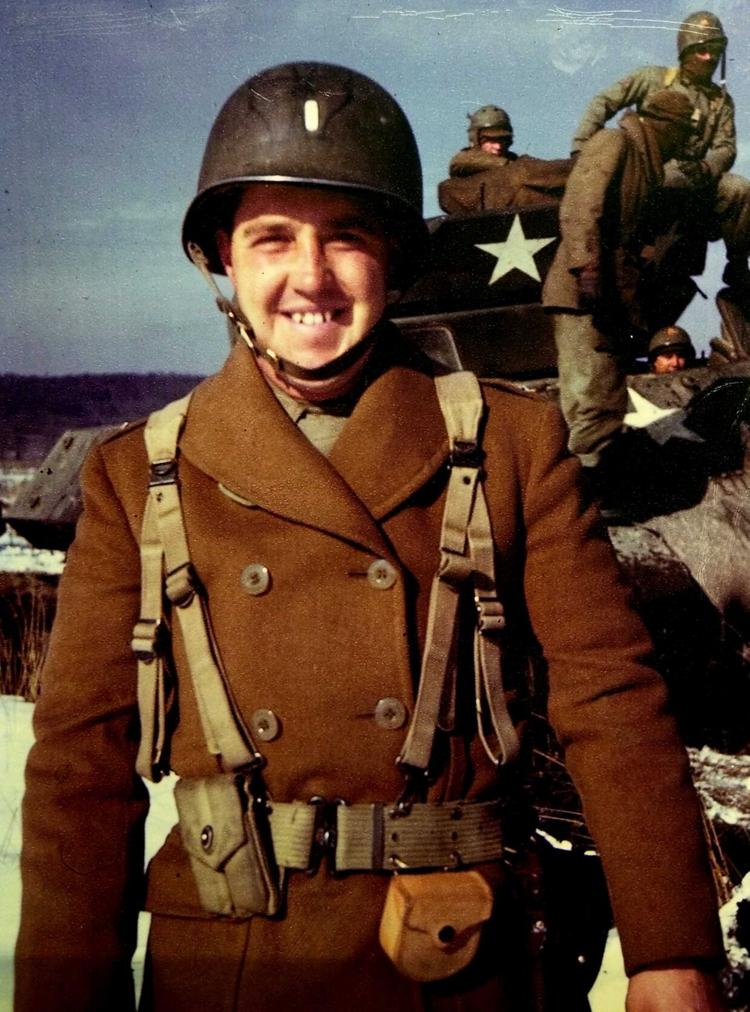 First Lt. Herbert A. Pratte, heroically served in the Fifth Armored Tank Destroyer Battalion in Europe during WWII under Gen. George Patton. During his service, he was blinded by shrapnel, and endured serious injury from gun fire. Of the many medals he was awarded, those that had great significance to him were: two Purple Hearts with Oak Clusters, and four Bronze Stars for his heroic sacrifice and bravery in battle, including battles in Huertgen Forest and the Battle of the Bulge.
Herb regained is eyesight, returned home, married, raised two children, worked until retirement at the former New England Telephone and Telegraph Co., and served as the mayor of his town.
Many years after the war had ended, one of his former soldiers told Herb's family that: "Herb Pratte was the person he most wanted next to him in battle."
Thank you, Herb Pratte, for all you did. Thank you for all you gave. Thank you for who you are. Thank you for being one of the Greatest of the Greatest Generation.
Lillian Yatsko
Hudson River/Edgewater, N.J. 1946
It was an early spring day in 1946.  I was 18 and one year out of high school, working as a secretary for ALCOA in Edgewater, N.J. My family had three brothers in the service, two in the Pacific, and one in Europe who had been killed in battle in France, and so, I knew the fear of coming home to terrible news. On this particular day, the ear splitting sound of whistles and sirens all along the river made everyone turn to the black painted factory windows.  It was an awesome sight — two troop ships loaded with shouting soldiers in their winter khakis, faces smiling and arms waving, headed up river to be deployed.  Our Boys were coming home! The shadow of the war years had finally lifted and men and women hugged, cheered and cried unashamedly. What a moment that was! In all these years, since I am now 93 with a good life lived, there has been nothing to match the emotion of that day and it will live with me forever.
Sgt Armando V. Valencia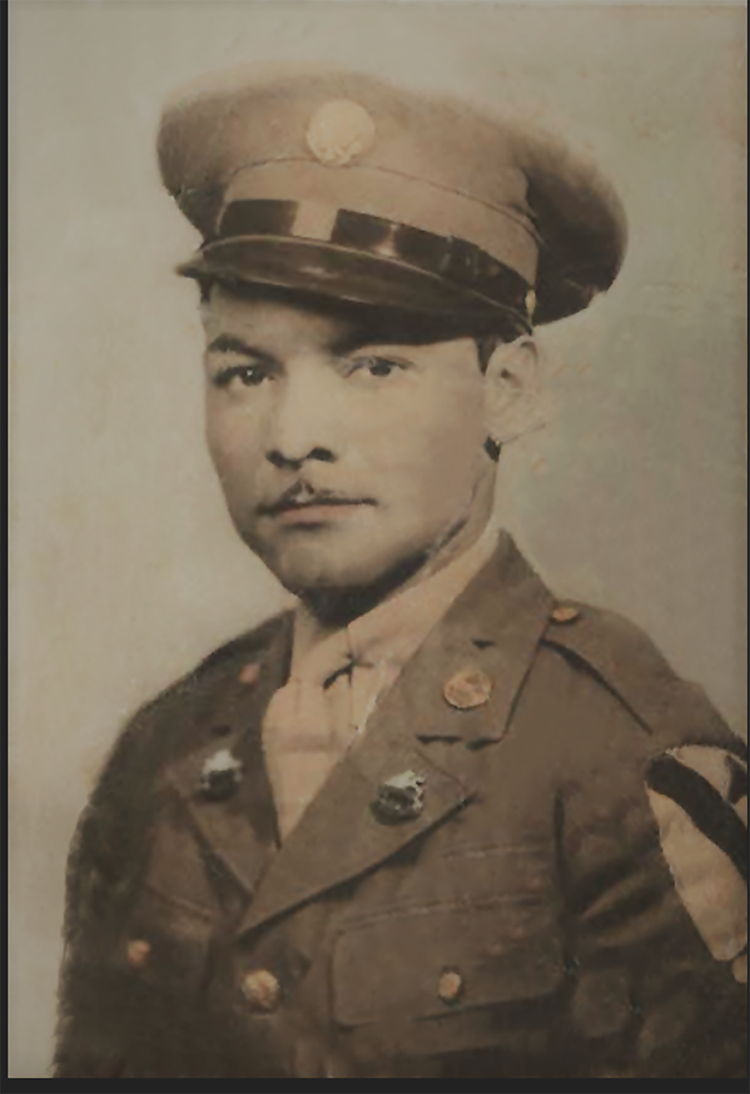 Our dad was so proud of his service to our country.  He­­ often spoke of his war stories, the people he met, the places he saw, the men that fought beside him, and lives that were lost. Dad was never boastful about his time at war, or the honors he had received during his service. In hindsight, we wish we would have understood the significance of the medals and the importance they hold. Dad served in four campaigns in the Pacific Theater, Luzon, Southern Philippines, Bismark-Archipelago and New Guinea. Dad was a decorated war hero receiving The Distinguished Service Cross, three Purple Hearts, two Bronze Stars, Good Conduct Medal, Philippine Liberation Ribbon and the Asiatic Pacific Campaign Medal. Our dad was always our hero, today we share him with you.
The proud children of Sgt. Armando V.  Valencia: Armando, Manuel, Henry, Connie, Roberto and Dee Valencia-García
William Thornton
I was born in the middle of the war in 1943. From years later I remember my mother's account of Sunday Dec. 7, 1941.  It was a mild early winter day in Tucson. My parents Charles and Margaret Thornton had gone to the home of my uncle and aunt Hugh and Gwen Colborn for an outdoor barbecue when news of the attack on Pearl Harbor came over the radio.
Uncle Hugh was in the National Guard and given 48 hours to report for duty. Aunt Gwen worked as a "Rosie the Riveter" at Consolidated Aircraft. Dad tried to join but was rejected due to a bad knee. He worked for the railroad and helped keep the trains running. Many troop trains passed through Tucson every day. Young men were going to war and knowing they wouldn't be home until it was over.  Mom worked in a doctor's office. As terrible as the war was our nation was united against common enemies and everyone did their part.  Things we take for granted were rationed.  Americans tightened their belts and made do with what they had.  
At this time we are so deeply and bitterly divided that we can't unite against a deadly but invisible enemy. What would our parents and grandparents who served and sacrificed think about those who can't be bothered with the minor inconvenience of wearing a mask?
Lawrence (Larry) W. Strahler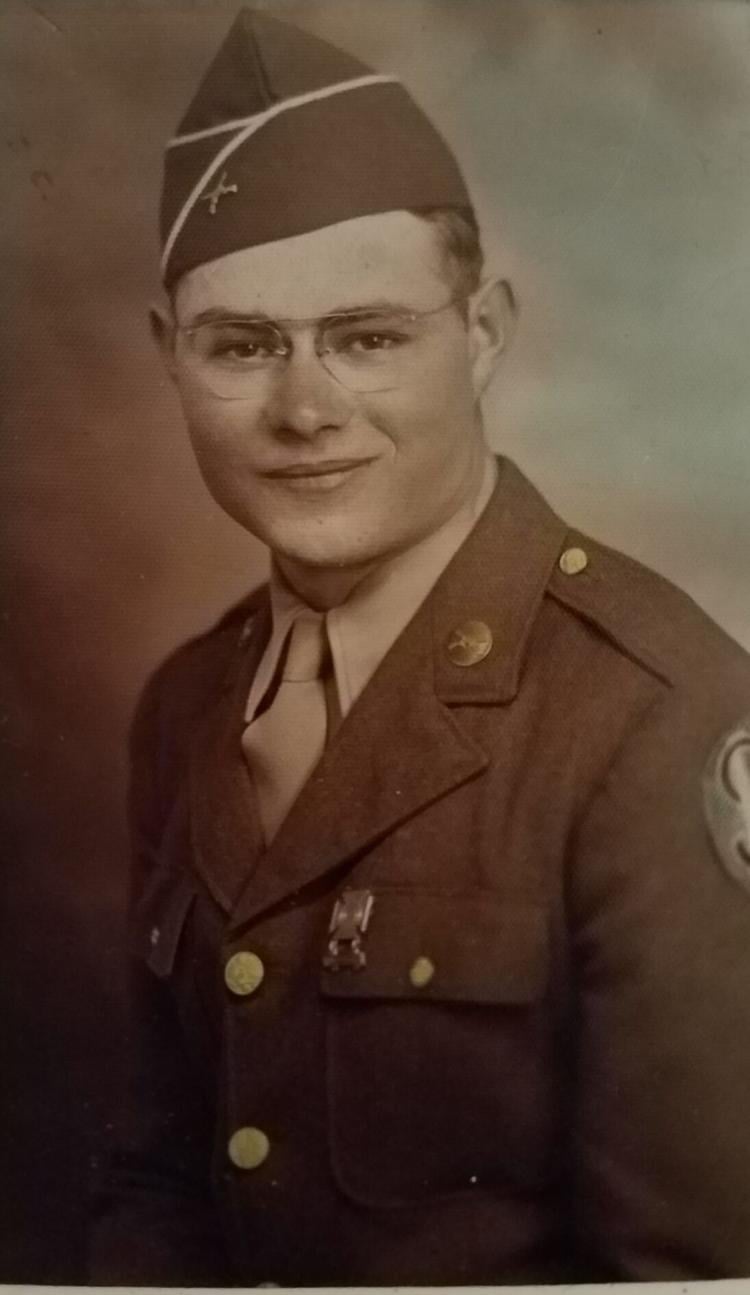 Our family would like to recognize our father/grandfather Cpl. Lawrence (Larry) W. Strahler. He was born April 1923, and lived on a farm in Waterford, Ohio. In January 1944, he was inducted into the U.S. Army. After completing basic training at Indian Town Gap, Penn., he joined the 377th Infantry Regiment of the 95th Infantry Division. He arrived in England in July 1944 and landed at Omaha Beach in August 1944.  His division's objective was to retake the fortress at Metz, France, where he was seriously wounded and captured by the Germans in November 1944. As a POW, he then spent the next several months being moved around to several German hospitals before being liberated in March 1945.  Larry was discharged at Fletcher's General Hospital, Cambridge, Ohio in January 1946.  In November 1947, he relocated to Tucson and ran a successful gas station.  In April 2017, Larry was awarded the French Legion of Honor medal for his military service in France.  His other significant decorations include the Bronze Star Medal, the Purple Heart Medal, the Combat Infantryman Badge, the Prisoner of War Medal and the EAME Campaign Medal.  He was an honest and humble man and remembered by many.
Edwin Elledge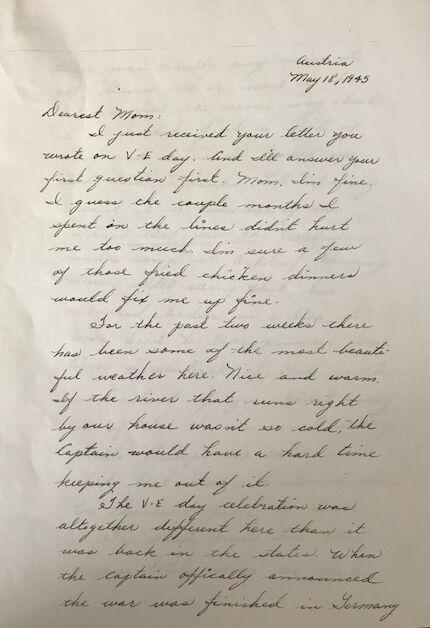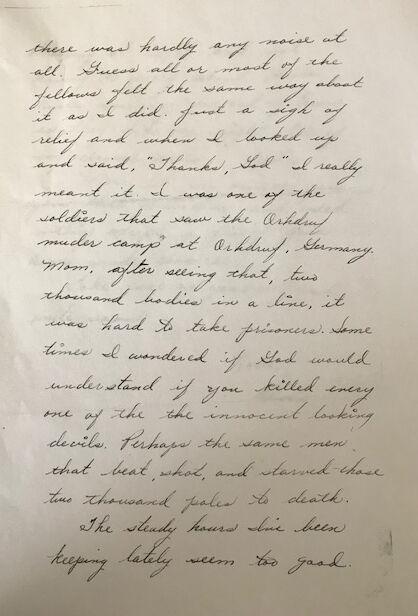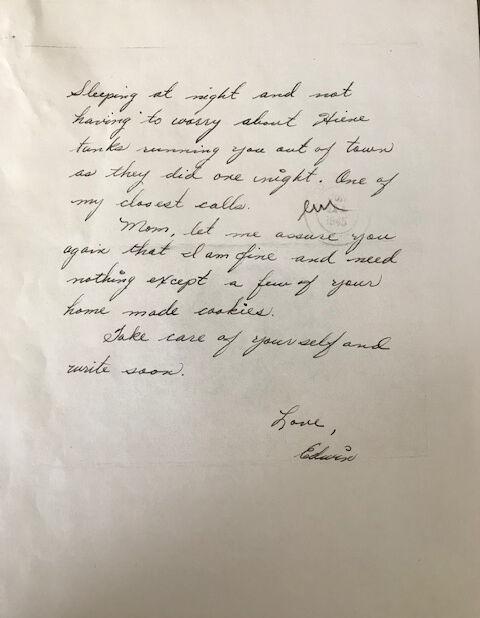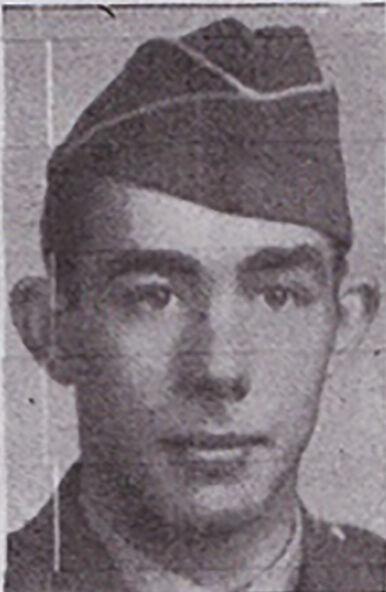 My father, Edwin Elledge, was born in Franklin, Ariz., June 20, 1924. His family moved to Coolidge when he was quite young. He graduated from high school in 1942, while his father was serving in the Navy in North Africa and the Pacific. On Feb. 11, 1943, he enlisted in the Army. He went to Camp Shelby, Miss., for training with the 65th Infantry Division and was shipped to Europe. He was there through the end of the war. He left the military on March 19, 1946. He and my mother were married Aug. 16, 1946. They moved to Tucson and he attended the University of Arizona. My mother worked for Rainbow Bakery. I was born in 1950. On June 6, 1951, when he was close to graduation, he was called back to the Army. He was sent to Korea. When he left, my younger brother was a baby and my mother was pregnant with my second brother. He served there and then decided to stay in the military. He also later served in Vietnam. He retired May 31, 1968, as a lieutenant colonel and my family moved to Sierra Vista. He went on to a second career as a banker with Valley National Bank. mom and dad lived there until they both died at the end of 2007.
Henning "Hunk" F. Elsasser Jr.
Henning "Hunk" F. Elsasser Jr. was born and raised in Omaha, Neb. He enlisted in the Army Air Corps in September 1939. After boot camp, he was stationed at Hickam Field, Hawaii. Hunk was assigned to the 23rd Bomb Sq., 5th Bomb Group. First he qualified as a gunner on the B-10 Bomber. Then he qualified as a gunner and radio operator on the B-18 Bomber. Following that, Hunk qualified as a ball-turret gunner and radio operator on the B-17 Bomber. Hunk survived the attack on Pearl Harbor by the Japanese. Hunk was a crew member on a B-17 that flew three attacks against the Japanese Fleet during the June 1942, Battle of Midway. He was transferred to the South Pacific and assigned to the 435th Bomb Sq., Garbut Field, Townsville, Australia.
He participated in the Guadalcanal Campaign, the Battle of Milne Bay, both Buna Campaigns and the Battle of Bismark Sea as well as other engagements against the Japanese. He flew more than 120 missions and shot down three Japanese aircraft. He was wounded on a mission over Rabaul Harbor Jan. 1, 1943. Hunk returned to Omaha in September 1943, and married his high school sweetheart, Rae Klindt.
Juan Herrera Jaurigue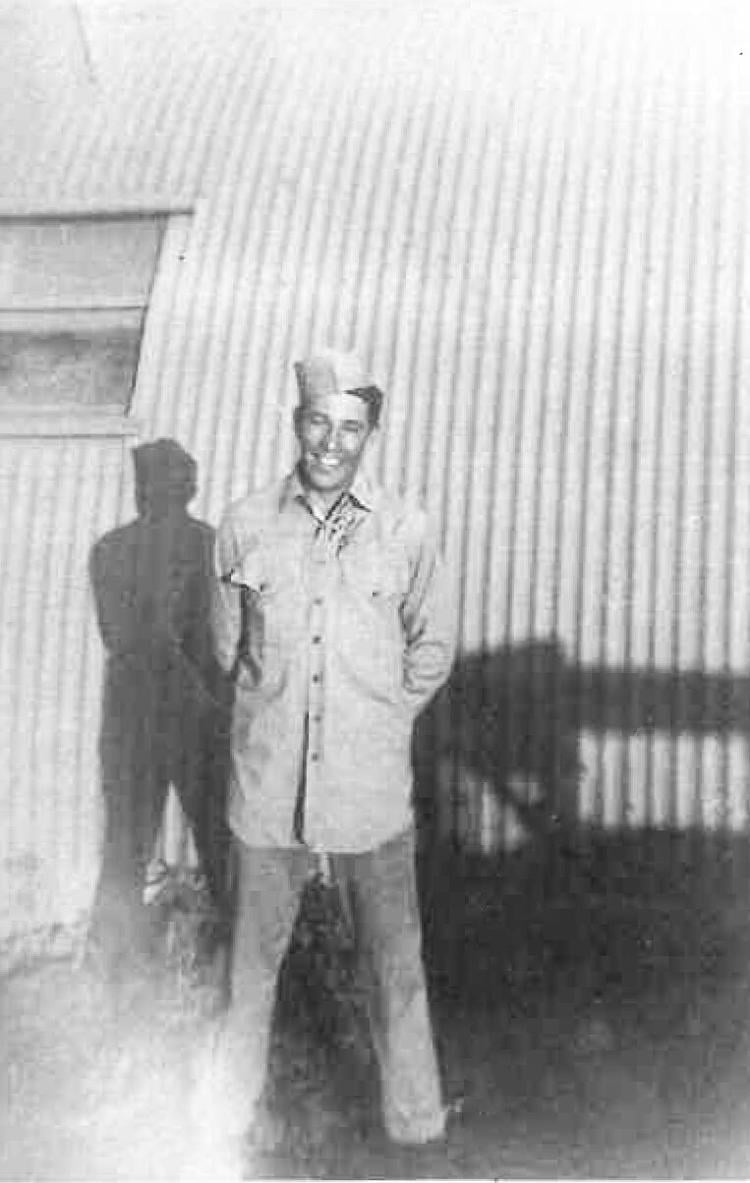 Juan Herrera Jaurigue was born in 1925 and enlisted in August 1943. He was reported killed in action in June 1944, when he was wounded, but that was corrected. He sustained a blast concussion in February 1945, in Iwo Jima and was honorably discharged in July 1945. He received two Purple Hearts with Gold Star and Bronze Star for wounds received as a result of enemy action. He is now 95 years old and lives in Tucson.
Federico B. Figueroa, Genaro M. Figueroa, Enrique B. Figueroa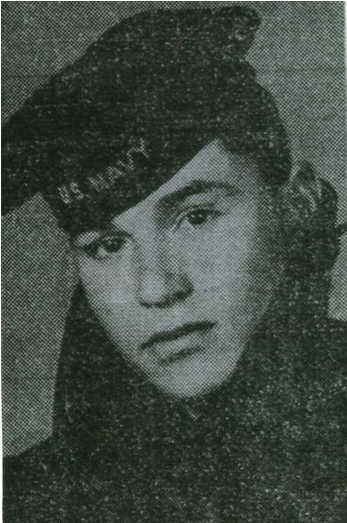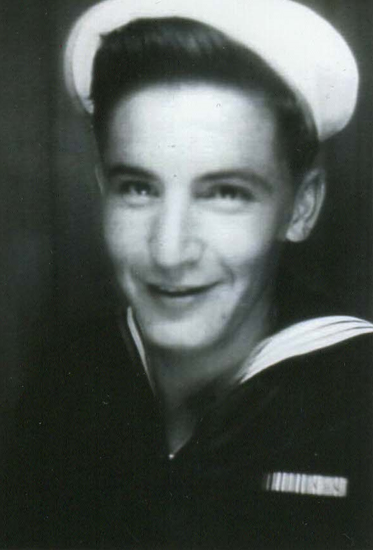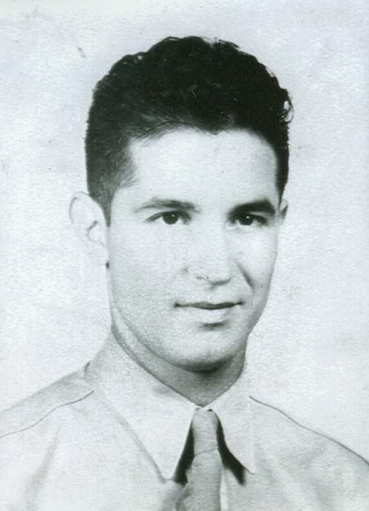 Federico B. Figueroa, Genaro M. (Gene) Figueroa and Enrique B. (Henry) Figueroa were born in Benson to parents Enrique C. Figueroa and Rosario Bracamonte. Their father, Enrique C., died at the age of 27. His mother Rosario moved him and brothers to Tucson at an early age. Rosario then married Filiberto Cruz. They gave the boys three sisters. Federico, also known as Freddie, joined the U.S. Navy at the age of 17. His Basic Training was in San Diego. He was assigned to the aircraft carrier USS Bunker Hill. He saw action in the South Pacific Theater. Federico was killed in action during the battle of Leyte Gulf in the Philippine Islands when two Kamikaze pilots dove into the Bunker Hill. He was buried at sea. His rank was Seaman 2nd Class. He left no surviving spouse or children. Freddie was survived his mother Rosario and brothers Gene and Henry. Gene joined the U.S. Navy the day after Pearl Harbor was attacked. He was assigned to the USS Neosho a fleet oiler. Gene would fuel ships at sea. He spent time at a Naval Base in Alaska. When discharged, he held the rank of Electrician's Mate 3rd Class (EMP3). Genaro married Edilia Alvarez. They are survived by his children Frederico M. Figueroa and Viola F. Majuta. Gene is also survived by his third wife Margaret J. Figueroa, their daughter Veronica A. Figueroa. Genaro had three children, six grandchildren, five great grandchildren and five great-great grandchildren. Son Frederico M. Figueroa lives in the San Diego area. Daughters Viola F. Majuta and Veronica A. Figueroa live in Tucson. Henry was drafted into the U.S. Army Air Corp in 1943. He was trained to be a radio operator on various aircraft. Henry served in Europe and was stationed in England. He was a member of the 9th Air Force. He was involved in Operation Market Garden. He was on a C-47 when shot down, twice. Henry landed in the English Channel and the 2nd time in a tree in the English countryside at night. When discharged, Henry held the rank of corporal. Henry married Delia Rojas. His eldest son Henry Jr. preceded him in death. His surviving children, Rose Marie F. Ramos, Lorraine F. McDonald and Ronald J. Figueroa gave him 10 grandchildren, 15 great-grandchildren and three great-great-grandchildren. Ronald is his only surviving child. Ronald lives in Tucson.
Geraldine Meyer and Roy Meyer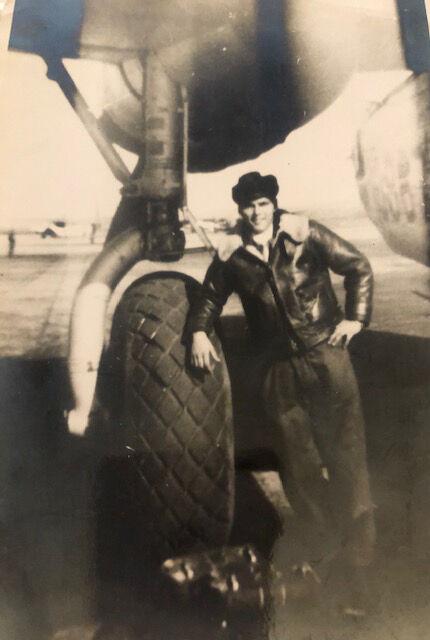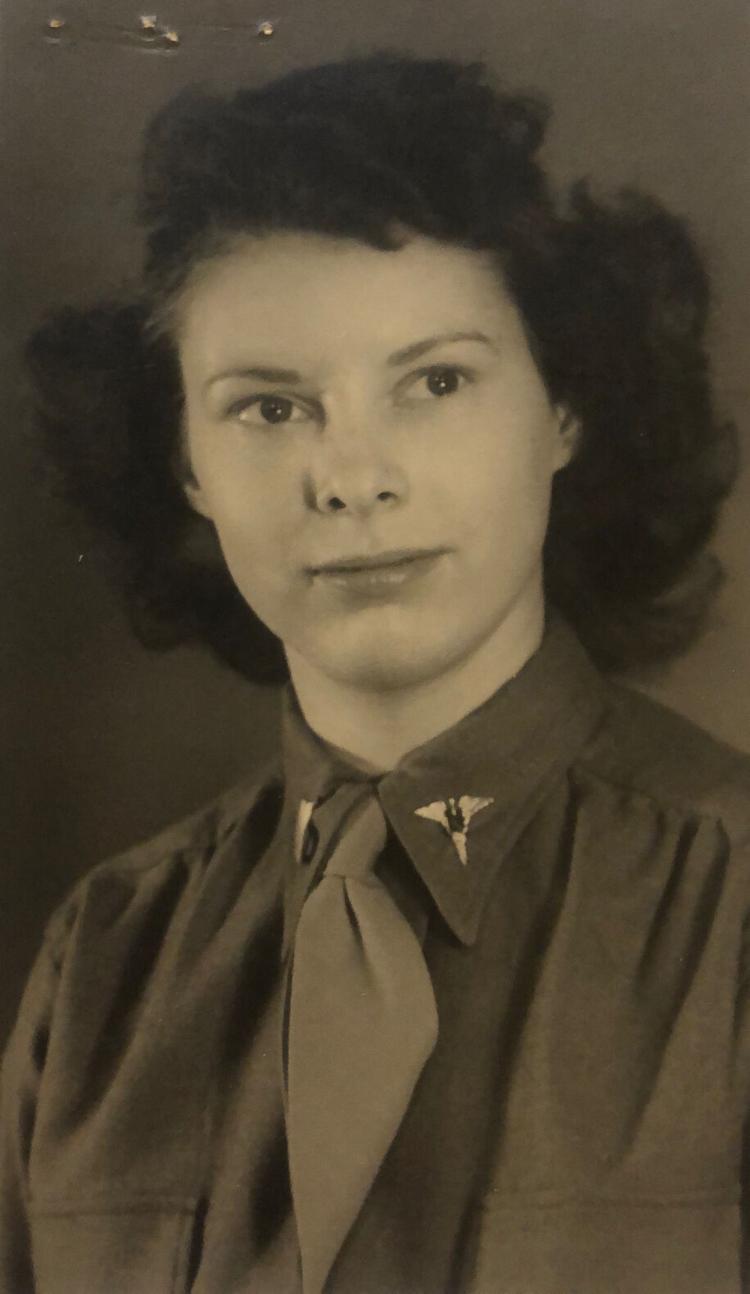 My mother and my deceased father were both WWII vets. My father was a waist gunner in the Army Air Corps on a bomber stationed in Italy. He and my mother met in Tucson after the war ended. My dad joked that it was a good thing they met after the war because they would have been court martialed if they dated while serving in the Army since my mom was an officer and dad was an enlisted soldier. My dad died two years ago at age 94. Dad was a great story teller and spoke often of his war experiences.
Merle Jones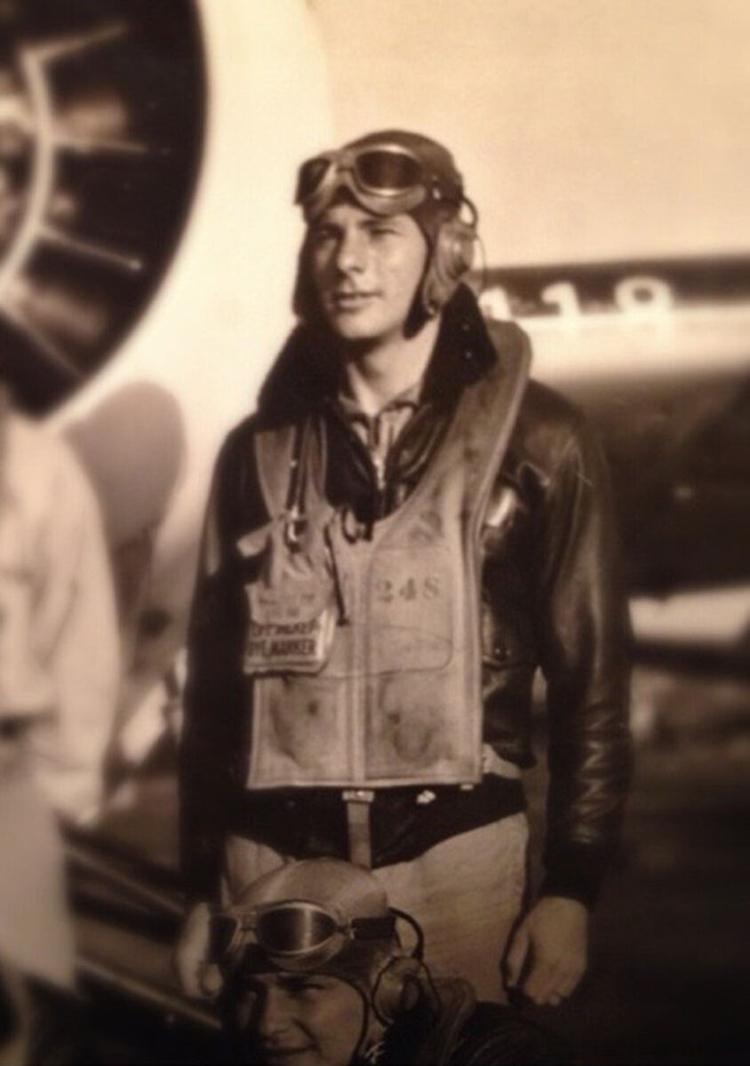 Merle Jones, U.S. Navy World War II veteran, was born in November 1919, during the middle of the last worldwide pandemic in Turtle Creek, Pa., the youngest of four children. His family moved to Philadelphia shortly after Merle was born. He enlisted in the Navy in 1942, received his Advanced Flight Training wings in 1944, then his F6-F Hellcat fighter pilot certification later that year. He served as a Naval Aviation Fighter Pilot on active duty until 1946, then in the U.S. Naval Reserve until 1950. Merle enrolled in Penn State University under the GI Bill, and graduated in 1952 with a bachelor's degree in aeronautical engineering. He worked in the aerospace industry from 1952 until he retired in 1980. He took a short break from his aerospace career to become the pastor of Jamestown Baptist Church in Jamestown, Rhode Island from 1958 to 1962. In 1962, he moved his family to Cleveland to get back into the rocket scientist business by taking a position at NASA, which he held until he retired in 1980. Merle and his wife, Del, moved to Tucson in 1980, where they both became active in the community through volunteer and public service work until Del, his wife and life partner of 72 years passed away in 2017. Merle is still an active member of the Tucson Breakfast Club Lions Club, and will celebrate his 101st birthday in November.
Santiago E. Rodriguez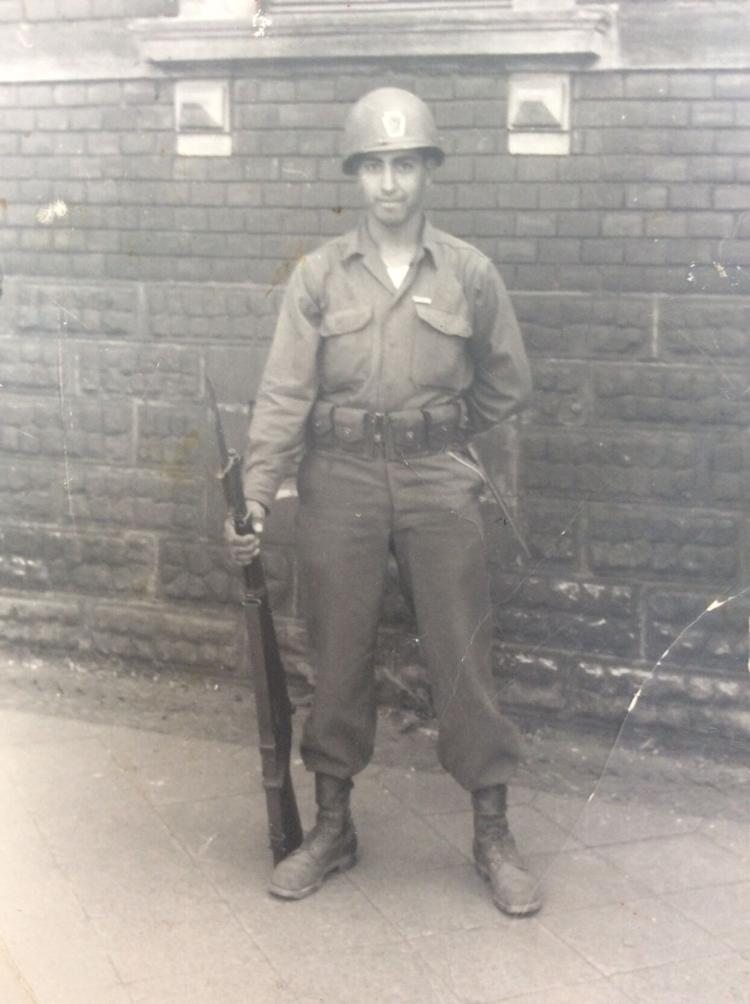 My father, Santiago Enrique Rodriguez was born in Tucson. He was drafted in July 1944, and received basic training in Camp Hood, Texas. He boarded a train to Washington, D.C., then to Fort Mead, Md., and Camp Myles Standish in Massachusetts. On Dec. 23, he boarded a British liner named the Aquitania, which carried approximately 18,000 men; they were scattered all over to accommodate them. He spent Christmas Day at sea, eating C rations. They sailed from Boston to Glasgow, Scotland, where they crossed the English Channel in a smaller ship. He landed in Marseilles, France, where he spent New Year's Day and enjoyed steaks. He marched through Paris into Germany where he fought in the Ardennes Mountains, which were heavily covered with snow. His platoon was trying to climb a small mountain where the Germans were heavily dug in when they came under heavy gunfire. My father was wounded in the spine and was rescued by the Algerians. The mules and the Algerians were camouflaged in white so as to blend in with the snow. He was temporarily treated in a field hospital, transferred to a military hospital in Paris. Upon his recovery he returned to his unit. Once the war ended, he was assigned to a military prison in Montana until his discharge.
Kenneth Wilson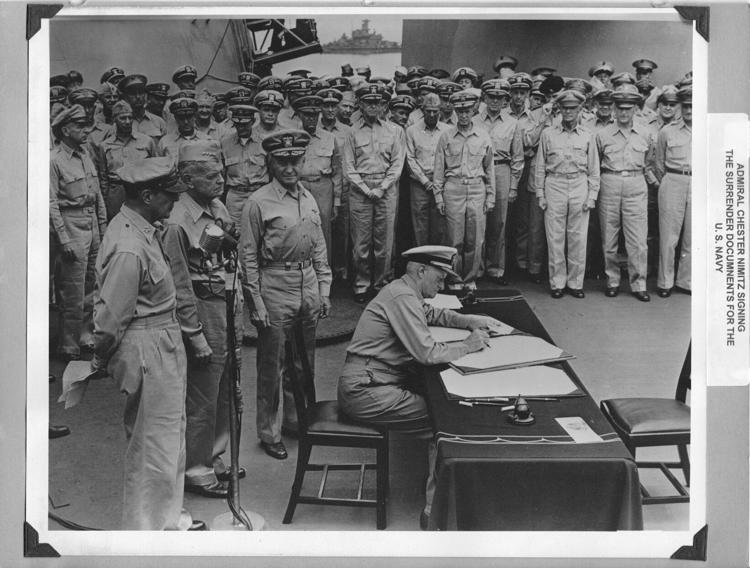 These are selections from my father's WWII memorabilia that he would like to share. They show the end of the war from two perspectives.  
The first is a letter and accompanying envelope from my dad as a young sailor to his mom and dad of a press release just prior to the war's end.  It illustrates, on a more personal basis, his participation in Navy's efforts to defeat the enemy.  My dad joined the USS Independence in San Francisco when the ship was undergoing repairs after a torpedo attack near Tarawa Atoll.  Eighteen sailors had been lost in the attack, and dad was among the replacements for those lost.  A warning at the top of the news release further indicates the harsh realities of the time.  
The second is a picture taken on the USS Missouri battleship.  Admiral Chester Nimitz is signing the surrender documents on behalf of the U.S. Navy.  Although most have seen the picture of General Douglas MacArthur taken at the signing, this picture illustrates the equally tough role the U.S. Navy played in the Pacific theatre.  On a more universal basis it illustrates the ending of the war and the beginning of building peace.
Stanley Safiran Jr.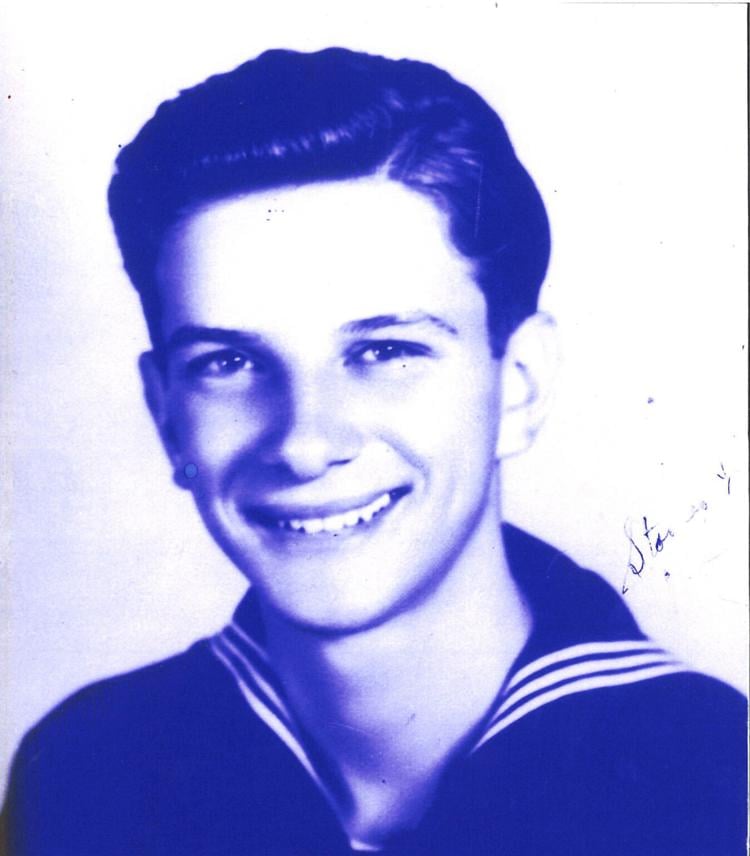 Stanley Safiran Jr. wanted to leave high school during WWII to join the Navy. To his dismay, he was too thin to pass his physical. After being told by the Navy recruiters to go home and eat lots of bananas and drink a lot of milkshakes, Stanley passed the physical a month later. He eventually grew to be 6'2" and 180 pounds. And "away he sailed." He sailed in ports of Africa and then on to the Pacific. His ship was one of the first ships to help rescue prisoners from Japan after the war. When the war ended, we were very happy to have Stanley home. I remember he had a duffle bag full of silver bracelets and other various gifts he had picked up in Africa. The only thing he bought for himself was a "Zoot Suit," and, oh, how we laughed when he took that thing out of the duffel bag. After Stanley returned home, he finished high school with the other GIs. He went on to study at the Art Institute of Chicago. He married and had two children. He died in a VA hospital in his mid-80s. Stanley was best known for his generosity and always helping people in need.
Jack Safiran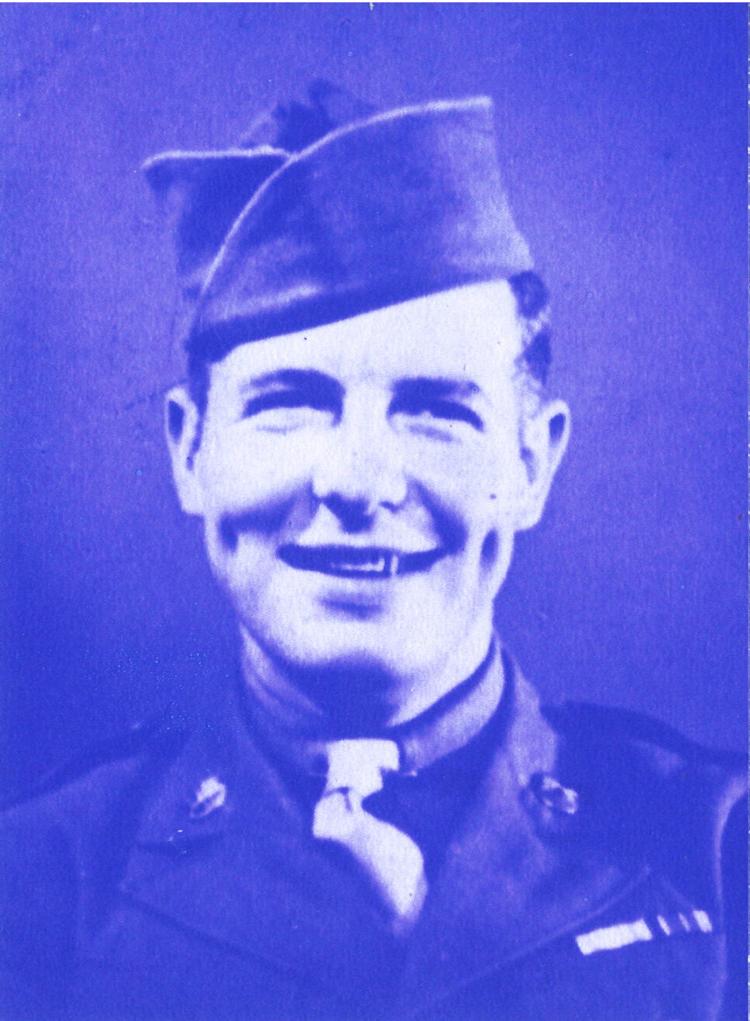 On the first day of the draft Jack joined the Army. When Jack was being shipped out, he went to visit my father at work. Jack and my father spoke for a half hour. The company docked my fathers' wages because of this, my father in turn quit. Jack's first assignment after training was Iceland, he sent my mother a doll from Iceland. However, we never received the doll. He was assigned to England, France and Germany. When Truman first signed the GI Bill, Jack wrote my mother and said, "a little education never hurt." Jack had planned on going back to school. Jack anticipated that the war wouldn't last long. He told mother not to worry about our little brother because the war would be over by then. Jack was killed a couple months before war ended in Germany. Mother was seven months' pregnant at the time of Jack's death. The telegram we received, was delivered to my father's work. My father asked the doctor if he should tell her the news. He advised to tell her the truth.
Martha Safiran
Martha joined the nurse cadet after graduating from high school. Her training was done by the nuns at Kankee Hospital in Illinois. She was very excited about her studies and the friends she made. Daddy bought her a watch with a second hand on it so she could use it while caring for the patients. She lost the watch on the bus while traveling home one weekend. When the war was over in Europe the nurses work was harder. Their hours were longer, the food they received was not what they were used to. Their meals lacked fruits and vegetables. The nuns would wake them up to go to the chapel and pray. Martha never stopped mourning her brother Jack's death in the War. When the war in Japan was over Martha quit nursing. Fast forward to today, Martha is not only a survivor of the war but also of Covid-19. Martha will be 94 in October.
Dale Adams Hughes and Artemisa Gomez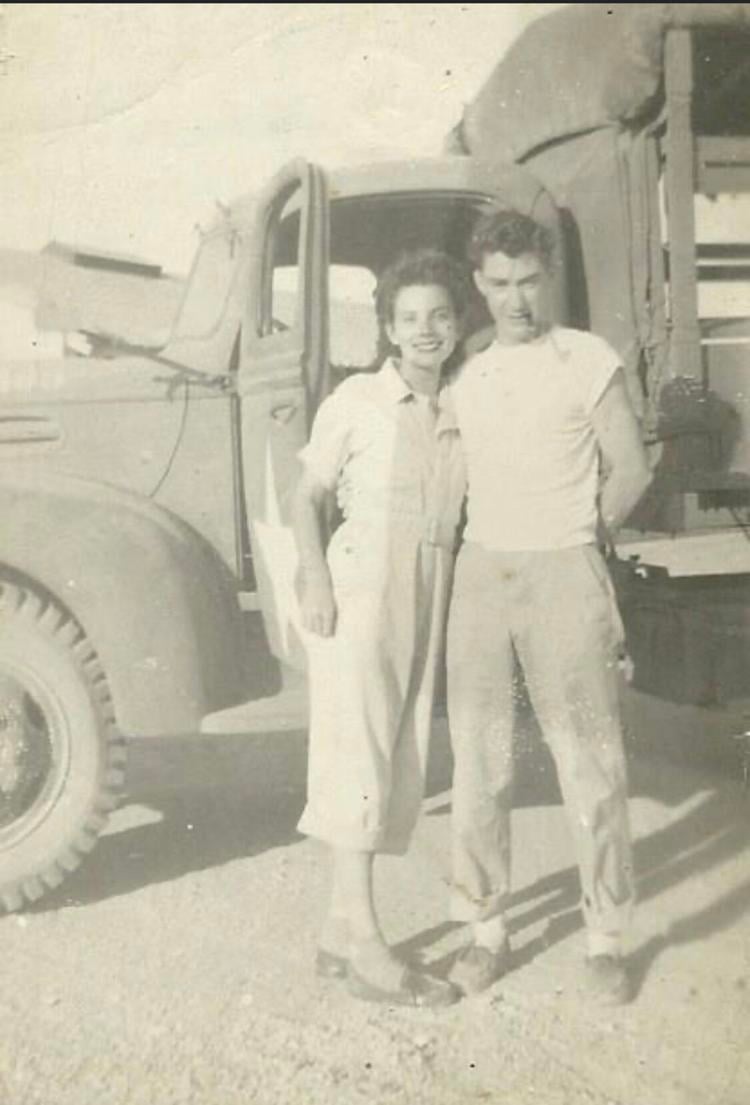 Thank God for our parents who heard the call to serve our country! Dale Adams Hughes was raised in an Indiana orphanage with his four brothers after his mom's death; his dad could not raise them alone. Artemisa Gomez was born in San Pedro, California and raised in Bisbee with her four siblings after her dad's death; her mom raised them alone. They met in Cairo, Egypt, in 1943. Mom had seen the world as a WAC recruiter in the states and travel to Italy visiting hospitalized troops, performing and censoring mail. Dad had colorful and dangerous national and international adventures before his arrival at Camp Huckstep ─ he researched, wrote, printed and self-published three books later in life. Mom left Egypt for the states in 1944; Dad followed her in 1945 to her family's new home, Tucson.  Dad had to get Gomez family approval to ask Artie's hand in marriage.  Our teacher/mother and our printer/father faced great obstacles to become part of The Greatest Generation long before we were born. Dad and Mom are buried side by side in niches of honor at the Arizona Veteran's Memorial Cemetery in Marana.
Maria Michele Hughes Brubaker, Kathleen Louise Hughes, Thomas Dale Hughes
John Frederick Kellner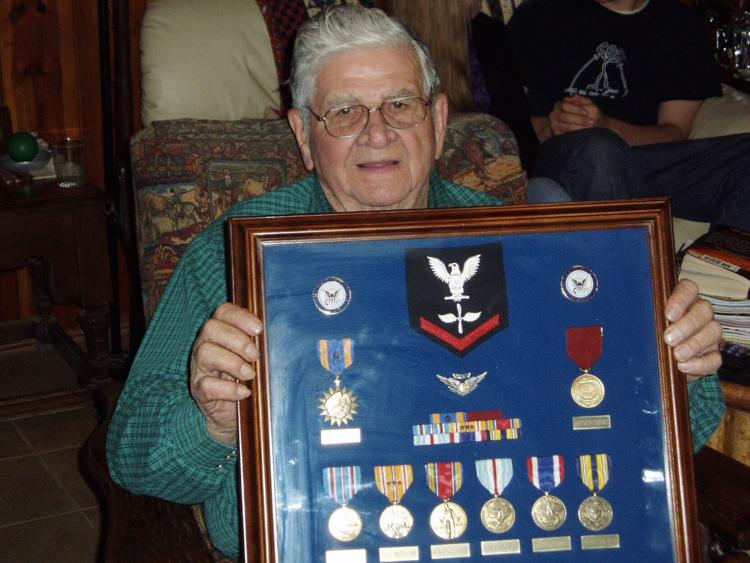 John F. Kellner was born June 27, 1923. He was a flight engineer on a PBM Mariner in the South Pacific and received the Air Medal for Meritorious Achievement as a Combat Air Crewman against enemy Japanese forces in West Pacific as well as the Gold Star for Meritorious Achievement as a Combat Air Crewman. His plane sunk a Japanese submarine. After his war service, Kellner worked 40 years for Tucson Newspapers Incorporated before he retired in 1985.He died Oct. 3, 2013.
Joe Encinas Carpena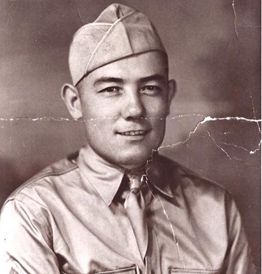 Joe Encinas Carpena was born April 20, 1914, at a San Xavier Mining Camp. He was the first son of Andres Ayon Carpena and Cruz Encinas. His second home was Barrio Anita where he attended Davis School to the sixth grade. During the Depression (1935) he was selected to participate in The Civilian Conservation Corps working at Camp F-46-A in Wilcox in road construction then in 1936 he was sent to Camp F-62-A in Prescott to work on twig blight. Joe attempted to join the military service but was rejected because of his size, 5'1" and 105 lbs. On Dec. 15, 1941, after the attack on Pearl Harbor, he enlisted and assigned to Company C 158th Infantry and sent to Fort Sill in Oklahoma for Bakers and Cook School. He was awarded the Infantry Badge for serving in Wadke-Sarmi, Dutch New Guinea. On June 18, 1945, Joe was promoted to Staff Sergeant Grade III. He was discharged on Aug. 6, 1945, with a disability of malaria. Joe never complained about the hardships of war. His only regret was that his father died on March 17, 1944, and Joe was in the South Pacific and could not attend. Joe was a Bushmasters and an honorable, hard-working man. He died June 21, 1980 in Tucson. Despite his size, he was a Big Man.
Manuel Herrera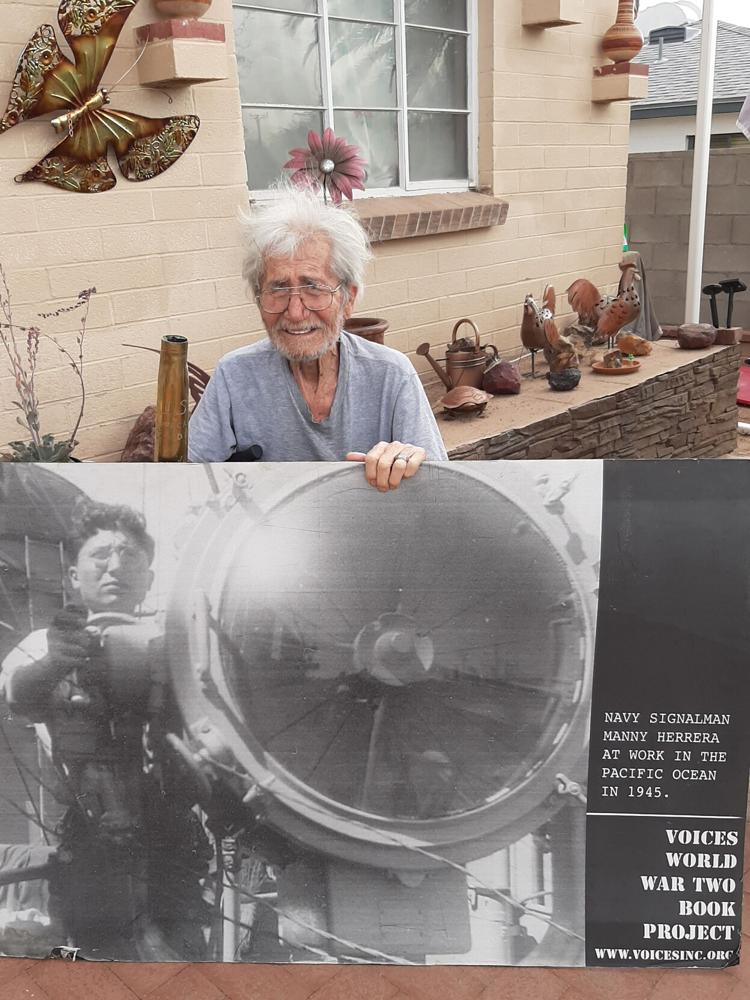 "On August 6,1945, the United States dropped the atomic bomb on Hiroshima, Japan and a few days later they dropped one on Nagasaki. Japan surrendered. I tell everyone that Emperor Hirohito found out Herrera was coming to Japan because he surrendered on my birthday!" Our Dad's quote from Voices book "They Opened Their Hearts" published 2005.
Our father, Manuel "Manny" Herrera, Jr., joined the Navy shortly after high school graduation from Tucson High in 1944. He had to wait until he turned 18 Aug. 15. His father would not sign giving him permission, having just lost his wife, when Manny was still 17. He joined because "it was the right thing to do." He has been "doing the right thing" since. First serving his country, then working with the U.S. Postal Service. Upon retiring, he began serving the Tucson community in various volunteer/committee/commission positions for the next 30+ years. His ship, the USS Carmick, was a mine sweeper. The ship's function was to sweep the mine fields surrounding Japan in preparation of the invasion. He served as both a signalman and baker but his primary function was to load ammunition on the 40-mm anti-aircraft battery working day and night with very little rest. From the States they went to Pearl Harbor, Marshall Islands, Guam, the Philippines, Okinawa, Japan, Korea and China finally returning to San Francisco in 1946.  Upon their return to San Francisco, he and a few shipmates went out to dinner. His shipmates were able to order, he was not because he was "a Mexican." After receiving their food order, they instead, turned over their plates and walked out in protest with our father. Manny and his wife, Josefine "Josie," married June 7, 1947. They recently celebrated their 73rd wedding anniversary and 94th birthdays. What an amazing rarity. Josie worked at Davis-Monthan Air Force Base during the war effort. They both have been excellent role models for their seven children, many grand and great grandchildren "doing the right thing."
Rodney C. Lowell
When Pearl Harbor was attacked by the Japanese on Dec. 7, 1941, I was 12, living in Edison Park, the farthest northwest corner of Chicago. Like many other Americans, my reaction to the attack was shock and anger, but I had never heard of Pearl Harbor before. I had been aware that Japan was waging war on China but that war seemed very remote. The war Chicagoans were most aware of was Germany's war against England and Europe, and many of our neighbors liked The America First movement and expressed concern that President Roosevelt would get us into that "foreign war." My parents' feeling that Hitler was also a threat to our country was not shared by many neighbors. Within a few months after Pearl Harbor, things changed a lot.  A Douglas Aircraft plant to build huge (by pre-WW2 standards) 4-engined C-54 transport planes was built on farm land four miles west of Edison Park. An auto plant three miles south of that was converted to produce large aircraft engines. Many mothers who had stopped working outside the home after having children went to work in small nearby factories, which had converted to building equipment for the war. Older boys I used to play with enlisted or were drafted into the military services, and parents hung a small white flag with a blue star on it in their front window for each of them (changed to gold star if they were killed). And the opposition to the war largely evaporated.
Joe Mendez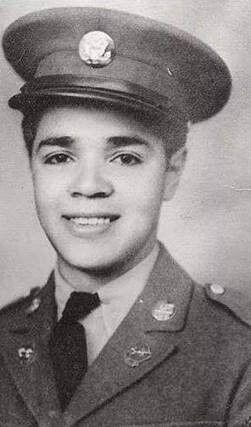 "We just did what we were supposed to do!" said Joe Mendez about being a WWII Veteran of the "Greatest Generation". A native son of Tucson, Joe was a student at Tucson High when his Army Reserve was called to duty after the bombing of Pearl Harbor. He spent 5 years island-hopping as a "Bushmaster" with the 158th Battalion Combat unit under Gen. Douglas MacArthur in the Pacific Theater. He experienced the horrors of war first-hand, but always knew that serving his country was his responsibility. Most of his buddies came home, but not all.
Returning home in 1945, he got his GED, enrolled at the UofA, graduated with the 1st class from the College of Pharmacy (1950), opened his first store, Bellas Artes Pharmacy, and later Medical Arts Pharmacy. Joe married Aida Wilkins and they had four children. Joe retired in 1992 and enjoyed retirement in Tucson and in Pinetop, Az. with his family and many friends. He traveled to Washington, D.C. with "Honor Flight So. Az." in 2012 to visit the WWII Memorial.
Joe Mendez passed away in July 2014 in Tucson at the age of 94 years.. a life well lived.
John Reitz
Born in 1924 in Cedar Rapids, Iowa, and raised by his tuba playing father, John started studying cornet and playing in the grade school orchestra at age eight. Two years later he progressed to playing second cornet in the El Kahir Shriner's concert band of which his father was the business manager. In the seventh grade he formed his own small polka band with school friends and began playing paid jobs, and joined the American Federation of Musicians Union, Local 137. After a year of this he was bitten by the swing era bug and began studying jazz improvisation and arranging…no more polkas. His progress in both technical ability and jazz interpretation led him to be playing in professional dance bands all through high school and on extended tours with territory bands during the summers.
At age seventeen, on Sept. 10, 1942, John enrolled at the U. of Oregon, majoring in music, playing, in the ROTC band, and joining the Army Enlisted Reserve Corp . On Nov. 22, 1942, two months later, all of the reservists received telegrams from the U.S. War Department saying that they were activated. The promised two years at the U. of O. ended in three months. John spent the next four months in desert training in Texas, seven months in jungle training in Florida's Okefenokee Swamp then was assigned to the 66th Infantry Division. It sailed for England in 1944. The 66th embarked for France in late 1944 to reinforce troops at the Battle of the Bulge. John's ship, The HMS Leopoldville, didn't quite make it. It was torpedoed and sunk seven miles north of Cherbourg with a fatality loss of 42% of the troops. John swam about 100 yards to the destroyer, HMS Brilliante, saving himself. After troop replacements, the 66th Division saw 137 days of combat action against the Germans in France and Germany. During his service John was promoted to sergeant and awarded the Combat Infantry Medal, the Bronze Star and French Legion of Honor medals. Thinking of his youth, he said, "I had the best of times for seventeen years and then worst of times for 3½ years, no music, plenty of fear, heartache, and the discomfort of a freezing European winter".
Discharged from the army in February, 1946 back in USA. He enrolled at Lewis and Clark college, earning Bachelor of Science and Bachelor of Music. degrees and to the U. of Washington for an M.A. in music composition. Returning to Portland, OR, John spent a year teaching on the faculty of Lewis and Clark College while forming a dance band, the Johnny Reitz Orchestra. Realizing that he was earning more from his band than teaching, he then devoted full time to playing thirteen-week touring circuits twice per year from Los Angeles to Florida, the mid-west and the northwest, booked by Associated Booking Corporation. In 1965 the band was contracted to be the house band at Portland's Hoyt Hotel. The show room seated 750 people and a large dance floor which elevated to stage height featuring Las Vegas type floor shows. The band's two weeks contract extended to three years.
After many years of playing and successful investing, John took his broker's suggestion that he become a licensed stock and bond broker. His orchestra and music contracting business continued on with a brokerage career of 48 years, which led to the funding and founding of Paulson Investment Co. The company grew in about twenty-five years from two offices in Oregon to 38 offices in nineteen states and was then sold out to an international company. At age 96 John is still very active in music, playing with two large jazz groups in the Tucson AZ area as their jazz-trumpet soloist. He was recently featured as a soloist with the Tucson Concert Band, and always as the cornet soloist with Tucson's DixieCats and his own trad-jazz group, the Harbor Patrol Jazz Band during summers in Portland.