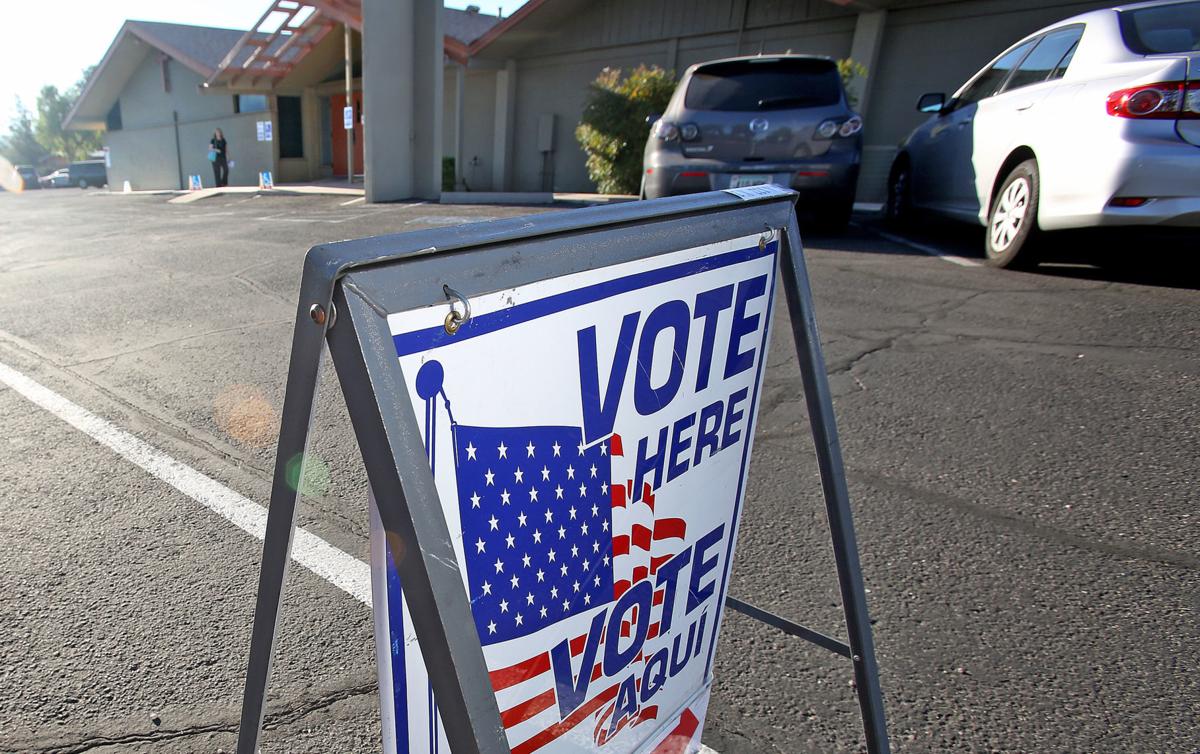 PHOENIX — Gov. Doug Ducey isn't going to get a free ride to the November general elections.
Republican Ken Bennett filed enough signatures by Wednesday's 5 p.m. deadline to also get his name on the GOP gubernatorial ballot. But Bennett, a former secretary of state, remains an underdog in the Aug. 28 race, not only because Ducey is an incumbent but because the governor already has more than three times as much money as Bennett can ever hope to collect: He will get $839,704 in public financing if he qualifies; Ducey, running with private donations, already has collected nearly $3.4 million.
Whoever wins that fight will face off against which of the three Democrats manages to win that party's gubernatorial primary. Educator David Garcia, state Sen. Steve Farley and Kelly Fryer, the CEO of the YWCA of Southern Arizona, also met the deadline.
Actually, the general election for governor will end up being a three-way race, as Libertarian Kevin McCormick managed to get enough signatures to be his party's standard bearer.
Senate seat
The other high-profile contest is the one to fill the U.S. Senate seat being vacated by Jeff Flake.
As anticipated, three Republicans are going to be competing for votes: current U.S. Rep. Martha McSally, former Maricopa County Sheriff Joe Arpaio and former state Sen. Kelli Ward.
Democratic U.S. Rep. Kyrsten Sinema is hoping to be her party's nominee in November. But first she has to defeat Deedra Abboud, a civil-rights activist and immigration lawyer.
Eve Reyes-Aguirre is the lone Green Party contender to qualify for the ballot.
Congressional races
There's a wide-open race to fill the congressional seat McSally is vacating, with four Republicans and four Democrats each hoping to get their party's nod. This could be the most competitive congressional race, not only because of the open seat but because the history of Congressional District 2 shows it is the one that either party likely could win.
A similar situation exists in CD9, the seat occupied by Sinema, with three Republicans and two Democrats vying for nomination. But that district may lean slightly more Democrat than Southern Arizona's CD2.
And in CD8, where Republican Debbie Lesko just won a special election, she's going to need to defend her seat. Former Maricopa County School Superintendent Sandra Dowling, who pleaded guilty to a single misdemeanor to end felony bid-rigging charges against her years ago, also wants to be the GOP nominee in the heavy Republican district.
Statewide races
There's a free-for-all of sorts among Republicans hoping to keep incumbent state schools chief Diane Douglas from again being the party's nominee. It was Douglas who four years ago in the Republican primary denied a re-election bid by John Huppenthal. And she barely edged out Democrat Garcia, who is now running for governor, winning by 16,000 votes out of more than 1.46 million ballots cast.
This year she faces four members of her own party; two Democrats have filed for a shot at defeating whoever survives the GOP primary.
There are two open seats on the Arizona Corporation Commission. Incumbent Republicans Tom Forese and Justin Olson each want one of them, as do Rodney Glassman, Eric Sloan and James O'Connor
Two former commissioners, Sandra Kennedy and Bill Mundell, hope to run on the Democrat ticket along with Kiana M. Sears who had been a utility consultant for the commission.
And Secretary of State Michele Reagan will have to fight off businessman Steve Gaynor for the GOP nod; Senate Minority Leader Katie Hobbs is the lone Democrat in that election.
There are a few interesting legislative contests.
Ousted state Rep. Don Shooter, a Republican from Yuma, is hoping to get elected to the Senate;
Former House Speaker David Gowan, a Republican from Sierra Vista, who left the Legislature to make an unsuccessful bid for Congress two years ago, now wants to become a state senator;
Tim Jeffries, fired as head of the Department of Economic Security by Ducey, also hopes to gain a Senate seat;
State Rep. Brenda Barton, R-Payson, is trying to deny incumbent Sen. Sylvia Allen, R-Snowflake, another term in the Senate.
Get local news delivered to your inbox!
Subscribe to our Daily Headlines newsletter.