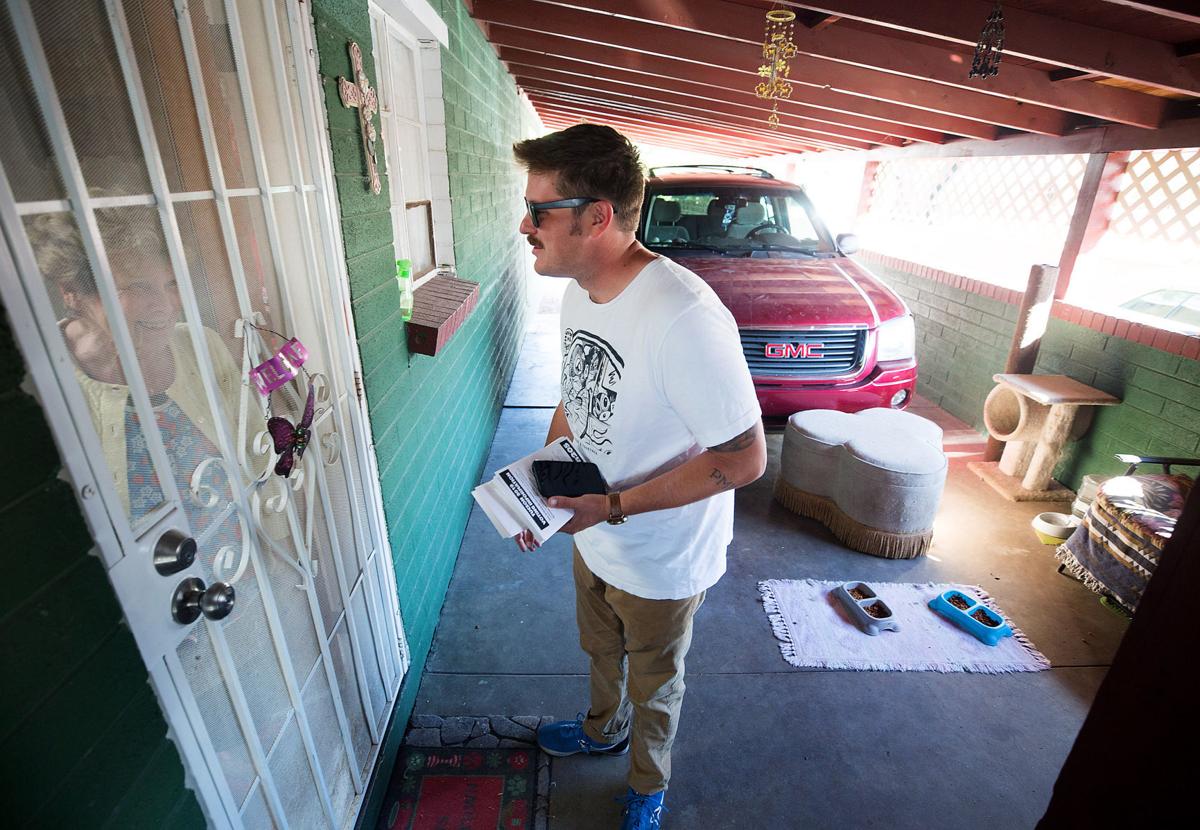 Tucson voters overwhelmingly opted against the "sanctuary city" initiative, which would have limited the circumstances in which police officers could ask about immigration status.
Partial results for Proposition 205, also known as The Tucson Families Free and Together Initiative, showed 58,820 voters, or 71.4%, voted "no" on the proposal compared to just 23,562, or 29%, who voted "yes."
City officials estimated that more than 87,000 votes were counted in the overall election, and another couple thousand had not been counted, as of 8 p.m. Tuesday.
In a statement, People's Defense Initiative, the group behind the proposal, said despite the results, "thousands of Tucsonans made clear their desire for new policies that protect the most vulnerable in our community."
"We are incredibly proud of the hard work and inspiring commitment of our team and the hundreds of Tucsonans who made this campaign their very own," the statement said. "Through this effort, we were able to uplift an important city-wide conversation that changed Tucson for the better."
The vote ends months of contentious debate over whether Tucson, which is located just 65 miles north of the U.S.-Mexico border, would buck a state law that prevents sanctuary cities and become Arizona's only city to formally limit cooperation with federal immigration authorities.
Several states, counties and cities around the country have declared themselves "sanctuary cities," including Los Angeles, New Orleans and Seattle.
The Tucson initiative took aim at SB 1070, Arizona's controversial 2010 immigration law that not only prohibited sanctuary cities — but also requires police to verify the immigration status of anyone suspected of not being in the country legally.
Propostion 205 aimed to protect city residents, including those without proper immigration documents, from being detained or deported when having any contact with Tucson police, even as a crime witness or passenger in a traffic stop.
The Tucson City Council has expressed support for undocumented immigrants in the past, designating Tucson as an "immigrant welcoming city," and the Tucson Police Department already limits when and where officers can ask about immigration status.
Prop. 205 received heavy pushback both locally and statewide. Arizona legislators threatened lawsuits and to withhold tax money to Tucson if the initiative passed. Several local politicians either declined to endorse the proposition, or came out against it, as did the seven-member Tucson City Council.
At least $335,000 had been spent to fight the measure, as of September, with much of that money coming from donations from Tucson business owners and residents.
Humberto Lopez, president of HSL Properties; Fletcher McCusker, co-founder of UAVenture Capital; Bruce Halle Jr., Discount Tire chairman; and the Jim Click Automotive Team each gave $25,000, campaign finance reports show.
Supporters of the proposal filed a lawsuit against city officials that argued the officials were illegally using taxpayer resources in an attempt to influence voters to reject the ballot measure. Memos distributed by various city officials — one with the subject line "Prop. 205 Q&A" — were used by elected officials and outside groups in the campaign against Prop. 205.
The lawsuit named as defendants City Attorney Mike Rankin, City Manager Mike Ortega, police Chief Chris Magnus and City Councilman Steve Kozachik. It was dismissed by a Pima County Superior Court judge last week.
In their statement, People's Defense Initiative leaders said they remain "steadfast in our commitment to community defense, representation, and direct democracy."
"We will continue to mobilize our community in an effort to collectively build a Tucson where all families can thrive," the group said.