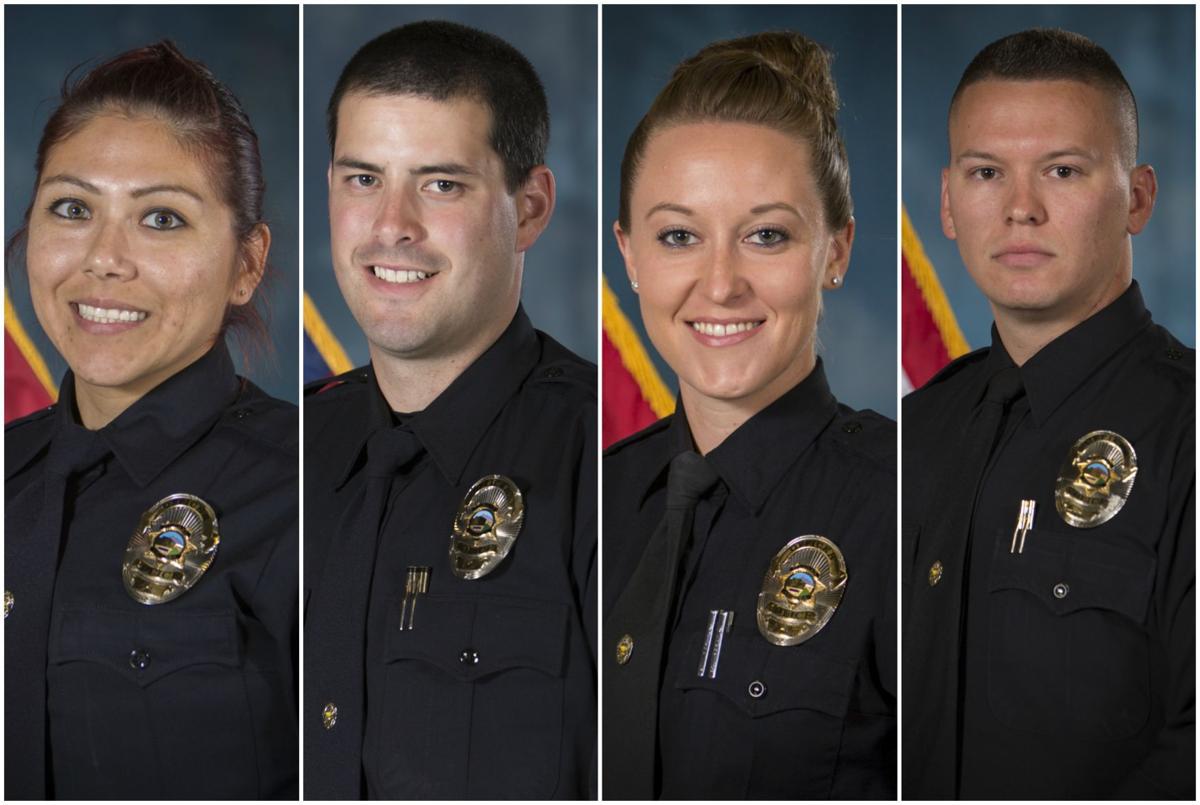 Four former Marana police officers have left the force after two separate internal investigations revealed that they were engaging in sexual conduct while on-duty, documents show.
Investigators detail the firing of former officer Dionysius Cazares, and resignations of Daniel Nicholas, Kyla Sylvia and Keith Storms in hundreds of pages of records Marana police made public Friday.
Cazares was fired in October and is facing felony charges in Pima County Superior Court after a grand jury indicted her on Oct. 10 on two counts of computer tampering to obtain confidential information, court records show.
On Sept. 17, the department's internal affairs office received a phone call from an officer with information about possible misconduct by Cazares, according to the new Marana police documents.
Cazares had told the officer that Nicholas — with whom she had a prior sexual relationship — had lied to her and had spent time at Sylvia's residence earlier that morning while he was on duty. Cazares told the officer that she learned this by using GPS material from the department's database and license plate numbers that she ran after visiting the spot where Nicholas' car had been parked in an attempt to find out where he'd been, the documents show.
The department initiated criminal and administrative investigations into the incident. During an interview with detectives as part of the criminal investigation, Cazares waived her Miranda rights and told detectives that while working her shift, she noticed Nicholas' vehicle was in a Gladden Farms neighborhood — outside of his assigned district — for an extended period of time, the documents show.
Cazares told detectives that she had had previously been romantically involved with Nicholas and suspected he might also be in a relationship with Sylvia, according to the documents.
Cazares admitted that after her shift ended, she went to the location where Nicholas' car was located and ran the plates of at least one vehicle to find out who he'd been with, the documents show. Once one of the plates came back to Sylvia's husband, Cazares told investigators she stopped what she was doing.
Investigators spoke to Sylvia who said that she had previously been in a romantic relationship with Nicholas, but stopped seeing him because she didn't want to get in the middle of "any drama at his home," the documents show.
She denied anything "romantic" happened the night he came to her house, according to the documents.
When investigators spoke to Nicholas, he denied ever having a sexual or romantic relationship with Sylvia, saying they were just friends. When questioned about the night at her house, Nicholas said "there was no sexual/physical activity that occurred, other than them kissing when he was leaving their residence," the documents show.
He admitted to having a sexual relationship with Cazares, but said it ended a few months prior, after she became suspicious of his relationship with Sylvia, according to the documents.
During the administrative investigation of Cazares, investigators learned that she told another Marana police officer that during a previous occasion, Nicholas was at her house for several hours while he was supposed to be on patrol, according to the documents.
When questioned about the incident, Cazares admitted that Nicholas was at her house while he was on-duty and in uniform, during which the two watched a movie and an hour-long TV show. Cazares, who was off-duty at the time, said that Nicholas brought his mobile data computer into her house and would leave to take phone calls, returning when he was done, the documents show.
In addition to breaking the law, investigators determined that Cazares violated seven Marana police and Town of Marana policies, including failure to report Nicholas' conduct the night he was at her house.
"The conduct in this case occurred during an emotionally fraught time, stemming largely from Officer Cazares' separation from her husband," Cazares' attorney, Louis Fidel, wrote in a letter to the Pima County Attorney's Office.
Cazares became friends with Nicholas shortly after she was hired in 2015, later becoming romantically involved with him. Cazares broke things off shortly before the Sept. 17 incident, after learning that Nicholas was engaged to another woman, the letter says.
"They continued as friends, but Officer Cazares was then told that Officer Nicholas was also romantically involved with another female MPD officer, which was deeply hurtful," Fidel wrote in the letter. "She felt that her trust had been betrayed and also that Officer Nicholas had taken advantage of their friendship and her circumstances following her separation... to make romantic advances."
When Cazares told the officer who reported her to internal affairs what she'd done, she wasn't aware that she had violated department rules, the letter says.
"Officer Cazares was an inexperienced officer who did not understand the extent of the (Arizona Criminal Justice Information System) rules and made an emotional mistake that she immediately reported to another officer," the letter says. "She is not a bad cop who deserves to be saddled with felony criminal charges."
Cazares has a case management hearing scheduled for Dec. 13 with Pima County Superior Court Judge Richard Fields.
Nicholas resigned on Oct. 19 and Sylvia on Oct. 20, before the department had completed its investigation into their conduct.
In addition to the reported relationship with Nicholas, Sylvia was also linked to Storms after an anonymous report was made on Oct. 10 that a male and female officer had been spotted at the El Rio preserve area on July 28 in what the caller called a "romantic moment," according to the documents.
Based on shift assignments and the citizen's description of the officers, investigators were able to figure out it was Sylvia and Storms and began an administrative investigation.
Storms admitted to investigators that he was at the preserve area, also called "Marana Lake," with Sylvia for more than three hours while he was supposed to be on patrol, the document says.
Computer logs from the night show that Storms repeatedly checked himself in as "active" but Storms said that he was actually sitting at the lake talking with Sylvia, and only left after a supervisor came out to the area and told the pair to get back to patrol, according to the document.
"You stated that (the supervisor) told you that it did not 'look good' for the two of you to be out there alone and that it may appear that you were doing something 'sexual in nature,'" investigators wrote in Storms' notice of intended discipline.
While Storms denied that any inappropriate behavior happened that evening at the lake, he initially lied when asked if he'd heard a rumor about what happened that night, eventually admitting that he had heard the rumor and even confronted the employee who shared it with Sylvia.
Storms told investigators that he and Sylvia were coworkers and friends "while we're on duty" and said that they were not in a relationship. When questioned further, Storms admitted to having had an off-duty sexual encounter with Sylvia, saying it was a "one-time occurrence," the document says.
While Storms was adamant that nothing sexual had ever transpired between the two while on-duty, when pressed about a specific incident that happened in the area of North Tiffany Loop and West Twin Peaks Road, he admitted that "an encounter of sexual nature" had indeed happened one night, immediately after a squad debriefing, according to the document.
When investigators spoke to Sylvia, she denied being in the patrol vehicle with Storms the night of the complaint, but admitted to showing him nude photos of herself on another occasion while the pair were on-duty.
Marana police investigators determined that Sylvia and Storms violated multiple department or town policies, including untruthfulness.
Storms resigned Nov. 9, after the department had issued its notice of discipline.
"This is disappointing. I've kind of gone the gamut as far as emotions on this whole thing, from disappointment and anger and frustration, to now where I'm at a point that it's just sad to me," Marana Police Chief Terry Rozema told the Star Friday. "It's sad to me that four young people that had promising careers and had gone through so much to obtain their certification and be a part of this organization now no longer have that right and ability."
In addition to their jobs, the four former officers have also lost their reputations and relationships as a result of the situation, he said.
"I recognize that what has to happen in these situations is that they have to be dealt with fairly but swiftly, and the right thing has to be done in order for us to maintain our integrity and relationship of trust with the community that we do have," Rozema said. "I'm confident that we've done that. There's no doubt in my mind."