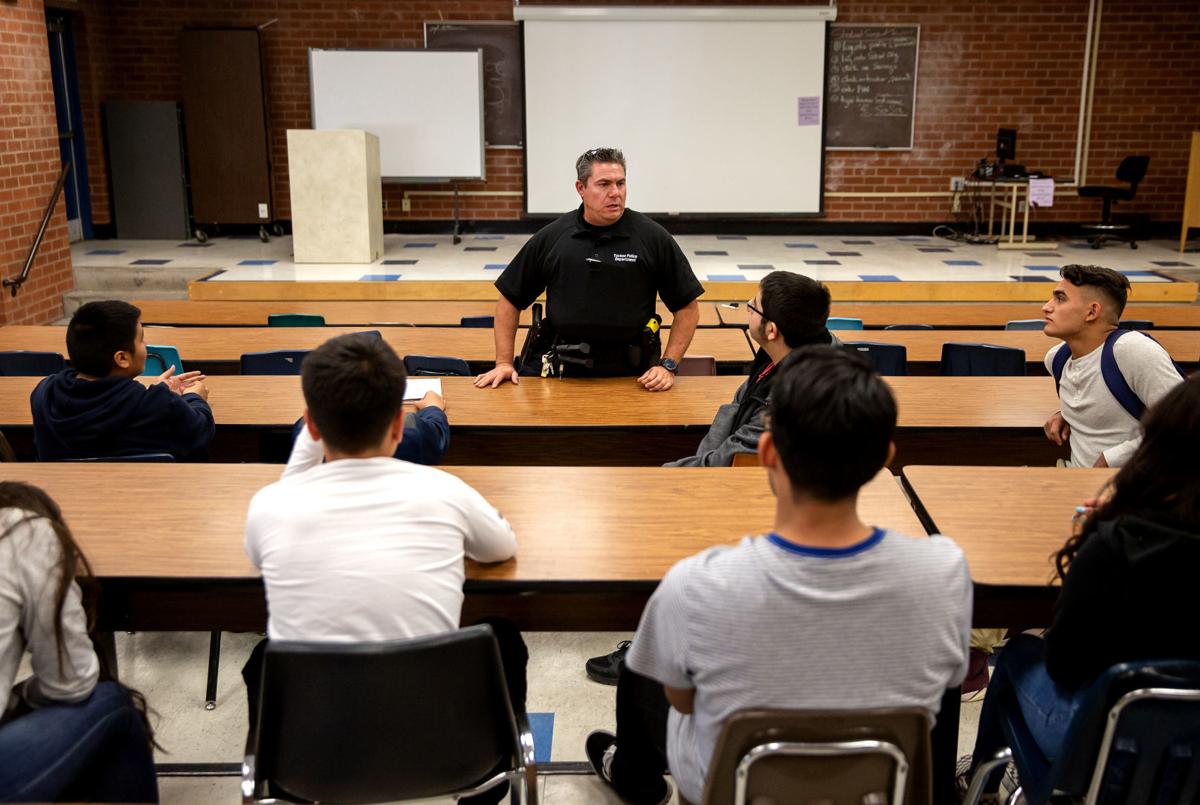 Tucson-area schools are getting about $2.25 million to hire counselors, school resource officers and social workers for the upcoming school year.
The funds were awarded to Pima County's nine major school districts as part of the state's School Safety Program, which allocated $32 million in grant funds that Arizona district and charter schools could apply for.
Schools applied earlier this year, rating their requests as first, second and third priority.
The state awarded TUSD, Tucson's largest school district, with funding for eight additional social workers, four additional counselors and to cover the cost of three existing school resource officers.
Although Tucson Unified requested 40 positions and got 15, having the additional social workers and counselors will create more accessible and student-friendly services, said Superintendent Gabriel Trujillo.
"We're extremely excited," he said. "I'm extremely grateful to the State Board of Education for voting to approve our request for additional resources."
The additional social workers are going to help TUSD deal with student substance abuse, especially tobacco and vaping, at the middle school level, Trujillo said. They will also provide clinical services for students who exhibit aggressive behavior or extreme discipline issues, which are growing in kindergarten through third grade.
Social workers will be added at Vail and Magee middle schools, Dietz and Safford K-8 schools, and Vesey, Marshall and Sewell elementary schools. For the first time, Teenage Parent High School will also have a social worker.
"We're talking more resources now, more social workers that are able to work with families to implement high-quality, functional behavior plans for some of our younger students to help them be more successful," Trujillo said.
The new TUSD counselors will go to Booth-Fickett K-8, Grijalva Elementary, and Mansfeld and Valencia middle schools. Counselors focus on socio-emotional learning in classrooms, with an emphasis on positive decision making, strategies for peer pressure resistance, conflict resolution, impulse control, time management, successful relationships and anti-bullying strategies.
TUSD currently has 11 school resource officers who assist with discipline matters on campus, connect with students, and sometimes teach law-related classroom lessons, according to the district.
Besides the three positions already funded by the grant, five are funded under a cost-share agreement between the district and the city and three are funded by the Pima County Sheriff's Department.
HIGH DEMAND, LIMITED RESOURCES
"I think it's as fair as it could be," Trujillo said about the state's allocations. "We're talking about a very small pot of money, and you're talking about hundreds ... of different charters, districts, individual schools vying for this money."
The Arizona Department of Education received requests from more than 900 schools, asking for 473 counselors, 396 social workers and 302 school resource officers, which would have totaled $97 million in annual costs. Pima County's major school districts asked for a collective 23 officers, 36 counselors and 29 social workers, which would cost more than $7.15 million based on state-average salary amounts provided by the state. ADE used an in-depth rubric to decide how to allot the limited funding, only considering schools' first-choice requests, which alone would have cost $73.8 million to fulfill. The Arizona Department of Education made recommendations to the Board of Education, which approved them on Friday, Dec. 13.
The first tier of the rubric looked at ratios of students to officers, counselors and social workers that the schools already had. Rural schools, which tend to be smaller, automatically passed to the second tier. Urban schools that had acceptable ratios were denied.
The second and third tiers considered a school's compliance with the current grant, a federally required firearm incident survey and other crime statistics, school achievement measures, the percentage of homeless students and those receiving free and reduced lunch, rates of chronic absenteeism, dropout and graduation rates, as well as additional resources.
Arizona schools chief Kathy Hoffman said providing more funding for school safety and students' social-emotional needs should be a top priority in the upcoming legislative session.
"It is an incredible step in the right direction to fund 383 new school safety positions across the state," she said in a prepared statement.
"From my conversations at schools and given the vast number of applications we were unable to fund, I know that as a state we still have more work to do. Every school in our state has safety needs, and every student deserves access to mental health supports."
"BETTER THAN WHERE WE STARTED"
Locally, both Sahuarita Unified and Sunnyside Unified school districts didn't receive any of the positions they requested.
Sunnyside didn't get past the first tier of the rubric because their ratios of requested positions to students were already too high to prioritize a need, according to numbers provided by the Department of Education. At the schools where Sunnyside requested one school resource officer each — Apollo, Billy Lane Lauffer, Challenger and Sierra middle schools — they have ratios of between 670 and 960 students to one resource officer. The rubric recommended 1,200 student to one resource officer.
Sunnyside requested counselors for Los Niños and Summit View elementary schools where the ratios are 450 and 425 students to one counselor. And they requested a social worker for S.T.A.R. Academic Center, where the ratio is 284 students for one social worker.
The ratio on the state's rubric for counselors was one to 500 students, substantially less than the state average of one counselor for every 905 students. Social workers had the same ratio.
Sunnyside spokeswoman Marisela Felix said the district didn't apply because of a lack of resources; it just wanted to take advantage of the opportunity to provide more of those positions.
"Our current budgeting system doesn't allow us to sustain the counseling needs that we believe is best for our schools," she said.
Currently, Sunnyside schools with fewer than 500 students share counselors. The district, of more than 16,000 students, has four social workers and four resource officers.
Amphitheater Unified School District, which is closest in size to Sunnyside with the same number of schools and about 2,500 fewer students, got three officers for Amphitheater High, Amphitheater Middle and Prince Elementary School. The officers are new positions. The district also got three social workers for Copper Creek Elementary School, La Cima Middle School and Marion Donaldson Elementary School.
Flowing Wells Unified School District got one counselor at Flowing Wells High and one social worker at Flowing Wells Junior High.
Marana Unified got a social worker each at Tortolita Middle School and Mountain View High School. A school resource officer at Marana Middle will continue to be funded by the grant, but the district didn't get an officer they requested for Marana High.
Vail Unified School District will get two counselors, one each for Pantano High School and Vail Innovation Center. Catalina Foothills Unified and Tanque Verde Unified school districts didn't request any grant funding. Calvin Baker, superintendent of the Vail Unified and member on the Board of Education, said during the Dec. 13 board meeting that there wasn't nearly enough money to go around.
"Not everybody's getting what they want," he said. "But it's a whole lot better than where we started when we first broached this topic."
Contact reporter Danyelle Khmara at dkhmara@tucson.com or 573-4223. On Twitter: @DanyelleKhmara