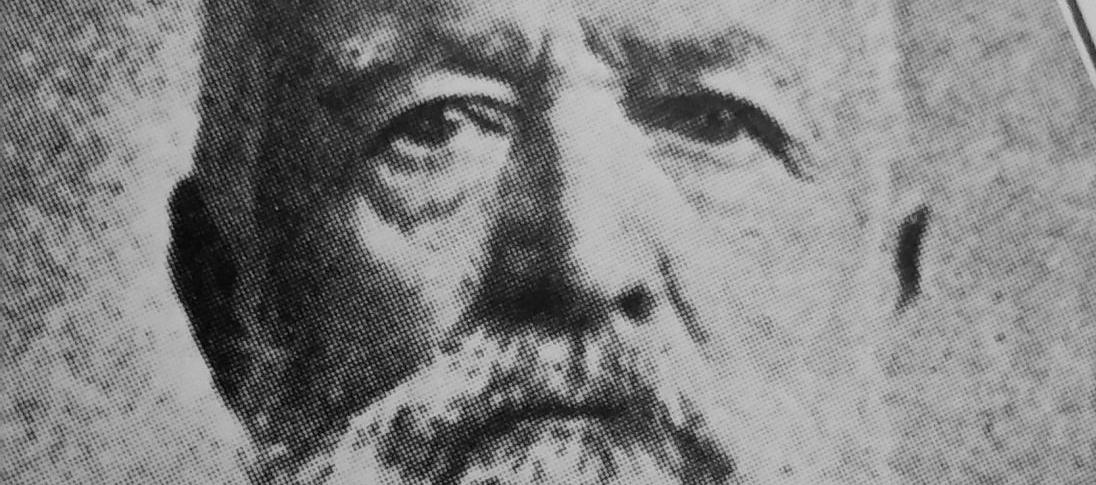 The Groom Mine is in the Constellation Mining District 16 miles northeast of Wickenburg.
It is 1,500 feet above Groom Creek on a steep ridge. For many years, prospectors were drawn to the site with hopes of exploiting a large body of low-grade gold-copper ore.
Similar sites in the vicinity include the Monte Cristo, Oro Grande and Mizpah mines.
The mine's namesake, Robert W. Groom, was a veteran prospector from the gold fields of California and a member of the Walker Expedition. He saw the potential for profit at the site, composed of complexly faulted and deeply oxidized granite.
Groom, an expert surveyor involved in the platting of the town sites of Prescott and Wickenburg, led a somewhat colorful life.
He participated in a duel with an Army officer in which the victor would be the one who extracted more of the insides of the carcass of a decaying bull with wooden paddles. Groom reportedly won when his opponent retreated on account of the stench.
Sporadic mining at the Groom Mine included mining small, narrow veins consisting of high-grade ore from two parallel veins 300 feet apart across 9,000 feet on the surface.
Exploration focused on the east vein and its branches. Outcrops from both veins consisted of chalcopyrite and limonite.
Large amounts of valuable ore proved elusive, with no conclusive evidence of extraordinary value from either the sulfide or oxide zones below the surface.
George Middleton operated the mine in the 1890s, reporting sulfide ore at a depth of less than 400 feet.
The mine was reopened in 1928 when ASARCO started exploration, using diamond drilling along with sinking a 500-foot-deep shaft with laterals . A 40-ton mill operated onsite. Tailings were treated by flotation.
Operations were curtailed due to a lack of funding.
However, reports mentioned that they encountered 15% copper ore (malachite and chrysocolla) at a depth of 60 feet along with the ability to pump 75 gallons per minute of water.
Later analysis of cerussite in the canyon disclosed up to 52% lead and one-tenth of an ounce of gold per ton. The shaft composition included 100 feet of oxidized lead.
Mine superintendent Roger L. Beals was instrumental in establishing the Milvore Copper Co. Small shipments of siliceous gold ore were processed onsite by a 30-ton plant .
Operations continued under the California-Engels Mining Co. in 1938. However, they were short-lived, as the company lacked the capital to continue mining at the site past 1940.
Total shipments of ore to smelter between 1926 and 1940 consisted of 444 tons of ore averaging 0.126 ounces of gold and 5.8 cents of copper per ton.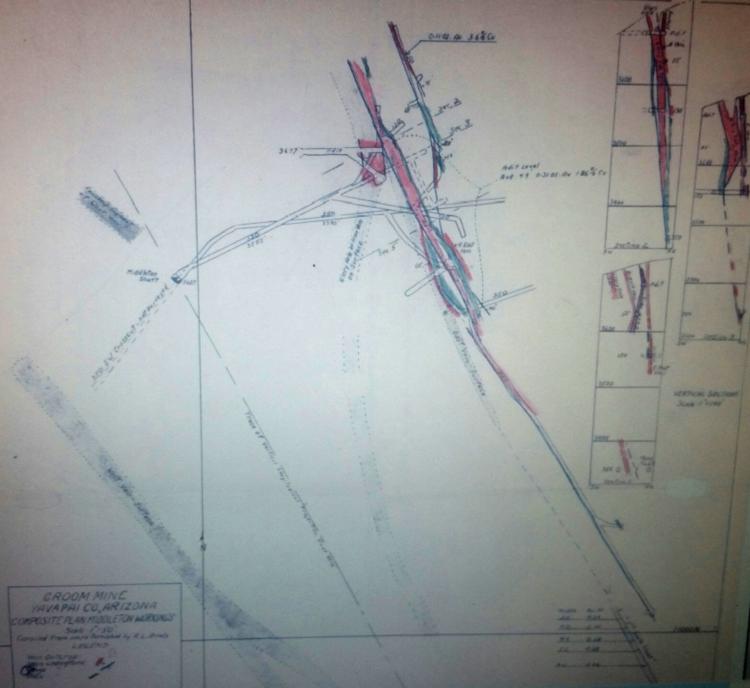 Clay-bearing schist hindered milling operations , and a similar development plagued the nearby Big Bug and Goodwin Mining districts. This high concentration of clay made contact of the gold with copper plates challenging during processing.
Additional challenges involving an estimated ore depth of over 500 to 700 feet made further explorations at the site cost-prohibitive.
While gold values were affirmed in many locations throughout the outcrop, the grade proved too low to warrant milling, and any attempts at further exploration ceased.
The Monte Cristo Mine, located near Groom Creek, produced high-grade gold and silver ore from 1870 to 1905. Notable pockets of ore included wire and leaf gold and silver specimens.
Shipments bearing several hundred dollars per ton were extracted from a multilevel shaft sunk to over 400 feet .
Most production came from the 200-foot level with no stoping reported at lower depths.
The mine operated sporadically after several attempts to remove water after extensive periods of idleness.
Lessees operated the mine during its final years , producing a few hundred tons valued at $40 per ton.
As with the neighboring Groom Mine, rising production costs negated further exploration and production.
William Ascarza is an archivist, historian and author of seven books available for purchase online and at select bookstores. These include his latest, "In Search of Fortunes: A Look at the History of Arizona Mining," available through M.T. Publishing Co. His other books are "Chiricahua Mountains: History and Nature," "Southeastern Arizona Mining Towns," "Zenith on the Horizon: An Encyclopedic Look at the Tucson Mountains from A to Z," "Tucson Mountains," "Arizona-Sonora Desert Museum" with Peggy Larson and "Sentinel to the North: Exploring the Tortolita Mountains." Email William Ascarza for a signed copy of his publications at AZMiningHistory@gmail.com