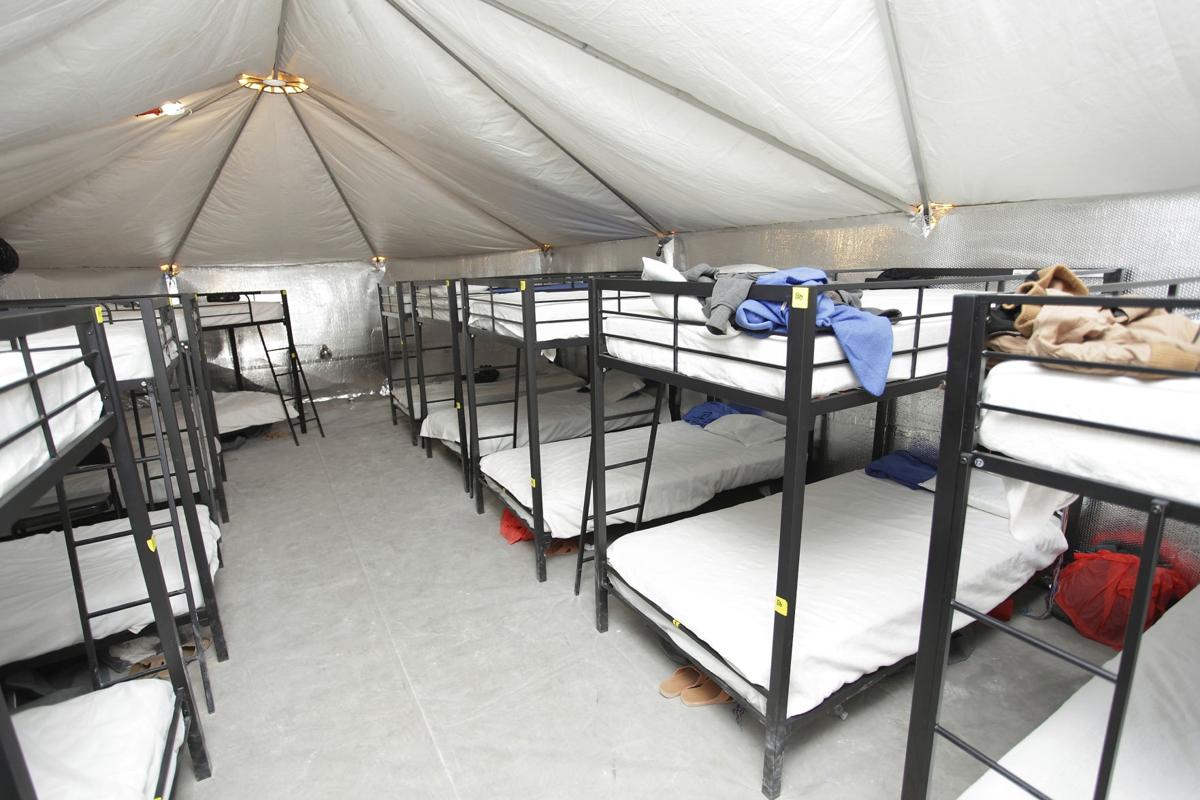 A tentlike facility to house migrants will go up east of the Tucson International Airport in the coming weeks, a Border Patrol official has told the Tucson City Council.
The facility will be on East Los Reales Road between the airport and Interstate 10, according to an email Interim Chief Patrol Agent John Modlin, the head of the Border Patrol's Tucson Sector, sent Friday to City Council members. The facility is scheduled to be completed at the end of April or the beginning of May.
The Biden administration is scrambling to find temporary housing for thousands of migrant families and children, some of whom ask for asylum in the United States as they flee violence, poverty, and corruption in their home countries.
The Border Patrol reported more than 170,000 encounters with migrants along the U.S.-Mexico border last month, part of a trend that began in April and accelerated in recent months. Many were quickly expelled to Mexico under a public health order, but some were released by the Border Patrol in U.S. border states.
In Arizona, Border Patrol agents reported nearly 20,000 encounters with migrants in the Tucson Sector and about 11,800 in the Yuma Sector last month. The Border Patrol started releasing families in Yuma in February and then in Ajo and Gila Bend. Most of those families came from Cuba, Venezuela and Brazil.
As the Border Patrol releases families, nonprofit groups and Pima County officials arrange transport for some of them to the Casa Alitas shelter in Tucson, which helped temporarily house thousands of asylum seekers in 2019. The Casa Alitas shelter generally houses families, but not unaccompanied children.
Last month, CBP officials told Sen. Kyrsten Sinema's office that a tentlike facility, referred to by CBP as a "soft-sided facility," was planned for Tucson and another for Yuma, but officials did not say where the facility would be built or how many migrants would be housed there.
The facility is designed to hold 500 people, but "with COVID considerations and with restrictions from litigation, our capacity will likely be approximately 150-200," Modlin wrote on Friday.
The "demographics of the in-custody population will of course also impact our capacity," Modlin said.
The facility likely will hold unaccompanied minors encountered by the Border Patrol, said Councilman Steve Kozachik.
The email did not provide details about conditions inside the facility. As a matter of policy, CBP officials do not comment on leaked documents.
During an increase in asylum seekers in 2019, CBP built a similar facility next to the Border Patrol station in Yuma. That facility cost $15 million and could house up to 500 people, CBP officials said at the time. When news reporters toured the facility in August 2019, the facility was equipped with showers, air conditioning, and rows of shelves containing food, clothing and other items.
Federal authorities also are planning to use hotels in the Phoenix area to house migrant families, The Associated Press reported late Friday.
Sinema was told that U.S. Immigration and Customs Enforcement will occupy "several hotels along the southwest border, including in Chandler and Phoenix," her office said in a statement to the AP.
The AP reported that ICE declined to identify specific hotels and locations, saying only that its $86.9 million contract announced last month with Endeavors Inc. will provide about 1,200 hotel beds in Texas and Arizona. Migrant families will generally stay less than 72 hours for processing.
The contract irked Kozachik, who has been heavily involved in local efforts to house migrant families and asylum seekers.
The hotel contract comes as local officials are trying to get federal officials to confirm they will reimburse costs for housing and transporting migrant families, Kozachik said.
"Why don't you just send us the $86 million and we'll manage it for you?" Kozachik said.
Migrant families generally stay in shelters in Tucson for a few days while they arrange transportation to other cities, where they live with sponsors as their immigration proceedings unfold.
More than 20,000 asylum seekers went through Tucson shelters in 2019. Local officials, nonprofits, and volunteers are coordinating a similar effort as migrant families arrive at the border.
"We've got the infrastructure here, we're doing it here, and you're going to bypass local shelters and pay $86 million to this group to effectively set up a detention facility in hotels," Kozachik said.
After a recent conversation with federal officials about the hotel contract, Kozachik said he was concerned that officials were "very proud of the fact that they will have armed security on each floor."
Kozachik also worried migrant children were being separated from uncles, aunts or siblings with whom they were traveling, thereby "creating" unaccompanied minors and the need to house them.