Pima Animal Care Center volunteers John Gilbert and Jace Powers were once known as "the two guys with the couch."
A year later, that still rings true — except they have six couches now.
Instead, when you walk into the non-profit Tucson Rescue Now, you'll see dogs lounging on couches enclosed by wire playpens. The couches help create a less nerve-wracking, stress-free environment for the pups, Gilbert and Powers said.
The couches also allow potential adopters to sit and become properly acquainted with the dogs.
"You have to get them bonding," Gilbert, who is a volunteer adoption counselor at PACC, said.
Tucson Rescue Now will work with various rescues and shelters across Tucson to get dogs adopted into their forever homes.
"Our buzz word is that we're adoption specialists," Powers said, adding that they'll get to know adopters, in an effort to find the perfect dog. "We don't want the dog to come back."
"When people go to events and stuff, they look at the dog and say, 'That's a pretty dog,'" Gilbert said. "But we're going to find out their specific needs."
And they'll have someone present, such as the dog's foster, who can tell you everything you need to know about the dog. The center will also have books lined up about caring for dogs to help further educate adopters.
"It's our gold standard — to give good service and good information," Gilbert said.
Tucson Rescue Now will feature a variety of pups, mainly focusing on senior dogs, as well as dogs who have had a difficult time getting adopted. There will also be private rooms for adopters who want to get to know the dog in a quieter setting.
And if you aren't connecting with any of the dogs at the center that day, Tucson Rescue Now will have a full database of local rescues and shelters to help you find the perfect dog. They'll even make an appointment with the rescue to bring the dog to the center, so you won't have to drive around the city.
"We'll never run out of inventory, unfortunately," Powers said.
Although Tucson Rescue Now's brick-and-mortar isn't opening until October, the initiative started a year ago when Gilbert and Powers decided to throw an adoption event in a vacant store at Foothills Mall.
The store was so large that the duo was searching for a way to fill the space.
"The dogs immediately got on the couches with the volunteers and then the adopters would get on the couches with the dogs," Gilbert said. "It just clicked."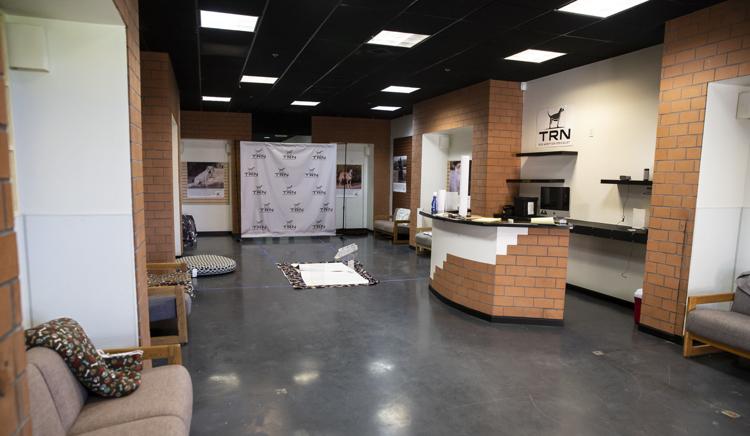 The volunteers and the dogs were both more comfortable, Gilbert said. All 12 dogs were adopted that day.
From there, the duo visited several other adoption events — always lugging around a couch.
"It's just a concept that really works for what we wanted to do: get the dogs adopted," Gilbert said.
Gilbert and Powers also hope to work with owners who need to rehome their dogs — so the dogs won't have to take up another spot at an already-bustling shelter or rescue. And eventually, they want to be able to offer their help to those who adopt dogs with medical issues, especially valley fever.
From 4 to 8 p.m. Friday, Sept. 20, Tucson Rescue Now will open their doors for a fundraising event, featuring raffles, drinks and food samplings from restaurants at La Encantada.
Gilbert and Powers will be on deck to answer questions and show the public what they plan to do with the space. Tickets cost $25, which will go toward facility costs, such as purchasing playpens.