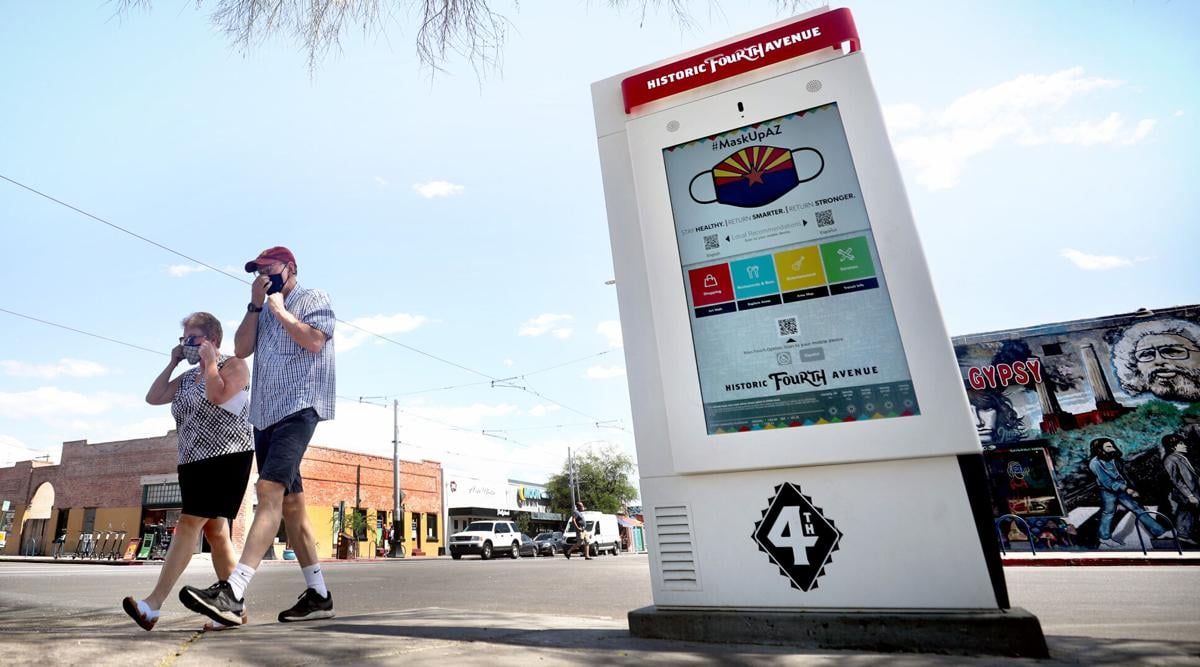 Pima County has removed its mask mandate for fully vaccinated people following updated guidance from the Centers for Disease Control and Prevention.
The Board of Supervisors cancelled the county's current mask mandate at an emergency meeting Friday, declaring fully vaccinated individuals are no longer required to wear a mask in most public places.
The CDC announced Thursday that fully vaccinated people can stop wearing masks outdoors and in most indoor settings. Individuals are considered fully vaccinated two weeks after their second dose of Pfizer or Moderna or the single-dose Johnson & Johnson vaccine.
The board rescinded its December mask mandate and approved a new resolution in a 4-1 vote. Those who have not been fully vaccinated are advised to wear a mask, but the requirement has been dropped for those who are fully vaccinated.
Supervisor Steve Christy voted against the motion, advocating for a full revocation of all COVID-19 proclamations.
Although masking is no longer mandated, the county health department still recommends it. With no more mandate, the county's enforcement of mask-wearing will cease.
"The people who are responsible for enforcing the mask law are our business owners and operators of public accommodations, and they can't possibly know who is vaccinated and who is not," Supervisor Rex Scott said. "So it's appropriate for us to repeal, not amend, the previous mask law and recommend masks except where they are required under federal or state law."
Regardless of vaccination status, the CDC recommends continuing mask-wearing in places such as schools, health-care facilities, correctional facilities, congregate living settings and public transportation. Masking is still required on Tucson-run transportation including Sun Tran, Sun Link and Sun Van. Public and private entities may set stricter masking requirements. The state of Arizona dropped its mandatory requirements in late March.
"We're relying on the people to be honest and do what's in the best interest of both themselves and of their neighbors in their community," Supervisor Matt Heinz said. "The difference now is that if somebody, for example, pretends to be vaccinated and is not and tries to enter a grocery store without a mask, that person is endangering themselves. But they aren't endangering vaccinated people."
The county's new public heath advisory says people attending large indoor events with more than 1,000 attendees should wear masks.
Tucson Mayor Regina Romero announced Thursday that Tucson will adjust its mask mandate to align with the county's. She requested the city's mask ordinance stay in line with CDC guidance at the last City Council meeting on May 4.
Schools, churches
The University of Arizona is asking those attending its commencement ceremonies to continue masking when entering, exiting and moving around inside venues. Updated guidance from the university will be provided Monday.
Most Tucson-area school districts — Catalina Foothills, Flowing Wells, Marana, Sunnyside, TUSD and Vail — will keep their existing mask requirements in place for the remainder of the school year. Others did not respond to a request for comment Friday.
"We don't know who has been vaccinated among our employees and older high school students (16+ years of age). As a result, we are not revising our mitigation plan for this school year," Catalina Foothills School District spokeswoman Julie Farbarik said.
Whether masks will be in use for the upcoming school year in the fall is under consideration. Vail Superintendent John Carruth said he intends to recommend to the district governing board that face coverings be optional for all starting in July, barring any additional changes in CDC, state or local recommendations.
The Roman Catholic Diocese of Tucson said it would continue requiring its church attendees to wear masks and social distance at one weekend Mass at each parish, but will provide other services without masking or distancing requirements. The change will begin the weekend of May 22.
The county health department previously said the mask mandate would be lifted when the vaccination rate of those eligible for vaccines is 75% or higher and the case count falls below 10 per 100,000 for two consecutive weeks.
About 40% of the total county population is fully vaccinated, according to CDC data. Mark Evans, communications director for the county, says the county will be using metrics from the CDC instead of the state health department going forward.
About 46% of the eligible population in the county have been fully vaccinated. The denominator of eligible vaccine recipients increased when the CDC approved the Pfizer vaccine for youths from 12 to 17 years old Wednesday.
There were 39 cases per 100,000 Pima County residents from May 4-11, according to CDC data.
---
Nicole Ludden
Arizona Daily Star