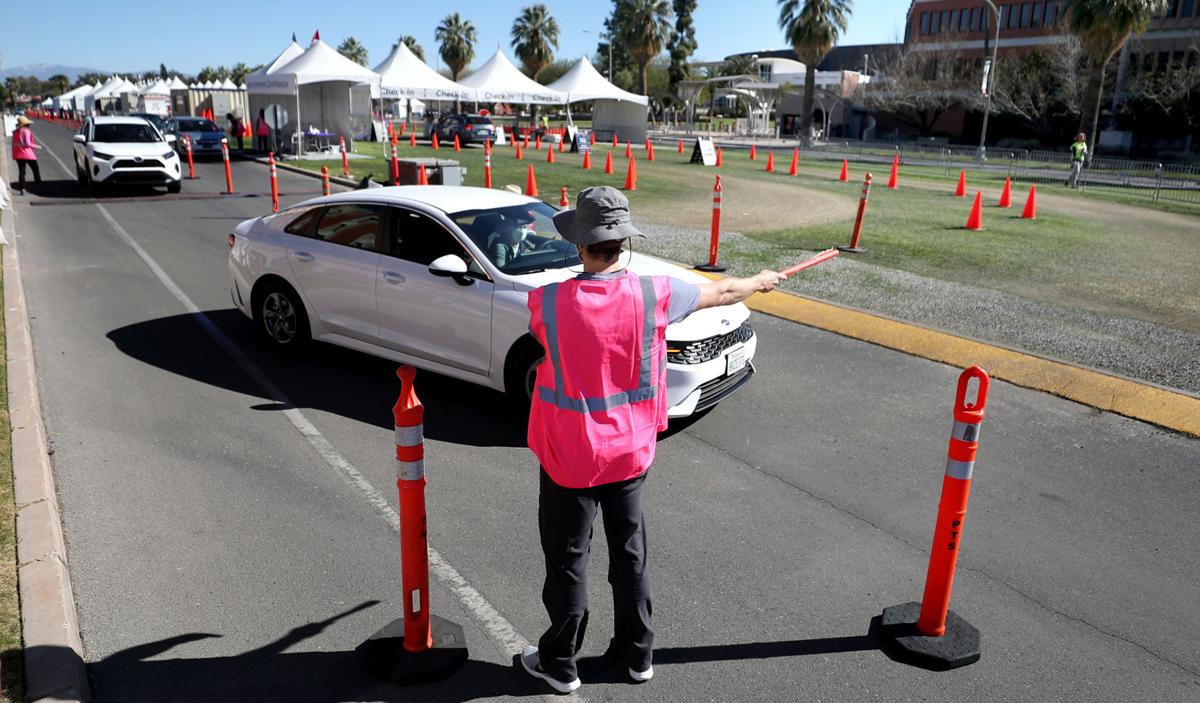 Editor's note: This story was last updated on Thursday, March 11.
Pima County is expanding COVID-19 vaccine eligibility to people ages 55 and older, as well as to front-line essential workers who are in regular, close contact with co-workers, the public or both.
Registration for these new categories will begin at 9 a.m. on Friday, March 12.
Currently, most new appointments set for the county-supported vaccination sites will be scheduled for April.
About 20% of the roughly 136,000 county residents ages 55 to 64 are believed to already have been vaccinated because they fell under other, earlier categories, county health data show.
About 40,00 to 60,000 people are believed to fall into the front-line essential worker category.
Newly eligible job categories
People are considered high-risk, front-line essential workers if they work in person, on-site and in close proximity with the public. This includes jobs that involve being within 6 feet of other people, such as the public or co-workers, and fall within one of the following industries:
food and agriculture;
manufacturing;
grocery or convenience stores and carnicerias;
restaurants and bars;
U.S. Postal Service;
public transit such as buses, light rail, Uber, Lyft and taxi services;
state and local government workers.
Biggest group so far
Asked how people prove they fall under this essential worker category, Dr. Theresa Cullen, the county's health director, said officials have to rely on people being honest.
"Up to now, (with everything) other than age, we have relied on the honor system," she said, adding that a small percentage of people are believed to have "slipped through."
"As we go into front-line essential workers, we are relying on an individual to report appropriately whether they fall into that category," she said, adding that she believes the majority of people have been truthful.
"This is our biggest group of newly eligible people so far and we understand that people will be very eager to register for an appointment as this phase opens up," said Cullen. "The challenge will be trying to get vaccine to the most vulnerable people in this group as so many register for their spot in line."
As the new phase opens to first doses, the county is also working to get vaccines to more than 100,000 people currently scheduled for second-dose appointments over the next four weeks.
As more vaccine becomes available, eligibility will expand to others who fall into the essential worker category. The county will announce these expansions as appointments and vaccine supply allow.
Pima County is also working directly with utility companies to provide vaccine to staff identified as "critical" for utilities such as water, gas and electric.
"We are excited to be pushing forward at such a rapid pace," said Cullen. "We will need the community to be patient as this very large group of newly eligible individuals register, but this is a great sign that we are doing the right things."
As of March 10, more than 323,800 doses of COVID-19 vaccine have been administered in Pima County, and 130,000 people have been fully vaccinated. The county has surpassed its goal of administering 300,000 doses by the end of March.
County sees first U.K. variant cases
These expanded categories come at a time when Pima County has confirmed its first cases of a more contagious variant of the virus, which is believed to have originated, or at least first have been seen, in the United Kingdom.
Based on random samplings, there are now four confirmed cases of the so-called U.K. variant here, and those cases are from people who were tested here three weeks ago. The delay is because it takes several weeks from the time the positive COVID-19 test result comes in and then is sent to an out-of-county lab for further testing.
"It means that we have to be really attentive in protecting ourselves as it spreads much more quickly and easily," said Cullen. "It's aggressive in how quickly it can spread and people need to protect themselves."
The variant first identified in the U.K. is associated with a 64% higher risk of mortality from COVID-19 than earlier strains, according to studies released Wednesday.
How to register for appointments
For all of the registration options in Pima County or to get more information about who is currently eligible for an appointment, see www.pima.gov/covid19vaccine.
County-run vaccination sites include Tucson Medical Center, Kino Stadium and mobile units.
To schedule an appointment at the state-supported vaccination site at the University of Arizona, visit the Arizona Department of Health Service portal, https://podvaccine.azdhs.gov/.
For questions about registration or help with the registration process, call the Pima County Health Department's registration support line at 520-222-0119. The support line is open from 8:30 a.m. to 8 p.m. Mondays through Fridays and from 9 a.m. to 4 p.m. Saturdays and Sundays.