Monsoon moisture has turned the desert green, including unwanted weeds, so the National Park Service is attacking the problem from the air.
Starting Wednesday, Aug. 4, a helicopter will be used to spray large patches of buffelgrass in Saguaro National Park's Rincon District at the eastern edge of Tucson.
The aerial boom spray treatments could last up to three days and include areas around the Tanque Verde Ridge, Manning Camp, Quilter and Arizona trails.
Portions of the trails will be closed during and after the spraying to allow the herbicide to dry. Closure notices will be posted at the trailheads and on the park's website at www.nps.gov/sagu.
Weather conditions, including wind direction and wind speed, will determine exactly when — or if — the spraying will take place.
The weeds must be sprayed when they are green for the herbicide to work, so time is of the essence — and not just in the desert at the edge of Tucson, said John Scheuring, conservation chair of Arizona Native Plant Society.
In an open letter to city leaders Tuesday, Scheuring is calling for immediate action to stop "a veritable new wave of buffelgrass infestation in Tucson" spurred by the recent, historic rainfall.
"Dormant plants have come alive with rapid growth, and plants are emerging in new patches that have not been infested before," Scheuring writes. "Now is the time to act. It must be smart, and it must be fast."
Buffelgrass and other non-native grasses are spreading out of control in Southern Arizona, after being introduced on purpose decades ago for erosion control, livestock forage and landscaping.
The weeds overwhelm native plants and cover the usually patchy desert floor with an unbroken carpet of wildfire fuel. Experts say the prolific invaders pose an existential threat to the entire desert ecosystem, right up there with climate change.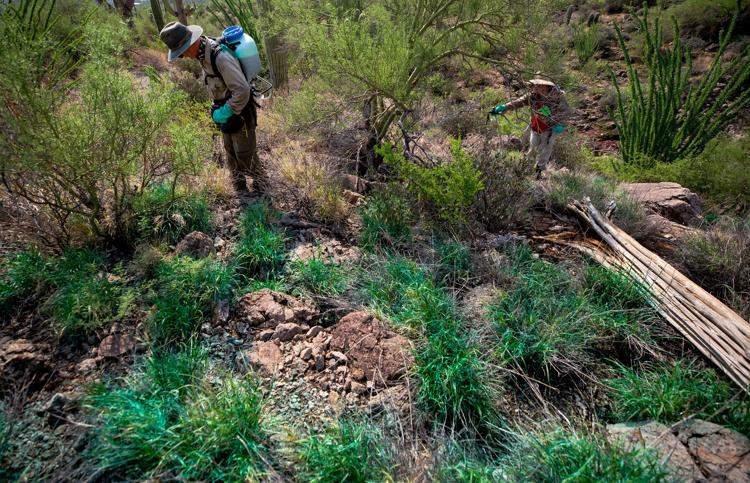 Scheuring's letter includes photos of buffelgrass and fountaingrass growing along street corners, sidewalks and in parking lots.
He said streets are major conduits for the weeds to spread, as vehicles pick up the seeds and deliver them to other parts of the city or into the surrounding desert. Infestations often start at intersections, because that's where cars slow to a stop or accelerate, causing the seeds to fall off.
Mowing buffelgrass and fountaingrass when it's green only stimulates more growth and makes the problem worse, he warns.
Scheuring recommends careful, spot treatments of individual weeds with the herbicide glyphosate, rather than the "costly spraying of 'everything that's green.'"
He said an initial "knock down herbicide application" followed by another round of spraying six weeks later should go a long way to reducing the weeds to a routine seasonal maintenance chore in the future.
Saguaro National Park approved the use of glyphosate to combat its weed problem in 2014. A helicopter is used to spray buffelgrass in places inaccessible or unsafe for ground crews.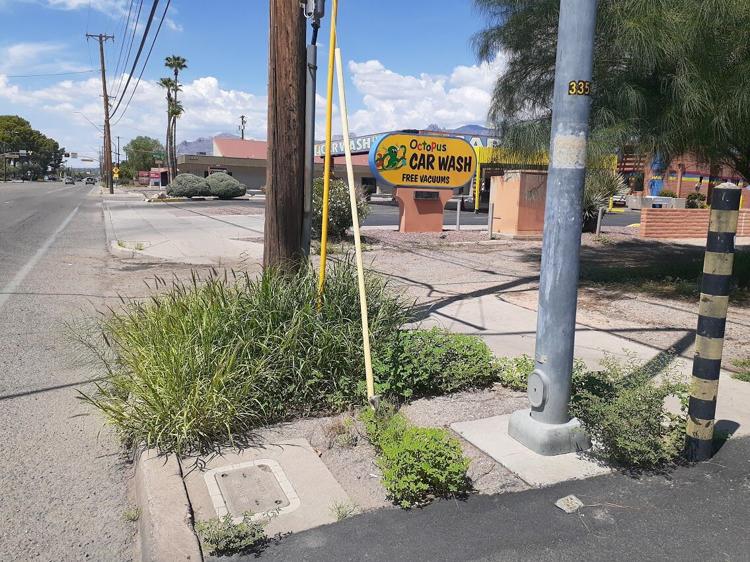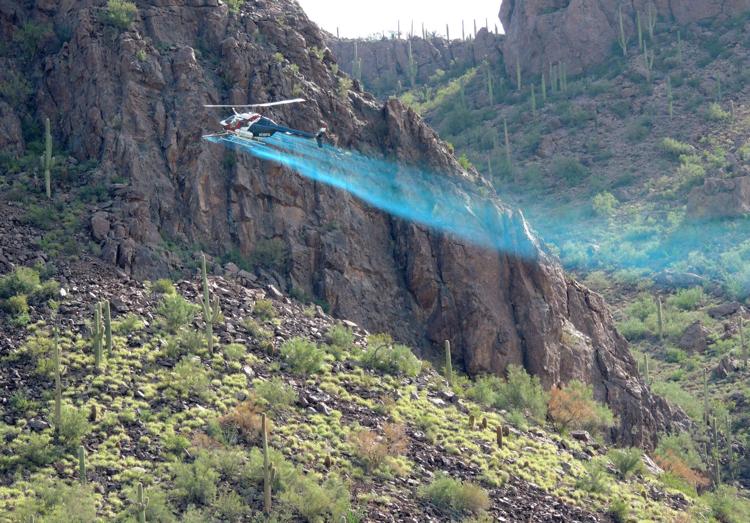 According to the park service, previous aerial campaigns have reduced the size and density of treated buffelgrass patches in the park by 75%.
No aerial spraying is currently scheduled in the park's western, Tucson Mountains District, though targeted treatments by crews on the ground with backpack sprayers could occur later this month in both districts.