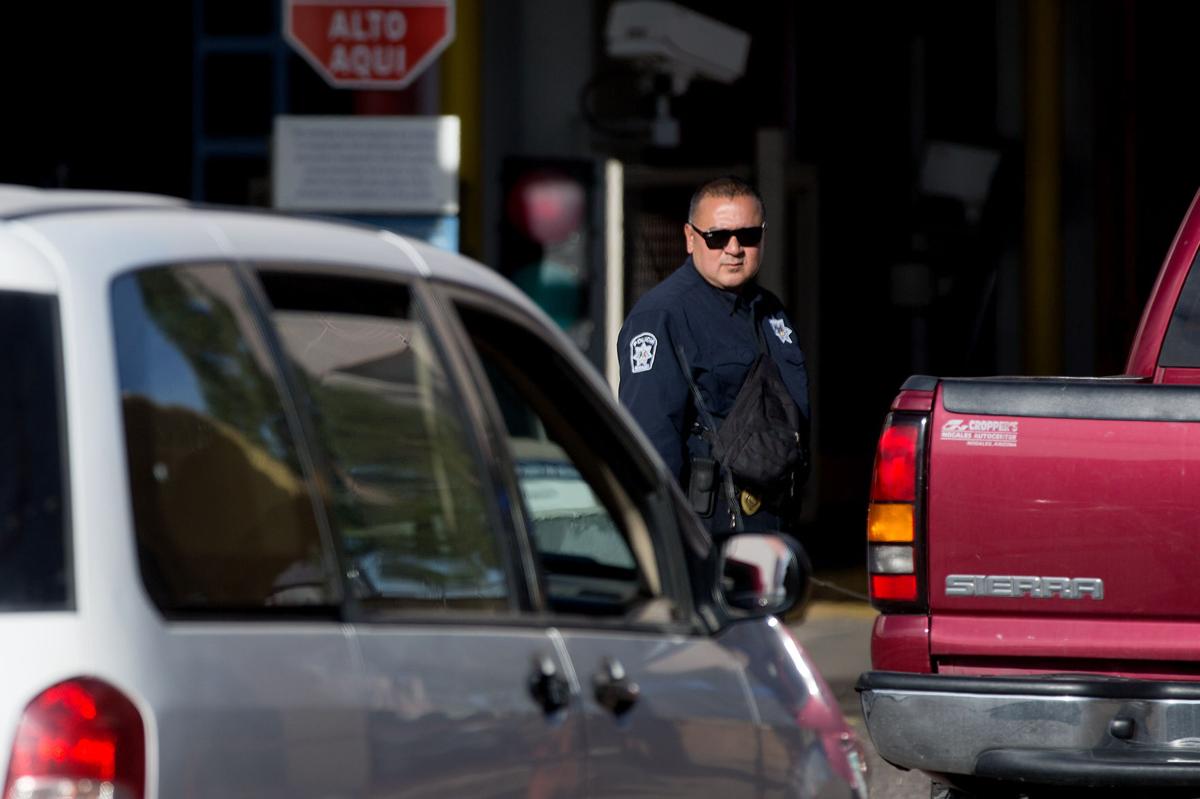 The controversial program for asylum seekers known as "Remain in Mexico" is now in place in Nogales, federal officials said.
The first asylum seekers in Nogales to be processed through the program, formally known as the Migrant Protection Protocols, were nine Venezuelans who arrived at the port of entry in the vehicle lanes on Wednesday, according to a news release Thursday evening from Customs and Border Protection.
The group included three families and two single adults. All nine were detained and processed under the Migrant Protection Protocols. They were returned to Mexico through El Paso, according to CBP. The Mexican border city across from El Paso is Ciudad Juarez. 
Since the program began in California and Texas early this year, more than 55,000 asylum seekers have been sent to Mexican border cities to await their hearings in U.S. immigration court. While waiting in those cities, numerous reports have emerged of asylum seekers being victims of kidnapping, rape, extortion and other crimes. 
Until recently, Arizona was the only border region without the program, although the Arizona Republic reported in October that some asylum seekers near Yuma were bused to California and then sent to Mexico.
Instead, a CBP practice known as "metering" at ports of entry in Arizona and elsewhere kept the number of asylum seekers who get a chance to speak with U.S. officials at the port to only a handful each day. Asylum seekers often wait for months to get their chance to enter the port. 
In late November, CBP implemented the Migrant Protection Protocols in Tucson and started busing asylum seekers who surrendered at the Arizona-Mexico border to El Paso. From there, they would be taken to Ciudad Juarez to await their hearings.
In recent weeks, some asylum seekers have tried to force the situation by driving up to the Nogales port or entering the vehicle lanes on foot. In response, CBP closed off three vehicle lanes with metal barriers last week.
In recent weeks, CBP saw an "increase in incursions through vehicle lanes" at Arizona ports, including Nogales and Naco, by asylum seekers trying to "evade established entry processes," CBP said in statements earlier this week.
"CBP officers are well-trained law enforcement professionals who stand ready to defend the border and uphold the laws of the United States of America," the CBP statement said. "CBP will not allow ports to be overrun, or unauthorized entry. Security measures will be increased as needed to ensure priorities are safely met."
At the request of CBP, city police officers in Nogales, Sonora and Mexico's newly-formed National Guard are keeping a close eye on vehicles as they approach the port.
The Kino Border Initiative, a Catholic organization that runs a dining hall in Nogales, Sonora for migrants, is "profoundly in opposition to the expansion of Remain in Mexico, as well as its practice anywhere," Katie Sharar, a spokeswoman for the group, said Friday. 
"It forces people into danger, without access to legal, humanitarian, and other essential services, and places them far from family and community support in Mexican cities that are already stretched thin in terms of resources and shelters," Sharar said. 
The fact that asylum seekers have used vehicle lanes to enter the United States is a "reflection of the desperate and untenable situation at the ports of entry," she said. Wait times at the port are growing, winter is approaching, and "uncertainty and fear" about Remain in Mexico is taking hold. 
More than 3,000 people are waiting to present for asylum in Nogales, Sonora, she said, and the average wait time is more than three months. 
For a group of Cuban asylum seekers in Nogales, Sonora, the Remain in Mexico program was their top concern on Monday. They peppered the Star with questions about the program and crowded around to learn more. 
Rep. Raúl M. Grijalva, whose district includes Nogales, said expansion of Remain in Mexico "will exacerbate the dire conditions of vulnerable asylum-seeking families fleeing violence in their home countries and place them in imminent danger in Mexico."
Grijalva called the expansion of the program "yet another example of how the Trump-Stephen Miller anti-immigrant agenda is putting migrant families at risk and denying them the safety they so desperately need."
"We have a legal obligation under both national and international law to allow asylum seekers to pursue their cases in the United States," Grijalva said. "The expansion of this policy exposes them to more violence and makes a mockery of the asylum process as we know it."
Rather than return asylum seekers to Nogales, Sonora, CBP is busing them 300 miles to El Paso.
Immigration court cases for the Migrant Protection Protocols are heard in San Diego and El Paso, according to Meredith Mingledorff, a spokeswoman for CBP in Arizona. The lack of sufficient capacity and infrastructure "hinder efforts to further implement MPP," she said.
"We are simply out of room to manage the influx of cases," she said. 
Plans are in the works to build "soft-sided structures" to serve as temporary hearing locations for MPP cases in the Texas border towns of Laredo and Brownsville, she said. New hearing locations will speed up the processing of asylum claims and cost less than building permanent immigration courts. 
Those structures will have courtrooms where immigration judges and Department of Homeland Security attorneys can appear via video-conferencing, she said.
The structures also will have rooms where migrants can meet with attorneys, U.S. officials can conduct credible fear screenings, and areas "which allow for the comfort and needs of the migrants during the time they are there to attend their hearings," she said. 
DHS is "evaluating options for additional locations along the Southwest Border where these temporary structures would provide immediate relief," Mingledorff said.