About twilight in the spring and summer, wildlife technicians roam the Southern Arizona mountains, seeking an elusive owl.
They visit known or predicted nesting and foraging areas for the Mexican spotted owl, a threatened species in the Southwest. Although it's found throughout Arizona, New Mexico, Colorado, Utah and parts of Mexico, the owl has been listed as "threatened" since 1993 because of habitat decline from logging and more recently, large fires.
The Endangered Species Act of 1973 requires protection for "endangered species" — in danger of extinction throughout most of its range — and "threatened species" — likely to become endangered in foreseeable future throughout all or most of its range.
The U.S. Fish and Wildlife Service, which oversees recovery of threatened and endangered species, considers more than eight million acres critical habitat for the Mexican spotted owl.
Owls are located by sound.
"At about sundown, the owl's day is starting," said Alex Grant, lead zone biologist for the Coronado. "We hike about half a mile, stop and start calling."
Grant can imitate the male owl's four-note call with his voice; the teams also have a mechanical caller and an iPhone app. They will wait 10 minutes. The owl, which is quite social and territorial, will respond if it hears a call.
If an owl calls, it's noted and the team hikes another 1.5 miles — a rule-of-thumb average researchers have noted between owl territories. If no call is heard, they move half a mile and call again.
"We generally will hike 6 miles in an evening," Grant said. They use headlamps but do not aim them at the solitary bird. For distant areas they sometimes backpack in. "We often hear the owls foraging at night after we are in our tents."
Following Fish and Wildlife Service recovery guidelines, the teams will revisit the area three more times — at least a week apart — to make sure owls are occupying the area or have vacated it. This method is used to sample known Protected Activity Centers (PACs) — 600-acre foraging areas around a 100-acre nesting/roosting area where owls have been found in past surveys.
There are 20 PACs on the Santa Catalina Ranger District (the Santa Catalinas and part of the Rincon mountains) and 160 PACs on the entire Coronado National Forest.
"We keep visits to a minimum because it stresses the owl. They think, 'someone is in my territory!" Grant said. "Owls are very noise sensitive" and may leave their nests if disturbed.
That's why "management activities" — hazard tree removal or trail work involving chainsaws, prescribed burning or road construction — are not done in the Catalinas in known owl habitat during breeding and fledging (when young owls grow feathers and learn to fly) season, March through August. Prohibitions are set by the Fish and Wildlife Service Mexican spotted owl recovery plan.
Cabin owners (through a 108-year-old national forest program called "recreation residences") on the mountain "are disappointed to find out they can't put a new deck in during the summer," because of spotted owl protections, said Neil Dutt, wildlife biologist for the Santa Catalina district. "However, we have found people are pretty receptive about protecting the owl. I am getting more questions about, 'what can we do to help the owl?' "
Driving, hiking, picnicking and other recreation is not restricted per se on roads and trails in the Catalinas during owl season. "But we don't encourage forging your own trail or loud groups hiking at night," Grant added. Dogs, which could harass birds, must be on leash in the forest.
And please don't go looking for nests, said Shaula Hedwall, the lead Mexican spotted owl biologist for Fish and Wildlife Service. "We get reports on people hiring guides to take them to see the birds, they end up harassing them and that causes stress."
The owls generally occupy the same area all year, some move to lower elevations in the winter.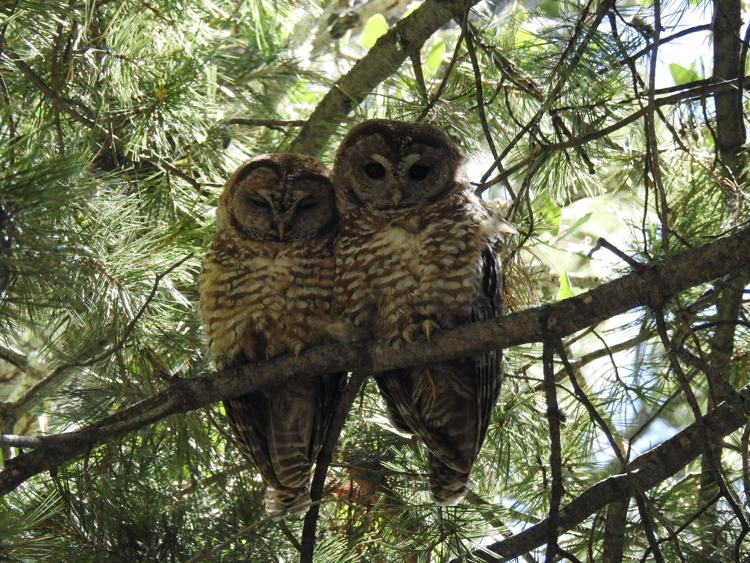 Get to know the Mexican spotted owl
Courtship/breeding occurs in March and a female is usually on a nest by April. The female will lay one to three eggs and stay on a nest all month; the male brings food. Eggs hatch in early May and young owls fledge (grow feathers for flying) in June and July. Parents feed them into the fall when the young owls leave and seek a new nest site. Not every owl pair breeds every year.
The owls pair for life, although if one member dies the other will seek a new mate. They generally use the same nests year after year. Owls don't build nests but use ones previously built by squirrels and other birds as well as "witches' brooms" — prolific side-growth of tree branches in cluster caused by mistletoe, mites or other fungal, viral or environmental damage. Owls nest in mixed-conifer and pine-oak forests, and rocky canyons.
The Mexican spotted owl is one of three spotted owl subspecies along with the northern spotted owl (famous for reduced timber-cutting reductions in the northwest to protect its old-growth habitat) and the California spotted owl. The Mexican spotted owl is one of largest owls in North America, between 16 to 19 inches tall with a wingspan of 42 to 45 inches. Females are larger and heavier than males.
Mexican spotted owls are brown with irregular brown and white spots on their abdomen, back and head; they blend well into the foliage. Owls' night-hunting equipment includes good hearing, dark-circled eyes for seeing in the dark and feathers that allow a silent approach. The owls hunt rodents, lizards and small birds. They perch on a branch and swoop down on prey with sharp talons that kill quickly.
Owls need habitat for their prey like logs and snags. They also need cover from their predators: great horned owls and red-tailed hawks. They favor riparian canyons with pine and layers of cover like oak or the increasingly rare old growth mixed-conifer at high elevations.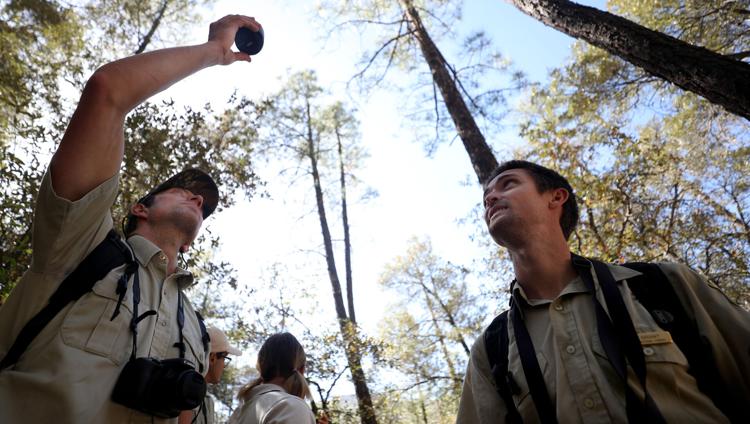 An indicator species
Large fires like Horsehoe 2 (2011) in the Chiricahuas, Frye Fire (2017) in the Pinaleños (Mount Graham) and the Bighorn Fire (2020) in the Catalinas destroyed much old-growth forest. Some owls have moved to lower elevations out of burned areas, Grant said. "Overall, they are resilient, holding on where they can."
The technicians also check out new potential habitat identified by remote sensing technologies and also by familiarity with owl nesting preferences.
"If we see a narrow canyon with steep walls, it's a good prospect," Grant said. "However, getting into the area may be difficult."
The forest has three new seasonal technicians and one from last season. They had many hours of training from Fish and Wildlife Service. Currently, they are honing field skills and Grant is assessing their outdoors capacity. For example, if some are skilled at rock climbing, they can access more areas.
Besides the forest-wide crew, two contractors are working in the Santa Catalinas. The Coronado district which administers Mount Graham (Pinaleños) has a wildlife biologist and two technicians. The area also hosts the Mount Graham red squirrel, a subspecies found only on Mount Graham and listed as endangered since 1987. With an endangered squirrel and a threatened owl, "they have their hands full and we also help them out," Grant said. This year, a contractor couple will also cover the remote Galiuro Mountains.
Although the owl has a large geographic range, it's habitat is narrow. It's usually the top predator, Grant said. "That's why the Mexican spotted owl is important. It's a critical component of this habitat."
When a predator is removed, its prey base often expands rapidly, either overrunning an area or starving.
"If the owl isn't there to manage that amount of prey, they can affect other resources," Grant said. The owl is also an indicator species for a healthy old growth system.
Although you shouldn't seek out owl nests, if you're hiking at twilight, Grant said, be quiet and listen, you may hear an owl calling. "We have seen owls along trail systems, out foraging."
How many owls are there in the Catalinas? The technicians aren't doing a precise count of the the owls. A complete owl census has never been done and would be too expensive and not that useful to managers. They need to know how and whether their actions impact owl habitat and population. The ultimate goal is recovering populations so they no longer need special protections.
"Individual owl surveys in the PACs inform management, so occupancy and breeding status are what is important at (that) scale," Fish and Wildlife Service biologist Hedwall said. Fish and Wildlife Service will scale data from the PACs up to larger areas. Occupancy and trend of owls and habitat through time is how the agency evaluates Mexican spotted owl population health.
"It will take several years to begin determining the trend of the owl and its habitat," Hedwall added.
Videos: Southern Arizona wildlife caught on camera
Golf course coyotes howl at sunset in northwest Tucson
Downtown Tucson got a rare visit from a wild coatimundi.
Just an ordinary bike ride ... following a bear
Bobcats play in Tucson backyard
Watch now: Bear sightings reported around Pima County
Watch now: Bobcats playing on an Oro Valley Golf Course
Watch now: Mountain Lion strolls outside home in Tucson Foothills
Watch Now: Trail cameras catch mountain lions at Tucson home.
Watch now: Family of bears takes a stroll in southeastern Arizona
Watch Now: Mountain lion roaming in the Coronado National Memorial
Watch now: Ding, dong! Bobcat filmed by front door camera in Tucson
Watch now: Bear captured in Sierra Vista neighborhood, released
Watch now: A cool cat takes a cool nap in the Foothills
Watch now: Young bear seen in NW Tucson captured and released
Watch now: Bear spotted rummaging through trash can in Oro Valley
Watch now: Bobcat's breakfast near Oro Valley
Watch now: Breakfast with the deer on Tumamoc
Watch now: Bobcat kitten plays with mother behind Tucson residence
Watch now: Rescued porcupine released back into wild
Watch now: Bobcat kittens play in a dry fountain
Watch now: Bobcat stops by Tucson waterhole for an overnight drink
Watch Now: Collared bobcat raises kittens in Tucson neighborhood
Watch now: Javelina family takes an evening stroll in midtown Tucson
Bobcat plays with its kitten in Tucson backyard
Watch now: Mountain lion seen up-close on camera outside Tucson home
Watch now: Bobcats in love in the Tucson area
Watch Now: Family of deer eating breakfast on Tumamoc Hill
Watch now: A hummingbird plays in the sprinkler
Watch now: Breakfast time for the Quail family in the Tucson area
Watch now: Frequent visitor to northwest Tucson home munches on meal worms
Watch now: Playful lizards visit a Tucson back yard
Watch now: Startled mountain lion at Loews Ventana Canyon
Watch now: A true lounge lizard in Tucson
Watch now: A spotted skunk threatens the worst at Saguaro National Park
Watch now: Bobcat makes himself at home
Watch now: Mountain lion outside a home in the Tucson Mountain foothills
Watch now: Family of bobcats spotted in Foothills back yard
Watch now: Backpacker's intense standoff with mountain lion near Tucson
Watch now: Javelina rescued from trash can in Foothills neighborhood
Watch now: Owl takes a bath in trough on Tucson's northwest side
Watch now: Coyote pups play in front yard near Tucson Estates
Bighorn sheep scatter in Catalina Mountains during aerial survey
Counting sheep: Arizona Game and Fish to survey bighorns near Tucson
Watch now: Bears splish-splash at springs in Rincon Mountains east of Tucson
Watch now: Bobcat vs. snake in Tucson yard
Watch now: Bighorn sheep enjoy post-monsoon greenery near Tucson
Watch now: Bear has a rub-a-dub in watering hole near Tucson
Releasing bobcats for research
Research project continues tracking Tucson's urban bobcats
Watch Now: Bobcat Sadie and a friend drink from a backyard fountain.
Watch now: Javelina mama and babies