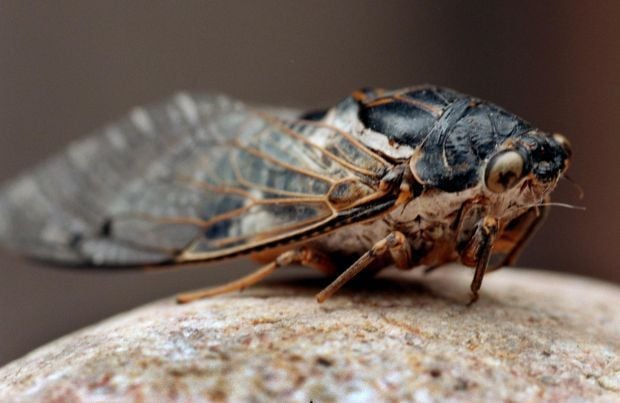 Cicadas are back in full swing in Southern Arizona, but according to University of Arizona entomologists, they've arrived later than usual and in lower numbers.
These big, buzzing bugs, which typically make their first appearance in late May or early June, have just begun piercing the summertime silence, at least within the city of Tucson, over the last several weeks.
Gene Hall, entomologist and manager of the UA's Insect Collection, said while he first heard them in Saguaro National Park at the end of May, cicadas didn't start showing up in abundance within the city until just recently.
"It seems like they are getting a later start than usual, and their numbers aren't as big as usual," he said. "A lot of this could have to do with the increased rains we had during the winter and the spring this year."
According to Hall, female cicadas lay eggs on tree twigs. When the eggs hatch, an immature stage — called a nymph — falls to the ground and burrows itself into the soil. The species of cicada active in Arizona typically stay underground from three to five years.
"There's a good chance that the cooler, wetter winter and spring that we had, had an impact on the immature stages developing underground," said Hall.
The nymphs could have been drowned by the increased rain or could have developed mold or mildew, causing them to die.
Although entomologists are noticing fewer cicadas this year, their presence is still a sign of the approaching monsoon. Cicadas are typically out just a couple of weeks before the monsoon each year and are a good indication of when the first rains might come. Because Arizona is experiencing a late monsoon this year, the cicadas have followed suit.
"It's difficult to predict what will happen with cicadas and other insect activity this summer; much of it will be determined by our monsoon," said Hall. "If we have a good rainy season, or conditions remain hot and dry, it will have an impact on insects and other arthropods in the Sonoran Desert."
The weather that Arizona experienced this year not only had an impact on cicadas, but on other insects as well, according to Hall.
"It's interesting because the amount of rain that we had, and the cooler temperatures we had for the winter and the spring, had a big impact on our plant population," he said. "Plants did very well because of that, and we've actually seen big numbers of certain species of insects that we don't always see big numbers of this time of year."
A couple of months ago, it seemed as though false chinch bugs were taking over the state. The insect is common in the Tucson area, but not typically noticeable without a particularly wet winter and a lot of plant growth in the spring.
"That's an example of something that benefited very well from those conditions in the winter and spring because there was this great abundance of these plants that they sat on and so their numbers just exploded and they were all over the place," said Hall.
While some insects are benefiting from the early rains, other insects are getting a late start.
The giant mesquite bug, which is a brightly colored insect that feeds on mesquite trees, reappeared only a couple of weeks ago. According to Hall, giant mesquite bugs are still in the immature stage, whereas this time last year the insect had already matured into the adult stage.
"This year, it's been kind of an exception to past years, and so that's why we're seeing things kind of off schedule or staggered in their emergence and their occurrences," said Hall. "It's just another example about how the environmental conditions really have an impact on what goes on with the organisms that live in an area."