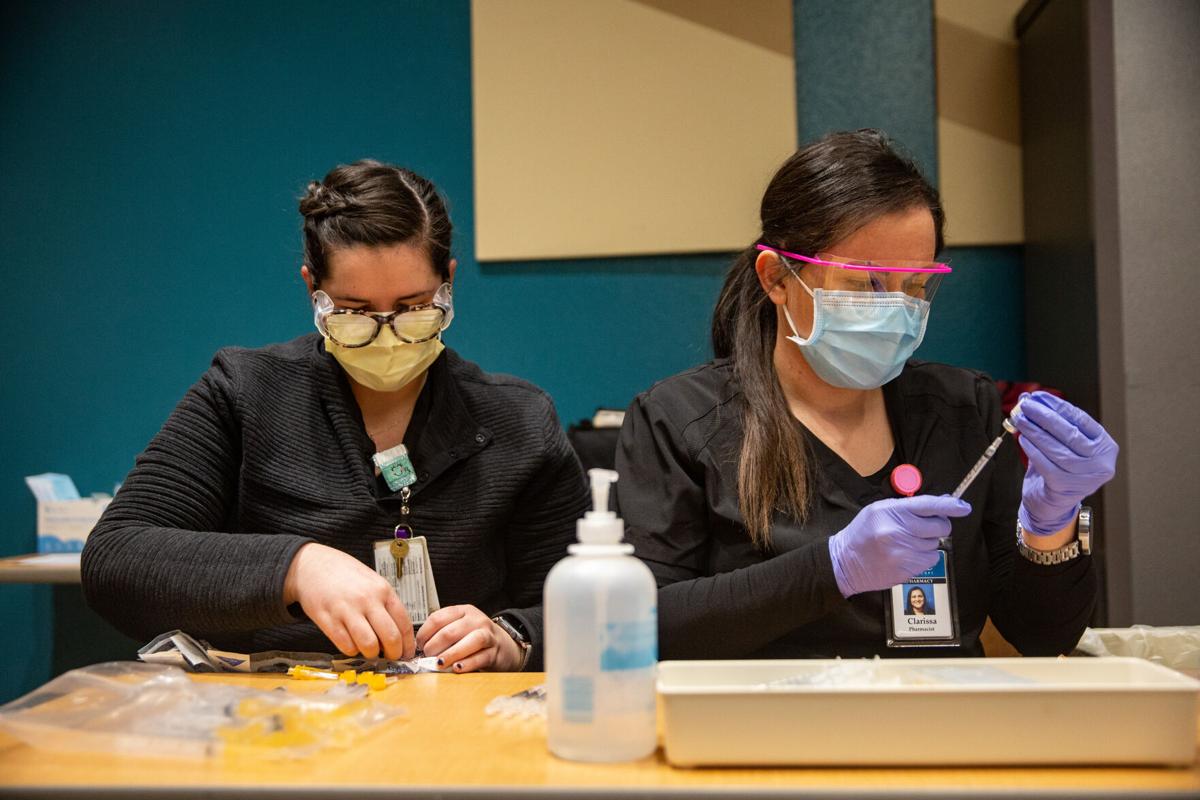 COVID-19 may be getting worse in Arizona and Pima County, but recent data hiccups have made it difficult for health experts to know for sure.
"I think there is reason to be concerned that we are in the midst of a change from generally improving conditions to generally worsening conditions, but this change isn't happening all that quickly so there will be time to figure it out for sure in the next week or two," said Dr. Joe Gerald, an associate professor with the University of Arizona's College of Public Health.
After weeks of plateauing, COVID-19 case counts in Pima County spiked 42% the week of Oct. 17-23 to nearly 2,400 cases.
"We're still trying to get to the bottom of it. So at this time I can't tell you what's causing that," said Dr. Francisco Garcia, the county's chief medical officer.
He hopes that the spike is the result of data-reporting abnormalities. State health officials did disclose such abnormalities earlier in the week on Monday, Oct. 25.
They said fewer cases than expected would likely be reported this past Monday and Tuesday and more cases would be likely get reported later in the week on Wednesday and Thursday.
Even though these cases were reported unevenly throughout the week, this may not explain the spike in weekly cases as seen on Arizona Department of Health Services' chart of COVID-19 cases by day because it shows the dates when the COVID-19 tests were taken, not when the the results were reported.
Statewide, cases have been in a downward trend since they peaked in mid August, but weekly cases spiked 14% the week of Oct. 17-23 to around 16,500 cases.
"We have seen similar upturns that have gone as quickly as they appeared," Gerald said. "So, over the long-arc of the past three months conditions have been generally improving in fits and starts. I think it is too early to conclude if this fit is different from or the same as past ones."
Countywide COVID-19 hospitalizations rose slightly during the week of Oct. 17-23, but weekly hospitalizations have hovered between 373 and 321 since early September.
Since Oct. 18, the number of available adult ICU beds has declined slightly, with about 3% available on Oct. 28. Also, nearly every day for about two weeks more COVID-19 patients have been admitted to county hospitals than discharged.
Statewide, 8% to 10% of ICU beds have been available on any given day since Oct. 18. Since then, 19% to 20% of these beds per day been have taken by COVID-19 patients.
"I don't think there's any risk of having a winter like we did last year where cases blew up, hospitals were overwhelmed and we were experiencing very high levels of mortality," Gerald said. "It's really I don't think a very plausible scenario."
"What's more likely, is the improvements that we're experiencing right now are just not sustainable or they improve, but they improve very slowly."
While past waves of COVID-19 cases in Arizona spiked really quickly, they also improved really quickly, Gerald said. This wave, on the other hand, is taking a long time to improve, or to get below 100 cases per 100,000 residents per week. Neither the state nor the county have been below this threshold since July.
Arizona has the fifth highest cumulative COVID-19 death count per capita of all states in the nation, recently overtaking the state of New York, according to data gathered by The Washington Post. However, the weekly number of deaths have been declining.
"Deaths here over the last four weeks have been slowly declining as well. They're still high, but they're trending in the right direction, just like cases have been and hospitalizations," Gerald said. "It does appear to be getting better, just very, very slowly."
In Pima County, 78% of people who are eligible for the vaccine — those who are 12 years and older — have had at least one dose of a COVID-19 vaccine, according to Garcia. About 69% of the eligible population have been fully vaccinated.
Statewide, nearly 70% of the eligible population has received at least one dose of a COVID-19 vaccine, according to data from the Arizona Department of Health Services. And about 62% of the eligible population has been fully vaccinated.
On Oct. 26, a U.S. Food and Drug Administration advisory committee voted to clear the way for a COVID-19 vaccine for children 5 to 11 years old. These children could be eligible by early November.
Despite more people getting vaccinated, it's not enough to reach herd immunity, Gerald said. He's given up hope of Arizona ever getting there.
"Not enough people are willing to vaccinate. We can't vaccinate quickly enough and so COVID-19 is going to become endemic. It's going to be with us in some version forever," he said.
"What I'm hopeful for is that while many people might get reinfected over time, that fewer and fewer of those infections are going to lead to hospitalizations and deaths."