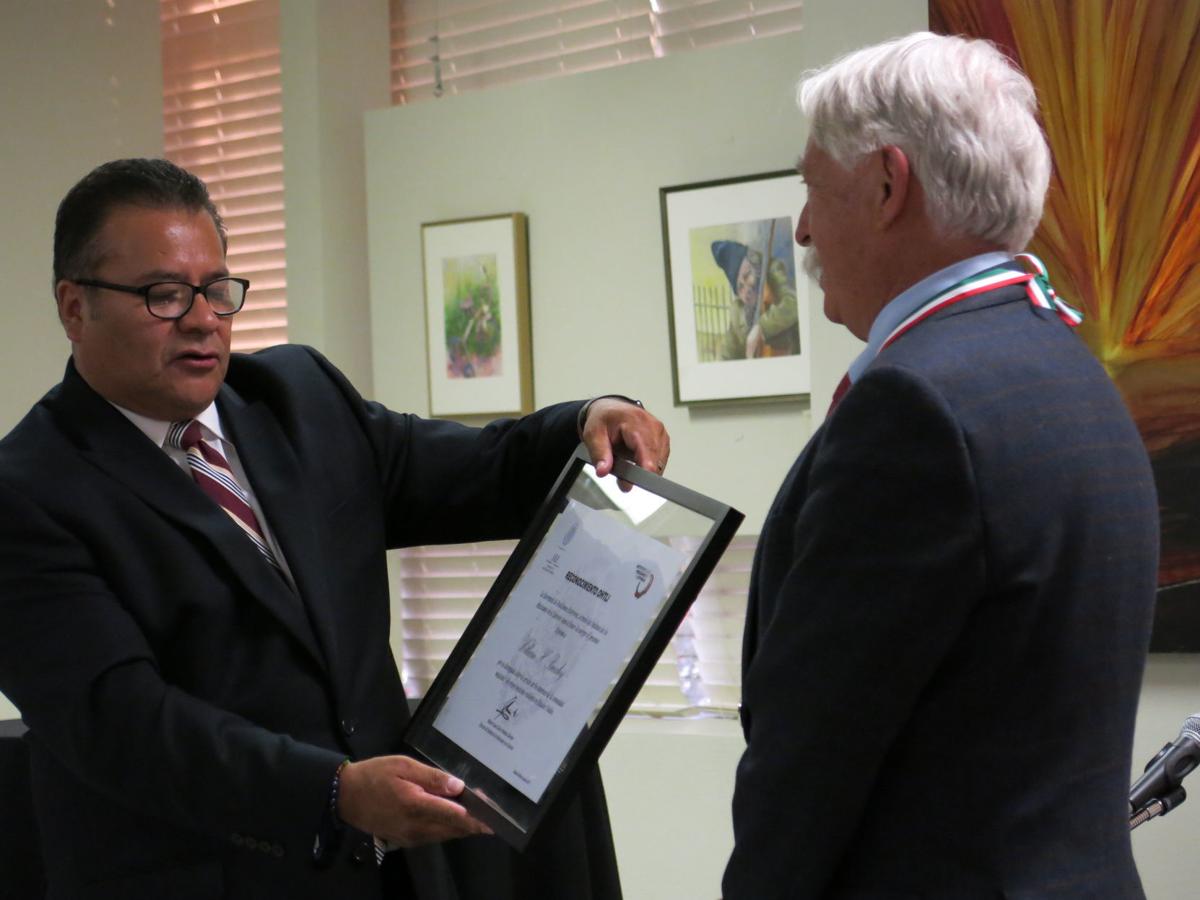 Knowing what we know now, Mayor Jonathan Rothschild's letter to Mexico's foreign ministry looks like a fond goodbye.
"I write to express my gratitude for the many contributions to Tucson made by your Consul, Ricardo Pineda Albarran," Rothschild wrote to undersecretary Jesus Seade Kuri on Oct. 1.
Rothschild went on to describe this year's Mexican Independence Day celebration at the Fox Theatre, calling it "an extraordinary gift to the residents of our city, even surpassing last year's event."
"I have had the pleasure of working with Consul Pineda on many initiatives," Rothschild went on. "If all diplomacy was practiced following the example of Consul Pineda, the world would be a better place."
It was only after Rothschild sent the letter, the mayor told me Friday, that he learned, as word spread around town, that Pineda is being reassigned away from Tucson.
It wasn't meant as a goodbye letter at all, just a gesture of thanks for six years of remarkable work in making the consulate an institution at the heart of Tucson.
It has been a remarkable six years for Pineda, a man with the rank of ambassador in Mexico's foreign service. The consulate moved from its historic home on South Stone Avenue to a four-story structure on East Broadway near Alvernon Way. One floor of the building is occupied by a 24-hour, nationwide call center here for Mexican nationals with immigration problems and other concerns.
And Pineda helped put the consulate at the center of local culture, bringing in opera singers from Mexico, turning part of the first floor of the consulate into an art gallery and event space. Arizona Daily Star cartoonist David Fitzsimmons and famed Mexican cartoonist Trino Camacho held a joint event there recently.
"I think he's brought together the community in Tucson," said Juan Francisco Padres, a former international trade official for the city who now works for TuSimple. "Not just the Mexicans living here, but everybody from all walks of life, whether they're Mexicans, Mexican Americans, Anglos — everybody."
I spoke with Pineda Thursday before learning the exasperating back story to his departure. He stuck dutifully to positive commentary on his time in Tucson and the consulate's performance.
"I'm confident we have a strong team that will support the new consul," he said.
The Pineda period is coming to a disturbing end for Tucson, as he is pushed off to serve as consul in Douglas and is replaced by a man with no diplomatic experience, whose main qualification seems to be that he is a devoted activist in President Andrés Manuel López Obrador's Morena Party in northern Sonora.
In the announcement of Guillermo Rivera Santos' selection as Tucson consul, the foreign ministry could only muster this much biographical information: "He holds a degree in International Commerce from the University of Professional Development (UNIDEP), and has experience in the private and public sectors."
But let's be frank — as thin as it is, this is not the experience that matters. Rivera was also "enlace distrital" — district liaison — for the Morena Party in northern Sonora and helped lead the president's campaign in that area.
He benefited from a curious turn of events that came into the public eye on Sept. 2 in Hermosillo. López Obrador was taking part in a multi-day trip to Sonora's capital, and as his practice, he held a morning press conference, known as a mañanera, each day.
"You have declared that the consulates should become defense centers, but unfortunately we're seeing the structure of the old regime remaining within the consulates. It's a concern that we Mexicans in the United States have," he said.
"There's the case, for example, of Douglas, which lacks a consular head, there's the case of the city of Tucson, where there are consular officials who are implicated in acts of corruption — maybe you don't have that information, but we can get it to you."
"My question would be basically if you know about this, and if you know about this, what are you going to do about it?"
A journalist friend of mine in Sonora referred to this as a "pregunta sembrada" — a planted question.
It bore fruit less than three weeks later, on Sept. 20, when the Ministry of Foreign Relations announced it was sending Pineda to Douglas and bringing Rivera in to replace him.
But the president's response is interesting to hear. He said, "Look, I take note of the case of the consulates. I'm going to ask the secretary of foreign relations, Marcelo Ebrard, to inform himself about the situation you're describing."
He went on, "You know how it was before, right? If things went badly for a politician, they could send him out as a consul or to an embassy. That's what we're avoiding."
I reached out to Rivera, the new consul, but was unable to contact him. Sonoran electoral records show that he was an unsuccessful candidate for the city council of Nogales, Sonora in 2015 — in AMLO's terms, an aspiring politician for whom things have gone badly and is sent to a consulate.
I did, however reach Sanchez, who asked the president that question and about his allegations of corruption.
At first he was reluctant to specify anything, citing a desire to avoid defaming anyone.
"Although we have reasons to believe there is corruption, it still is not proven," he said in Spanish.
Later, he said that Mexican citizens who are detained in the U.S. have their belongings sent to the consulate, and some have had money stolen from their belongings at the Tucson consulate.
On Friday, after learning all this back story, I called Pineda back and asked him about the allegations of corruption. He said there was nothing for him to respond to, as nothing specific had been alleged against him. That's true, but there has been a campaign of mud-slinging by Sanchez and his Morena allies going on for months, carried out on Facebook and other social media.
The whole thing annoys Padres, who recently announced he plans to run in the Democratic primary for Pima County supervisor, against incumbent Sharon Bronson.
"As a Mexican American, I'm offended that they would take a Mexican ambassador out of the community. It's a slap in the face to Tucsonans," he said. "It's a disservice not just to Tucsonans and Southern Arizonans, but for Mexican tourists."
A similar dynamic played out this year at the consulate general in Phoenix. Claudia Franco, also a career foreign service officer with the rank of ambassador, was replaced by a young Morena loyalist. However, in the case of new consul Jorge Mendoza Yescas, he at least had foreign service experience, having served in the consulates in Vancouver, B.C., Presidio, Texas and Tucson.
This, in any case, seems to be the meaning in Tucson of the Fourth Transformation, a phrase Mexico's new president used throughout his campaign to describe his plans for the country.
The concept is that López Obrador's presidency will be transformative in the same way as Mexico's independence from Spain, its reform period around 1860, and its new revolution in the 1910s.
Here it just means that experienced, beloved representatives of Mexico's government are kicked out of the community and inexperienced party hacks are appointed to plum jobs. How transformative.
Tim Steller is the Star's metro columnist. A 20-plus year veteran of reporting and editing, he digs into issues and stories that matter in the Tucson area, reports the results and tells you his opinion on it all.
Contact: tsteller@tucson.com or 807-7789. On Twitter: @senyorreporter
Get local news delivered to your inbox!
Subscribe to our Daily Headlines newsletter.