Tucson Electric Power's plan to run a high-voltage transmission line through central Tucson is facing backlash from historic neighborhoods and some city leaders who say the project will blight a wide swath of town.
After a series of stakeholder and public meetings since 2019, TEP is preparing to file its final plan for the 138-kilovolt Kino to Demoss-Petrie Transmission Line — which will feature 75- to 110-foot power poles — with state regulators at the end of July.
TEP says the line is needed to boost power capacity in the area and to better serve the University of Arizona and Banner-University Medical Center Tucson.
But as TEP plans to file for approval of its final route with state regulators later this month, neighborhood opponents who want the line buried underground have hired an attorney — and the city is preparing to defend an ordinance that would prohibit the utility from installing the line overhead.
About a dozen affected Tucson neighborhoods have formed a group called the Underground Coalition, to advocate for installing all or part of the roughly seven-mile line underground, arguing the line would ruin the aesthetics of many historic neighborhoods and cause property values to plunge.
Participating neighborhoods include Jefferson Park, Sam Hughes, Iron Horse, Pie Allen, West University and Catalina Vista.
"As a neighborhood, we're very concerned about the placement of the lines," said Colleen Nichols, president of the Jefferson Park Neighborhood Association and a resident since 1977. "These are massive lines, and they have no business in or near a residential area."
The neighborhoods have found an ally in Tucson City Councilman Steve Kozachik, who says TEP has not adequately addressed concerns over the proposed line.
He says the line, which would run along much of South Kino Parkway and North Campbell Avenue would violate a city ordinance banning overhead power lines in so-called "Gateway Corridors" to the city.
"That's a serious conversation that we still have to have, and so far TEP has ignored it," said Kozachik, whose Ward 6 encompasses Sam Hughes and several other neighborhoods on or near the proposed power-line route.
Cost gives pause
TEP says it is studying the legal issue with the city but maintains that "undergrounding" the line is an unnecessary expense that would cost more than 13.5 times the $1 million-per-mile cost of an overhead line. That would come to about $90 million for seven miles underground compared with about $7 million overhead; the substation is expected to cost about $30 million. 
The utility says it would be unfair to force all of its ratepayers to pay the extra cost of burying the line, suggesting that the city form a special underground utility taxing district to have affected property owners pay for the undergrounding.
TEP has been responsive to the neighborhoods throughout the public siting process and hasn't ignored the undergrounding issue, spokesman Joe Barrios said.
"As we've said publicly before, we're more than happy to work with neighbors and other stakeholders to consider formation of an underground district," he said.
Formation of an underground district, Barrios said, would "ensure that all TEP customers are not asked to subsidize a discretionary and expensive expenditure that primarily benefits residents or property owners in one small area of our service territory."
Barrios noted that TEP heard from some neighborhood and public officials who say customers not directly impacted by the line should not pay for undergrounding it.
TEP officials say the only underground lines on its system are lower-voltage distribution lines, and those were all paid for by developers or other parties.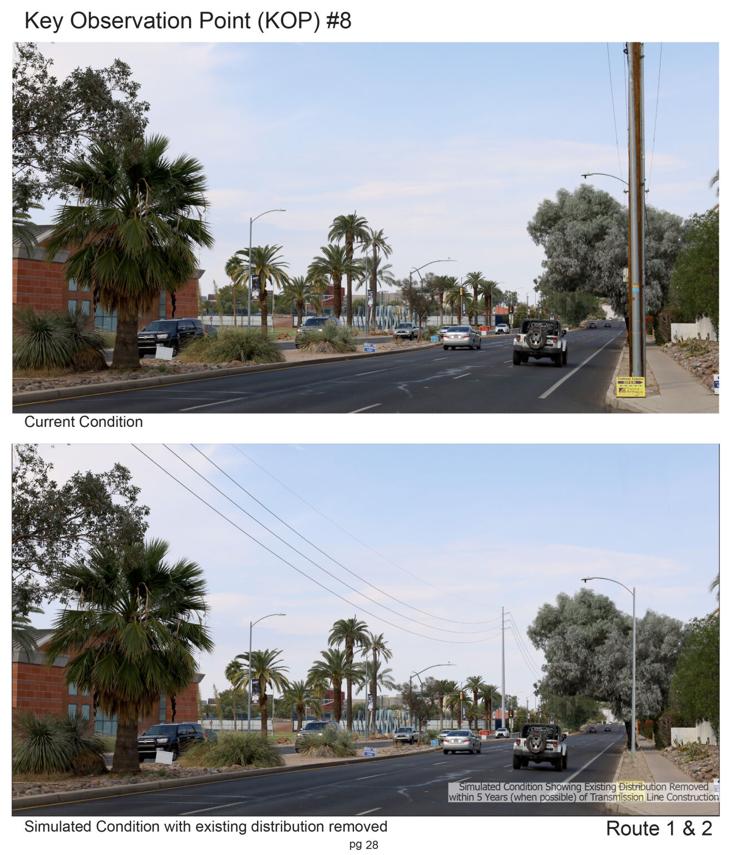 Kozachik and others argue that undergrounding the transmission line would preserve the aesthetics of a key city gateway, for the benefit of all area residents, and set a precedent for other areas of the city as TEP expands its high-voltage system.
Citywide concern?
Retired UA political-science professor John Schwarz lives several miles northwest of the proposed line, but he's jumped into the effort against TEP's overhead power-line plan nonetheless.
"They affect the entire city, these lines and they affect principles that are important to the city," said Schwarz, a 51-year Tucson resident who taught public policy at the UA. "You shouldn't have to live in one of the neighborhoods (along the line route) to be concerned."
Schwarz said that, like many of the neighborhood leaders opposed to overhead line, he wholeheartedly supports the line as part of TEP's efforts to improve service reliability.
But he says it's also a matter of equity, since the property owners in the path of the new line will bear a significant cost of an overhead line as a result of property devaluation.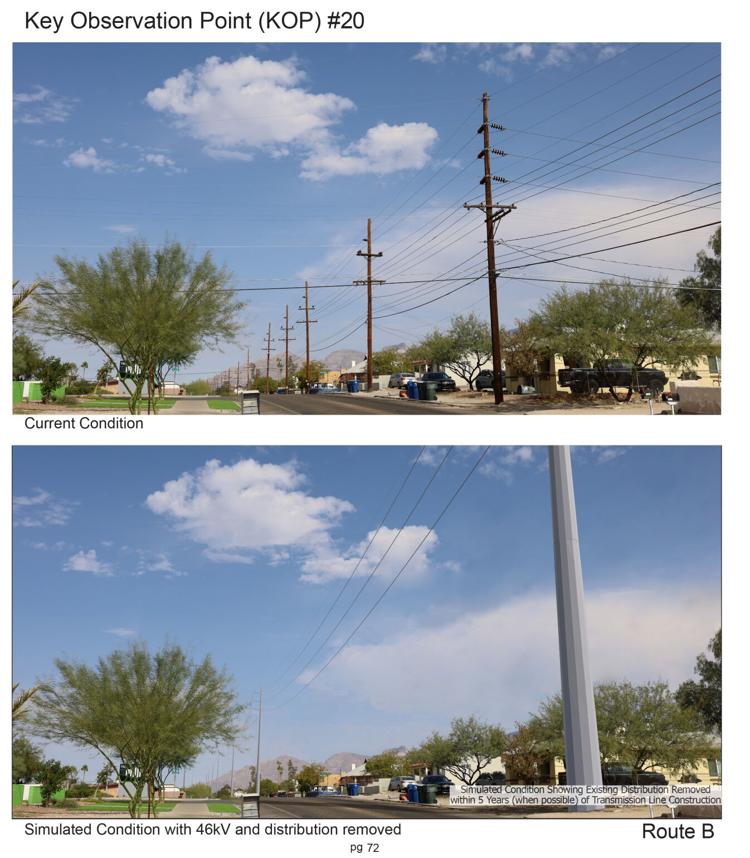 A white paper Schwarz authored with two other Underground Coalition members cites a federal study that found homes within 1,000 feet of an overhead high-voltage line could suffer property devaluation of 10%. Other studies have estimated devaluation of 2% to 9%.
Litigation over property devaluation stemming from an overhead line could run into the tens of millions of dollars — money TEP could put to use undergrounding the line, Schwarz and Kozachik said.
TEP's Barrios said the company has not estimated possible property devaluation related to the project, but he said studies reviewed by TEP indicate that, "though short‐term impacts to property values can occur, long-term property values are not greatly affected by transmission lines."
But Schwarz said making only the affected property owners pay for the undergrounding through a special utility district just adds insult to injury.
"That's asking people TEP is damaging to pay for TEP not damaging them," he said.
The Underground Coalition has also questioned TEP's cost estimates for undergrounding the line, citing examples that cost as little as half TEP's per-mile estimate, as well as questioning TEP's assertion that maintenance costs of underground lines would be much higher than overhead lines.
Barrios says TEP stands by its estimates, which were developed by a third-party professional engineer.
"The cost analysis is based on the costs of actual projects that TEP's consultant was involved with, and actual material costs," Barrios said, adding that wire used underground can't carry as much current and underground lines require special insulating infrastructure.
Whatever the cost premium, it would represent a tiny fraction of TEP's revenues — and barely 1/100th of TEP's most recent rate increase, Schwarz noted.
Bumpy road
TEP said it plans to file its formal line-siting request with the Arizona Corporation Commission by July 30. The matter then will go before the Arizona Power Plant and Transmission Line Siting Committee, which after public hearings will make a recommendation to the Corporation Commission, which has final say.
But the plan has hit some speed bumps at the city of Tucson, and Kozachik has vowed to invoke the Gateway Corridor ordinance to stop the project.
In May, a city zoning examiner denied TEP's request for a special exception land-use permit to build the new Vine substation, which would be built on the north end of the UA Banner campus and next to the Jefferson Park Neighborhood and link the two major sections of the Kino line.
The examiner said he could not determine the line proposal's compliance with other area development plans because the line route in and out of the substation hadn't been determined.
Barrios said TEP will refile the for the permit after it has filed its final route with the ACC.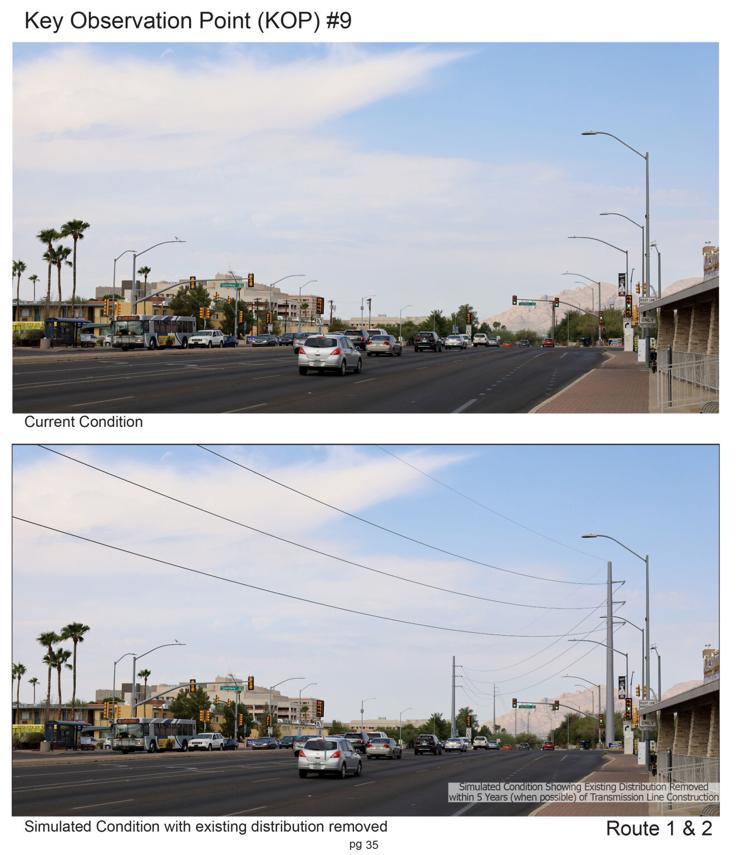 But Kozachik said TEP will still have to deal with the Gateway Corridor ordinance prohibition on overhead power lines.
"The ordinance that we have mandates underground utilities on Gateway Corridors and that's what Kino is and it goes all the way to River Road," he said. "So they need to square that circle and decide whether they want to pursue that alignment with that understanding."
Acknowledging that could lead to a court battle, Kozachik said the City Attorney's Office has assured him the ordinance is defensible though it's never been tested in court.
TEP's Barrios said the company is reviewing the city's Uniform Development Code, which deals with the Gateway Routes, and expect to provide a response to that issue in the application to the Corporation Commission.
Meanwhile, the Underground Coalition has raised more than $30,000 to hire a lawyer to represent the neighborhoods' interests in the regulatory proceedings, Schwarz said.