Tucson police have sent more than 500 people struggling with opioid addiction to treatment rather than jail over the past year, thanks to a grant-funded county program.
The effort, called "deflection," has saved taxpayers at least $150,000.
Last July, TPD rolled out a six-month pilot program in two divisions, allowing opioid addicts the opportunity to be placed into treatment without the risk of arrest or incarceration. The program involved self-referral by drug users and outreach by caseworkers and officers to connect with people who recently fell out of drug treatment or experienced an overdose. Officers could also opt to "deflect" a person found in possession of up to 2 grams of opioids from arrest and instead, fast-track that person into treatment.
The program experienced immediate success, with 117 people being deflected between July 1 and Oct. 31.
In October, the U.S. Department of Health and Human Services awarded Pima County $1.4 million to develop a complementary and expanded program, providing peer-supported case management for people who receive medication-assisted treatment to help with opioid dependence. Medications such as Vivitrol, methadone and Suboxone alleviate withdrawal symptoms for people trying to quit using opioids.
The United Medication Assisted Treatment Targeted Engagement Response, or U-MATTER, is part of a collaboration between the county, TPD, Codac Health Recovery and Wellness and other local agencies and social service organizations.
U-MATTER expanded its deflection program to all five divisions in TPD and paired two Codac drug counselors — called peer navigators — with officers in the department's Mental Health Support Team, to respond to overdoses and mental-health calls, many of which involve substance use.
Between July 1, 2018, and June 28, 2019, 547 people were sent to treatment rather than jail.
That amounted to a savings of about $178,000, based on the first-day booking cost of $324.98 per person for the fiscal year, which ended June 30.
For each additional day in jail, it costs roughly $100 to house an inmate. That amounts to thousands of dollars in additional savings for people who would not have been able to immediately bond out of jail.
On July 1, first-day booking fees increased 7% to $348.81, due to the decrease in projected number of bookings, said department spokesman, Deputy Daniel Jelineo.
Even with the decrease in bookings, operating costs for the jail remain the same regardless of the size of the inmate population, according to Chief Deputy Byron Gwaltney.
Of the 547 deflections, 430 took place after Nov. 1, 2018, when U-MATTER was fully up and running.
As part of the program, TPD officers and peer navigators visited community areas identified as popular hangouts for people using drugs. They encouraged some 165 people to seek treatment, according to Mayra Ramos, U-MATTER's program manager. The teams also offered outreach to 76 people to encourage them to engage, or re-engage, in treatment, Ramos said.
U-MATTER's first-year reach has eclipsed the initial hopes of organizers for a variety of reasons.
"Just by the numbers, it has far exceeded our expectations," TPD Assistant Chief Kevin Hall told the Star. "My goal was to do one a day for the year, and we're obviously way over that, which I'm very happy with."
Hall brought the idea of the deflection program to Tucson in 2017 after learning about similar models being used on the East Coast.
While Codac expected an increased volume in clients or members seeking medication-assisted treatment, the actual results have been larger than the agency projected, said Dan Barden, its director of clinical services.
After getting its staff used to the deflection process, Codac began making changes to help people being deflected feel more comfortable and increase the likelihood of keeping them engaged, Barden said. The most recent change was the creation of a separate entrance to be used only for TPD deflection that will bypass the lobby, Barden said.
"Just to keep some of the stimulation down for folks and make things easier both for the officers and our staff, just to incorporate these folks and get them started into services very quickly," Barden said.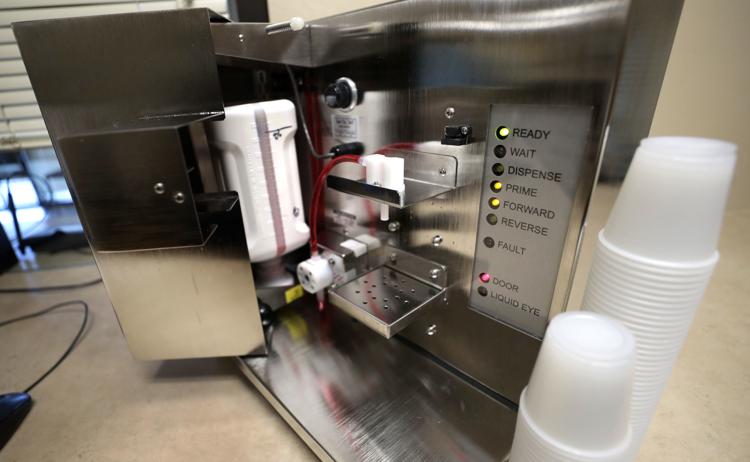 Support growth
The program's first-year expansion also included collaboration with the Pima County Superior Court's Pretrial Services division, which has started screening people for substance use disorder and referring them to Codac, Ramos said.
For TPD, the deflection process has "smoothed out" over the course of the first year, according to Hall, the assistant police chief.
"It's become sort of habituated amongst the officers that this is an option that's available to them," Hall said, adding that department support for the deflection program goes across the board from officers who are very enthusiastic and have done more than a dozen deflections, to those who are "a little less than enthusiastic."
But officer support for the program is growing, Hall said.
"The number of folks who are engaged in and utilizing the program and taken to treatment is growing, and I think a lot of it is because (officers are) seeing that it's a viable alternative to jail and that cycle where nothing is really occurring," Hall said. "There's no treatment in jail; they simply get released and go back to using and it's just over and over and over. I think the officers are sophisticated enough to see that that just is not working."
Most of the first-year deflections were made by officers in the field, with a very small number of the cases coming from self-referrals, Barden said.
Part of that comes from the fact that TPD has not marketed its "Angel program," which allows people to walk into a substation and basically get immunity for any drugs or paraphernalia in their possession if they ask to be taken to treatment. TPD also has a social referral program that allows people to approach officers in the field with the same understanding, but the word hasn't gotten out, Hall said.
"There's a trust issue here that's historical, but I'm still trying to figure out how to market (those programs,) along with the Good Samaritan Law, which I don't think has been publicized very well," Hall said. "We're still running into cases where people are not calling 911 immediately on an overdose incident out of fear that they're going to be arrested for narcotics or paraphernalia, which is what the Good Samaritan Law provides them immunity from."
The department is trying to find a way to craft the right message to get those underutilized elements of the U-MATTER program out to the public and the population at risk.
While Codac has seen a small number of people who have been deflected by officers more than once, they see more situations involving people who were deflected, began treatment, dropped out and then came back a few days later.
"That's part of the recovery process, so even though they didn't come in, stay and have a continuous process, that seed was planted, that door was opened to them and they knew they could just come back to that," Barden said.
"They did me a favor"
Billi Semprevivo, 40, has struggled with addiction to both meth and heroin for years. She came to Tucson by way of Pittsburgh a little over a year ago and enrolled in Codac's Las Amigas residential treatment program.
Semprevivo said she stayed clean for a while but then backslid and started using drugs again, shoplifting to support her habit.
In December, Semprevivo was caught stealing food from a convenience store and the Tucson police officers who responded offered her deflection.
Three months ago, Semprevivo relapsed after becoming involved in a domestic violence situation. She returned to Codac's Adult Transitional Living facility and is committed to maintaining her sobriety, saying that the TPD officers who sent her to treatment saved her life.
"It was a blessing. They did me a favor," Semprevivo said.
Semprevivo urges people struggling with substance abuse issues to get into a program.
"You're not going to get help on the streets," Semprevivo said. "You need different surroundings and different people."
Codac routinely receives letters from people who have been deflected, thanking officers and the agency for its help, Barden said.
"I don't know where I'd be if it weren't for you guys," said a letter addressed to a TPD officer. "Probably out somewhere all strung out on dope or even back in prison by now."
The letter writer said they were "humbly indebted" to the officer and TPD for making the introduction to Codac.
"Life isn't fair sometime, but no matter what anyone says, I'm glad you're on my side when worse comes to worse," the letter said.
Another letter, written the day the member was brought to Codac, said that the person had been treated with respect and was grateful for the help and hospitality.
"I feel that the world isn't all that bad," the letter said. "I would not trade this day for anything in the world."
Even if a person doesn't come to Codac the same day they make contact with a TPD officer or peer navigator in the field, some of those people are receiving the message and seeking treatment days later, Hall said.
"They'll come in holding the card the officer gave them," Barden said. "That's pretty cool."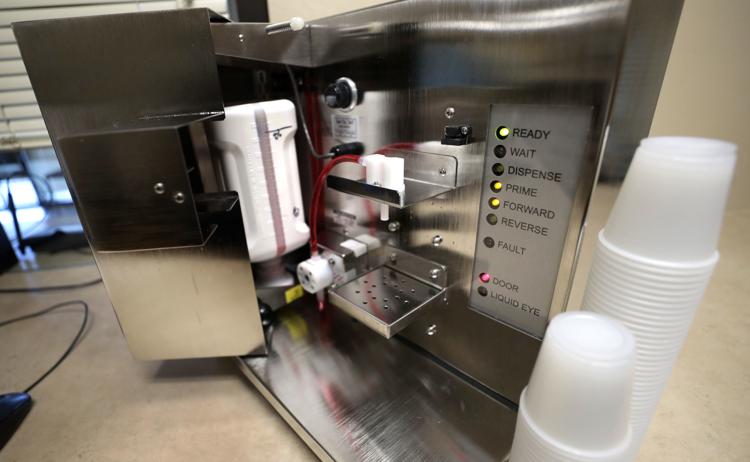 Opportunity to expand
Codac is gearing up to add two more peer navigators to the U-MATTER program by early October, saying that the two first-year navigators have been kept busy. The additional help will likely allow the program to expand coverage to nights and weekends.
The next logical step in expanding U-MATTER would be to offer a similar option in jail, program organizers say.
"They have a captive audience who more than likely are going to get sick and go through withdrawals, and there's the perfect opportunity to engage them in services if they like," Hall said. "Research shows that their chances of a fatal overdose increase enormously, depending on how long they're in jail, when they get out."
Providing medication-assisted treatment to people in jail could, if nothing else, help save a person's life after their release, Hall said.
Pregnant women currently receive such treatment in jail, but there has been talk among county officials about expanding its use, said Terrance Cheung, Pima County's director of justice reform initiatives.
"I think the difficulty is making sure once you start treatment in the jail — because sometimes these are really short-term stays — is that they need to get connected into services in the community," Cheung said, adding that the Pima County Sheriff's Department is exploring ways to make that happen with the county's Health Department.
Hall said he views U-MATTER as the first step in overall criminal justice reform.
"We're building infrastructures to allow officers a different avenue to solve community problems without arresting them. Traditionally, the only tool we've given police officers is arrest as a problem resolution tool," Hall said. "Now we're building different components, so to speak, that give them other tools to use other than arrest."
Providing officers tools to deal with quality-of-life issues will likely expand to other areas, including minor crimes, mental health and homelessness.
Hall said he gets questions from agencies across the country about how Pima County is able to make this collaboration work. Typically, cities, counties and service providers can't work together in such a cohesive manner and make things click as efficiently as they have with the U-MATTER roll out.
"I have a hard time answering that question, because I don't really know what the secret sauce is," Hall said. "All I know is that everybody really wants this to work, so we all kind of rolled up our sleeves and did it. But I think that kind of makes Pima County a little special, from what I'm seeing around the country."