Tucson police said a 34-year-old convicted felon is facing charges related to a foot chase in which he fired two guns multiple times at police officers at a south-side mobile home park.
On Tuesday, the Tucson Police Department released video from the officers' body worn cameras that shows the chase that ended with an officer shooting Fernando Valenzuela three times on Saturday morning.
Police Chief Chris Magnus said that at one point during the chase Valenzuela, armed with guns in each hand, came within 16 feet of one of the officers and pointed the guns at him before being shot. The officer was warned that Valenzuela was approaching him from behind and he turned just in time to see the suspect coming around a corner.
The video, Magnus said, showed what was a "very dangerous if not downright chilling pursuit" by the officers. He said the officers showed "courage and composure under fire."
"It does not get more harrowing than this," Magnus said.
After being shot by Officer Edward Jahnke, Valenzuela was handcuffed on the ground and officers began administering first aid to him as they waited on medical personnel. The officers likely saved Valenzuela's life, Magnus said.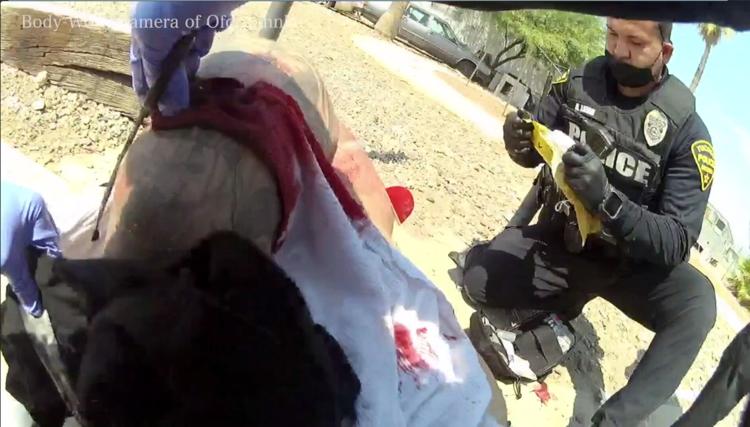 Valenzuela was taken to Banner-University Medical Center and was in stable condition under guard on Tuesday. Once released from the hospital, he is facing charges of aggravated assault on a police officer, being a prohibitive possessor of a firearm, and unlawful discharge of a firearm.
The police department is conducting a criminal and administration investigation into the shooting. The two officers have been placed on paid administrative leave, which is customary with shooting investigations.
Magnus said Valenzuela posed a risk not only to the officers but to everyone living in the mobile home park as he fired while running through the property.
Magnus said three mobile homes and an office building were struck by bullets, including two bullets fired by Officer Jesus Calderon, three from Jahnke and one bullet from Valenzuela.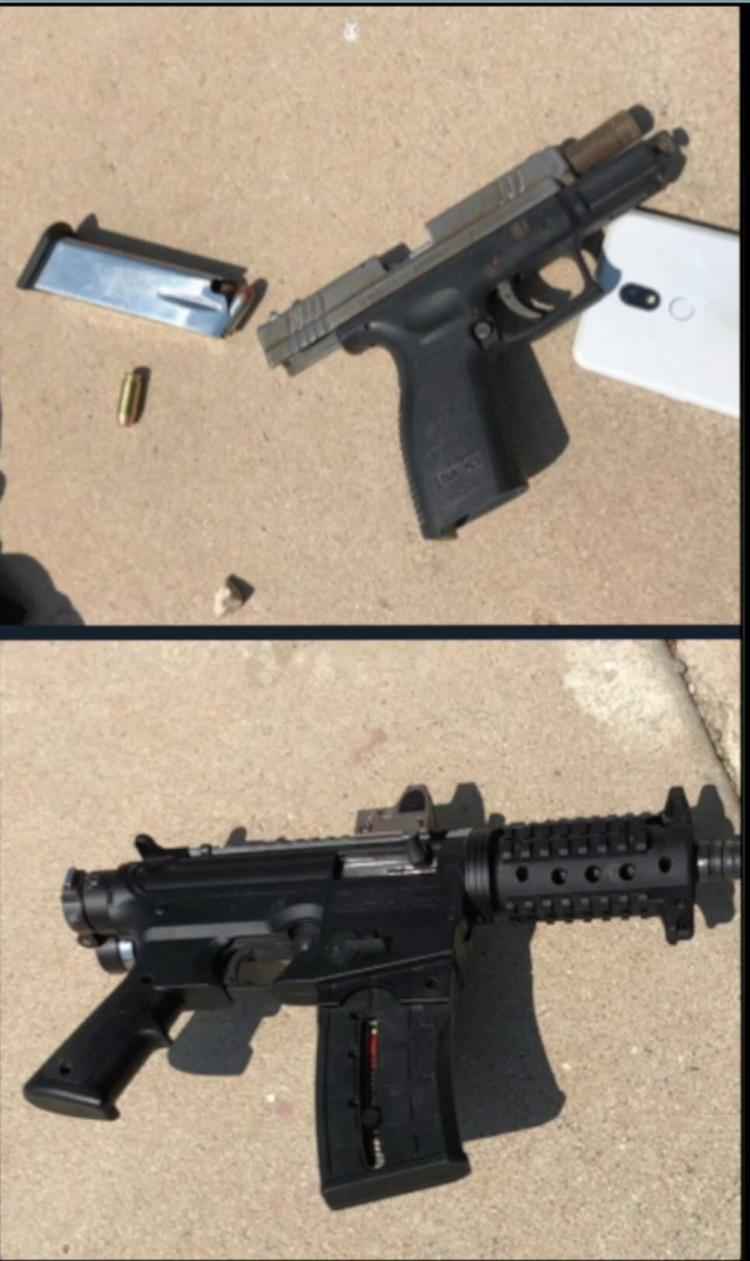 The incident began shortly before 11 a.m. when officers were directed to a mobile home complex in the 3100 block of East Behan Street, near East Benson Highway and South Country Club Road, the possible location of a stolen vehicle, police said.
Officers had seen the SUV earlier in the day but its driver fled an attempted traffic stop, police said.
The first officer to arrive at the scene, Calderon, saw four people in the vehicle, which was reported stolen from a rental car business and had a GPS tracking device. All four people inside the vehicle got out and ran.
A man who got out of the vehicle, later identified as Valenzuela, fired at Calderon before running into the nearby mobile home complex, police said.
More officers and Pima County sheriff's deputies responded to the scene.
The man fired at Calderon again and the officer returned fire. The shooter kept running through the complex, then he pointed his guns at Jahnke — who was warned by Calderon that Valenzuela was approaching him from behind — and Jahnke fired at the shooter, striking him multiple times, police said.
Valenzuela was armed with an AR .22 caliber pistol and a .40 caliber handgun, police said. Jahnke, a seven-year veteran of the department, and Calderon, a two-year veteran of the department, were the only two officers who fired their weapon.
Three of the four people in the vehicle were detained, but no charges are expected to be filed against them, police said. A fourth person eluded capture.