When walking into a class in an unassuming building on Tucson's south side near 22nd Street and South Fourth Avenue, the first thing you might hear is the clanking of hammers. 
And the first things that might catch your eyes are two fiery forges with bright orange knives stuck inside. 
Students slam the hammers onto the hot steel knives, shaping them until they lose their glow. Back in the forge they go — until they're ready for the next steps.
From the outside, you wouldn't know the building at 544 E. 24th Street is actually Desert Metal Craft, a new blacksmithing school in Tucson. 
Desert Metal Craft is the product of three people — Rich Greenwood, a professional bladesmith who once taught bladesmithing at Pima Community College and was also featured on an episode of the History Channel's "Forged in Fire" series; Liz Cameron, who received her Masters of Science in materials science and engineering at the University of Arizona and currently teaches at PCC; and Pete Brown, a science journalist, engineering technical writer and communications director for the UA's College of Engineering. 
But just two years ago, Desert Metal Craft was merely an idea.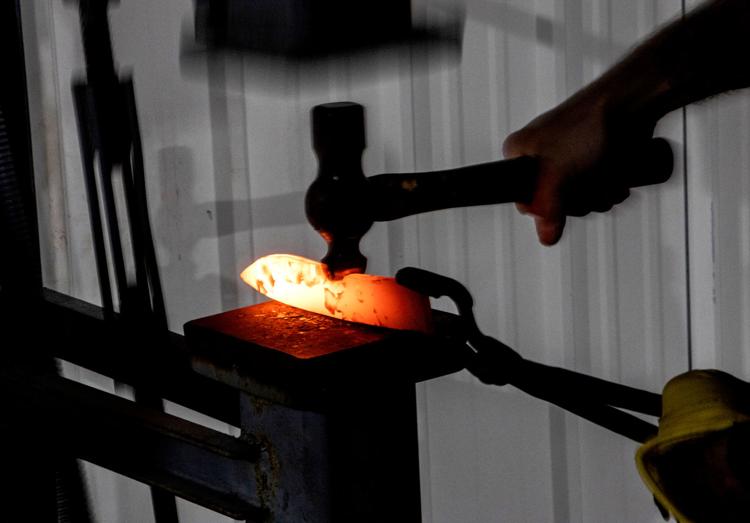 "In community college, I was only one person teaching the class and people wanted to learn things that were out of my scope," Greenwood says. "I thought, if I did my own school, I could have whoever I wanted come and teach."
Greenwood and Cameron dabbled with a few different ideas, such as starting a co-op or offering camps and workshops, but the ideas just weren't feasible, especially financially. 
"That's when we were like, 'We'll figure out how to do (a school) ourselves,'" Cameron says.
Brown later got on board after taking Greenwood and Cameron's classes at PCC. 
And although the ball was already rolling to open the school, one of the obstacles was finding a location. At one point, even Greenwood's backyard was considered.
"We were like homeless kids needing somewhere to start big fires," Cameron says. 
They eventually came across the street of warehouses on East 24th.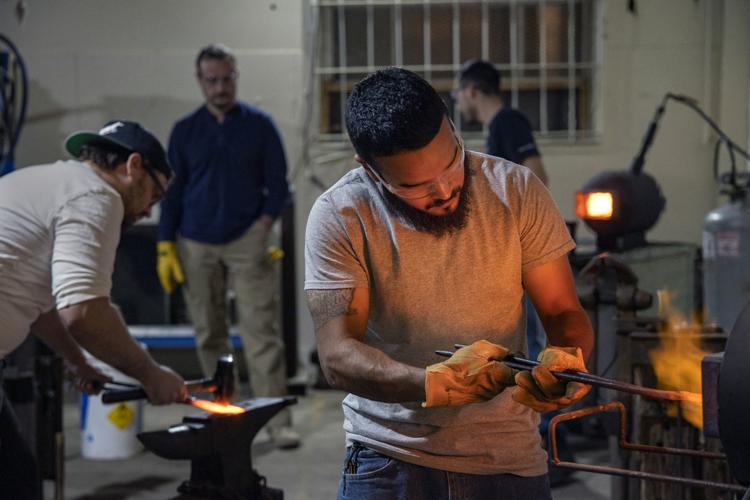 Though they hope to expand the 2,000-square-foot space in the future, Desert Metal Craft is now a reality — currently accepting students in a number of different courses, which can be found on desertmetalcraft.org. Classes are offered to anyone ages 7 and up.
"The rule is if you can swing a hammer, you can hang out and take a class here," Cameron says.
Class topics are vast, including hands-on beginner classes, historical classes and casting classes. They range from one day to a few weeks and cost anywhere between $100 and $600.
Summer camps for kids are also in the works.
The best part? The classes are hands-on, which means students get to make something and take it home. Greenwood calls them "skill-based classes with a project in the end."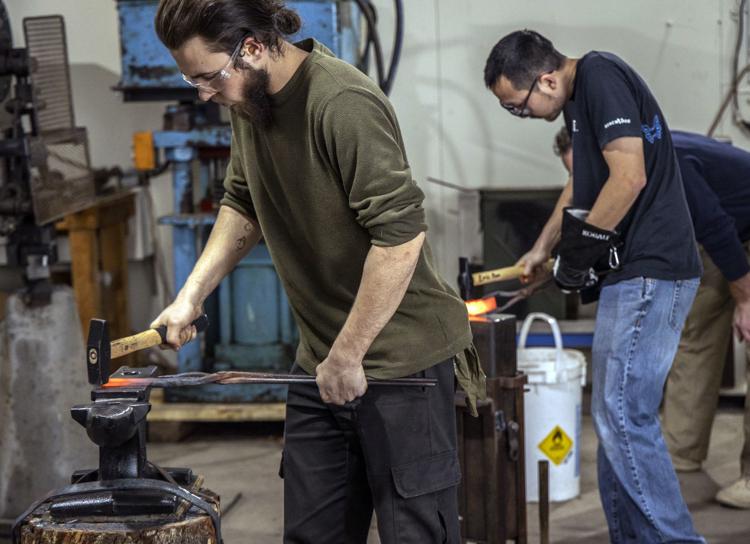 And beyond the three founders, who are also teachers, the school will bring in guest instructors from around the nation. 
"We all kind of feel like we ran out of outlets for our own education, whether that's financial or geographical," Cameron says, adding that Desert Metal Craft gives people the opportunity to learn things they wouldn't be able to learn elsewhere.
"As we bring teachers in to teach these classes, everyone wins," Greenwood says.
The trio agrees that our community needs something like Desert Metal Craft.
"Personally, I think we need a place for kids to learn to get their hands dirty and make something," Greenwood says. "I think that's getting lost in the public school system. When I was a kid, I took six years of auto shop. I learned casting in seventh grade. That's not happening today."
"I think we definitely want to become a destination for people interested in learning about metal arts and metallurgy," Cameron says.
The school's grand opening ceremony will be held from 11 a.m. to 10 p.m. on Saturday, Feb. 2 and will give the public a taste of what Desert Metal Craft is all about.
Among the activities are ax-throwing, make-your-own knife and bottle openers, and demonstrations from featured artists. There will also be fire performers, live music, raffles and food trucks. The event is family-friendly.