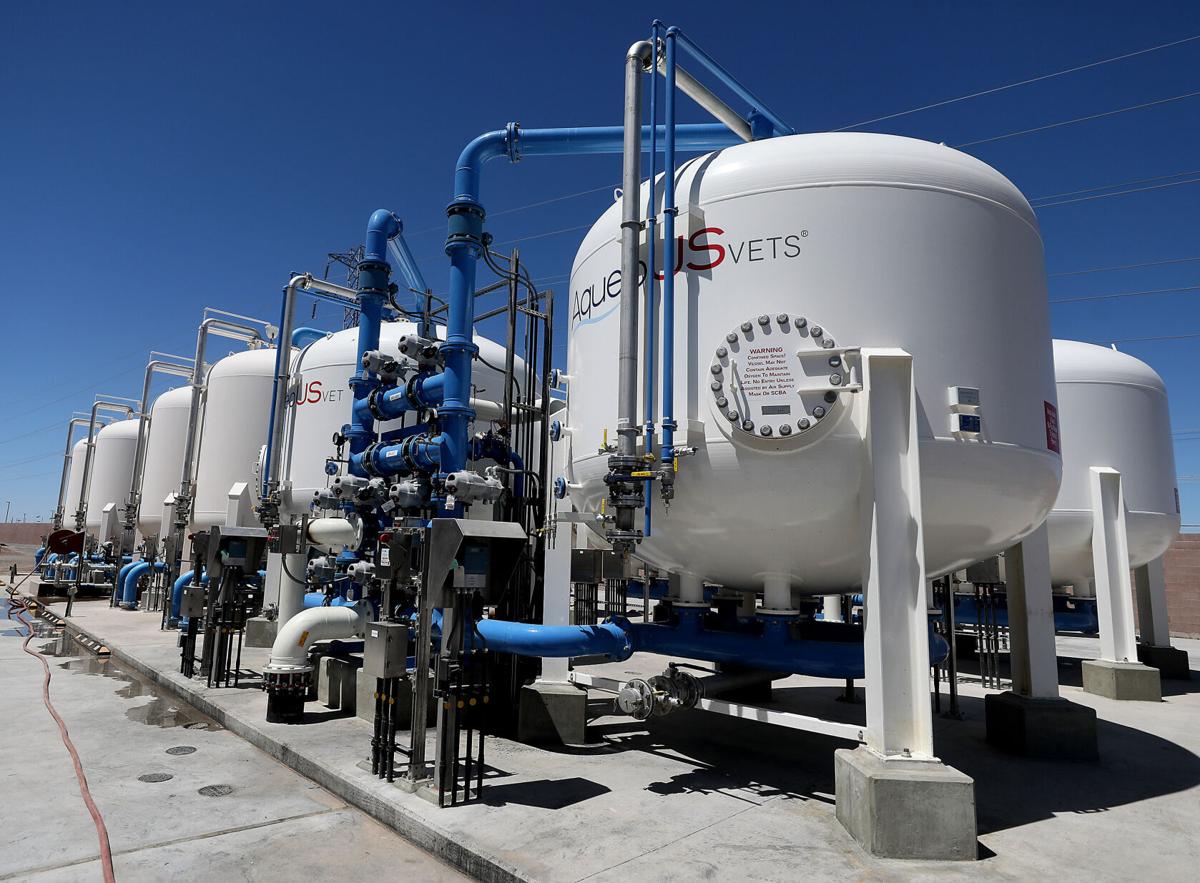 Tucson Water shut down its south-side water treatment plant Monday, as planned, while announcing it's getting a $2 million state grant to help it reopen by taking water containing low levels of PFAS compounds from the Tucson Airport Remediation Project treatment plant via pipeline to the Santa Cruz River.
Announced Monday by Gov. Doug Ducey and the Arizona Department of Environmental Quality, the $2 million will "fast track" efforts to bring the treatment plant online and "safely continue treating contaminated groundwater in the area," the department said in a news release.
If the ADEQ approves the city's plans, it could ultimately discharge water from the treatment plant into the river that contains PFAS compounds at concentrations that are most likely below maximum levels that Tucson Water now uses to guide its treatment of drinking water. At this point, however, the utility hasn't determined its ultimate goal for treating the TARP water for release to the river, utility spokesman James MacAdam said Monday.
Currently, the plant treats the water coming into to concentrations so low that they can't be detected by the city's equipment.
"Before we turn it back on, we have to figure out at what level we are going to manage it to," MacAdam said.
Tucson Water had for at least two weeks planned to shut its Tucson Airport Remediation Project plant, commonly known as TARP. The shutdown was done out of concern that rising concentrations of "forever chemicals" known as PFAS compounds that are entering the plant could ultimately overwhelm the plant's ability to treat them.
Before shutting the plant down, Tucson had been delivering the treated TARP water to 60,000 customers in the city's urban core, including downtown.
Now, using the state funds, the utility plans to have a pipeline built to instead take TARP water to the river nearby, at Irvington Road and the Santa Cruz. The TARP plant lies just west of Interstate 10 and east of the river. No firm timetable has been set for pipeline construction, but the utility hopes to have it online in three to four months, Tucson Water spokesman MacAdam said.
The city has been concerned that leaving the TARP plant closed will allow PFAS compounds to move north in the underlying aquifer, along with two other chemicals the plant was treating: trichloroethylene, or TCE, and 1,4-dioxane. It has said it can reopen the plant once it has someplace else to put its treated water.
Risks to aquifer weighed
But some conservationists and neighborhood advocates are wary about putting TARP-treated water into the river, out of concern that even at smaller concentrations, PFAS compounds in that water could seep into the aquifer.
"I'm still concerned. I don't think we have enough information for that," said south-side neighborhood leader Yolanda Herrera of the city's plans.
"You are throwing in that water where it may sink down back into our aquifer. What are we solving?" asked Herrera, community co-chair of the Unified Community Advisory Board that has overseen the longstanding south-side groundwater cleanup. "Aren't we just recycling that contaminated water back to ourselves?"
But Bill Ellett, a retired ADEQ hydrologist who has worked closely on south-side contamination issues, said he thinks the risk to the aquifer from putting the TARP-cleaned water into the river is outweighed by the risks of leaving the contaminated water in the aquifer under and near the plant, and letting the compounds continue building up to higher concentrations and moving downhill toward the rest of the city.
"Tucson Water has its back up against the wall," Ellett said. "Obviously their No. 1 concern is serving clean water to people. There's not anything else you can do and still maintain control of the (pollution) plume. You've gotta put the water somewhere."
The Arizona Department of Environmental Quality and Tucson Water are working on an intergovernmental agreement to approve the funding this week so pipeline construction can begin. The $2 million will also pay for construction of an outfall structure at the river for discharging the water.
"Making sure all Arizonans receive safe and clean drinking water remains a top priority of our state," Ducey said in the news release. "This funding will help Tucson Water bring an important water treatment facility back online and secure Tucson's water supply for future generations. Every source of water in Arizona is critical as we face drought conditions and the risk of a drier future."
The utility actually will build two pipelines to take PFAS away from the treatment plant. One, in the early stages of construction, will be a permanent pipeline, underground, which can take treated water into either the river or city's reclaimed water system that treats wastewater for use on golf courses, parks and other public turf areas.
The pipeline for which the utility just got state money is a temporary pipeline, to go above ground and operate until a permanent line is ready, MacAdam said. The utility wants to put the TARP water into the river or its reclaimed system until a full-scale plant to remove the PFAS compounds can go online — which could be years off.
ADEQ discharge OK needed
ADEQ will have to approve a permit to discharge the treated water into the river, he said. The exact concentrations of PFAS that will be discharged into the river aren't known yet. They'll be decided jointly by Tucson Water and ADEQ, he said, although it's likely they won't exceed the 18 parts per trillion voluntary limit that Tucson Water has set for concentrations of four PFAS compounds in groundwater.
Tucson Water will pursue a permit through the Arizona Pollutant Discharge Elimination System program, which regulates discharges into surface water bodies such as the Santa Cruz, ADEQ spokeswoman Caroline Oppleman said.. Such a permit, like all others issued under this program, will insure that applicable federal and state regulations are followed, Oppleman said. 
ADEQ will set a permit limit of 70 parts per trillion for discharges from the treatment plant into the river, Oppleman said. That's the health advisory level for lifetime exposure to PFAS in drinking water set by the EPA, she noted. It's also the limit that ADEQ will adhere to North of Davis-Monthan AFB when its pilot plant begins groundwater treatment there, she said.
She said Interim Tucson Water Director John Kmiec has said that TARP effluent will be at or below that limit.
"When TARP reopens, we'll still be treating this water to a very high standard prior to any discharge to the river." Kmiec was quoted in ADEQ's press release as saying. "We will continue our vigilance by monitoring the water quality coming out of TARP every week."
Overall, discharges to the Santa Cruz River from TARP will be a net benefit to the groundwater quality, she said. Groundwater that currently exceeds limits for TCE, 1,4-Dioxane and PFAS will be treated by TARP and will meet regulatory standards and the PFAS health advisory before being discharged to the Santa Cruz and infiltrating back into the aquifer, Oppleman said.
The U.S. Environmental Protection Agency will have to approve Tucson Water's plans to take treated water from the TARP plant. That's because the city currently operates this plant under a 30-year-old consent decree that requires that the treated water be served to Tucson Water customers.
But MacAdam said he doesn't know if EPA will play any role in setting PFAS levels in the discharges.
In a statement Tuesday, EPA spokesman Joshua Alexander welcomed the ADEQ funding for Tucson and appeared to open the door to allowing the utility to putting the TARP water to other uses than serving it to customers as drinking water.
"EPA welcomes any additional funding that may contribute to further addressing hazardous substances, pollutants, and contaminants at any site regulated by our agency. The City of Tucson and other parties appear legally obligated, under the consent decree to which they agreed, to continue operation of the system and to accept the treated water.
"That said, EPA remains committed to working with ADEQ to continue helping the City of Tucson identify alternative uses – other than public drinking water – for the treated water."
But until it's clear exactly what concentrations of PFAS will be in the TARP water set for discharge into the river, it's impossible to know how much of a health and safety risk the discharge will present, advocate Herrerra said.
Potential health effects for people exposed to PFAS chemicals at high enough levels over a lifetime include liver and kidney cancer, immune system damage, increased cholesterol blood levels, small decreases in infant birth weights, developmental delays in fetuses and children, decreased fertility and increased asthma risks, say the EPA and the federal Agency for Toxic Substances and Disease Registry.