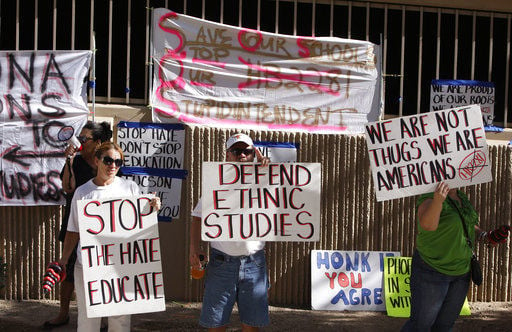 In the wake of a federal court ruling that an Arizona law banning TUSD's Mexican American Studies program was racist and unconstitutional, the district is still keeping its distance from its former ethnic-studies curriculum.
On Tuesday, the Tucson Unified School District Governing Board sidestepped an attempt by members Adelita Grijalva and Kristel Foster to adopt a formal resolution acknowledging the federal court ruling and encouraging teachers to reintegrate aspects of the program that had been deserted out of fear of the state.
Foster and Grijalva characterized their resolution as a largely symbolic move to reassure teachers in the program that they weren't doing anything wrong and the courses should have never been banned. Any changes to curriculum would require separate board approval, they noted.
"It doesn't mean we won't have a process. It just means that if there was a book, a course, some part of the course, that used to be incredibly effective with students that for whatever reason is no longer included … since this law is unconstitutional, if there's any part of the curriculum that we had before, in Mexican American Studies, that teachers have the ability to bring that back," Grijalva said.
"To not acknowledge the fact that (the law) was unconstitutional is irresponsible of this board," she added.
However, neither Grijalva nor Foster could point to any specific elements of the program they want to see revived.
Board member Michael Hicks said the lack of concrete examples of what should be reintegrated showed that the resolution was merely a political statement, not a real proposal to improve education in the district. He said there are very few differences between MAS courses and the district's current ethnic-studies classes, though he acknowledged that several books were prohibited from being used.
"It's my understanding that there's nothing that's prohibiting (culturally relevant courses) from bringing back some of those books, although it would have to go through the process," he said.
Mexican American Studies began as one of many conditions required to prove the district was working to improve the academic achievement of minority students and to settle the district's decades-old desegregation order. In 2010, the state Legislature and then-Gov. Jan Brewer approved a law targeting the MAS program, forcing TUSD's Governing Board to eliminate the program in 2012 rather than face a 10 percent cut in state funding.
To keep in good standing with the district's desegregation order, the district in 2013 approved new "culturally relevant curriculum" to help minority students succeed and bridge the achievement gap.
Those culturally relevant courses continue today, with almost 5,500 students enrolled this year.
The board majority instead backed a verbal resolution by member Rachael Sedgwick, ordering the Culturally Relevant Pedagogy and Instruction Department to "do what is necessary" to close the achievement gap between white and minority students.
Sedgwick said the original resolution about reintegrating aspects of MAS was unnecessary, and that discussing MAS would only further divide the community.
"We offer Mexican American Studies. We don't call it Mexican American Studies, because the term is hugely contentious, it's hugely divisive in Tucson," she said, noting that MAS became a political issue and the school board is supposed to be nonpartisan.
But Foster said Sedgwick's motion was simply a way to avoid discussing the court ruling and the MAS program.
"(Sedgwick's resolution) is a way to erase this entire conversation so that this board takes no stand on its history, and takes no stand on what happens here, and takes no stand on the fact that this law is no longer," Foster said.
Sedgwick acknowledged her resolution was an attempt to sidestep a conversation on MAS.
"I'd much rather avoid the conversation," she said. "Let's not turn this district, this board into a war zone. Let's not turn Tucson into a war zone, the way it happened so many years ago."
Hicks noted that while he has cautiously embraced the culturally relevant courses, he had serious problems with the MAS program, which he said encouraged students to engage in militant resistance rather than teaching them about Mexican American history and culture.
"I think the CRC classes is doing the job that MAS classes was doing, but in a better way that is not (teaching) students to chain themselves (to the desks at board meetings)," he said.
Board members acknowledged the fight over MAS has stoked racial tensions in the district, and Hicks and Sedgwick, who are both white, attempted to tout their Latino bona fides at the meeting.
Sedgwick said growing up along the U.S.-Mexico border in Nogales, she understands how culturally relevant courses can improve academic outcomes for Latinos.
Hicks noted he grew up on Tucson's south side and understands the plight of many of its Latino residents.
"I'm probably more Hispanic than some of the others around here," he said.